North Korea Fires 2 More Missiles Amid US-South Korea Joint Drill
North Korea fired two short-range ballistic missiles into the sea on Tuesday, according to the South Korean military, in a tit-for-tat for ongoing U.S.-South Korea military drills on the Korean Peninsula. The launches occurred within minutes of each other. South Korea's Joint Chiefs of Staff (JCS) said it detected North Korea firing a missile from the Jangyon area in South Hwanghae province at around 7.41 a.m. (local time) and another one at 7.51 a.m. (local time). South Korea did not specify how far the missiles traveled. The JCS said it would maintain "a full readiness posture" with the United States against the possibility of additional launches from North Korea, Yonhap News Agency (YNA) reported. The latest launches came just two days after North Korea claimed to have test-fired two strategic cruise missiles from a submarine on Sunday—a day before U.S.-South Korea military drills were due to begin. The cruise missiles were launched from a "8.24 Yongung" submarine and traveled some 1,500 kilometers (932 miles) before hitting a target in the East Sea, North Korea's state mouthpiece Korean Central News Agency (KCNA) reported. KCNA said the drill "confirmed the reliability of the weapon system and examined the underwater-to-surface offensive operations of the submarine units" that form part of North Korea's nuclear deterrent. 'Incredibly Important' Drills South Korea and the United States began their 11-day Freedom Shield exercise on Monday, which includes field exercises on a scale not seen since 2017, when the two allies scaled back public drills to facilitate talks with North Korea. 11th Eng. Battalion doesn't know the meaning of 'a bridge too far'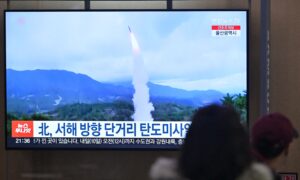 North Korea fired two short-range ballistic missiles into the sea on Tuesday, according to the South Korean military, in a tit-for-tat for ongoing U.S.-South Korea military drills on the Korean Peninsula.
The launches occurred within minutes of each other. South Korea's Joint Chiefs of Staff (JCS) said it detected North Korea firing a missile from the Jangyon area in South Hwanghae province at around 7.41 a.m. (local time) and another one at 7.51 a.m. (local time).
South Korea did not specify how far the missiles traveled.
The JCS said it would maintain "a full readiness posture" with the United States against the possibility of additional launches from North Korea, Yonhap News Agency (YNA) reported.
The latest launches came just two days after North Korea claimed to have test-fired two strategic cruise missiles from a submarine on Sunday—a day before U.S.-South Korea military drills were due to begin.
The cruise missiles were launched from a "8.24 Yongung" submarine and traveled some 1,500 kilometers (932 miles) before hitting a target in the East Sea, North Korea's state mouthpiece Korean Central News Agency (KCNA) reported.
KCNA said the drill "confirmed the reliability of the weapon system and examined the underwater-to-surface offensive operations of the submarine units" that form part of North Korea's nuclear deterrent.
'Incredibly Important' Drills
South Korea and the United States began their 11-day Freedom Shield exercise on Monday, which includes field exercises on a scale not seen since 2017, when the two allies scaled back public drills to facilitate talks with North Korea.
11th Eng. Battalion doesn't know the meaning of 'a bridge too far'