'China Changed Capitalism': Sens. Rubio and Warner Sound Alarm on CCP's Economic Threat
A bipartisan duo of lawmakers is calling for greater efforts to curb the malign influence of China's communist regime through protectionist measures. Sens. Marco Rubio (R-Fla.) and Mark Warner (D-Va.) appeared together for a joint interview on Jan. 29, where the two sounded the alarm on the Chinese Communist Party's (CCP) efforts to undermine U.S. national security, and said that the regime had unfairly manipulated the international economy. "The Communist Party, under [CCP General Secretary] Xi's leadership… basically changed the rules of the road," Warner said during the interview with CBS. "They made clear in Chinese law that every company in China's ultimate responsibility is to the Communist Party, not to their customers, not to their shareholders." Warner said that U.S. leadership had been "asleep at the switch for a long time" concerning how the CCP manipulates and undermines international trade. As such, he said, the United States was now playing a costly game of catch-up with expensive and sweeping policies like the Chips and Science Act, which will provide $52 billion to shore up the domestic manufacturing of semiconductors. To that end, Warner said that the United States would need to broaden its understanding of what was essential for national security, expanding its scope from mere military-related domains such as the manufacture of ships and tanks to other industries like AI, food production, and telecommunications. Allowing the CCP to gain or maintain the advantage in these domains should be a non-starter, he added. "If there's one issue that still is extraordinarily bipartisan, it is a growing concern about China, and a recognition that in this technology race, second place is not good enough for us." 'China Changed Capitalism' For his part, Rubio said that the CCP's simultaneous assault on the U.S. economy and national security was a direct result of the regime's stratagem of military-civil fusion, in which all commercial technologies produced in the country are also expected to be used to benefit its military. Thus, by opening China to foreign investments from capitalist nations and using the funds to supercharge its own military, Rubio said, the CCP had effectively weaponized the United States' economic system against itself. "The Chinese have found a way to use capitalism against us," Rubio said. "What I mean by that is the ability to attract investment into entities that are deeply linked to the state." "That military-commercial fusion that exists in China is a concept that we don't have in this country. We have contractors that do defense work, but there is no distinction in China between advancements in technology, biomedicine, whatever it might be, and the interest of the state." Rubio added that the typical viewpoint of policymakers in the liberal West had long been that access to market economies and all the benefits of capitalist society would ultimately transform China for the better. While the monies from such a policy have certainly allowed China to advance technologically and militarily, however, the CCP has become far more authoritarian, not less. "Twenty years ago, everybody thought capitalism was going to change China, and we woke up to the realization that capitalism didn't change China," Rubio said. "China changed capitalism." "They've used it to their advantage and to our disadvantage … They've done so from a technological and industrial perspective. And so you have seen the largest theft and transfer of intellectual property in the history of humanity occur over the last 15 years, some of it funded by American taxpayers. That has to stop." Rubio said that government interference was necessary to secure the national interest from such a threat, and that national security priorities would need to take precedence over the ability of individual businesses to further enrich the CCP and themselves at the expense of said security. "What do you do when the most efficient outcome is not in our national interest?" Rubio said. "Because it's more efficient to buy rare earth minerals from the Chinese. It's more efficient to have things built over there in many cases. But is it in our national interest to depend on them for 80-something percent of the active ingredients in our pharmaceuticals?" "In those instances where the market-efficient outcome is not in our national interest, it is my opinion that we default to the national interest because, without our national interest or our national security, the other things won't matter. We are not a market. We're a nation."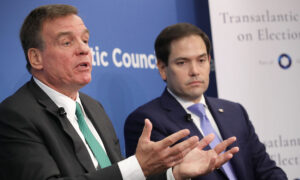 A bipartisan duo of lawmakers is calling for greater efforts to curb the malign influence of China's communist regime through protectionist measures.
Sens. Marco Rubio (R-Fla.) and Mark Warner (D-Va.) appeared together for a joint interview on Jan. 29, where the two sounded the alarm on the Chinese Communist Party's (CCP) efforts to undermine U.S. national security, and said that the regime had unfairly manipulated the international economy.
"The Communist Party, under [CCP General Secretary] Xi's leadership… basically changed the rules of the road," Warner said during the interview with CBS.
"They made clear in Chinese law that every company in China's ultimate responsibility is to the Communist Party, not to their customers, not to their shareholders."
Warner said that U.S. leadership had been "asleep at the switch for a long time" concerning how the CCP manipulates and undermines international trade. As such, he said, the United States was now playing a costly game of catch-up with expensive and sweeping policies like the Chips and Science Act, which will provide $52 billion to shore up the domestic manufacturing of semiconductors.
To that end, Warner said that the United States would need to broaden its understanding of what was essential for national security, expanding its scope from mere military-related domains such as the manufacture of ships and tanks to other industries like AI, food production, and telecommunications.
Allowing the CCP to gain or maintain the advantage in these domains should be a non-starter, he added.
"If there's one issue that still is extraordinarily bipartisan, it is a growing concern about China, and a recognition that in this technology race, second place is not good enough for us."
'China Changed Capitalism'

For his part, Rubio said that the CCP's simultaneous assault on the U.S. economy and national security was a direct result of the regime's stratagem of military-civil fusion, in which all commercial technologies produced in the country are also expected to be used to benefit its military.
Thus, by opening China to foreign investments from capitalist nations and using the funds to supercharge its own military, Rubio said, the CCP had effectively weaponized the United States' economic system against itself.
"The Chinese have found a way to use capitalism against us," Rubio said. "What I mean by that is the ability to attract investment into entities that are deeply linked to the state."
"That military-commercial fusion that exists in China is a concept that we don't have in this country. We have contractors that do defense work, but there is no distinction in China between advancements in technology, biomedicine, whatever it might be, and the interest of the state."
Rubio added that the typical viewpoint of policymakers in the liberal West had long been that access to market economies and all the benefits of capitalist society would ultimately transform China for the better. While the monies from such a policy have certainly allowed China to advance technologically and militarily, however, the CCP has become far more authoritarian, not less.
"Twenty years ago, everybody thought capitalism was going to change China, and we woke up to the realization that capitalism didn't change China," Rubio said. "China changed capitalism."
"They've used it to their advantage and to our disadvantage … They've done so from a technological and industrial perspective. And so you have seen the largest theft and transfer of intellectual property in the history of humanity occur over the last 15 years, some of it funded by American taxpayers. That has to stop."
Rubio said that government interference was necessary to secure the national interest from such a threat, and that national security priorities would need to take precedence over the ability of individual businesses to further enrich the CCP and themselves at the expense of said security.
"What do you do when the most efficient outcome is not in our national interest?" Rubio said. "Because it's more efficient to buy rare earth minerals from the Chinese. It's more efficient to have things built over there in many cases. But is it in our national interest to depend on them for 80-something percent of the active ingredients in our pharmaceuticals?"
"In those instances where the market-efficient outcome is not in our national interest, it is my opinion that we default to the national interest because, without our national interest or our national security, the other things won't matter. We are not a market. We're a nation."