Michael Taube: Flying the Less-Than-Friendly Skies in Canada
Commentary"The journey of a thousand miles begins with a single step," the philosopher Laozi wrote in Tao Te Ching. Yet, when it comes to travel in our modern society, it seems like there's a thousand steps before we journey a single mile. The state of transportation in Canada can certainly be described as one of constant frustration, aggravation, and consternation. There's a steady stream of hurdles to bypass, hoops to jump through, and rivers to cross. And that's before you even get on the plane! We all knew (or sensed) there would be kinks in air travel. COVID-19 had hurt the airline industry when the capacity of most airplanes significantly dropped in 2020 and 2021. This financial decline led to staff layoffs and, in some instances, a reduced fleet. While flight and travel restrictions have mostly been eliminated, the inability of Canadian airlines to handle the onslaught of passengers for business trips and vacations has become a regular topic of conversation at the water coolers and our dinner tables. There have been massive lineups at airports for hours, often leading would-be passengers on a road to nowhere. Delays in departures and arrivals have sometimes been relatively pain-free, and others have lasted for days with fast food comas and uncomfortable sleeping arrangements on airport chairs. Catching a connecting flight on time is getting to the point of becoming an Olympic sport. Lost luggage has become a running joke among many travellers, similar to socks that mysteriously go missing in the laundry machines of the nation. This can't be true, some of you may be thinking. It has to be a first world problem perpetuated by a small number of weary travellers, right? I'm afraid not. "Among the 10 biggest airlines in Canada and the U.S.," according to a Dec. 29, 2022 article in The Canadian Press, "Air Canada and WestJet Airlines Ltd. ranked worst and second-worst for their punctuality." This data comes from Cirium, an aviation analytics company which is part of the massive multinational corporation RELX plc, based in London, England. Air Canada's on-time arrivals, which is calculated by planes arriving at a set destination within 15 minutes of schedule, accounted for 55.6 percent of its roughly 143,000 flights as of mid-December 2022. WestJet's on-time arrivals were at 60.7 percent of its roughly 89,000 flights. Cirium noted that U.S.-based Delta Air Lines' on-time arrivals was at 84 percent of its 960,000 flights. It was followed by Alaska Airlines (81 percent of more than 231,000 flights) and United Airlines (81 percent of nearly 750,000 flights). Considering that "nearly 72% of the more than 5 million flights Cirium tracked through that period in North America made it to their destination on time," as USA Today's Nathan Diller noted on Dec. 29, Canada is well below the North American average. This data doesn't even include the effects of the recent winter storms that ripped through parts of Canada and the United States. The luggage backlog it caused at Toronto's Pearson Airport alone led to some eye-raising tales about missing baggage and lost Christmas gifts. Lex Harvey, the Toronto Star's transportation reporter, wrote on Dec. 27 about Nancy Lynch, who "spotted her son's lost luggage at a check-in kiosk at Pearson while on her way to meet him in Cuba." It was a "stroke of luck" that she saw his bag, and claimed it by showing a copy of her son's passport to a Sunwing agent. "He's just thrilled because now he can have something other than his spare bathing suit to wear." There's also the story of Cal Noehring. He was booked to travel from Toronto to Saskatoon on Christmas Eve with his wife and two children, but the storm cancelled their flight. They returned home 14 hours later after a $100 Uber trip, and without their luggage containing Christmas presents. The trip had apparently been rescheduled, but Air Canada hadn't sorted out the baggage issue when Harvey's piece was filed. "Now they're unsure about Santa," Noehring told Harvey. What a mess. Air Canada, WestJet and other Canadian airlines can't allow the problems of 2022 to continue into 2023. Lineups and flight delays have to be reduced as much as possible. Passengers have to be checked in at a much faster pace. Airplanes have to stay on schedule when it comes to arrivals and departures. The airlines need to keep a far closer eye on the luggage situation, too. There will always be issues with air travel going forward. We know this as a society. Things can't remain at the level of ineffectiveness and mediocrity we're currently witnessing in the Canadian airline industry, however. If they do, passengers won't use their services—and governments won't bail them out. Views expressed in this article are the opinions of the author and do not necessarily reflect the views of The Epoch Times. Michael Taube, a longtime newspaper columnist and political commentator, was a speechwriter for former Canadian prime mi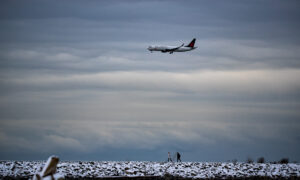 Commentary
"The journey of a thousand miles begins with a single step," the philosopher Laozi wrote in Tao Te Ching. Yet, when it comes to travel in our modern society, it seems like there's a thousand steps before we journey a single mile.
The state of transportation in Canada can certainly be described as one of constant frustration, aggravation, and consternation. There's a steady stream of hurdles to bypass, hoops to jump through, and rivers to cross. And that's before you even get on the plane!
We all knew (or sensed) there would be kinks in air travel. COVID-19 had hurt the airline industry when the capacity of most airplanes significantly dropped in 2020 and 2021. This financial decline led to staff layoffs and, in some instances, a reduced fleet. While flight and travel restrictions have mostly been eliminated, the inability of Canadian airlines to handle the onslaught of passengers for business trips and vacations has become a regular topic of conversation at the water coolers and our dinner tables.
There have been massive lineups at airports for hours, often leading would-be passengers on a road to nowhere. Delays in departures and arrivals have sometimes been relatively pain-free, and others have lasted for days with fast food comas and uncomfortable sleeping arrangements on airport chairs. Catching a connecting flight on time is getting to the point of becoming an Olympic sport. Lost luggage has become a running joke among many travellers, similar to socks that mysteriously go missing in the laundry machines of the nation.
This can't be true, some of you may be thinking. It has to be a first world problem perpetuated by a small number of weary travellers, right?
I'm afraid not.
"Among the 10 biggest airlines in Canada and the U.S.," according to a Dec. 29, 2022 article in The Canadian Press, "Air Canada and WestJet Airlines Ltd. ranked worst and second-worst for their punctuality." This data comes from Cirium, an aviation analytics company which is part of the massive multinational corporation RELX plc, based in London, England.
Air Canada's on-time arrivals, which is calculated by planes arriving at a set destination within 15 minutes of schedule, accounted for 55.6 percent of its roughly 143,000 flights as of mid-December 2022. WestJet's on-time arrivals were at 60.7 percent of its roughly 89,000 flights.
Cirium noted that U.S.-based Delta Air Lines' on-time arrivals was at 84 percent of its 960,000 flights. It was followed by Alaska Airlines (81 percent of more than 231,000 flights) and United Airlines (81 percent of nearly 750,000 flights).
Considering that "nearly 72% of the more than 5 million flights Cirium tracked through that period in North America made it to their destination on time," as USA Today's Nathan Diller noted on Dec. 29, Canada is well below the North American average.
This data doesn't even include the effects of the recent winter storms that ripped through parts of Canada and the United States. The luggage backlog it caused at Toronto's Pearson Airport alone led to some eye-raising tales about missing baggage and lost Christmas gifts.
Lex Harvey, the Toronto Star's transportation reporter, wrote on Dec. 27 about Nancy Lynch, who "spotted her son's lost luggage at a check-in kiosk at Pearson while on her way to meet him in Cuba." It was a "stroke of luck" that she saw his bag, and claimed it by showing a copy of her son's passport to a Sunwing agent. "He's just thrilled because now he can have something other than his spare bathing suit to wear."
There's also the story of Cal Noehring. He was booked to travel from Toronto to Saskatoon on Christmas Eve with his wife and two children, but the storm cancelled their flight. They returned home 14 hours later after a $100 Uber trip, and without their luggage containing Christmas presents. The trip had apparently been rescheduled, but Air Canada hadn't sorted out the baggage issue when Harvey's piece was filed. "Now they're unsure about Santa," Noehring told Harvey.
What a mess.
Air Canada, WestJet and other Canadian airlines can't allow the problems of 2022 to continue into 2023. Lineups and flight delays have to be reduced as much as possible. Passengers have to be checked in at a much faster pace. Airplanes have to stay on schedule when it comes to arrivals and departures. The airlines need to keep a far closer eye on the luggage situation, too.
There will always be issues with air travel going forward. We know this as a society. Things can't remain at the level of ineffectiveness and mediocrity we're currently witnessing in the Canadian airline industry, however. If they do, passengers won't use their services—and governments won't bail them out.
Views expressed in this article are the opinions of the author and do not necessarily reflect the views of The Epoch Times.