Chess Pieces: Taiwan and the Great Game
CommentaryIn diplomacy, there always is the public face and the secret or sub rosa dimension. Secrecy is a hallmark of diplomatic relations. During the secret negotiations between China, President Richard Nixon, and Secretary of State Henry Kissinger, both Nixon and Kissinger wanted to conduct their diplomacy such that "the success of the secret negotiations with China overshadowed the fact that the process was non-democratic." Once they completed their negotiations with Chairman Mao Zedong and Premier Chou En-Lai, they presented a fait accompli to Congress and the American people who mistrusted the Chinese Communist Party (CCP) and Nixon-Kissinger's motivations. Similarly, President Jimmy Carter did the same when he terminated relations with Taiwan in December 1978 and formalized diplomatic relations with China two weeks later—another fait accompli without the involvement of Congress and the American people. This article will provide a view of what happened during and after House Speaker Nancy Pelosi's trip to the Republic of China/Taiwan. Act One: Assembling the Actors at the Right Time and Place Chinese leader Xi Jinping knew that Pelosi would visit Taiwan. He knew she wanted to come on April 10 but canceled the visit due to "COVID." Did Pelosi have COVID? Two weeks later, she and her son, Paul Pelosi Jr., flew to Ukraine to get a selfie with President Volodymyr Zelenskyy. So what happened in April? A visit to Taiwan was inopportune for the participants. Were the Chinese Communist Party (CCP) and the PLA not ready for their media campaign and military plans, or was it because Shanghai was engulfed in lockdowns? The U.S. military was not in place to provide Pelosi force protection from the PLA; the USS Ronald Reagan was undergoing maintenance in Japan, and other U.S. Navy ships were not close to Taiwan. Taiwan's military did not have an exercise in April to show its population that it was ready for the PLA. By all appearances, the trip was delayed. However, Pelosi was still going to come to Taiwan to send a message of support and for her Asian boondoggle at the taxpayer's expense before supposedly retiring from Congress based on her 2018 pledge. Did much of the coordination of this play occur during phone calls between President Joe Biden and Chinese leader Xi Jinping and meetings between U.S. and CCP senior diplomats, especially during the two-hour phone call on July 28 prior to Pelosi's visit? In other words, were Biden and Xi the directors of the drama? U.S. President Joe Biden gestures as he meets with Chinese leader Xi Jinping during a virtual summit from the Roosevelt Room of the White House on Nov. 15, 2021. (Mandel Ngan/AFP via Getty Images) Act Two: Rock Star Pelosi! Act Two needed all actors to be in place and perform their best because this would be the biggest story for early August. As of July 19, the Financial Times and Reuters reported that Pelosi was planning a trip to Asia that could include Taiwan. Given this, Pelosi's office had to be in contact with the Department of Defense (DOD) to work out the best time for her travel to Asia, especially her planned trip to Taiwan. Did the DOD inform her that the U.S. Navy would have maximum firepower in the area in early August, as well as the massive Rim of the Pacific (RIMPAC) exercise from June 29 to Aug. 4, when 26 other nations would have their 38 navy ships participating in an exercise with 25,000 military personnel, which most likely had a PLA war scenario in it? Ironically, when Biden noted that the DOD thought that Pelosi's trip was "not a good idea right now," did the DOD mislead the public because it told her privately that the "best" time to go was the beginning of August? Once she locked in her schedule, the DOD made her transportation and force protection arrangements. For example, the U.S. Air Force reserved an aircraft for her flight via the VIP transport squadron at Andrews Air Force Base. The Pentagon coordinated her military escort so that when she flew from Kuala Lumpur, Malaysia to Taiwan, she would be protected by U.S. Navy escort fighter aircraft from the USS Ronald Reagan until the Taiwanese Air Force took over fighter escort to Taipei. Pelosi's office coordinated aircraft movements with all the countries she would visit with the help of the respective USAF, U.S. Embassies, and defense attaché offices, including the AIT office in Taipei. Was it a coincidence that prior to Pelosi's visit, Taiwan conducted its annual military exercise Han Kuang (July 25–29), and the Taiwanese would be at their maximum readiness? After the exercise, the Taiwanese military continued to show its vigilance throughout the PLA's exercise scheduled initially from Aug. 4–7. The Chinese spokesmen claimed the exercise was extended to Aug. 10 in reaction to Pelosi's 18-hour visit to Taiwan on Aug. 2–3. Pelosi brought with her at least three levels of messages to each of the countries she and her delegation met: the U.S. government, the Dem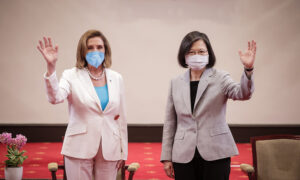 Commentary
In diplomacy, there always is the public face and the secret or sub rosa dimension. Secrecy is a hallmark of diplomatic relations. During the secret negotiations between China, President Richard Nixon, and Secretary of State Henry Kissinger, both Nixon and Kissinger wanted to conduct their diplomacy such that "the success of the secret negotiations with China overshadowed the fact that the process was non-democratic."
Once they completed their negotiations with Chairman Mao Zedong and Premier Chou En-Lai, they presented a fait accompli to Congress and the American people who mistrusted the Chinese Communist Party (CCP) and Nixon-Kissinger's motivations.
Similarly, President Jimmy Carter did the same when he terminated relations with Taiwan in December 1978 and formalized diplomatic relations with China two weeks later—another fait accompli without the involvement of Congress and the American people.
This article will provide a view of what happened during and after House Speaker Nancy Pelosi's trip to the Republic of China/Taiwan.
Act One: Assembling the Actors at the Right Time and Place
Chinese leader Xi Jinping knew that Pelosi would visit Taiwan. He knew she wanted to come on April 10 but canceled the visit due to "COVID." Did Pelosi have COVID? Two weeks later, she and her son, Paul Pelosi Jr., flew to Ukraine to get a selfie with President Volodymyr Zelenskyy.
So what happened in April? A visit to Taiwan was inopportune for the participants. Were the Chinese Communist Party (CCP) and the PLA not ready for their media campaign and military plans, or was it because Shanghai was engulfed in lockdowns? The U.S. military was not in place to provide Pelosi force protection from the PLA; the USS Ronald Reagan was undergoing maintenance in Japan, and other U.S. Navy ships were not close to Taiwan. Taiwan's military did not have an exercise in April to show its population that it was ready for the PLA. By all appearances, the trip was delayed. However, Pelosi was still going to come to Taiwan to send a message of support and for her Asian boondoggle at the taxpayer's expense before supposedly retiring from Congress based on her 2018 pledge.
Did much of the coordination of this play occur during phone calls between President Joe Biden and Chinese leader Xi Jinping and meetings between U.S. and CCP senior diplomats, especially during the two-hour phone call on July 28 prior to Pelosi's visit? In other words, were Biden and Xi the directors of the drama?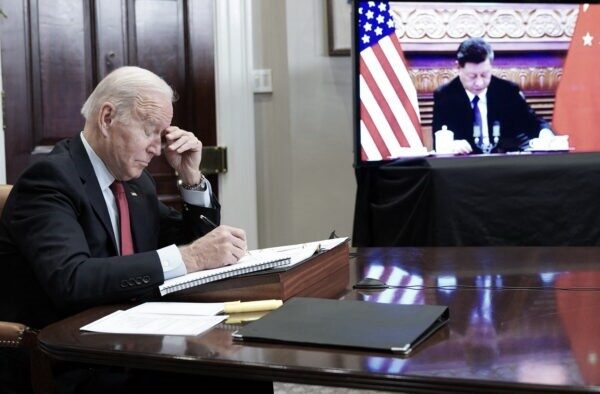 Act Two: Rock Star Pelosi!
Act Two needed all actors to be in place and perform their best because this would be the biggest story for early August. As of July 19, the Financial Times and Reuters reported that Pelosi was planning a trip to Asia that could include Taiwan. Given this, Pelosi's office had to be in contact with the Department of Defense (DOD) to work out the best time for her travel to Asia, especially her planned trip to Taiwan. Did the DOD inform her that the U.S. Navy would have maximum firepower in the area in early August, as well as the massive Rim of the Pacific (RIMPAC) exercise from June 29 to Aug. 4, when 26 other nations would have their 38 navy ships participating in an exercise with 25,000 military personnel, which most likely had a PLA war scenario in it?
Ironically, when Biden noted that the DOD thought that Pelosi's trip was "not a good idea right now," did the DOD mislead the public because it told her privately that the "best" time to go was the beginning of August? Once she locked in her schedule, the DOD made her transportation and force protection arrangements. For example, the U.S. Air Force reserved an aircraft for her flight via the VIP transport squadron at Andrews Air Force Base.
The Pentagon coordinated her military escort so that when she flew from Kuala Lumpur, Malaysia to Taiwan, she would be protected by U.S. Navy escort fighter aircraft from the USS Ronald Reagan until the Taiwanese Air Force took over fighter escort to Taipei. Pelosi's office coordinated aircraft movements with all the countries she would visit with the help of the respective USAF, U.S. Embassies, and defense attaché offices, including the AIT office in Taipei.
Was it a coincidence that prior to Pelosi's visit, Taiwan conducted its annual military exercise Han Kuang (July 25–29), and the Taiwanese would be at their maximum readiness? After the exercise, the Taiwanese military continued to show its vigilance throughout the PLA's exercise scheduled initially from Aug. 4–7. The Chinese spokesmen claimed the exercise was extended to Aug. 10 in reaction to Pelosi's 18-hour visit to Taiwan on Aug. 2–3.
Pelosi brought with her at least three levels of messages to each of the countries she and her delegation met: the U.S. government, the Democratic Party, and her personal/family levels.
US Government Level
It is a standard operating procedure for the executive branch to brief all congressional delegations on U.S. policies—to provide talking points and to note topics to avoid during the visit, publicly and privately.
Pelosi's public talking points in this area were clear: Congress and the president support Taiwan according to the Taiwan Relations Act of 1979, the U.S.-China Joint Communiques, and the Six Assurances. Biden assured Xi that Pelosi would not stray from these talking points.
Pelosi's public statements and actions displeased the CCP: she met with Hong Kong, Uyghur, Taiwanese, and other freedom activists during her visit; she praised Taiwan's COVID policy—a subtle criticism of Xi's "zero-COVID" policy; and expressed support for a democratic Taiwan.
Is it also possible that the CCP coordinated her punishment beforehand with Biden and that she knew in advance what the outcome was, which included the CCP's censure of her family and her businesses?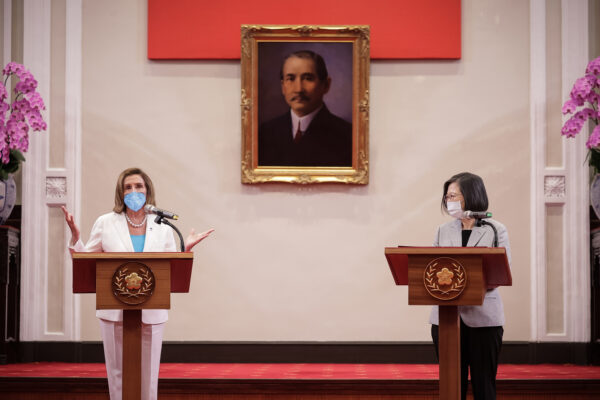 Secret US Government (Sub-Rosa) Level
Besides publicly delivering the official U.S. government messages, Pelosi brought the following messages to Taiwan President Tsai Ing-wen:
Stop asking for weapons that will give you any offensive capability against the PLA.
Focus on buying "asymmetric weapons" that will allow your forces to conduct a defensive guerilla war when the PLA invades even though the PLA intends to blockade Taiwan.
If you comply with our advice, we promise a massive aid package like what we provided Ukraine. (Two Senate bills are on hold that would provide significant military aid to Taiwan: S.3192 Taiwan Deterrence Act and S.3131 Arm Taiwan Act of 2021. "TDA seeks approval for $2 billion a year from the Foreign Military Financing (FMF) program for Taiwan from 2023 to 2032 or $20 billion over a 10-year period. ATA requests approval to spend $3 billion a year from 2023 to 2027 or $15 billion for five years.")
Democratic Party Level
Recall that Pelosi traveled with key House Democrats: Foreign Affairs Committee Chairman Gregory Meeks (D-N.Y.); Veterans Affairs Committee Chairman Mark Takano (D-Calif.); Rep. Suzan DelBene (D-Wash.), a leading voice on trade issues; Rep. Raja Krishnamoorthi (D-Ill.), a member of the Intelligence Committee; and Rep. Andy Kim (D-N.J.), a former national security official in the Obama administration.
These representatives reinforced the U.S. government's message. Did the Democratic delegation also include a party-to-party message about supporting the Democrats in the upcoming 2022 mid-term congressional election: if Tsai's Democratic Progressive Party (DPP) would support the Democrats, then the Democrats would support the DPP in the upcoming Taiwanese elections?
Personal Level
Paul Pelosi Jr. accompanied his mother, Speaker Pelosi, on her official last trip abroad. What private messages could Pelosi and her son say to Asian leaders? Is Paul going to run for office and continue the family political tradition? Were there any discussions about businesses related to the Pelosi family? Nothing has been reported on this except that Paul Jr. is "on the payroll of two lithium mining companies," according to Fox News. Paul Jr. is also in the computer chip business.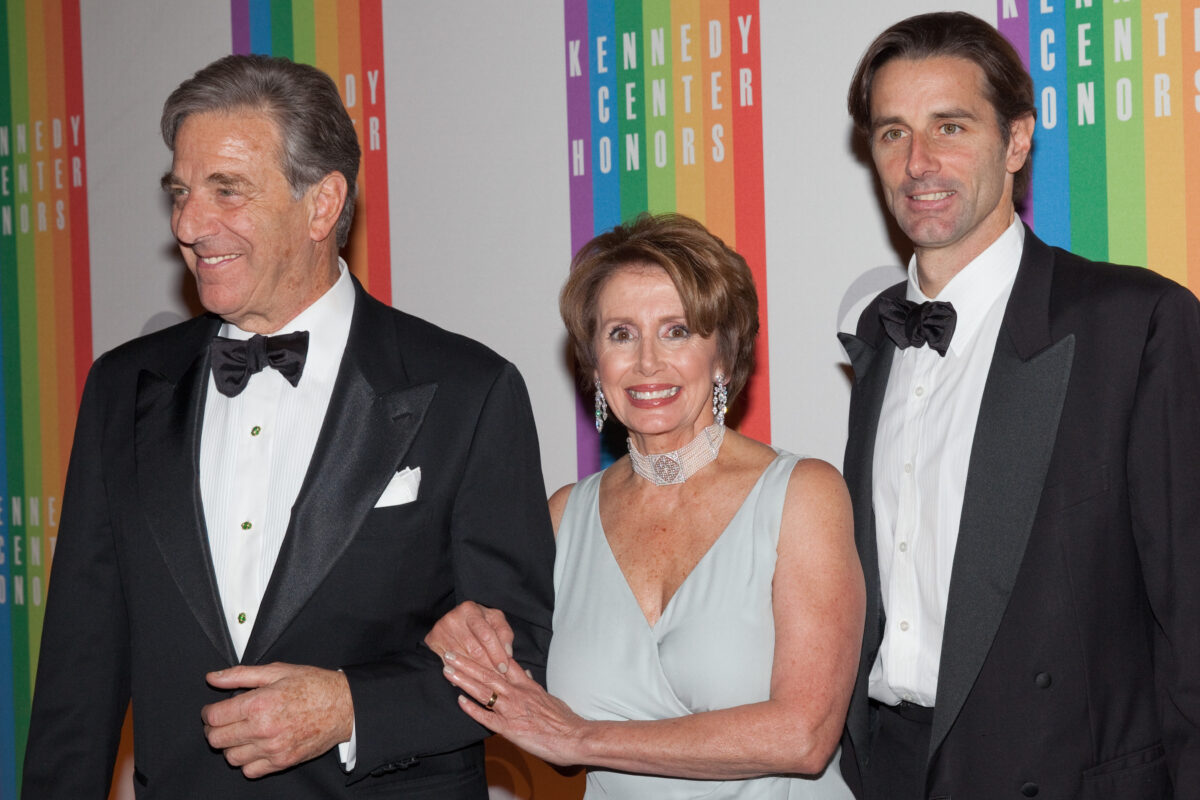 Taiwan is well-known as the world leader in manufacturing semiconductors and produces over 90 percent of the world's high-end chips. The congressional delegation and Paul Jr. visited the TSMC factory in Taiwan. Do Paul Jr. and his father have a financial or other interest with TSMC?
Pelosi's Family Chips Business?
Paul Jr. is a board member of a Chinese telecom company called Borqs Technologies. He was paid 700,000 shares in this company for his advice and still owned 147,000 shares as of March this year.
Paul Pelosi Sr., Nancy's husband, bought over $1 million in Nvidia stock in July just before Congress passed a bill investing $52 billion in chip subsidies and tax breaks to U.S. companies.
The congressional delegation and Paul Jr. visited South Korea and Korea's Samsung semiconductor factory. South Korea is the second largest producer of chips after Taiwan.
Paul Jr. also accompanied Pelosi to Ukraine to meet with President Zelenskyy in Kyiv. Is there a conflict of interest with Paul Jr.'s visit to Ukraine along with his mother, given that he also has business interests in lithium and other rare earth metals?
Ukraine has about "500,000 tons of lithium oxide—the largest source globally in the world," or 25 percent of the known reserves. Besides lithium, Ukraine also has up to 20 percent of the world's titanium reserves and is the second largest source of gallium in the world. Titanium is key for aerospace, such as military jet fighters and spaceships. Gallium is used in electronic circuits, semiconductors, light-emitting diodes (LEDs), and "the semiconductor of choice for 5G electronics and large search radars." Gallium will transition into fighter aircraft's fire-control radar and promise the "single largest leap in performance since the active, electronically scanned array revolution in the late 1990s."
Are these financial transactions by Paul Sr. and Paul Jr. ethical and legal?
Act Three: The PLA's Firepower Display
The PLA was the star of Act Three. The PLA conducted the largest exercise it has ever done around Taiwan from Aug. 4 to 10. No nation interfered with its firepower display—the U.S. Navy was watching nearby. The U.S. Navy's Ronald Reagan Carrier Strike Group (CSG) could have transited the Taiwan Straits during the exercise. It did not. The U.S. Navy and the U.S. Air Force (from Okinawa) could have conducted combat air patrols near Taiwan as a show of force. They did not.
The Taiwanese military did not take an aggressive posture during the exercise even though at least four ballistic missiles overflew the island of Taiwan; some of the exercise areas violated Taiwan's economic exclusive zone (EEZ), Taiwan's 12-mile territorial waters, and Japan's and the Philippines' EEZs. PLA Navy ships and aircraft crossed the Taiwan Straits midline numerous times.
Act Four: The PLA's Dénouement and the New Norm
The PLA determined the new normal in extending its military operational areas by conducting its Aug. 4–10 military exercise.
First, PLA military aircraft are increasingly crossing the Taiwan Straits midline—although not by much and not for an extended period.
Second, PLA Navy ships are crossing the midline and are conducting patrols more frequently near Taiwan than before the extended military exercise.
The message is clear: When ordered by Xi, the PLA intends to prevent ships and airplanes from traveling to or from Taiwan without permission. The PLA's new operational profile continues to demonstrate this capability and its focus on a blockade of the island country.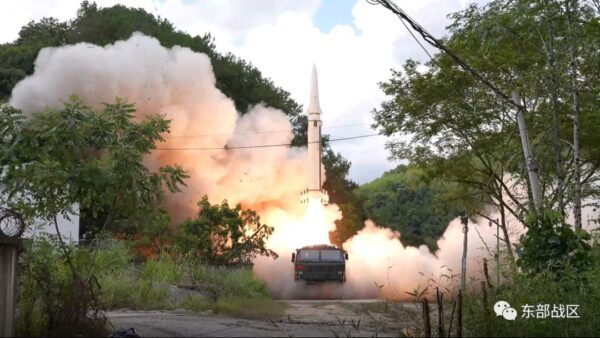 In concluding Act Four, will the United States, Japan, the Philippines, and Taiwan accept the PLA's new norm and that they will not conduct operations that would resist it? If so, why?
Final Act: Play According to Our Rules or Else
A considerable number of events lined up perfectly for Pelosi's visit, leading the author to conclude that the participants engaged in the well-orchestrated play.
The purpose of Pelosi's visit was to set conditions for a slow escalation of events that would produce a de facto PLA blockade of Taiwan. Another congressional delegation visited Taiwan after Pelosi's visit, and the PLA reinforced its new normal by conducting military exercises again to prepare for a blockade.
Xi Jinping will decide the timeline and the tempo of the strangulation strategy after the U.S. and Taiwan elections and the CCP's 20th National Congress in the fall of 2022.
Beijing 1949 Versus Taiwan?
Mao had used this strangulation strategy, which is equivalent to a blockade, when his communist forces surrounded Beijing toward the end of the Chinese civil war in January 1949. The communists had prepared to fight a lengthy battle. Still, they captured the city in only 29 hours when the population and the nationalist forces realized that the communists would have pummeled them from the enormous number of artillery pieces they had captured from the nationalists and the Japanese.
This scenario is Xi's penultimate dream for the outcome of Taiwan's fate and follows Sun Tzu's dictum: To subdue the enemy without fighting is the acme of skill. Xi will be admitted into the Chinese communist pantheon if he can demonstrate this acme of skill. Let us hope and plan for him to be unsuccessful.
Views expressed in this article are the opinions of the author and do not necessarily reflect the views of The Epoch Times.