Biden Cut the Pipeline, Complains About High Gas Prices
CommentaryPresident Joe Biden appears to have no understanding of where high gas prices come from and that his policies have contributed to the problem. "If oil companies were investing their profits in their operations at historic rates, America would produce more oil today and prices would be down even further. Rather than giving Americans a break, they are sending their excess profits back to shareholders and executives," Biden wrote on Twitter on Nov. 3. Biden is blaming American oil companies for the increase in gas prices that Americans see at the pumps. However, the gas stations did not just decide to raise prices collectively. The price you pay is based on how much gas costs the gas stations. This is the same as any other product you buy. So when the global price of oil goes up, the price at the pumps also goes up, and it is the consumer who feels the difference. Global oil prices are determined by three factors: supply and demand, cost of production, and market sentiment. The world's oil supply is significantly influenced by the volume of oil OPEC members agree to pump. When OPEC cuts its production, the price of oil increases. When OPEC increases production, the price of oil declines. Oil is sold on world markets in an auction format, so the price is also affected by global demand as well as public sentiment. During COVID-19 lockdowns, oil use declined, oil demand dropped off sharply, and prices plummeted. This is because OPEC forecasted a certain level of demand for 2020 based on 2019 numbers and produced that supply level. OPEC did not anticipate that the world would go into lockdown, which would cause a surplus of gas, resulting in lower prices at the pumps. The year 2020 began with brent crude oil selling for $70 a barrel. But the price dropped to $9.12 a barrel amid the U.S. lockdowns. At one point, the prices of oil futures actually went negative, selling for -$37 a barrel. Gas prices are advertised at a Chevron station as rising inflation and oil costs affect the consumers in Los Angeles, Calif., on June 13, 2022. (Lucy Nicholson/Reuters) Public sentiment can also drive oil prices up. The glut of oil, which kept oil prices down in 2020, began to alleviate by summer as COVID restrictions eased up. Demand increased, and prices began slowly climbing back to $49 per barrel. Then, with the anticipation of fewer lockdowns and more demand in 2021, the prices crept up to $51 a barrel. By mid-2021, oil production volumes and prices normalized. Fast forward to 2022, and oil prices skyrocketed as soon as the war in Ukraine started. In March, oil prices spiked to nearly $120 per barrel. And now that Americans are weary of reading about the war in Ukraine, oil prices have begun to drop again. On Nov. 3, the price of oil had dropped to just over $92. The way a competent president could address rising oil prices is to engage with Saudi Arabia and other OPEC nations, and convince them to increase production to bring down the price of oil. Former President Donald Trump did this when he met with Saudi leaders. The current agreement with Saudi Arabia is that the United States provides it with weapons and allows it to purchase U.S. government debt before it goes to auction. In return, Saudi Arabia continues to use dollars for oil transactions and agrees to hear U.S. concerns regarding the OPEC annual oil quota agreements. On the domestic front, Biden shut down the Keystone Pipeline, which democrats claim is not the cause of higher gas prices because the pipeline was not in use yet. However, shutting down the pipeline decreased future supply by 900,000 barrels. Additionally, investors lost $12 billion, discouraging further investment into the expansion of oil production under the Biden administration. Biden has taken steps to restrict new oil and gas leases on federal land, a move expected to cost the public $670 billion over 20 years. Consumers will pay for this at the gas pumps. Biden's administration is also pushing for a ban on fracking, a process that increases supply and cuts the cost of oil. In order to increase supply and keep prices down, the president has to encourage gas companies to expand production. Under the Trump administration in 2019, North American oil production was at an all-time high. The point Biden is missing is that U.S. oil companies are free-market, private companies seeking to maximize profits like any other business. In Biden's tweet and in many press conferences, he has demanded that oil companies reinvest profits into expanding oil production. If companies believed that they could make more money by doing so, they would. But expanding production requires billions of dollars in upfront investment to earn greater profits in the future. Companies are less likely to take this risk in the face of an administration passing laws to restrict fossil fuel use. Views expressed in this article are the opinions of the author and do not necessarily reflect the views of The Epoch T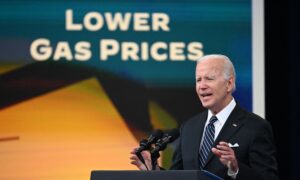 Commentary
President Joe Biden appears to have no understanding of where high gas prices come from and that his policies have contributed to the problem.
"If oil companies were investing their profits in their operations at historic rates, America would produce more oil today and prices would be down even further. Rather than giving Americans a break, they are sending their excess profits back to shareholders and executives," Biden wrote on Twitter on Nov. 3.
Biden is blaming American oil companies for the increase in gas prices that Americans see at the pumps. However, the gas stations did not just decide to raise prices collectively. The price you pay is based on how much gas costs the gas stations. This is the same as any other product you buy. So when the global price of oil goes up, the price at the pumps also goes up, and it is the consumer who feels the difference.
Global oil prices are determined by three factors: supply and demand, cost of production, and market sentiment. The world's oil supply is significantly influenced by the volume of oil OPEC members agree to pump. When OPEC cuts its production, the price of oil increases. When OPEC increases production, the price of oil declines. Oil is sold on world markets in an auction format, so the price is also affected by global demand as well as public sentiment.
During COVID-19 lockdowns, oil use declined, oil demand dropped off sharply, and prices plummeted. This is because OPEC forecasted a certain level of demand for 2020 based on 2019 numbers and produced that supply level. OPEC did not anticipate that the world would go into lockdown, which would cause a surplus of gas, resulting in lower prices at the pumps.
The year 2020 began with brent crude oil selling for $70 a barrel. But the price dropped to $9.12 a barrel amid the U.S. lockdowns. At one point, the prices of oil futures actually went negative, selling for -$37 a barrel.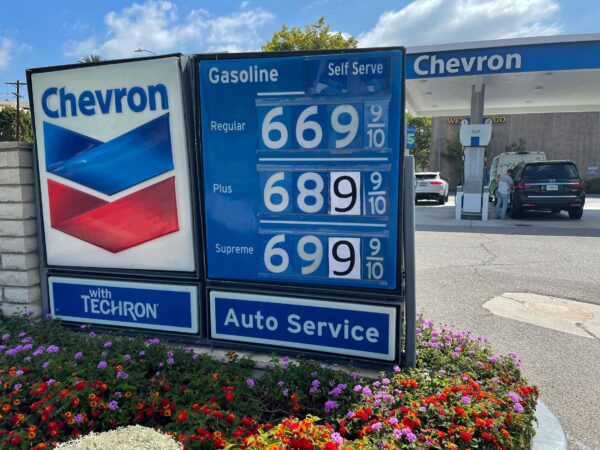 Public sentiment can also drive oil prices up. The glut of oil, which kept oil prices down in 2020, began to alleviate by summer as COVID restrictions eased up. Demand increased, and prices began slowly climbing back to $49 per barrel. Then, with the anticipation of fewer lockdowns and more demand in 2021, the prices crept up to $51 a barrel. By mid-2021, oil production volumes and prices normalized.
Fast forward to 2022, and oil prices skyrocketed as soon as the war in Ukraine started. In March, oil prices spiked to nearly $120 per barrel. And now that Americans are weary of reading about the war in Ukraine, oil prices have begun to drop again. On Nov. 3, the price of oil had dropped to just over $92.
The way a competent president could address rising oil prices is to engage with Saudi Arabia and other OPEC nations, and convince them to increase production to bring down the price of oil. Former President Donald Trump did this when he met with Saudi leaders. The current agreement with Saudi Arabia is that the United States provides it with weapons and allows it to purchase U.S. government debt before it goes to auction. In return, Saudi Arabia continues to use dollars for oil transactions and agrees to hear U.S. concerns regarding the OPEC annual oil quota agreements.
On the domestic front, Biden shut down the Keystone Pipeline, which democrats claim is not the cause of higher gas prices because the pipeline was not in use yet. However, shutting down the pipeline decreased future supply by 900,000 barrels. Additionally, investors lost $12 billion, discouraging further investment into the expansion of oil production under the Biden administration. Biden has taken steps to restrict new oil and gas leases on federal land, a move expected to cost the public $670 billion over 20 years. Consumers will pay for this at the gas pumps. Biden's administration is also pushing for a ban on fracking, a process that increases supply and cuts the cost of oil.
In order to increase supply and keep prices down, the president has to encourage gas companies to expand production. Under the Trump administration in 2019, North American oil production was at an all-time high. The point Biden is missing is that U.S. oil companies are free-market, private companies seeking to maximize profits like any other business.
In Biden's tweet and in many press conferences, he has demanded that oil companies reinvest profits into expanding oil production. If companies believed that they could make more money by doing so, they would. But expanding production requires billions of dollars in upfront investment to earn greater profits in the future. Companies are less likely to take this risk in the face of an administration passing laws to restrict fossil fuel use.
Views expressed in this article are the opinions of the author and do not necessarily reflect the views of The Epoch Times.