'80 Percent of Patients Have Differing Degrees of Pneumonia': Chinese Doctor
While the Chinese Communist Party's (CCP) top health body announced a downgrading of China's COVID-19 management measures and renamed the Chinese term for COVID, Chinese doctors posted online that the virus has severely impacted the lungs of most of their COVID patients.A respiratory and critical care medicine physician from The First Affiliated Hospital of Anhui Medical University posted on Weibo on Dec. 28 that among the 60 patients he saw in the outpatient clinic, "80 percent had pneumonia of differing degrees." "Almost all of them were positive for COVID, and most of them have the characteristics of viral pneumonia from the scanned images. 'The novel coronavirus pneumonia' is true to its name. The disease cannot be regarded as the upper respiratory tract infection of the novel coronavirus 'flu,'" the doctor wrote. His post was removed from China's social media platforms. The Epoch Times wasn't able to contact the doctor. "Almost all the patients who came to us had fever and pneumonia. I don't know the number of deaths, but our director told us internally that it is definitely not the publicly announced cold and upper respiratory tract infection, but purely a disease that hurts the lungs, which is terrible," Dr. Song (pseudonym) who works at a Hospital in Qiqihar City of China's northeastern Heilongjiang Province told the Chinese language edition of The Epoch Times on Dec. 27. Severe Symptoms, Massive Infections: Doctors Dr. Song said in the interview that patients reported severe symptoms. "Some patients have bone pain all over their bodies like an electric drill is piercing their bones. Some have intense sore throats preventing them from drinking water or eating, and they feel pain even when they breathe," Dr. Song said. Song said he was infected with COVID, and so were many of his colleagues. "Many of the doctors and nurses in our hospital were infected, but we just hang in there and continue working. I can hear my colleagues coughing painfully every day," Song said, adding that only those with persistent high fever are allowed to go home and rest. People line up outside a fever clinic at a hospital in Beijing, China, on Dec. 11, 2022. (Kevin Frayer/Getty Images) Dr. Chen (pseudonym), from a hospital in Anshan City of China's northeastern Liaoning Province, said that many of the patients he sees have developed lung infections. "Patients in our emergency rooms have shadows on their lungs in their CT scans," Chen told The Epoch Times on Dec. 27. She said that she had discussed the symptoms of her patients with a former classmate who is now working in a hospital in Japan. "My classmate said that, even when Japan was at its worst during the pandemic outbreaks, it wasn't like the current situation in China. He told me that it is something serious since so many people have died with white lung syndrome," Chen said. White lung syndrome refers to the alveoli in the lungs being filled with exudative or inflammatory cells that block the passage of rays of a CT scan or X-ray and thus show up as white areas, explained Dr. Dong Yuhong. Dr. Dong is the chief scientific officer and co-founder of a Swiss biotech company and a former senior medical scientific expert for antiviral drug development at Novartis Pharma in Switzerland. Most of the medical staff members in the hospital have been infected, and it's difficult for the hospital's medical professionals who are ill to get an appointment due to the surge in the number of patients, according to Chen. "Most of the doctors and nurses were positive for COVID with a fever, and they had to stay at home. There was a lack of medical professionals, and the authorities just pushed medical students to the frontline and asked them to replace doctors," Chen said. Chen couldn't get herself in the queue for a CT scan because there were too many patients already waiting. "The whole place was packed with patients today, and I wasn't able to get myself an appointment for a CT scan," Chen told The Epoch Times. This was the second time Chen tested positive for COVID, and she had a low-grade fever of around 98.8°F for seven consecutive days, according to Chen. Her mother and her sister were also infected by COVID, Chen said. Shortage of Medicine: Doctor Chen blasted the communist regime for its stringent zero-COVID measures and strict control of medicines. An almost empty shelf that normally holds cold medicine at a pharmacy amid the COVID-19 pandemic in Beijing on Dec. 15, 2022. (Yuxuan Zhang/AFP via Getty Images) She said there no cure for COVID has been developed in the three years since the pandemic broke out and that even the hospital was short of medicines for COVID. "We have run out of medicine for COVID. Our hospital doesn't even have any medicines left for colds and fevers. I prescribed medicine for pneumonia yesterday, but it was out of stock. Two days ago, I looked for some traditional Chinese medicines, but the hospital had also run out of stock o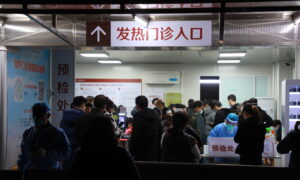 While the Chinese Communist Party's (CCP) top health body announced a downgrading of China's COVID-19 management measures and renamed the Chinese term for COVID, Chinese doctors posted online that the virus has severely impacted the lungs of most of their COVID patients.
A respiratory and critical care medicine physician from The First Affiliated Hospital of Anhui Medical University posted on Weibo on Dec. 28 that among the 60 patients he saw in the outpatient clinic, "80 percent had pneumonia of differing degrees."
"Almost all of them were positive for COVID, and most of them have the characteristics of viral pneumonia from the scanned images. 'The novel coronavirus pneumonia' is true to its name. The disease cannot be regarded as the upper respiratory tract infection of the novel coronavirus 'flu,'" the doctor wrote.
His post was removed from China's social media platforms.
The Epoch Times wasn't able to contact the doctor.
"Almost all the patients who came to us had fever and pneumonia. I don't know the number of deaths, but our director told us internally that it is definitely not the publicly announced cold and upper respiratory tract infection, but purely a disease that hurts the lungs, which is terrible," Dr. Song (pseudonym) who works at a Hospital in Qiqihar City of China's northeastern Heilongjiang Province told the Chinese language edition of The Epoch Times on Dec. 27.
Severe Symptoms, Massive Infections: Doctors
Dr. Song said in the interview that patients reported severe symptoms.
"Some patients have bone pain all over their bodies like an electric drill is piercing their bones. Some have intense sore throats preventing them from drinking water or eating, and they feel pain even when they breathe," Dr. Song said.
Song said he was infected with COVID, and so were many of his colleagues.
"Many of the doctors and nurses in our hospital were infected, but we just hang in there and continue working. I can hear my colleagues coughing painfully every day," Song said, adding that only those with persistent high fever are allowed to go home and rest.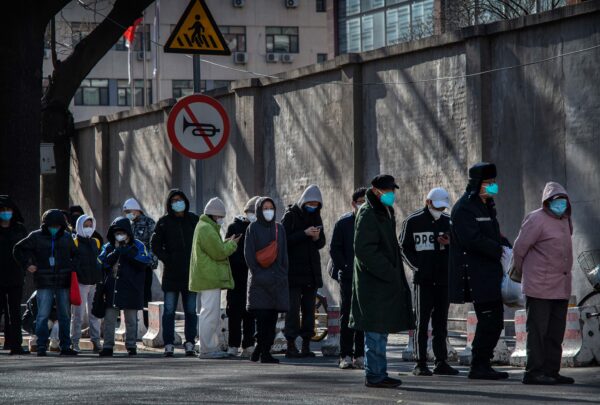 Dr. Chen (pseudonym), from a hospital in Anshan City of China's northeastern Liaoning Province, said that many of the patients he sees have developed lung infections.
"Patients in our emergency rooms have shadows on their lungs in their CT scans," Chen told The Epoch Times on Dec. 27. She said that she had discussed the symptoms of her patients with a former classmate who is now working in a hospital in Japan.
"My classmate said that, even when Japan was at its worst during the pandemic outbreaks, it wasn't like the current situation in China. He told me that it is something serious since so many people have died with white lung syndrome," Chen said.
White lung syndrome refers to the alveoli in the lungs being filled with exudative or inflammatory cells that block the passage of rays of a CT scan or X-ray and thus show up as white areas, explained Dr. Dong Yuhong. Dr. Dong is the chief scientific officer and co-founder of a Swiss biotech company and a former senior medical scientific expert for antiviral drug development at Novartis Pharma in Switzerland.
Most of the medical staff members in the hospital have been infected, and it's difficult for the hospital's medical professionals who are ill to get an appointment due to the surge in the number of patients, according to Chen.
"Most of the doctors and nurses were positive for COVID with a fever, and they had to stay at home. There was a lack of medical professionals, and the authorities just pushed medical students to the frontline and asked them to replace doctors," Chen said.
Chen couldn't get herself in the queue for a CT scan because there were too many patients already waiting.
"The whole place was packed with patients today, and I wasn't able to get myself an appointment for a CT scan," Chen told The Epoch Times.
This was the second time Chen tested positive for COVID, and she had a low-grade fever of around 98.8°F for seven consecutive days, according to Chen. Her mother and her sister were also infected by COVID, Chen said.
Shortage of Medicine: Doctor
Chen blasted the communist regime for its stringent zero-COVID measures and strict control of medicines.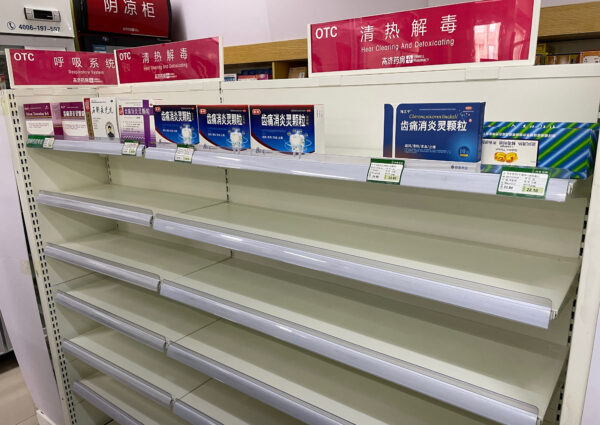 She said there no cure for COVID has been developed in the three years since the pandemic broke out and that even the hospital was short of medicines for COVID.
"We have run out of medicine for COVID. Our hospital doesn't even have any medicines left for colds and fevers. I prescribed medicine for pneumonia yesterday, but it was out of stock. Two days ago, I looked for some traditional Chinese medicines, but the hospital had also run out of stock of Chinese herbal medicines, including dried ginger," Chen said.
The Chinese authorities recommended a Chinese herbal decoction, containing dried ginger and licorice root slices, as a prevention against COVID in 2020, as reported by Laonian Ribao (Seniors Daily), a state-run daily publication for seniors published by China's northeastern Heilongjiang Province, and reposted by Sohu, one of the major Chinese online news portals.
Unable to get any medicine in the hospital, Chen went to a pharmacy but didn't find any there either.
"The pharmacy staffer told me that the municipal government has issued an order to limit the amount of medicine that can be purchased and they had sold out all cold and fever medicines," Chen said.
Face masks and rubbing alcohol were also out of stock in the local pharmacies, Chen added.
"There are thousands of pharmaceutical companies in China; how come we don't have enough medicines?" Chen blamed the CCP for its control of pharmaceutical production and sales.
"The CCP has no humanity. They're murderers!" Chen said in the interview.
Censorship of COVID Deaths
One Twitter post revealed that a provincial authority mandated "quality inspectors of each department" should see to it that novel coronavirus pneumonia should be avoided when doctors record the patients' cause of death.
The post doesn't identify the name of the province.
The Epoch Times wasn't able to verify the authenticity of the tweet.
Recent official announcements show that the CCP is working hard to play down the severity of the recent outbreak that is sweeping the country, with hospitals and crematories overwhelmed and long queues of hearses outside funeral homes waiting to deliver bodies .
Following the abrupt dumping of its zero-COVID measures in early December, the Chinese regime downgraded the management of the disease from Class A to Class B, and scrapped mandatory isolation measures on Dec. 26, according to a notice on the website of China's National Health Commission (NHC). The NHC announced on the same day that the Chinese name for COVID-19 has been changed from "novel coronavirus pneumonia" to "novel coronavirus infection," as the virus now only causes "a common respiratory infection" with "extremely low severe illness rate and mortality rate."
Zhao Fenghua and Hong Ning contributed to this report.