30 Percent of Hong Kong Senior Officials Are CCP-Backed, Violating Conflict of Interest
The new Hong Kong government has expanded its infrastructure and added many new positions since the new chief executive of Hong Kong took office in July 2022.Among 14 Senior officials appointed by Chief Executive Of Hong Kong (CE) John Lee Ka-chiu, some are in charge of mainland affairs. Others possess multiple companies and properties in mainland China. But none have responded to queries about how they avoid conflict of interest in personal gain while in public office. What's more, at least 10 of the new senior officials have Chinese Communist Party (CCP) ties. One scholar disputes the effectiveness of the current declaration system for conflict of interest. Hong Kong Mainland Affairs Official Owns Businesses in China Among the 11 deputy directors in the information the Hong Kong government publicized, pro-CCP member Clement Woo Kin-man, deputy secretary for policies and mainland affairs, owns the most personal properties. Of the 14 properties Woo owns, 3 are in Tai Po, Hong Kong; 10 in Guangzhou, China; and one is in Malaysia. Besides the 14 properties in Asia, Woo owns two plots of land in Edmonton, Alberta, Canada. Woo and his wife hold multiple companies registered in Hong Kong, Shenzhen, and Dongguan. Woo's wife claims that she is an executive director. Working in the Constitutional and Mainland Affairs Bureau entails coordinating and liaising with relevant Central Government departments, promoting joint projects between the mainland and Hong Kong, and organizing the operation of the Hong Kong government office in China. While he was in the office with the last administration, reporters questioned Woo about whether there was a conflict of interest between his job as a civil servant and the assets he and his wife own in China. Woo claimed that he had made all the necessary declarations of his assets. However, he dodged answering how he would avoid conflict of interest between personal and public affairs. According to Chapter V of the Code of the Political Appointment System, politically appointed officials must avoid causing the public to suspect that they are dishonest, unfair, or have conflicts of interest. They must also refrain from cases with actual or potential conflicts of interest. Former Assistant Professor of Politics and International Relations at Hong Kong Baptist University Wong Wai-kwok pointed out the declaration of interests stemmed from the colonial era. "The declaration was to make clear that public servants do not benefit from their official status and power." However, the professor stated that as Hong Kong stepped into the CCP era and appointed former police chief John Lee Ka-chiu as CE, the system has become a phantom. "Government departments and the Independent Commission Against Corruption ignore potential corruption and conflicts, as if nothing ever happened," Wong says. Due to the lack of media coverage, Hong Kong government officials are not subject to corresponding public pressure or accountability. Among 31 Senior Officials, Nearly Half Are CCP-backed or Related Of the 52 politically appointed officials, over 30 percent are pro-Beijing party members, including Secretary for Home and Youth Affairs, Alice Mak Mei-kuen, and Secretary for Financial Service and the Treasury Bureau, Christopher Hui Ching-yu. Professor Wong criticized the Hong Kong government for becoming the Chinese regime, "The concept of conflict of interest no longer exists between the current administration and pro-CCP parties. Instead, everyone keeps using each other and upping their benefits. Everyone is here for show only." Jason Chuk-Hung Poon, chairman of CHINAT Monitor, a non-government and independent monitor group, has previously bashed the government's expansion and recreation. "If every new chief executive expands and reconstructs his or her governance without changing its functions, then adding more positions will only reward the politically redundant puppets and burden our society." Nie Law and Ying Cheung contributed to this article. Follow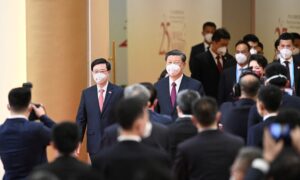 The new Hong Kong government has expanded its infrastructure and added many new positions since the new chief executive of Hong Kong took office in July 2022.
Among 14 Senior officials appointed by Chief Executive Of Hong Kong (CE) John Lee Ka-chiu, some are in charge of mainland affairs. Others possess multiple companies and properties in mainland China. But none have responded to queries about how they avoid conflict of interest in personal gain while in public office.
What's more, at least 10 of the new senior officials have Chinese Communist Party (CCP) ties.
One scholar disputes the effectiveness of the current declaration system for conflict of interest.
Hong Kong Mainland Affairs Official Owns Businesses in China
Among the 11 deputy directors in the information the Hong Kong government publicized, pro-CCP member Clement Woo Kin-man, deputy secretary for policies and mainland affairs, owns the most personal properties. Of the 14 properties Woo owns, 3 are in Tai Po, Hong Kong; 10 in Guangzhou, China; and one is in Malaysia.
Besides the 14 properties in Asia, Woo owns two plots of land in Edmonton, Alberta, Canada. Woo and his wife hold multiple companies registered in Hong Kong, Shenzhen, and Dongguan. Woo's wife claims that she is an executive director.
Working in the Constitutional and Mainland Affairs Bureau entails coordinating and liaising with relevant Central Government departments, promoting joint projects between the mainland and Hong Kong, and organizing the operation of the Hong Kong government office in China.
While he was in the office with the last administration, reporters questioned Woo about whether there was a conflict of interest between his job as a civil servant and the assets he and his wife own in China.
Woo claimed that he had made all the necessary declarations of his assets. However, he dodged answering how he would avoid conflict of interest between personal and public affairs.
According to Chapter V of the Code of the Political Appointment System, politically appointed officials must avoid causing the public to suspect that they are dishonest, unfair, or have conflicts of interest. They must also refrain from cases with actual or potential conflicts of interest.
Former Assistant Professor of Politics and International Relations at Hong Kong Baptist University Wong Wai-kwok pointed out the declaration of interests stemmed from the colonial era. "The declaration was to make clear that public servants do not benefit from their official status and power."
However, the professor stated that as Hong Kong stepped into the CCP era and appointed former police chief John Lee Ka-chiu as CE, the system has become a phantom. "Government departments and the Independent Commission Against Corruption ignore potential corruption and conflicts, as if nothing ever happened," Wong says.
Due to the lack of media coverage, Hong Kong government officials are not subject to corresponding public pressure or accountability.
Among 31 Senior Officials, Nearly Half Are CCP-backed or Related
Of the 52 politically appointed officials, over 30 percent are pro-Beijing party members, including Secretary for Home and Youth Affairs, Alice Mak Mei-kuen, and Secretary for Financial Service and the Treasury Bureau, Christopher Hui Ching-yu.
Professor Wong criticized the Hong Kong government for becoming the Chinese regime, "The concept of conflict of interest no longer exists between the current administration and pro-CCP parties. Instead, everyone keeps using each other and upping their benefits. Everyone is here for show only."
Jason Chuk-Hung Poon, chairman of CHINAT Monitor, a non-government and independent monitor group, has previously bashed the government's expansion and recreation. "If every new chief executive expands and reconstructs his or her governance without changing its functions, then adding more positions will only reward the politically redundant puppets and burden our society."
Nie Law and Ying Cheung contributed to this article.