The 'Yellow Emperor's Inner Canon' Reveals Code of Human Life
The "Yellow Emperor's Inner Canon" (Huangdi Neijing or just Huangdi), compiled 2,200 years ago, is the fundamental text on Traditional Chinese Medicine (TCM). What is the code of human life? How can the wish for "longevity and living to 100 years" be accomplished? For modern medicine, there is still a long way to go to answer these questions. In this regard, one of the Eu Yan Sang Premier Chinese Medical Center's in Hong Kong shared an article explaining that the Huangdi says that 7 and 8 are the codes of human birth, old age, sickness, and death. And by practicing according to the principles of health preservation and using ancient Chinese medicine prescriptions, people can delay aging and prolong life. According to the book, the physiological law of females follows a rhythm of 7. At the age of 7 (calculated according to the East Asian age reckoning, that is, your Western age plus one year), the kidney qi (vital energy) begins to flourish, and the primary teeth are replaced; at the age of 14, menstruation starts; and at the age of 35, the qi of the meridian begins to decline, the appearance begins to be haggard, women lose hair or the hair turns gray; at the age of 49, menopause begins, after which the rate of aging accelerates. The physiological law of males follows a rhythm of 8. At the age of 8, the kidney qi begins to flourish, and the primary teeth are replaced. At the age of 40, the kidney qi begins to decline. The growth and aging rate of females is faster than that of males, which explains the phenomena we often see in daily life that young girls seem to mature earlier than boys of the same age, and the height of girls changes very little in high school, while boys rapidly grow taller. At 35, women have begun to develop facial wrinkles, while men are still radiant. The Huangdi summarizes the laws of human growth and aging, which is mainly related to the law of kidney qi (vital energy) from weak to strong and then from strong to decay. Eu Yan Sang says that anti-aging efforts should start while young or even as a child. The Huangdi says that people can achieve a natural life span of 100 years if they follow the four seasons of heaven and earth, the changes of yin and yang (to prevent cold and avoid heat), have a regular lifestyle, eat in moderation, don't overwork, are indifferent to fame, and stay abstinent. Traditional Chinese Medicine (TCM) also uses herbs to prolong life. The earliest extant TCM book, "Shennong's Herbal Classics," records a variety of herbs with anti-aging effects, such as, ginseng, which "replenishes the five internal organs, improves eyesight and improves wisdom, reduces body weight, and prolongs life if people consume it for a long period of time." Ganoderma lucidum mushroom "reduces the body weight, prevents one from getting old, and prolongs life if people consume it for a long period of time." Wolfberry "strengthens muscles and bones, reduces body weight, prevents people from aging, and helps resist cold and heat if is is consumed for a long period of time." Other commonly used TCM herbs include Cordyceps Sinensis, astragalus, yam, Gastrodia elata, Poria, angelica sinensis, Manyflower Solomonseal Rhizome, Job's Tear, Ligustrum lucidum, and others. Eu Yan Sang suggests that to pursue health, beauty, and longevity, people should do the following: Sleep: "Sleeping Beauty" is a very apt description, because the beauty of the face is mainly cultivated by going to bed early and getting enough sleep. In accordance with the four seasons: in spring and summer, people should go to bed late and get up early. In autumn, go to bed early and get up early, and in winter, go to bed early and get up late. However, going to bed late does not mean later than 11 p.m. Diet: Stay away from cold drinks because cold drinks hurt the spleen and stomach, which will lead to qi and blood deficiency. When qi and blood are deficient, there is no way to nourish the body, and then people age quickly. Also, it is recommended to eat more foods that are beneficial to health and beauty, such as, lotus seeds, honey, sesame, walnuts, mushrooms, dairy products, sea cucumber, pumpkin, pumpkin seeds, lotus root, wax gourd, cherries, wheat, radishes, white fungus, black fungus, edible bird's nest, fish maw, lily, soft-shelled turtle, black bean, pollen, oyster, conch, eel, pig skin, dried longan pulp, jujube, and rand red date, among others. However, those with a cold or hot physique should consult a TCM practitioner before deciding what to eat. Relax: As the saying goes, appearances come from the heart, and many people's personalities are expressed on their faces. For example, people who are nervous, anxious, and irritable often have chloasma (patches of dark skin) on their cheekbones. Laugh more for beauty and stay away from anxiety and anger. Exercise: The benefits of exercise are well known; but exercise at night should be avoided as much as possible, as it will disturb the yang energy. If you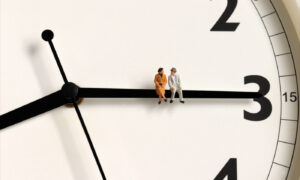 The "Yellow Emperor's Inner Canon" (Huangdi Neijing or just Huangdi), compiled 2,200 years ago, is the fundamental text on Traditional Chinese Medicine (TCM). What is the code of human life? How can the wish for "longevity and living to 100 years" be accomplished? For modern medicine, there is still a long way to go to answer these questions.
In this regard, one of the Eu Yan Sang Premier Chinese Medical Center's in Hong Kong shared an article explaining that the Huangdi says that 7 and 8 are the codes of human birth, old age, sickness, and death. And by practicing according to the principles of health preservation and using ancient Chinese medicine prescriptions, people can delay aging and prolong life.
According to the book, the physiological law of females follows a rhythm of 7. At the age of 7 (calculated according to the East Asian age reckoning, that is, your Western age plus one year), the kidney qi (vital energy) begins to flourish, and the primary teeth are replaced; at the age of 14, menstruation starts; and at the age of 35, the qi of the meridian begins to decline, the appearance begins to be haggard, women lose hair or the hair turns gray; at the age of 49, menopause begins, after which the rate of aging accelerates.
The physiological law of males follows a rhythm of 8. At the age of 8, the kidney qi begins to flourish, and the primary teeth are replaced. At the age of 40, the kidney qi begins to decline.
The growth and aging rate of females is faster than that of males, which explains the phenomena we often see in daily life that young girls seem to mature earlier than boys of the same age, and the height of girls changes very little in high school, while boys rapidly grow taller. At 35, women have begun to develop facial wrinkles, while men are still radiant.
The Huangdi summarizes the laws of human growth and aging, which is mainly related to the law of kidney qi (vital energy) from weak to strong and then from strong to decay.
Eu Yan Sang says that anti-aging efforts should start while young or even as a child. The Huangdi says that people can achieve a natural life span of 100 years if they follow the four seasons of heaven and earth, the changes of yin and yang (to prevent cold and avoid heat), have a regular lifestyle, eat in moderation, don't overwork, are indifferent to fame, and stay abstinent.
Traditional Chinese Medicine (TCM) also uses herbs to prolong life. The earliest extant TCM book, "Shennong's Herbal Classics," records a variety of herbs with anti-aging effects, such as, ginseng, which "replenishes the five internal organs, improves eyesight and improves wisdom, reduces body weight, and prolongs life if people consume it for a long period of time."
Ganoderma lucidum mushroom "reduces the body weight, prevents one from getting old, and prolongs life if people consume it for a long period of time."
Wolfberry "strengthens muscles and bones, reduces body weight, prevents people from aging, and helps resist cold and heat if is is consumed for a long period of time."
Other commonly used TCM herbs include Cordyceps Sinensis, astragalus, yam, Gastrodia elata, Poria, angelica sinensis, Manyflower Solomonseal Rhizome, Job's Tear, Ligustrum lucidum, and others.
Eu Yan Sang suggests that to pursue health, beauty, and longevity, people should do the following:
Sleep: "Sleeping Beauty" is a very apt description, because the beauty of the face is mainly cultivated by going to bed early and getting enough sleep. In accordance with the four seasons: in spring and summer, people should go to bed late and get up early. In autumn, go to bed early and get up early, and in winter, go to bed early and get up late. However, going to bed late does not mean later than 11 p.m.
Diet: Stay away from cold drinks because cold drinks hurt the spleen and stomach, which will lead to qi and blood deficiency. When qi and blood are deficient, there is no way to nourish the body, and then people age quickly. Also, it is recommended to eat more foods that are beneficial to health and beauty, such as, lotus seeds, honey, sesame, walnuts, mushrooms, dairy products, sea cucumber, pumpkin, pumpkin seeds, lotus root, wax gourd, cherries, wheat, radishes, white fungus, black fungus, edible bird's nest, fish maw, lily, soft-shelled turtle, black bean, pollen, oyster, conch, eel, pig skin, dried longan pulp, jujube, and rand red date, among others. However, those with a cold or hot physique should consult a TCM practitioner before deciding what to eat.
Relax: As the saying goes, appearances come from the heart, and many people's personalities are expressed on their faces. For example, people who are nervous, anxious, and irritable often have chloasma (patches of dark skin) on their cheekbones. Laugh more for beauty and stay away from anxiety and anger.
Exercise: The benefits of exercise are well known; but exercise at night should be avoided as much as possible, as it will disturb the yang energy. If you only have time to exercise at night, just meditate or practice qigong.
Consult TCM when necessary: ​​TCM practitioners formulate appropriate treatments based on physique, such as acupuncture, moxibustion, or medication. In terms of acupuncture, TCM has longevity acupuncture points such as the Zusanli Point and the Guanyuan Point.