Man Stabbed HK Policeman in 2021, Death Ruled as Suicide
'He wanted to bring justice, he played the role of a societal judge and tried to punish the police'On Jul 1, 2021, a 50-year-old man, Leung Kin-fai, stabbed a police officer outside the Sogo department store in Causeway Bay in Hong Kong. He then committed suicide by stabbing himself in the chest. He died at the scene. On Dec. 7, the jury reached a verdict and ruled Leung died of suicide. According to Leung's notepad and suicide note, which contained criticism of the Hong Kong police, he questioned whether the police still had the right to maintain law and order after what they had done in the 721 Yuen Long Attack (suspected triad members dressed in white attacked with steel rods, civilians in the MTR station on streets on July 21, 2019, while police officers refused to come to their aid). Leung Was Upset with HK Police Action Cho Ka-chiu, a current affairs commentator, shared in an online program on Dec 7, saying Leung wanted to contribute to society before his death; he targeted police officers because the police force violently beat demonstrators and walked free. Leung was upset because the police also condoned and helped the triad members in the 721 Yuen Long Attack. "Leung wanted to bring justice and played a societal judge to punish the police," Cho explained. The government was also concerned that someone might follow in Leung's footsteps and attack police officers. Hence arresting the people who mourned his death was a warning to students and the public. 'Focus on Causes of Death, Not Crimes Committed' Leung's death investigation took place at the West Kowloon Law Courts on Nov. 30 over a five-day period. On the first day of the trial, Principal Magistrate of the Judiciary Coroner's Court David Ko Wai-hung reminded the coroner's jury of two men and three women that the investigation focused on Leung's causes of death instead of whether he had committed crimes. Stabbed the Police Officer The injured police officer in the incident, So King-jo, said in court that he saw a shadow approaching while he was on patrol in Causeway Bay near Sogo on Jul 1, 2021. At first, he thought it was just someone walking past. But Leung approached him closer and stabbed So in the back near his left shoulder. After being stabbed, So ran away and shouted, "Someone has a knife. Help me," before falling onto the ground. So's stab wound was about 14cm (5,5 inches) long and 3cm (1.2 inches) deep wound to his lungs. Leung and His Suicide Note Leung was a merchandiser before he passed. After completing his studies in Australia, Leung returned to Hong Kong. According to his family, Leung had always been a calm and quiet introvert. Leung's family also revealed there was no sign of him having hatred toward anyone or suicidal thoughts. Leung did not discuss his views on anything political. In his note, Leung questioned whether the police still had the right to maintain law and order after what they had done in the 721 Yuen Long Attack. The police found eight USBs at the crime scene, including Leung's suicide note and open letter. There were photos in the USBs showing Leung had fixed a short knife and taped it onto his thigh using shipping tapes with the blade inside a plastic folder. The police found at Leung Kin-fai's home multiple copies of apple daily news published materials, as well as two bags of cable wires and folding knives. In Leung's suicide note, he mentioned he wished to donate his belongings to the Hong Kong Journalist Association after his death. In his note, he explained that he was upset that no law in Hong Kong could hold the police accountable for their actions, including beating citizens and covering up crimes for mobs and criminals. 'Blood Coming out of Leung's Chest' The testimony of a female online reporter who had filmed the incident on July 1. The court could not summon her as the reporter had left Hong Kong. In the reporter's statement, she said she was live streaming outside Sogo in Causeway Bay at 9:45 p.m. At the time, three uniformed police officers were standing about two meters (6.7 ft) from her. At around 10 p.m., the reporters saw a man about 1.8 meters (5.9 ft) tall walking past her. Next, she saw one of the uniformed officers falling to the ground while several officers subdued Leung. Leung was lying on the ground, with a pool of blood next to him. The reporter said she had stopped the broadcast once the police isolated the crime scene. Another online media reporter testified that at 10:05 p.m. on Jul 1, 2021, he heard a police officer shouting, "Don't move, put down your weapons" outside the Sogo Department Store, and several police officers pointed their guns at Leung Kin-fai. Leung retreated away from the mall. After that, the male reporter saw blood coming out of Leung's chest as he fell to the ground. Leung dropped an 8-10 inch knife as well. Leung's Wound was Fatal The doctor said the knife wound Leung had in his chest was fatal. Lai Siu-kei, a doctor at Wan Ch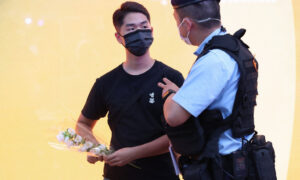 'He wanted to bring justice, he played the role of a societal judge and tried to punish the police'
On Jul 1, 2021, a 50-year-old man, Leung Kin-fai, stabbed a police officer outside the Sogo department store in Causeway Bay in Hong Kong. He then committed suicide by stabbing himself in the chest. He died at the scene.
On Dec. 7, the jury reached a verdict and ruled Leung died of suicide.
According to Leung's notepad and suicide note, which contained criticism of the Hong Kong police, he questioned whether the police still had the right to maintain law and order after what they had done in the 721 Yuen Long Attack (suspected triad members dressed in white attacked with steel rods, civilians in the MTR station on streets on July 21, 2019, while police officers refused to come to their aid).
Leung Was Upset with HK Police Action
Cho Ka-chiu, a current affairs commentator, shared in an online program on Dec 7, saying Leung wanted to contribute to society before his death; he targeted police officers because the police force violently beat demonstrators and walked free. Leung was upset because the police also condoned and helped the triad members in the 721 Yuen Long Attack.
"Leung wanted to bring justice and played a societal judge to punish the police," Cho explained.
The government was also concerned that someone might follow in Leung's footsteps and attack police officers. Hence arresting the people who mourned his death was a warning to students and the public.
'Focus on Causes of Death, Not Crimes Committed'
Leung's death investigation took place at the West Kowloon Law Courts on Nov. 30 over a five-day period.
On the first day of the trial, Principal Magistrate of the Judiciary Coroner's Court David Ko Wai-hung reminded the coroner's jury of two men and three women that the investigation focused on Leung's causes of death instead of whether he had committed crimes.
Stabbed the Police Officer
The injured police officer in the incident, So King-jo, said in court that he saw a shadow approaching while he was on patrol in Causeway Bay near Sogo on Jul 1, 2021.
At first, he thought it was just someone walking past. But Leung approached him closer and stabbed So in the back near his left shoulder.
After being stabbed, So ran away and shouted, "Someone has a knife. Help me," before falling onto the ground.
So's stab wound was about 14cm (5,5 inches) long and 3cm (1.2 inches) deep wound to his lungs.
Leung and His Suicide Note
Leung was a merchandiser before he passed. After completing his studies in Australia, Leung returned to Hong Kong.
According to his family, Leung had always been a calm and quiet introvert. Leung's family also revealed there was no sign of him having hatred toward anyone or suicidal thoughts. Leung did not discuss his views on anything political.
In his note, Leung questioned whether the police still had the right to maintain law and order after what they had done in the 721 Yuen Long Attack.
The police found eight USBs at the crime scene, including Leung's suicide note and open letter. There were photos in the USBs showing Leung had fixed a short knife and taped it onto his thigh using shipping tapes with the blade inside a plastic folder.
The police found at Leung Kin-fai's home multiple copies of apple daily news published materials, as well as two bags of cable wires and folding knives.
In Leung's suicide note, he mentioned he wished to donate his belongings to the Hong Kong Journalist Association after his death.
In his note, he explained that he was upset that no law in Hong Kong could hold the police accountable for their actions, including beating citizens and covering up crimes for mobs and criminals.
'Blood Coming out of Leung's Chest'
The testimony of a female online reporter who had filmed the incident on July 1. The court could not summon her as the reporter had left Hong Kong.
In the reporter's statement, she said she was live streaming outside Sogo in Causeway Bay at 9:45 p.m. At the time, three uniformed police officers were standing about two meters (6.7 ft) from her.
At around 10 p.m., the reporters saw a man about 1.8 meters (5.9 ft) tall walking past her. Next, she saw one of the uniformed officers falling to the ground while several officers subdued Leung. Leung was lying on the ground, with a pool of blood next to him.
The reporter said she had stopped the broadcast once the police isolated the crime scene.
Another online media reporter testified that at 10:05 p.m. on Jul 1, 2021, he heard a police officer shouting, "Don't move, put down your weapons" outside the Sogo Department Store, and several police officers pointed their guns at Leung Kin-fai.
Leung retreated away from the mall. After that, the male reporter saw blood coming out of Leung's chest as he fell to the ground. Leung dropped an 8-10 inch knife as well.
Leung's Wound was Fatal
The doctor said the knife wound Leung had in his chest was fatal.
Lai Siu-kei, a doctor at Wan Chai Ruttonjee Hospital Emergency Room, said when he took over the patient Leung Kin-fai, he noticed two knife wounds on Leung's left chest. Leung's heart had already stopped upon arriving at the hospital.
Leung had already lost his respiratory pulse when he was sent to the hospital with no vital signs. After various attempts to restart Leung's heart using AED, intracardiac injections, and blood transfusion, Leung still did not respond. The doctor confirmed that Leung died at 11:20 that night.
Coroner's Testimony
Forensic doctor Lau Wai-kwok said during an autopsy of Leung on Jul 5, 2021, four days after the event, the deceased had two wounds on the left chest. The doctor determined a sharp object caused the chest wounds, which were 9.5cm (3.7 inches) and 7cm (2.8 inches) deep.
The forensic expert concluded Leung died of a stabbing to the chest, which penetrated his chest wall, left lung, ribs, pericardium, heart, diaphragm, and liver, causing excessive bleeding. The stab wounds impacted his heart function, which led to Leung's death.
Closing Statement
When summarizing the testimony, the coroner court provided that the deceased never revealed his views on political situations, police, or self-harm. Therefore the court could only infer his feelings by studying the USBs found in Leung's possession.
In Leung's computer and USBs, there were ten photos of the knife Leung used, a scheme detailing how the deceased hid the knife in his thigh. Four files were named under "public and private matters," "For when I am gone," "To Hong Kong Police," and "To Hong Kong uncles and aunties."
In the files, Leung wrote and criticized the police for covering up crimes for triads, and they never were held accountable for their actions. He wrote, "I hope what happens today will bring some balance to the society."
Jury's Verdict
On Dec. 7, Principal Magistrate Ko asked the jury to rule death by suicide if they believed Leung Kin-fai killed himself on Jul 1, 2021. On the contrary, if the jury did not think Leung intended self-harm or were unsure what caused his death, they should rule it as a suspicious death.
After an hour of deliberation, the jury unanimously ruled Leung Kin-fai died by suicide.
Why July 1, 2021, Was a Symbolic Day for The Government
There was a triple significance to the regime on Jul 1, 2021. It was the 24th year since the handover of Hong Kong. It was also the day the Chinese Communist Party celebrated the 100th anniversary of the founding of Communist China and the anniversary of the Hong Kong National Security Law imposition. Despite no organized protest or rally, the political atmosphere in Hong Kong remained tense throughout the day amid the mass arrest and remand of pan-democratic leaders and figures. Hong Kong police dispatched over 10,000 officers to stand by on high alert.
Ripple Effect of Retaliation
After the death of Leung Kin-fai, Hong Kong University Student Union passed a motion with 30 of 32 votes to express their condolences and sympathy to Leung's family and loved ones, as well as their appreciation for Leung's sacrifice and contribution to Hong Kong.
The school board of the university, the government, and pro-Beijing groups immediately launched their condemnation of the Hong Kong University Students' Union for their "appreciation to a murderer."
The Security Bureau later arrested four students from the Student Union, accusing them of violating the National Security Law and advocating terrorism.
The students will face up to ten years of imprisonment if found guilty.
The university management also released a statement rebuking its own students and taking back the management right of the Student Union Building. Since then, the independently registered Hong Kong University Student Union has been no longer officially recognized by the university. The school has lost an organization representing all students.
CASE NUMBER: CCDI-555/2021