Overloaded Crematoriums in Shanghai Points to Surging Death Toll
As tens of millions of Chinese carrying luggage and gifts traveled for long-awaited family reunions, grieving relatives struggled to get their loved ones to their final resting place ahead of the Lunar New Year. Interviews with staff at five funeral homes in Shanghai on Jan. 18 showed the waiting times to get a cremation slot were extended as far as early February, even as furnace ovens have been operating until late at night and early dawn to cater to the surging demand amid the explosive outbreak. Yishan Funeral Home, the city's largest funeral home with 22 high-efficiency cremators, is one month behind in delivering cremated remains, while the second-largest Pudong Funeral Home has a two-week delay for cremation. Hu Liren, a U.S.-based businessman originally from Shanghai, said his friend had to wait 19 days to cremate his late mother, who passed away in Dongqiao town in Shanghai on Jan. 11. Still, local officials have been seeking to downplay the severity of the crisis. On Jan. 17, authorities in Shanghai said the COVID outbreak had been on "an obvious downward trend" since late December, with visits to fever clinics and emergency rooms declining. Health authorities also claimed that "the current outbreaks in Shanghai have now passed the peak." But China's official infection and death tolls have been viewed as markedly undercounting the impact of the COVID crisis by health experts abroad, including those at the World Health Organization. As researchers turn to anecdotal evidence on the ground to gauge the impact on global health, more than a dozen of governments around the world have mandated COVID tests or imposed other precautionary measures on travelers from China. While it's hard to know the true number of fatalities, the overloaded crematoriums in Shanghai, echoing similar scenes playing out in other Chinese cities, offer a glimpse into the toll of the unprecedented COVID outbreak that is barreling through the country. "If you asked a Chinese person whether there are elderly passed away in their family, the majority of them would say yes," Hu said in an interview with The Epoch Times on Jan. 16. Hu's father, who was in his 90s, died of COVID in Shanghai last month. He added that at least four of his friends lost their parents in recent days. Even scalpers have cashed in on the vast demand for cremation. In Shanghai, scalpers were selling queue numbers in a funeral home to desperate families for 1,500 to 2,000 yuan ($221 to $294), according to a notice from the city's public security bureau. It added 20 scalpers were arrested at the city's Baoxing Funeral Parlor on Dec. 29. A mourner carries the cremated remains of a loved one as he and others wear traditional white funeral clothing, during a funeral in Shanghai, China. (Kevin Frayer/Getty Images) Unreliable Official Data  Facing mounting criticism over the transparency of its public health data, Chinese authorities recently started to release death figures that fell beyond its narrow criteria of COVID mortality, which is limited to patients who died from respiratory failure after catching COVID. The regime has reported some 78,000 COVID deaths since early December when it lifted the nearly-three-year-old zero-COVID policy. But experts say this number is a vast undercount, pointing to the widespread accounts of overloaded crematoriums and hospitals, as well as the regime's record of covering up COVID-related information in a bid to downplay news that it deems harmful to its image. In one estimation, as many as 6 million bodies could have been cremated over the past month, if the crematoriums were running 24/7, according to Sean Lin, a virologist and former lab director at the viral disease branch of the Walter Reed Army Institute of Research. But the expert added that this figure was still a conservative estimate, given more people living in rural villages may not have access to such services and bury the deceased in the ground. Taking this into account, the death toll could have reached 10 million, Lin said. Despite the grim outbreak situation, the regime has sought to assure the public that the latest wave had peaked—a message that appears to have failed to convince the public. "We are very anxious at this moment. We are living in fear because there is no data, no reports. We have no idea of what's happening at all," a woman in Nanjing told The Epoch Times on Jan. 24. The woman, who asked only to be identified by her surname Su for fear of reprisals, added that the lack of reliable data made her worry about another wave of outbreaks. Anger and Distrust For some families who lost their loved ones, their grief is mixed with anger. Guan Yao, a Chinese IT professional who now lives in California, criticized the authorities' lack of preparation for the sudden reopening, especially for the elderly. Since the outbreak first hit Wuhan in late 2019, the Chinese Communist Party (CCP) had vowed to eliminate every infection among communiti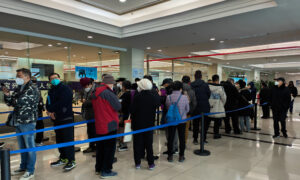 As tens of millions of Chinese carrying luggage and gifts traveled for long-awaited family reunions, grieving relatives struggled to get their loved ones to their final resting place ahead of the Lunar New Year.
Interviews with staff at five funeral homes in Shanghai on Jan. 18 showed the waiting times to get a cremation slot were extended as far as early February, even as furnace ovens have been operating until late at night and early dawn to cater to the surging demand amid the explosive outbreak.
Yishan Funeral Home, the city's largest funeral home with 22 high-efficiency cremators, is one month behind in delivering cremated remains, while the second-largest Pudong Funeral Home has a two-week delay for cremation.
Hu Liren, a U.S.-based businessman originally from Shanghai, said his friend had to wait 19 days to cremate his late mother, who passed away in Dongqiao town in Shanghai on Jan. 11.
Still, local officials have been seeking to downplay the severity of the crisis. On Jan. 17, authorities in Shanghai said the COVID outbreak had been on "an obvious downward trend" since late December, with visits to fever clinics and emergency rooms declining. Health authorities also claimed that "the current outbreaks in Shanghai have now passed the peak."
But China's official infection and death tolls have been viewed as markedly undercounting the impact of the COVID crisis by health experts abroad, including those at the World Health Organization. As researchers turn to anecdotal evidence on the ground to gauge the impact on global health, more than a dozen of governments around the world have mandated COVID tests or imposed other precautionary measures on travelers from China.
While it's hard to know the true number of fatalities, the overloaded crematoriums in Shanghai, echoing similar scenes playing out in other Chinese cities, offer a glimpse into the toll of the unprecedented COVID outbreak that is barreling through the country.
"If you asked a Chinese person whether there are elderly passed away in their family, the majority of them would say yes," Hu said in an interview with The Epoch Times on Jan. 16. Hu's father, who was in his 90s, died of COVID in Shanghai last month. He added that at least four of his friends lost their parents in recent days.
Even scalpers have cashed in on the vast demand for cremation. In Shanghai, scalpers were selling queue numbers in a funeral home to desperate families for 1,500 to 2,000 yuan ($221 to $294), according to a notice from the city's public security bureau. It added 20 scalpers were arrested at the city's Baoxing Funeral Parlor on Dec. 29.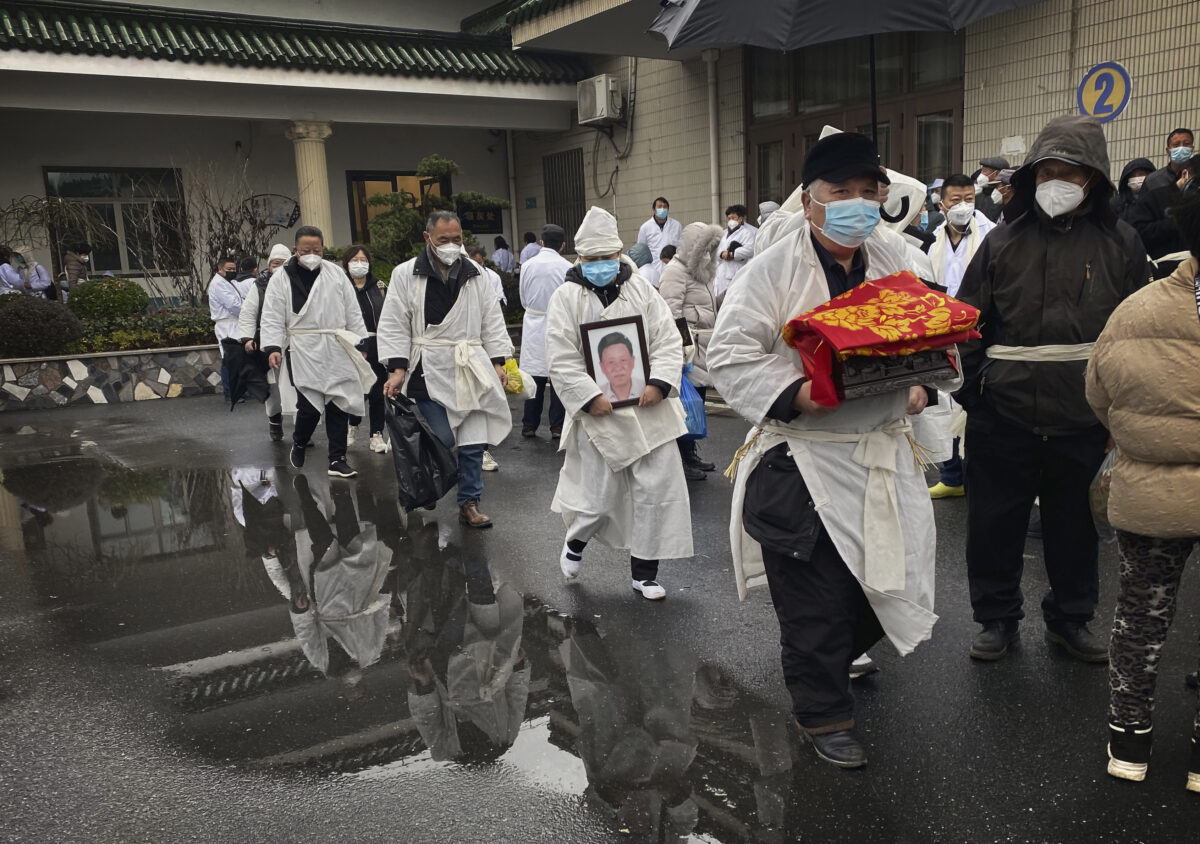 Unreliable Official Data
Facing mounting criticism over the transparency of its public health data, Chinese authorities recently started to release death figures that fell beyond its narrow criteria of COVID mortality, which is limited to patients who died from respiratory failure after catching COVID.
The regime has reported some 78,000 COVID deaths since early December when it lifted the nearly-three-year-old zero-COVID policy. But experts say this number is a vast undercount, pointing to the widespread accounts of overloaded crematoriums and hospitals, as well as the regime's record of covering up COVID-related information in a bid to downplay news that it deems harmful to its image.
In one estimation, as many as 6 million bodies could have been cremated over the past month, if the crematoriums were running 24/7, according to Sean Lin, a virologist and former lab director at the viral disease branch of the Walter Reed Army Institute of Research. But the expert added that this figure was still a conservative estimate, given more people living in rural villages may not have access to such services and bury the deceased in the ground. Taking this into account, the death toll could have reached 10 million, Lin said.
Despite the grim outbreak situation, the regime has sought to assure the public that the latest wave had peaked—a message that appears to have failed to convince the public.
"We are very anxious at this moment. We are living in fear because there is no data, no reports. We have no idea of what's happening at all," a woman in Nanjing told The Epoch Times on Jan. 24. The woman, who asked only to be identified by her surname Su for fear of reprisals, added that the lack of reliable data made her worry about another wave of outbreaks.
Anger and Distrust
For some families who lost their loved ones, their grief is mixed with anger.
Guan Yao, a Chinese IT professional who now lives in California, criticized the authorities' lack of preparation for the sudden reopening, especially for the elderly.
Since the outbreak first hit Wuhan in late 2019, the Chinese Communist Party (CCP) had vowed to eliminate every infection among communities through repeated testings, swift lockdowns, and prolonged quarantine in spite of growing economic and human toll. But following massive street protests against the suffocating pandemic controls in late November, the regime abruptly dismantled most of its hallmark zero-COVID policy, leaving the underprepared health system under enormous strain.
"Of course, I support lifting [COVID] restrictions. But the Chinese Communist Party hasn't done any preparation during the past three years … opening up like this is at the expense of Chinese people," Guan told The Epoch Times on Jan. 19.
Guan said the authorities could have used the resources they used in the mass testing over the past three years for importing medicines or doing other preparations. "But they didn't do so," he said
Guan, who is originally from Beijing, lost five family members in December, including his grandmother who passed away on Dec. 22. He believed the trigger of his grandmother's death was COVID, though the death certificate said the cause was kidney failure. The official death toll, Guan said, is "completely unreliable."
The CCP is responsible for the death of his relatives, as well as countless Chinese, Guan added.
Daisy Lee, Chang Chun, Yi Ru, and Eva Fu contributed to this report.