Joshua Wong Wrote From Prison After Two Years: 'I Am Still Standing'
Joshua Wong, former secretary general of Demosisto Hong Kong, who has been imprisoned for the past two years, updated his status on social media through a friend on Nov. 23. In the post, Wong wanted to tell the world he was still standing and had not been beaten down yet.Wong shared in his latest social media post, "I have settled with the universe. I have an unfinished dance. I must tell the world. I have not been defeated yet." Wong wrote that although he had been behind bars, he could still see the people outside of prison persevering and exerting themselves. Wong propelled everyone to avoid getting hung up on the setbacks and forget those still swimming and struggling against the current. Just before Wong's imprisonment, the 25-year-old political activist had been rooting for Hongkongers to treasure each other's invaluable support, especially in the value of the democratic movement."  Political Consequences in Early Life Unlike most 25-year-olds, who could enjoy video games in the comfort of their home, Wong had already spent most of his life fighting for justice in Hong Kong. The multiple arrests and convictions had turned the prison into his "second home." In 2011, Joshua Wong founded the now-disbanded Scholarism, a student organization protesting against the moral and national education curriculum in Hong Kong. At 14 years old, Wong was already gliding through social movements.  The then-teenager criticized the Hong Kong government for planning to implement a new subject, Moral and National Education, to indoctrinate and brainwash Hong Kong students. So the youth in Hong Kong would embrace messages and information from the Chinese Community Party (CCP). Wong successfully led Hongkongers to force the government to cancel implementing the brainwashing subject.  On Sept. 3, 2012, 15-year-old Joshua Wong led parents and students to demand the Hong Kong government withdraw the implementation of moral education and national education subject with a series of social movements. The movement included demonstrations, press conferences, and street stalls to educate the community about the government's plan. (Sung Pi-Lung/The Epoch Times) Global Recognition for Fighting for Democracy In 2014, Wong was selected as one of the "25 Most Influential Teens" in the world by Time Magazine for his participation in the Umbrella Movement. In 2018, Wong was nominated for the Nobel Peace Prize by U.S. senators. Joshua Wong has been in prison since Nov. 23, 2020.  The Hong Kong Police Force arrested Wong for violating the national security law for participating in the 2020 Hong Kong pro-democracy primaries.  A total of 47 democratic scholars, politicians, and lawmakers were arrested during the national security law crackdown. Wong was already in jail for several other convictions. The case is also known as the "Hong Kong 47" or "Hong Kong 47 Democrats." "Hong Kong 47" referred to the 47 democratic figures arrested in 2021 for participating in and organizing the primaries. The mass arrest is the largest national security law crackdown to date. Wong has been waiting for the tentatively scheduled trial to begin at the end of January 2023. Wong was supposed to be released in March 2022. However, Wong has remained in jail; there has been a long delay in setting a trial date in the "Hong Kong 47 Case" since their arrest in 2020.  The Hong Kong government canceled a dialogue meeting with the Hong Kong Federation of Students (HKFS), causing 100,000 people to gather around the government headquarters in Admiralty on the evening of Oct. 10, 2020. The 100,000 people demanded the then Chief Executive of Hong Kong, pro-CCP CY Leung Chun-ying, accused of corruption, to step down. The then three student activists (left to right), Lester Shum, Alex Chow, Joshua Wong, and Occupy Central Convener Prof. Benny Tai Yiu-ting, called on citizens to resist to the end. (Cai Wenwen/The Epoch Times) Be Water, My Friends Joshua Wong wrote in the Facebook post, "In the past 730 days, I have witnessed how the outside world became earth-shattering behind these walls." Wong continued that although he had been put away, he could see many were still fighting and preserving.  Wong urged Hongkongers to "be water" and not just focus on the setbacks. He reminded people that patience was more necessary to carry on, other than the determination to persist.  "Don't overlook those swimming against the current just to move an inch." He emphasized. Wong ended his note by asking everyone to explore wherever possible to fight and support each other. When Freedom Fighter Loses Freedom On Nov. 23, 2020, Joshua Wong, former Secretary-General of Demosisto, Ivan Lam Long-yin, and former member Agnes Chow Ting pleaded guilty to surrounding the police headquarters during the anti-extradition movement on June 21, 2019, and inciting others to participate in an unauthorized assembly. Joshua Wong told the media before his conviction that he would not give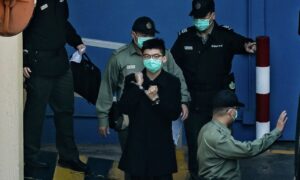 Joshua Wong, former secretary general of Demosisto Hong Kong, who has been imprisoned for the past two years, updated his status on social media through a friend on Nov. 23. In the post, Wong wanted to tell the world he was still standing and had not been beaten down yet.
Wong shared in his latest social media post, "I have settled with the universe. I have an unfinished dance. I must tell the world. I have not been defeated yet."
Wong wrote that although he had been behind bars, he could still see the people outside of prison persevering and exerting themselves. Wong propelled everyone to avoid getting hung up on the setbacks and forget those still swimming and struggling against the current.
Just before Wong's imprisonment, the 25-year-old political activist had been rooting for Hongkongers to treasure each other's invaluable support, especially in the value of the democratic movement."
Political Consequences in Early Life
Unlike most 25-year-olds, who could enjoy video games in the comfort of their home, Wong had already spent most of his life fighting for justice in Hong Kong. The multiple arrests and convictions had turned the prison into his "second home."
In 2011, Joshua Wong founded the now-disbanded Scholarism, a student organization protesting against the moral and national education curriculum in Hong Kong. At 14 years old, Wong was already gliding through social movements.
The then-teenager criticized the Hong Kong government for planning to implement a new subject, Moral and National Education, to indoctrinate and brainwash Hong Kong students. So the youth in Hong Kong would embrace messages and information from the Chinese Community Party (CCP). Wong successfully led Hongkongers to force the government to cancel implementing the brainwashing subject.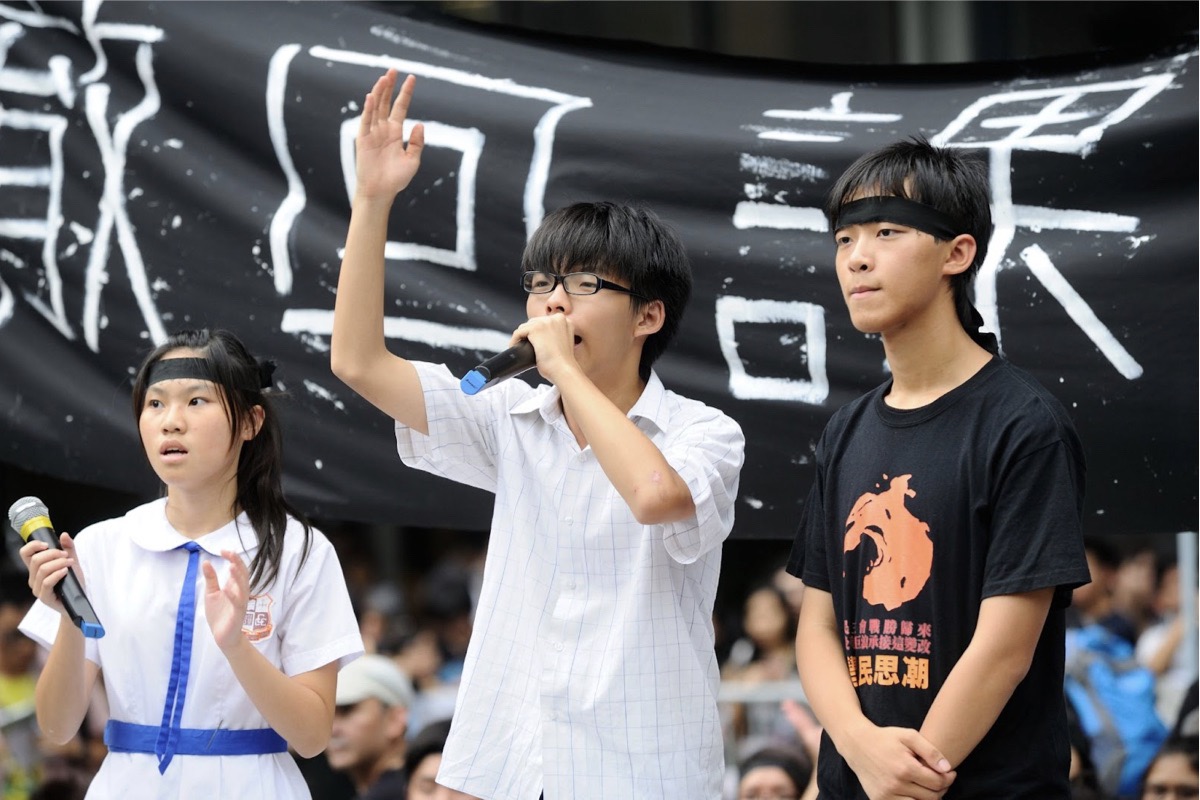 Global Recognition for Fighting for Democracy
In 2014, Wong was selected as one of the "25 Most Influential Teens" in the world by Time Magazine for his participation in the Umbrella Movement. In 2018, Wong was nominated for the Nobel Peace Prize by U.S. senators.
Joshua Wong has been in prison since Nov. 23, 2020.
The Hong Kong Police Force arrested Wong for violating the national security law for participating in the 2020 Hong Kong pro-democracy primaries.
A total of 47 democratic scholars, politicians, and lawmakers were arrested during the national security law crackdown. Wong was already in jail for several other convictions. The case is also known as the "Hong Kong 47" or "Hong Kong 47 Democrats."
"Hong Kong 47" referred to the 47 democratic figures arrested in 2021 for participating in and organizing the primaries. The mass arrest is the largest national security law crackdown to date. Wong has been waiting for the tentatively scheduled trial to begin at the end of January 2023.
Wong was supposed to be released in March 2022. However, Wong has remained in jail; there has been a long delay in setting a trial date in the "Hong Kong 47 Case" since their arrest in 2020.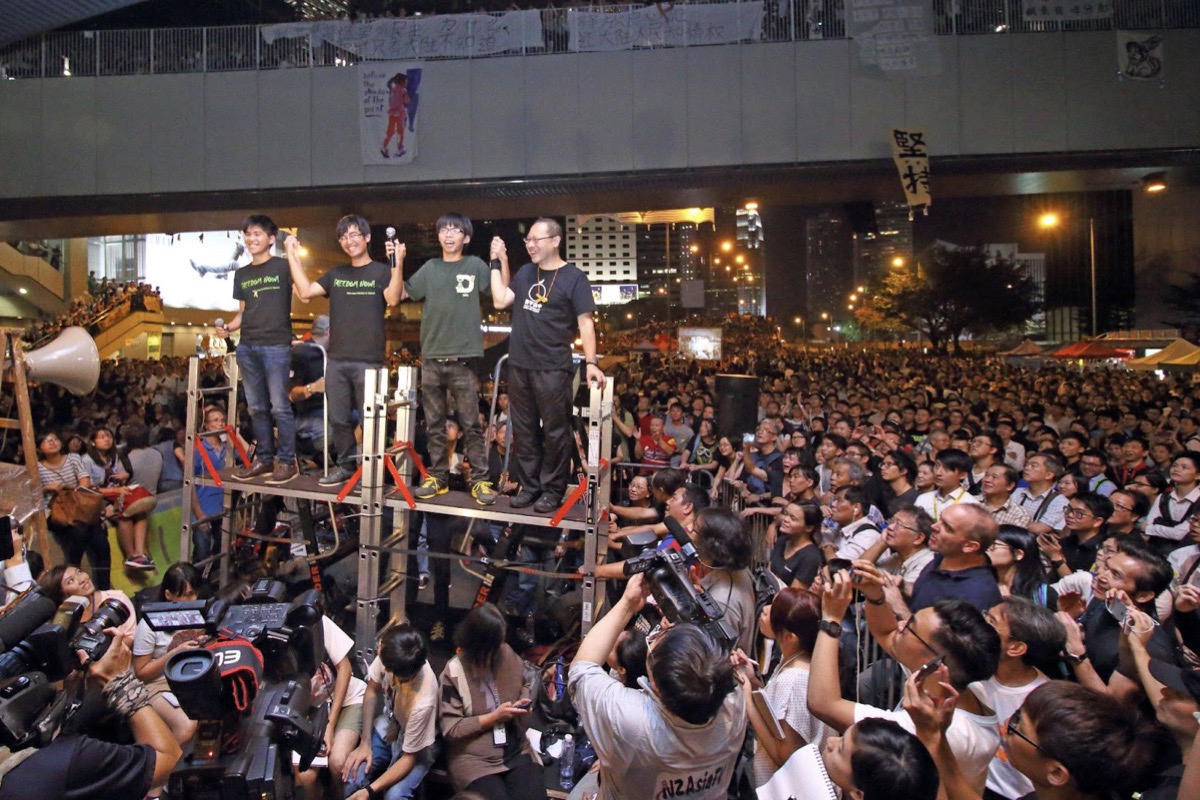 Be Water, My Friends
Joshua Wong wrote in the Facebook post, "In the past 730 days, I have witnessed how the outside world became earth-shattering behind these walls."
Wong continued that although he had been put away, he could see many were still fighting and preserving.
Wong urged Hongkongers to "be water" and not just focus on the setbacks. He reminded people that patience was more necessary to carry on, other than the determination to persist.
"Don't overlook those swimming against the current just to move an inch." He emphasized.
Wong ended his note by asking everyone to explore wherever possible to fight and support each other.
When Freedom Fighter Loses Freedom
On Nov. 23, 2020, Joshua Wong, former Secretary-General of Demosisto, Ivan Lam Long-yin, and former member Agnes Chow Ting pleaded guilty to surrounding the police headquarters during the anti-extradition movement on June 21, 2019, and inciting others to participate in an unauthorized assembly.
Joshua Wong told the media before his conviction that he would not give up even if he got sent to jail. Wong encouraged Hongkongers to back each other, especially in the darkest time of the social movement. He was sentenced to 13.5 months imprisonment for the case.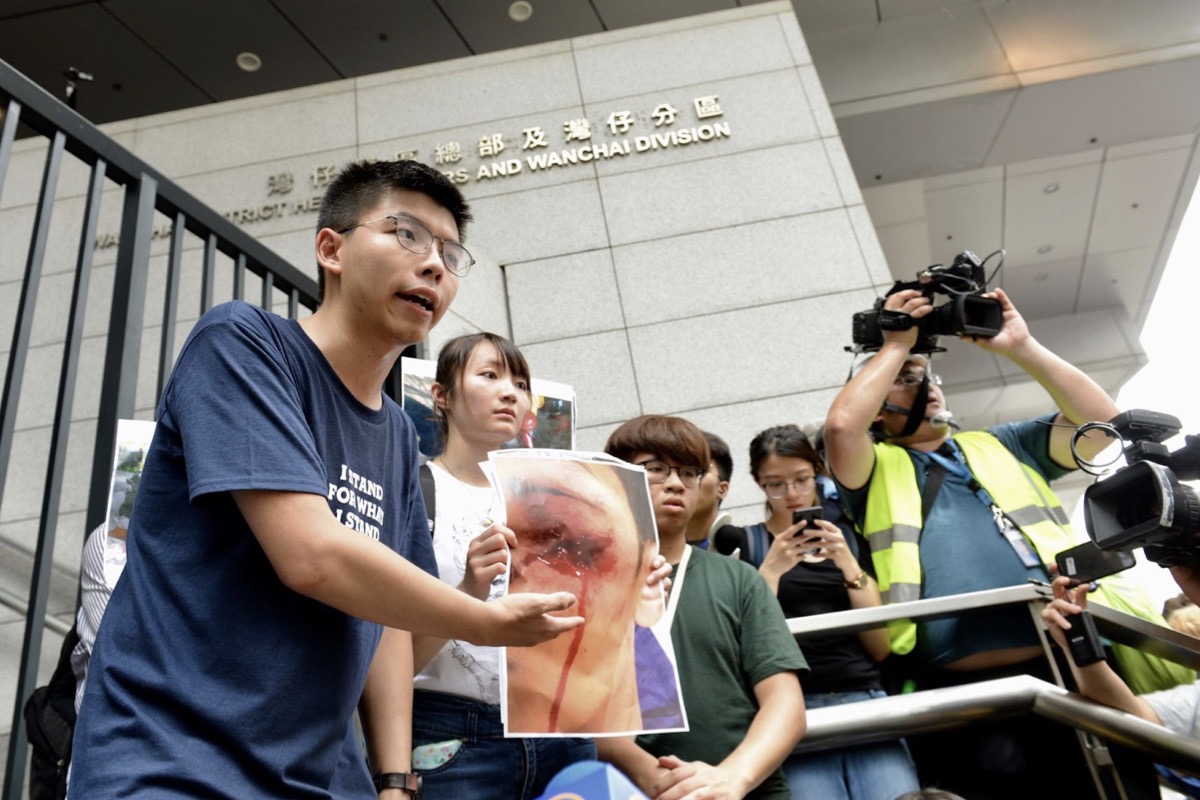 Joshua Wong received additional jail time for cases of illegal assembly while in jail. In April 2021, Wong admitted to attending an illegal assembly on Hong Kong Island on Oct. 5, 2019, to protest against the anti-mask law implementation. He received a jail sentence of four months.
Wong was also found guilty of violating the anti-mask law for wearing a black mask and was given ten days of jail time. Both sentences were to be served simultaneously.
In May 2021, the social activist was sentenced to another ten months for "inciting others to participate in an unauthorized assembly." Wong went to the government-banned mourning vigil for Tiananmen Square Massacre victims at Victoria Park with 20 other democrats on June 4, 2020.
Only this time, the judge did not order Wong to serve his time concurrently, accumulating the total of his jail time to 27.5 months long.
Wong filed an appeal against the crime of attending an unauthorized assembly on the June 4th rally in 2020. In response to his request, the High Court adjusted Wong's sentence to eight months (instead of ten) on Jan. 19, 2022. Of the eight, the judge ordered two months to be executed simultaneously.
Joshua Wong's jail sentence rounded up to 23.5 months in total.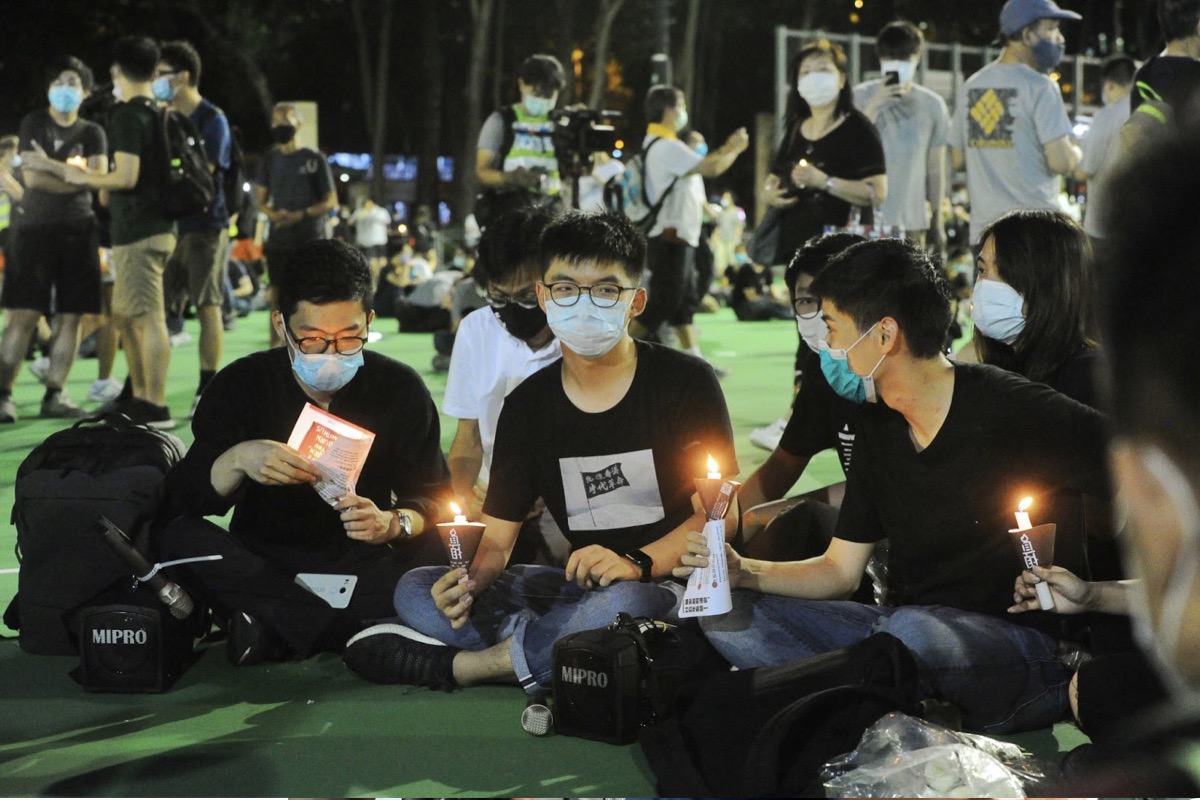 A Small Win
The Court of Appeal agreed with Wong's legal team that the original trial judge, Chan Kwong-chi, should not have carried out the 17.5-month-sentences separately for the attendances of June Fourth Rally attendance in 2020, the 6.21 police headquarters siege and anti-ban mask law assembly. The Appeal Court said the starting point of Wong's sentence had already considered the aggravating factor.
If going with the given initial sentence by judge Chan Kwok-chi, 27.5 months would be too harsh and inaccurate in principle. Hence, the Appeal Court concluded it would only be fair to shorten Wong's prison time to 23.5 months after his appeal.
Joshua Wong was supposed to be released in March 2022 after the Appeal Court's adjustment.
However, the police still have Wong in custody for conspiring to subvert the state power under the Hong Kong national security law due to the "Hong Kong 47 Case."
Nobel Peace Prize Nomination
In January 2022. Fifteen scholars jointly nominated five Hong Kong democratic figures for the Nobel Peace Prize, including Joshua Wong, Jimmy Lai, former CEO of the now-shut-down Apple Daily, Barrister, and Former Hong Kong Alliance Vice President Chow Hang-tung, Former Hong Kong Alliance President Lee Cheuk-yan, and Former Stand News Reporters and one of the 47 primaries candidates Gwyneth Ho.
The scholars referred to the five political figures as the representatives of different community groups in Hong Kong, such as students, journalists, lawyers, politicians, workers, and business leaders, who resisted the regime's suppression.
The nomination letter mentioned the five nominees could have fled or chosen to stay silent. But they insisted on speaking up when facing suppression or the regime.
The letter affirmed that the nominees would become prisoners of conscience rather than accept the violation and trampling of human rights and insults to dignity by the national security law.
Scholars who co-signed the Nobel Peace Prize nomination include American Sinologist Eugene Perry Link Jr. (Lam Pui Shui) and Cai Xia, a former professor at the Party School of Communist China.