YouTube Ads Are Funding Beijing's Overseas Push to Change Hearts and Minds: Report
Beijing is circumventing its own firewall to leverage YouTube, and profiting off its advertising service, in the battle to win hearts and minds in the West, according to a new report by the Australian Strategic Policy Institute (ASPI).The report, named "China is using ethnic-minority influencers to spread its Xinjiang narrative on social media" and funded by the U.S. State Department, examined 1,741 videos from 18 popular YouTube influencers supposedly based out of Xinjiang, Tibet, and Inner Mongolia. It found these "frontier influencers," mostly young females from ethnic minorities, were carefully vetted and considered politically reliable by Beijing. "The videos show a standardised, secular, and pristine image of these regions, with women who are modern, sinicised, and show loyalty to the Chinese Communist Party [CCP]," according to an article by the ASPI authors. Guli Abdushukur of the 'Annie Guli' (安妮古丽) YouTube channel introduces a traditional Kazakh dish to her viewers. (ASPI) "This subtle propaganda shows a vision of President Xi Jinping's 'beautiful China,' one that is scrubbed of politics and religion and instead shows an idyllic natural environment and innocuous elements of culture such as cooking or dancing." One notable example is Li Ziqi, China's largest international social media influencer, whose pastoral videos in Sichuan Province have attracted hundreds of thousands of overseas followers. Chinese Influencers Growing Via '3rd Party' Agencies The report noted that while the videos of these influencers appear to be created by themselves, they were actually generated with the help of special influencer-management agencies known as multi-channel networks (MCNs). "The channels are carefully produced to appear authentic, giving them more credibility than traditional party-state media, which can often be rigid and didactic," the authors wrote. "Yet the channels are produced by the MCNs, which, as businesses, are enmeshed with the CCP. Some of the MCNs have internal CCP committees inside them. All MCNs are required by Chinese law to ensure that their talent adheres to the values of the CCP and promotes its agenda." YouTube influencers Li Ziqi (top left), Miss Yeah (top right) and Dianxi Xiaoge (bottom) (ASPI) YouTube Subsidising CCP Propaganda While Chinese content creators may struggle to monetise their YouTube content due to the "Great Firewall of China," MCNs are free from these constraints and have agreements with YouTube—resulting in the video-sharing giant effectively helping the CCP's propaganda and disinformation efforts. The ASPI report discovered eight Chinese companies that operate China-based YouTube channels, all of which have such agreements with YouTube. For example, Zhu Danjun, CEO of Xiaowu Brothers told Chinese media that, since 2018, his operations staff and the influencers they represent have been having meetings with "YouTube's strategists" every one to two months, according to the report. In addition, many influencers' accounts displayed pre-roll video advertisements for brands such as Squarespace and Norwegian Cruise Line. "On videos specifically about Xinjiang cotton, we saw pre-roll and pop-up advertisements for KFC Australia and Vimeo, among other brands," the report stated. Hurshidem Ablikim being awarded at the 'Me and my Motherland—Voice of Xinjiang' competition. (Cyberspace Administration of China) The CCP's Denial of Human Rights Atrocities Other than using subtle ways to influence the audience, the influencers also directly negate established international human rights abuse concerns in some of the videos. As one influencer puts it, "People are happy and all ethnics are living together harmoniously." The CCP has carried out mass surveillance, detention, and "re-education" of Uyghurs and other ethnic minorities in Xinjiang in recent years under the pretext of fighting instability and counterterrorism. While the communist regime has long denied the accusation of "genocide" in Xinjiang, leaked Xinjiang Police files published in May revealed the brutal persecution of Uyghurs in mass concentration camps, including executions of fugitives. Allegations of human rights atrocities in Xinjiang include rape, sexual violence, solitary confinement, psychological torture, and forced medication, according to a report released by the UN high commissioner for human rights in August. A perimeter fence surrounds a forced reeducation center in Dabancheng, Xinjiang region, China, on Sept. 4, 2018.(Thomas Peter/Reuters) A 'Tough Battle' Ahead "This report clearly shows how toxic and how deep those disinformation networks are inside of China, and how it's actually reaching out beyond the border to the international audience," said Nurgul Sawut, executive chairperson of the Uyghur Freedom Forum." "Certainly we do have a like very hard difficult battle ahead," she told The Epoch Times. Sawut called for governments to take action on helping communities combat C
Beijing is circumventing its own firewall to leverage YouTube, and profiting off its advertising service, in the battle to win hearts and minds in the West, according to a new report by the Australian Strategic Policy Institute (ASPI).
The report, named "China is using ethnic-minority influencers to spread its Xinjiang narrative on social media" and funded by the U.S. State Department, examined 1,741 videos from 18 popular YouTube influencers supposedly based out of Xinjiang, Tibet, and Inner Mongolia.
It found these "frontier influencers," mostly young females from ethnic minorities, were carefully vetted and considered politically reliable by Beijing.
"The videos show a standardised, secular, and pristine image of these regions, with women who are modern, sinicised, and show loyalty to the Chinese Communist Party [CCP]," according to an article by the ASPI authors.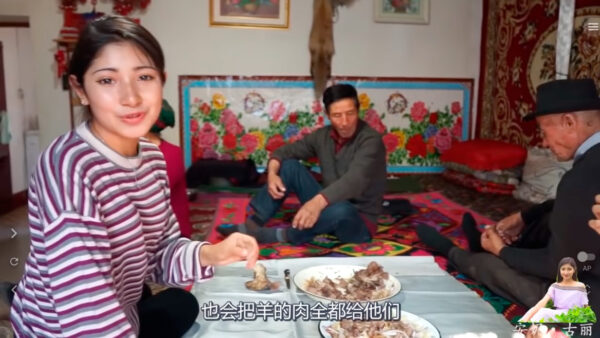 "This subtle propaganda shows a vision of President Xi Jinping's 'beautiful China,' one that is scrubbed of politics and religion and instead shows an idyllic natural environment and innocuous elements of culture such as cooking or dancing."
One notable example is Li Ziqi, China's largest international social media influencer, whose pastoral videos in Sichuan Province have attracted hundreds of thousands of overseas followers.
Chinese Influencers Growing Via '3rd Party' Agencies
The report noted that while the videos of these influencers appear to be created by themselves, they were actually generated with the help of special influencer-management agencies known as multi-channel networks (MCNs).
"The channels are carefully produced to appear authentic, giving them more credibility than traditional party-state media, which can often be rigid and didactic," the authors wrote.
"Yet the channels are produced by the MCNs, which, as businesses, are enmeshed with the CCP. Some of the MCNs have internal CCP committees inside them. All MCNs are required by Chinese law to ensure that their talent adheres to the values of the CCP and promotes its agenda."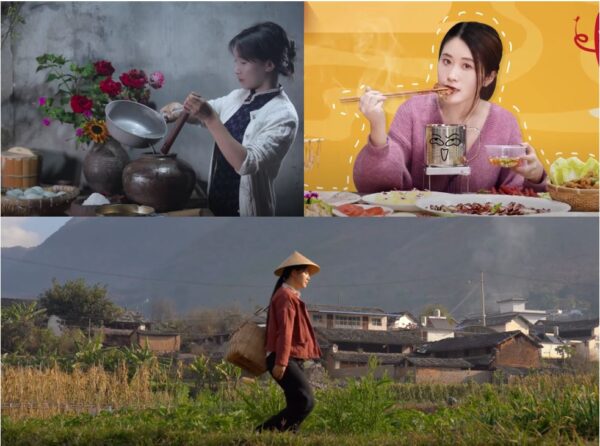 YouTube Subsidising CCP Propaganda
While Chinese content creators may struggle to monetise their YouTube content due to the "Great Firewall of China," MCNs are free from these constraints and have agreements with YouTube—resulting in the video-sharing giant effectively helping the CCP's propaganda and disinformation efforts.
The ASPI report discovered eight Chinese companies that operate China-based YouTube channels, all of which have such agreements with YouTube.
For example, Zhu Danjun, CEO of Xiaowu Brothers told Chinese media that, since 2018, his operations staff and the influencers they represent have been having meetings with "YouTube's strategists" every one to two months, according to the report.
In addition, many influencers' accounts displayed pre-roll video advertisements for brands such as Squarespace and Norwegian Cruise Line.
"On videos specifically about Xinjiang cotton, we saw pre-roll and pop-up advertisements for KFC Australia and Vimeo, among other brands," the report stated.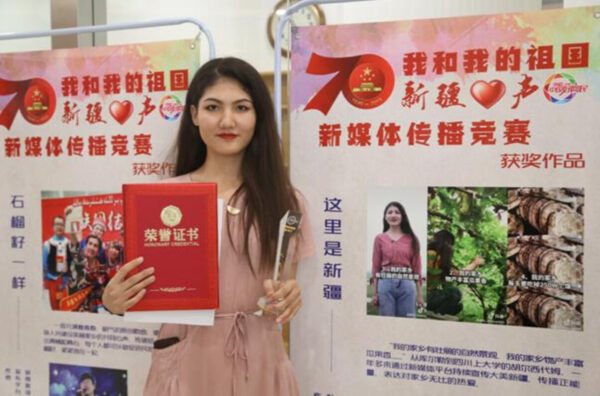 The CCP's Denial of Human Rights Atrocities
Other than using subtle ways to influence the audience, the influencers also directly negate established international human rights abuse concerns in some of the videos. As one influencer puts it, "People are happy and all ethnics are living together harmoniously."
The CCP has carried out mass surveillance, detention, and "re-education" of Uyghurs and other ethnic minorities in Xinjiang in recent years under the pretext of fighting instability and counterterrorism.
While the communist regime has long denied the accusation of "genocide" in Xinjiang, leaked Xinjiang Police files published in May revealed the brutal persecution of Uyghurs in mass concentration camps, including executions of fugitives.
Allegations of human rights atrocities in Xinjiang include rape, sexual violence, solitary confinement, psychological torture, and forced medication, according to a report released by the UN high commissioner for human rights in August.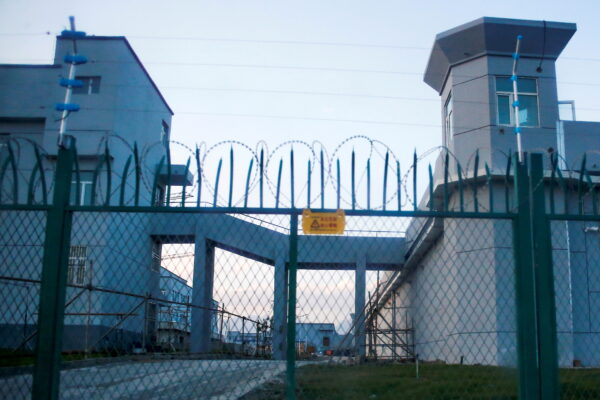 A 'Tough Battle' Ahead
"This report clearly shows how toxic and how deep those disinformation networks are inside of China, and how it's actually reaching out beyond the border to the international audience," said Nurgul Sawut, executive chairperson of the Uyghur Freedom Forum."
"Certainly we do have a like very hard difficult battle ahead," she told The Epoch Times.
Sawut called for governments to take action on helping communities combat CCP disinformation.
"Australian government should have built a better filtering system to both Google and YouTube for Australian audiences," she said.
"If they can't influence how YouTube and Google function internationally, at least they should take off that misleading information, work on the algorithm, or reduce the rates and percentage of [content] popping up.
"I'm sure there are many technical things they can be done to prevent the spreading of disinformation."
The Uyghur community leader said her group is still trying to communicate with government, telecommunications, and cyber authorities.
"Without that help, our chance of winning over disinformation is very slim," Sawut said.
The Epoch Times has reached out to YouTube for comment but has not received a reply by press time.