HKGov Hires 2000 Political Assistants: All Must Know Basic Law and National Security Law
The Civil Service Bureau (CSB) of the Hong Kong government (HKGov) announced on July 29 that a recruitment exercise for the post of Assistant Clerical Officer (ACO) is now open for applications.It plans to hire 2,000 political assistants, and the application deadline is August 11. A passing grade in the "Basic Law and National Security Law Test" is an entry requirement. According to the CSB, ACOs will be assigned to work in various decision-making bureaus and departments. The job duties include general administrative support, clerical, and front-line services. All Hong Kong permanent residents who meet the entry requirements, including the required academic qualifications obtained in this year's Hong Kong Diploma of Secondary Education Examination (HKDSE), can apply for this position. According to the information provided by the government, the starting salary for the position is HK$15,950 (approx. US$2,000) per month. Applicants must pass the skills tests to be eligible for an interview. The skills tests include a Chinese and English word processing speed test and a test in the application of common business software. In addition, a passing grade in the "Basic Law and National Security Law" written test is required. Follow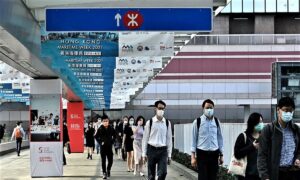 The Civil Service Bureau (CSB) of the Hong Kong government (HKGov) announced on July 29 that a recruitment exercise for the post of Assistant Clerical Officer (ACO) is now open for applications.
It plans to hire 2,000 political assistants, and the application deadline is August 11.
A passing grade in the "Basic Law and National Security Law Test" is an entry requirement.
According to the CSB, ACOs will be assigned to work in various decision-making bureaus and departments. The job duties include general administrative support, clerical, and front-line services.
All Hong Kong permanent residents who meet the entry requirements, including the required academic qualifications obtained in this year's Hong Kong Diploma of Secondary Education Examination (HKDSE), can apply for this position.
According to the information provided by the government, the starting salary for the position is HK$15,950 (approx. US$2,000) per month.
Applicants must pass the skills tests to be eligible for an interview.
The skills tests include a Chinese and English word processing speed test and a test in the application of common business software. In addition, a passing grade in the "Basic Law and National Security Law" written test is required.