California Minimum Wage Bill for Health Care Workers Would Worsen Shortages
Commentary When you get older—I'm 67—one of the things that happens is you need more health care. I've written hundreds of editorials and columns calling for privatizing Medicare. Never happened. Now I'm on it. I'm finding it's quite generous. What I worry about is making sure there are enough medical professionals around in a few years as my needs increase. Pew Trusts reported last March 25: "The lack of workers has become so dire that at least 20 governors this year directly addressed the situation in their state of the state speeches, proposing a range of policy fixes, according to the National Academy for State Health Policy, a nonpartisan forum of state health policymakers." Gov. Gavin Newsom did not mention this problem in his March 8, 2022 address. Perhaps he will in his 2023 address, expected this week. But last year he did say, "And this year, with your support, we will do something no other state in America has done — provide Health For All, regardless of immigration status. That's the California Way." Which inevitably will mean a demand for more health care workers in the middle of a shortage. This is why I'm worried about my own health care in coming years, as well as that of my friends. Unlike most, I also use the Veterans Administration (VA), which has been improved greatly in recent years after President Trump's reforms after the scandals of a decade ago. But even there, although the VA is a federal department, in my experience it relies on local doctors, nurses, and other medical workers for some of the care given to vets. These problems could be made worse if Senate Bill 535 becomes law. By state Sen. Maria Elena Durazo (D-Los Angeles), in the bill's words, it "would require a health care worker minimum wage of $25 per hour for hours worked in covered health care employment." And it "would provide that no reimbursement is required by this act for a specified reason." Meaning the state of California would not reimburse local hospitals, school medical workers, etc., for their added costs. Local taxpayers of private health companies, including nonprofits, would pick up the tabs. California's current minimum wage is $15.50 an hour. Although some cities have raised that as high as $17.95 in Sunnyvale. In Durazo's L.A., it's $16.04. It's axiomatic that mandating higher wages means less money overall. Meaning other medical services will have to be cut, including firing some of the medical workers themselves. For them, a $25 hourly wage will mean a pink slip. Tax increases? Unlikely in a state already taxed more than any other. Durazo also championed the Medi-Cal expansion, which started May 1, 2022, giving 235,000 more Californians new eligibility for coverage. She exulted at the time: "After years of tireless work from organizers and advocates, all eligible Californians 50 and older regardless of their immigrations status will have access to full-scope health coverage. "Up until now eligible, undocumented parents or grandparents of this age bracket could take their child or grandchild to the doctor but the parent or grandparent could not do the same for themselves. "We have taken a huge step forward by securing healthcare access for these quarter million Californians, but this latest inclusion is not the end – it's another step in our continued efforts. This has been and always will be a campaign for all." It's Economics 101: Increasing costs while also increasing demand is a surefire recipe for massive shortages. Of SB 535, Durazo told Kaiser Health News (quoted in California Healthline) of struggling health care workers, "How do people survive? They can't be on the edge of becoming homeless. That's what we're facing." Well, maybe if she and other legislators stopped over-regulating and over-taxing everybody, and instead passed reforms to reduce the costs of housing and gasoline, everybody might live a little easier. California Healthline itself wrote: "While the bill is backed by the influential Service Employees International Union-United Healthcare Workers West, which represents roughly 100,000 workers statewide, similar proposals have previously faced strong opposition from the health industry …. "Last year, the union spent about $11 million to promote local $25 minimum wage measures in 10 Southern California cities while hospitals and health care facilities spent $12 million against them. That fight yielded an opposite decision in November in two cities where the measure made the ballot: Inglewood voters approved raises at private hospitals and dialysis clinics, while voters in Duarte rejected the wage hike. "During the campaign, a ballot issue committee with funding from Kaiser Permanente of Northern California, Adventist Health, Cedars-Sinai, Dignity Health, and other hospitals and health systems warned that a $25 minimum wage would raise their costs." According to CalMatters' California Legislator Tracker, "Senator María Elena Durazo has taken at least $516,000 from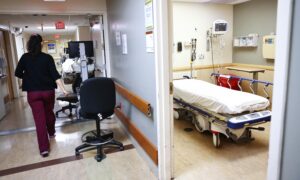 Commentary
When you get older—I'm 67—one of the things that happens is you need more health care. I've written hundreds of editorials and columns calling for privatizing Medicare. Never happened. Now I'm on it. I'm finding it's quite generous. What I worry about is making sure there are enough medical professionals around in a few years as my needs increase.
Pew Trusts reported last March 25:
"The lack of workers has become so dire that at least 20 governors this year directly addressed the situation in their state of the state speeches, proposing a range of policy fixes, according to the National Academy for State Health Policy, a nonpartisan forum of state health policymakers."
Gov. Gavin Newsom did not mention this problem in his March 8, 2022 address. Perhaps he will in his 2023 address, expected this week. But last year he did say, "And this year, with your support, we will do something no other state in America has done — provide Health For All, regardless of immigration status. That's the California Way." Which inevitably will mean a demand for more health care workers in the middle of a shortage.
This is why I'm worried about my own health care in coming years, as well as that of my friends. Unlike most, I also use the Veterans Administration (VA), which has been improved greatly in recent years after President Trump's reforms after the scandals of a decade ago. But even there, although the VA is a federal department, in my experience it relies on local doctors, nurses, and other medical workers for some of the care given to vets.
These problems could be made worse if Senate Bill 535 becomes law. By state Sen. Maria Elena Durazo (D-Los Angeles), in the bill's words, it "would require a health care worker minimum wage of $25 per hour for hours worked in covered health care employment."
And it "would provide that no reimbursement is required by this act for a specified reason." Meaning the state of California would not reimburse local hospitals, school medical workers, etc., for their added costs. Local taxpayers of private health companies, including nonprofits, would pick up the tabs.
California's current minimum wage is $15.50 an hour. Although some cities have raised that as high as $17.95 in Sunnyvale. In Durazo's L.A., it's $16.04.
It's axiomatic that mandating higher wages means less money overall. Meaning other medical services will have to be cut, including firing some of the medical workers themselves. For them, a $25 hourly wage will mean a pink slip. Tax increases? Unlikely in a state already taxed more than any other.
Durazo also championed the Medi-Cal expansion, which started May 1, 2022, giving 235,000 more Californians new eligibility for coverage. She exulted at the time:
"After years of tireless work from organizers and advocates, all eligible Californians 50 and older regardless of their immigrations status will have access to full-scope health coverage.
"Up until now eligible, undocumented parents or grandparents of this age bracket could take their child or grandchild to the doctor but the parent or grandparent could not do the same for themselves.
"We have taken a huge step forward by securing healthcare access for these quarter million Californians, but this latest inclusion is not the end – it's another step in our continued efforts. This has been and always will be a campaign for all."
It's Economics 101: Increasing costs while also increasing demand is a surefire recipe for massive shortages.
Of SB 535, Durazo told Kaiser Health News (quoted in California Healthline) of struggling health care workers, "How do people survive? They can't be on the edge of becoming homeless. That's what we're facing."
Well, maybe if she and other legislators stopped over-regulating and over-taxing everybody, and instead passed reforms to reduce the costs of housing and gasoline, everybody might live a little easier.
California Healthline itself wrote:
"While the bill is backed by the influential Service Employees International Union-United Healthcare Workers West, which represents roughly 100,000 workers statewide, similar proposals have previously faced strong opposition from the health industry ….
"Last year, the union spent about $11 million to promote local $25 minimum wage measures in 10 Southern California cities while hospitals and health care facilities spent $12 million against them. That fight yielded an opposite decision in November in two cities where the measure made the ballot: Inglewood voters approved raises at private hospitals and dialysis clinics, while voters in Duarte rejected the wage hike.
"During the campaign, a ballot issue committee with funding from Kaiser Permanente of Northern California, Adventist Health, Cedars-Sinai, Dignity Health, and other hospitals and health systems warned that a $25 minimum wage would raise their costs."
According to CalMatters' California Legislator Tracker, "Senator María Elena Durazo has taken at least $516,000 from the Labor sector since she was elected to the legislature. That represents 54 percent of her total campaign contributions." So once again it's union power, not the actual needs of Californians, that's behind the legislation.
During a recent minor health problem, an Internet search said I should get checked out. Can't be too careful at my age.
I went to Hoag Hospital's Emergency Room in Newport Beach. The place was packed. I love watching people and noticed in the lobby there was the mix of folks living in Orange County: old, young, middle-aged; all races, creeds, colors, and religions; a couple homeless people.
They didn't even take me into the back area with the beds because all were filled. Instead, the doctor and nurse wheeled out a stand with a computer on it and checked my blood pressure. Right in the lobby. The numbers improved after a couple hours and the doc cleared me to go home. I'm OK and, like great Orange County crooner Gene Autry warbled, "Back in the Saddle Again."
The doc said the Emergency Room soon would be expanding with new construction. It's obvious as California ages, and immigrants, legal and illegal, are given more treatment, we're going to need more medical workers, not fewer. SB 535 would make that worse.
Next time I need some care I hope those great doctors, nurses, and specialists are still there.
Views expressed in this article are the opinions of the author and do not necessarily reflect the views of The Epoch Times.