North Korea's Penultimate Threat: Mobile Solid-Fuel Rockets
Commentary After nearly two decades of striving, North Korea, with plenty of Chinese help, has finally reached the stage of world-class nuclear terror in service of the hegemonic ambitions of the Chinese Communist Party (CCP). Eleven years after North Korea's April 15, 2012, revelation of a mockup of a liquid-fueled intercontinental ballistic missile (ICBM) traveling on a large 16-wheel Chinese-made truck, in its latest Feb. 8 military display, Pyongyang paraded four solid-fuel ICBMs, all traveling on a larger 18-wheel truck either made in China or co-produced in North Korea. North Korea's missile truck, capable of launching its liquid-fueled or solid rocket ICBMs, called a transporter-erector-launcher (TEL), is a product of the Sanjiang Special Vehicle Company of the larger China Aerospace Science and Industry Corporation (CASIC), one of two main Chinese state-owned missile conglomerates. This analyst has long held that in order for CASIC to make these 16- and 18-wheel TELs for North Korea, it first required intimate knowledge of the missiles they carry. Furthermore, as CASIC is a major designer and producer of solid-fuel regional missiles like the Dong Feng DF-16 and DF-21, and ICBM size solid-fuel space launch vehicles like the Kuaizhou KZ-11, it is likely responsible for helping North Korea build ever larger solid-fuel missiles. Just don't expect a CASIC press release claiming credit. North Korean state media on Dec. 15, 2022, revealed that North Korea had tested a large solid-fuel rocket motor. Based on North Korean images, it may have a diameter of about 2 meters or 6.5 feet. The 80-ton DF-41 ICBM of the China Aerospace Science and Technology Corporation (CASC) has a diameter of about 7.3 feet, and a range of about 8,000 miles. In comparison, the 78-ton CASIC KZ-11 has a 7.2-foot diameter and, if launched ballistically, could transport multiple nuclear warheads over 7,000 miles—enough to reach most targets in the continental United States from North Korea. Radio Free Asia on Feb. 1 cited a report by Shin Seung-ki, a research fellow at Seoul-based Korea Institute for Defense Analyses, who assessed that North Korea's goal is to build a 6,200-mile range solid-fuel ICBM that can carry up to 10 warheads. North Korea likely gained insights into developing multiple independently targetable reentry vehicle (MIRV) warheads from Pakistan's January 2017 test of its multiple warhead-carrying Ababeel intermediate-range ballistic missile, which Indian sources note was Chinese technology shared with Pakistan. Given the close missile technology relationships between Pakistan, North Korea, and Iran, it is very likely that North Korea will sell its solid fuel ICBM technology to its two main allies. Furthermore, the KZ-11's ability to put 1.5 tons into orbit also means that North Korea can more efficiently launch satellites or even begin building anti-satellite interceptors capable of taking out U.S. surveillance, navigation, or even some early warning satellites. The KZ-11 could also accommodate a small Chinese-designed fractional orbital bombardment system (FOBS) bus, to allow for bombing U.S. targets from low Earth orbit. In the Feb. 8 parade, North Korea also displayed a record 12 of its 9,000-mile range, liquid-fueled Hwasong-17 ICBM, which could also carry multiple warheads, in addition to four of its new solid-fueled ICBMs. A screenshot from Rodong Sinmum of North Korea's solid-fuel intercontinental ballistic missile (ICBM) on its Chinese-made or designed transporter erector launcher (TEL), revealed at a military parade in Pyongyang on Feb. 8, 2023. (Courtesy of Rick Fisher) Should North Korea be able to achieve strategic surprise, it could soon be capable of overwhelming the Ground-based Midcourse Defense system that may have up to 64 missile interceptors capable of countering North Korean ICBMs at Fort Greely in Alaska, and Vandenburg Air Force Base in California. North Korea's ability to achieve surprise will be greatly advanced by its new solid-fueled ICBMs. Instead of wheeling its current liquid-fueled Hwasong-17 ICBM out of its cave, and spending perhaps 30 minutes to 60 minutes fueling and preparing for launch and thus vulnerable to attack, the new solid-fuel ICBM can be made ready to launch almost as soon as it emerges from its lair. That China could produce massive TELs for successive generations of North Korean ICBMs, starting in 2011, without Washington issuing any sanctions against China's CASIC, is a testament to U.S. government dysfunction. Washington's bipartisan failure to mount a sufficient campaign of economic and political pressure to stop China's assistance to North Korea's nuclear weapons program has given both the time they required to field their greatest threat: easily concealable and mobile solid-fuel ICBMs that can initiate in minutes a surprise nuclear attack against the United States. There should be no illusion: China has so armed North Korea not just to preserve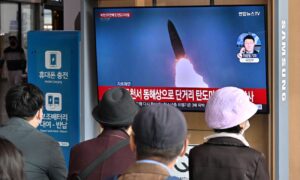 Commentary
After nearly two decades of striving, North Korea, with plenty of Chinese help, has finally reached the stage of world-class nuclear terror in service of the hegemonic ambitions of the Chinese Communist Party (CCP).
Eleven years after North Korea's April 15, 2012, revelation of a mockup of a liquid-fueled intercontinental ballistic missile (ICBM) traveling on a large 16-wheel Chinese-made truck, in its latest Feb. 8 military display, Pyongyang paraded four solid-fuel ICBMs, all traveling on a larger 18-wheel truck either made in China or co-produced in North Korea.
North Korea's missile truck, capable of launching its liquid-fueled or solid rocket ICBMs, called a transporter-erector-launcher (TEL), is a product of the Sanjiang Special Vehicle Company of the larger China Aerospace Science and Industry Corporation (CASIC), one of two main Chinese state-owned missile conglomerates.
This analyst has long held that in order for CASIC to make these 16- and 18-wheel TELs for North Korea, it first required intimate knowledge of the missiles they carry.
Furthermore, as CASIC is a major designer and producer of solid-fuel regional missiles like the Dong Feng DF-16 and DF-21, and ICBM size solid-fuel space launch vehicles like the Kuaizhou KZ-11, it is likely responsible for helping North Korea build ever larger solid-fuel missiles. Just don't expect a CASIC press release claiming credit.
North Korean state media on Dec. 15, 2022, revealed that North Korea had tested a large solid-fuel rocket motor. Based on North Korean images, it may have a diameter of about 2 meters or 6.5 feet.
The 80-ton DF-41 ICBM of the China Aerospace Science and Technology Corporation (CASC) has a diameter of about 7.3 feet, and a range of about 8,000 miles.
In comparison, the 78-ton CASIC KZ-11 has a 7.2-foot diameter and, if launched ballistically, could transport multiple nuclear warheads over 7,000 miles—enough to reach most targets in the continental United States from North Korea.
Radio Free Asia on Feb. 1 cited a report by Shin Seung-ki, a research fellow at Seoul-based Korea Institute for Defense Analyses, who assessed that North Korea's goal is to build a 6,200-mile range solid-fuel ICBM that can carry up to 10 warheads.
North Korea likely gained insights into developing multiple independently targetable reentry vehicle (MIRV) warheads from Pakistan's January 2017 test of its multiple warhead-carrying Ababeel intermediate-range ballistic missile, which Indian sources note was Chinese technology shared with Pakistan.
Given the close missile technology relationships between Pakistan, North Korea, and Iran, it is very likely that North Korea will sell its solid fuel ICBM technology to its two main allies.
Furthermore, the KZ-11's ability to put 1.5 tons into orbit also means that North Korea can more efficiently launch satellites or even begin building anti-satellite interceptors capable of taking out U.S. surveillance, navigation, or even some early warning satellites.
The KZ-11 could also accommodate a small Chinese-designed fractional orbital bombardment system (FOBS) bus, to allow for bombing U.S. targets from low Earth orbit.
In the Feb. 8 parade, North Korea also displayed a record 12 of its 9,000-mile range, liquid-fueled Hwasong-17 ICBM, which could also carry multiple warheads, in addition to four of its new solid-fueled ICBMs.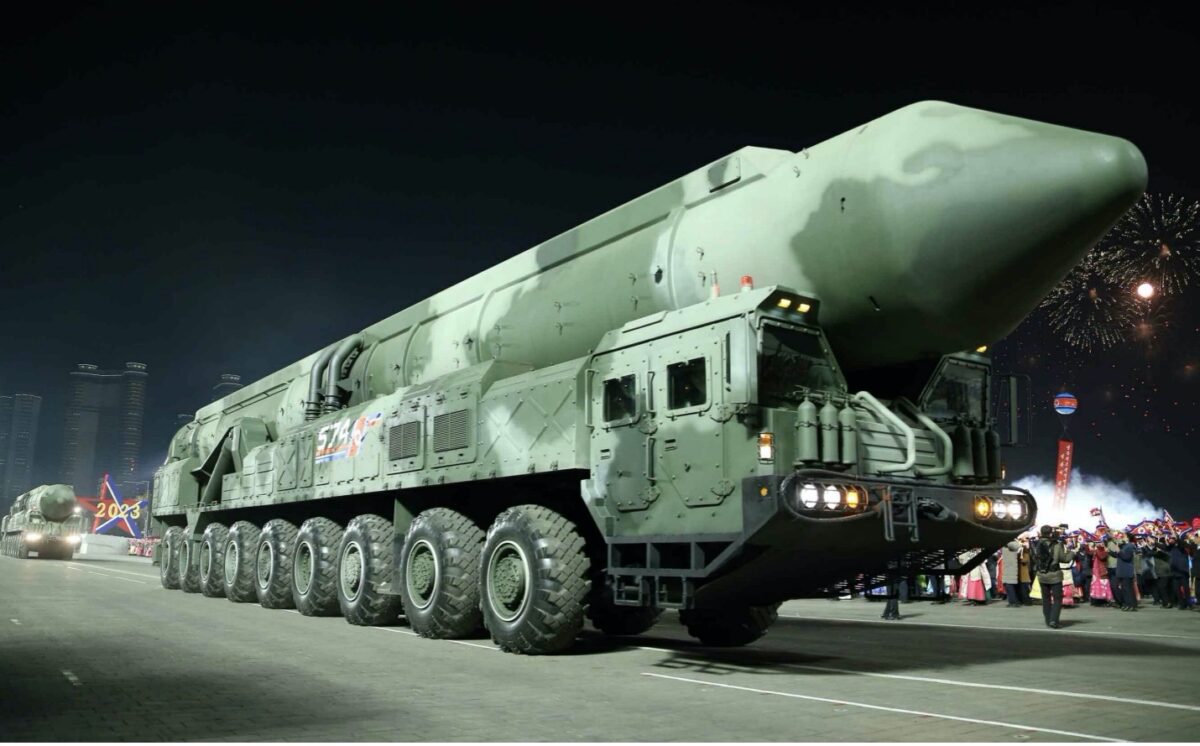 Should North Korea be able to achieve strategic surprise, it could soon be capable of overwhelming the Ground-based Midcourse Defense system that may have up to 64 missile interceptors capable of countering North Korean ICBMs at Fort Greely in Alaska, and Vandenburg Air Force Base in California.
North Korea's ability to achieve surprise will be greatly advanced by its new solid-fueled ICBMs.
Instead of wheeling its current liquid-fueled Hwasong-17 ICBM out of its cave, and spending perhaps 30 minutes to 60 minutes fueling and preparing for launch and thus vulnerable to attack, the new solid-fuel ICBM can be made ready to launch almost as soon as it emerges from its lair.
That China could produce massive TELs for successive generations of North Korean ICBMs, starting in 2011, without Washington issuing any sanctions against China's CASIC, is a testament to U.S. government dysfunction.
Washington's bipartisan failure to mount a sufficient campaign of economic and political pressure to stop China's assistance to North Korea's nuclear weapons program has given both the time they required to field their greatest threat: easily concealable and mobile solid-fuel ICBMs that can initiate in minutes a surprise nuclear attack against the United States.
There should be no illusion: China has so armed North Korea not just to preserve its Communist Party-Kim-family dictatorship, but to build this terror-trafficking regime into a "deniable" source of nuclear coercion or even an initiator of nuclear crises.
It should be expected that at Beijing's prompting, North Korea will initiate a nuclear crisis in order to divert and tie down U.S. and allied military forces at a point that the CCP chooses to start its invasion of democratic Taiwan.
It is simply unacceptable that Americans now face this penultimate threat from one of the most impoverished and politically tortured nations on Earth. And that for over a decade, the massive military and intelligence capabilities of the United States were not marshaled to fully expose the CCP's perfidy, which should have justified sanctions amounting to U.S. "decoupling" from the Chinese economy a decade ago.
North Korea's new solid-fueled ICBMs represent a more threatening phase in the China-North Korean alliance of terror, which could soon extend to North Korean weapons for space warfare, and the proliferation of ICBM and space warfare technologies to Pakistan and Iran.
Inasmuch as Washington has deliberately limited its national missile defense capabilities so as not to scare Beijing into a much larger nuclear force breakout, as started anyway in 2021, the United States has lost on two levels: its unilateral forbearance was brutally exploited by China, which is on its way to 3,000 or 4,000 warheads.
Perhaps many of these will be carried by a new North Korean-enabled CASIC KZ-11-based ICBM that will complement China's DF-41.
Also, China has now enabled a North Korean nuclear missile threat able to overwhelm early limited U.S. missile defenses tailored to a much smaller North Korean threat.
There are now two imperatives for the United States: it must now field a much larger nuclear deterrent, perhaps up to 6,000 warheads, to deter China, Russia, and North Korea; and it must finally fulfill Ronald Reagan's vision and build a robust national missile defense system.
Views expressed in this article are the opinions of the author and do not necessarily reflect the views of The Epoch Times.