Body of Hong Kong Student Found in Taipei Temple, Taiwan
On Sept. 29, 2022, the body of a young female student was found inside a locked toilet cubicle in the basement of  Longshan Temple, Taipei. The student left a note warning people to not communicate with the spiritual world. Her parents rushed to Taiwan after learning of her death.Mr. Chung, the student's father, said his daughter had mentioned in a phone call with her mother, that she was upset and thought some spirits were harassing her. He criticized the Taiwan police for being sloppy with their investigation and for refusing to do a preliminary autopsy. Chung stated that he would try to get legal advice. The Discovery On Sept. 29, a cleaner couldn't open the door of a toilet stall. Once a security guard opened the door, he found a woman's body on the floor. Police recovered two notes from the deceased woman's backpack. One note addressed the cleaners who would discover her body, "I am sorry. I know cleaning up is going to be very troublesome." The other note read: "Please forgive me. Do not randomly communicate with the underworld." Police also found Ms. Chung's identity in her knapsack. They discovered she was a 19-year-old Hong Kong student studying at Lunghua University of Science and Technology in the city of Taoyuan, Taiwan. Based on multiple media reports, the student arrived at the temple at 11 a.m. and headed to the bathroom in the temple basement. Taiwan police traced her steps via CCTV security footage. No one had followed the woman to the basement, nor were there any signs of a struggle or violence. Hence, the police ruled out homicide as the cause of death. Officers continue to investigate the cause of death as of Oct. 3, 2022. Parents Dissatisfied with Police Ms. Chung's parents rushed to Taiwan thanks to assistance from the Taiwan government. The couple were escorted from the quarantine hotel to arrange for their late daughter's funeral and burial. Mr. Chung, the father of the late student, told the media that the police work had been sloppy. "Not only did they refuse to conduct a preliminary autopsy, they also asked us to trust their experience and to sign for the case closure." Mr. Chung did not comply. He believed that there were suspicions, including that the CCTV cameras could have covered other areas his daughter had passed through. Mr. Chung said that he would not rest until he found the answers he was looking for. He would also seek legal advice and go to the temple himself to investigate. Miscommunication In response to Mr. Chung's criticism, the police said they never refused to do an autopsy and believe there was a miscommunication between the two parties. Wanhua Precinct Assistant Captain Huang explained that when they received a call about the discovery of a body, the police team immediately went to the scene to investigate, access available surveillance camera footage, and collect evidence. Later that day, the local prosecutor and forensic examiner of the District Public Prosecutor's Office  conducted an autopsy. The Vice Captain said, "If I remember correctly, the family arrived in Taiwan on the evening of Sept. 30, 2022. But they had to be quarantined at a hotel. On the morning of Oct. 3, 2022, local prosecutors escorted the parents to the coroner's office for a second autopsy. Therefore, there might have been a miscommunication somewhere, since we never refused an autopsy and had in fact conducted it twice." Before Her Death Mr. Chung said his daughter did not do well in secondary school in Hong Kong. So in September 2020, she continued her studies at Lunghua University of Science and Technology in Taiwan. She was in her third year at the school. Due to pandemic restrictions, Chung's parents could not visit their daughter for a long time. Mr. Chung remembered how relieved they were when she told them how much she loved the Taiwanese university. Along with being quiet, Chung was described as well-mannered and intelligent. She received scholarships from the school and enjoyed drawing and doing handicrafts. When she first arrived in Taiwan, she made extra money running an online shop during her time away from school. Signs of Melancholy In the summer of 2022, Chung returned to Hong Kong for vacation. Her father said she seemed fine at that time; but once she returned to school in September, she spoke of feeling sad on the phone with her mother. Chung also told her mom, " I think I am seeing things. I think they might be spirits. I am miserable." The parents had planned to take their daughter to Japan for a break on Oct. 4, 2022. Mr. Chung told the newspaper that his daughter lived in the university 4-bedroom dormitory. Although his daughter was never bullied at school or involved with money disputes, he worried it might be challenging for her to find new friends and communicate with people to due to her quiet personality. "Having no one with her makes her dig deeper into the rabbit hole." Possibilities While netizens speculate whether the body disco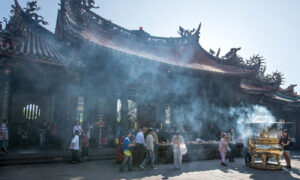 On Sept. 29, 2022, the body of a young female student was found inside a locked toilet cubicle in the basement of Longshan Temple, Taipei. The student left a note warning people to not communicate with the spiritual world. Her parents rushed to Taiwan after learning of her death.
Mr. Chung, the student's father, said his daughter had mentioned in a phone call with her mother, that she was upset and thought some spirits were harassing her.
He criticized the Taiwan police for being sloppy with their investigation and for refusing to do a preliminary autopsy. Chung stated that he would try to get legal advice.
The Discovery
On Sept. 29, a cleaner couldn't open the door of a toilet stall. Once a security guard opened the door, he found a woman's body on the floor. Police recovered two notes from the deceased woman's backpack.
One note addressed the cleaners who would discover her body, "I am sorry. I know cleaning up is going to be very troublesome." The other note read: "Please forgive me. Do not randomly communicate with the underworld."
Police also found Ms. Chung's identity in her knapsack. They discovered she was a 19-year-old Hong Kong student studying at Lunghua University of Science and Technology in the city of Taoyuan, Taiwan.
Based on multiple media reports, the student arrived at the temple at 11 a.m. and headed to the bathroom in the temple basement. Taiwan police traced her steps via CCTV security footage. No one had followed the woman to the basement, nor were there any signs of a struggle or violence. Hence, the police ruled out homicide as the cause of death. Officers continue to investigate the cause of death as of Oct. 3, 2022.
Parents Dissatisfied with Police
Ms. Chung's parents rushed to Taiwan thanks to assistance from the Taiwan government. The couple were escorted from the quarantine hotel to arrange for their late daughter's funeral and burial.
Mr. Chung, the father of the late student, told the media that the police work had been sloppy. "Not only did they refuse to conduct a preliminary autopsy, they also asked us to trust their experience and to sign for the case closure."
Mr. Chung did not comply. He believed that there were suspicions, including that the CCTV cameras could have covered other areas his daughter had passed through.
Mr. Chung said that he would not rest until he found the answers he was looking for. He would also seek legal advice and go to the temple himself to investigate.
Miscommunication
In response to Mr. Chung's criticism, the police said they never refused to do an autopsy and believe there was a miscommunication between the two parties.
Wanhua Precinct Assistant Captain Huang explained that when they received a call about the discovery of a body, the police team immediately went to the scene to investigate, access available surveillance camera footage, and collect evidence. Later that day, the local prosecutor and forensic examiner of the District Public Prosecutor's Office conducted an autopsy.
The Vice Captain said, "If I remember correctly, the family arrived in Taiwan on the evening of Sept. 30, 2022. But they had to be quarantined at a hotel. On the morning of Oct. 3, 2022, local prosecutors escorted the parents to the coroner's office for a second autopsy. Therefore, there might have been a miscommunication somewhere, since we never refused an autopsy and had in fact conducted it twice."
Before Her Death
Mr. Chung said his daughter did not do well in secondary school in Hong Kong. So in September 2020, she continued her studies at Lunghua University of Science and Technology in Taiwan. She was in her third year at the school.
Due to pandemic restrictions, Chung's parents could not visit their daughter for a long time. Mr. Chung remembered how relieved they were when she told them how much she loved the Taiwanese university.
Along with being quiet, Chung was described as well-mannered and intelligent. She received scholarships from the school and enjoyed drawing and doing handicrafts. When she first arrived in Taiwan, she made extra money running an online shop during her time away from school.
Signs of Melancholy
In the summer of 2022, Chung returned to Hong Kong for vacation. Her father said she seemed fine at that time; but once she returned to school in September, she spoke of feeling sad on the phone with her mother.
Chung also told her mom, " I think I am seeing things. I think they might be spirits. I am miserable."
The parents had planned to take their daughter to Japan for a break on Oct. 4, 2022.
Mr. Chung told the newspaper that his daughter lived in the university 4-bedroom dormitory.
Although his daughter was never bullied at school or involved with money disputes, he worried it might be challenging for her to find new friends and communicate with people to due to her quiet personality.
"Having no one with her makes her dig deeper into the rabbit hole."
Possibilities
While netizens speculate whether the body discovery was 'ghost related,' Chinese newspaper Info Times consulted Taiwanese Folk Culture Study Researcher and Numerologist Master Hsieh.
Hsieh first explained that in traditional folk culture, people believe that when a person contacts or summons the dead, the living can be connected to the dead on a spiritual level. Hence their vision or hearing may be synchronized.
However, Hsieh said the deceased could have participated in something to communicate with spirits, such as a ouija board, before her death. She became fearful after that. He analyzed the notes found in Ms. Chung's backpack. The folk culture expert said, "Scientifically, the two written notes were signs of Ms. Chung suffering from severe distress and fears before her death. However, since the late student came from Hong Kong, she probably did not know who to turn to for help. Her fears could be the cause of her hallucination."
Official Response
Taiwan Mainland Affairs Council (MAC) instructed its Hong Kong Affairs Office to provide full assistance to Mr. And Mrs. Chung. The office said it would do its best to provide whatever the family needed during their time in Taiwan.
The Taiwan MAC said that as soon as the news broke, they immediately issued entry visas to Taiwan to the parents.
Once the Chungs arrived, the council said it sent their condolences and prayers to the parents through the university.
Shan Lam Contributed to this article