US 'Throwing Allies Under a Bus': Australia's New Ambassador Kevin Rudd
Australia's incoming ambassador to the United States Kevin Rudd urged the nation to stop throwing its allies "under a bus" if it wants to counter China's economic influence in the Asia-Pacific.Rudd, a former Labor prime minister of Australia who will take up his diplomatic posting in March, said the United States had "one arm tied behind its back" and was not using the economy as part of its overall security strategy in limiting Beijing's influence in the region. "For the future, what is the missing elements in the United States's grand strategy? It's called the economy, stupid," he told Bloomberg TV, using a famous quote by American political consultant James Carville. "You cannot continue to assume that there'll be collective solidarity on security questions, but on the economy, the United States is happy to throw some of its allies under a bus." Rudd said U.S. State Secretary Antony Blinken and National Security Advisor Jake Sullivan had done well "herding the cats" in Asia and Europe but that the nation's "overriding protectionist sentiment" was preventing its markets from opening up to Europe and Asia. "For those reasons, the United States Congress needs to embrace instead a different strategy which opens its markets more to its allies in Asia and in Europe despite the overall overriding protectionist sentiment of the U.S. Congress and political class more generally," he said. Former Australian Prime Minister Kevin Rudd at the National Press Club in Canberra, Australia on March 9, 2021. (AAP Image/Mick Tsikas) A vocal critic of the previous Morrison government's approach to relations with Beijing, former U.S. President Donald Trump, and Rupert Murdoch's News Corporation, Rudd was appointed as Australia's next ambassador to the United States in December 2022. He first won office in 2007 against Liberal-National Coalition Prime Minister John Howard, and served until 2010 before being ousted by his successor and fellow party member Julia Gillard. The Mandarin-speaking former prime minister's remarks echoed Australian Foreign Minister Penny Wong, who made similar comments last month, saying Indo-Pacific nations wanted things like digital trade and energy transition from U.S. leadership. "We need to demonstrate that we have interests we want to nurture beyond security interests," she said at the time. Rudd stressed he was speaking in his capacity as president of the Asia Society and had not begun his ambassadorial role, saying it was "three months before I turn into a pumpkin." Shadow Foreign Minister Simon Birmingham, who noted the significance of Rudd's appointment last month, criticized Rudd for risking the souring of bilateral relations before he had started his job. "Encouraging the United States to pursue deeper economic engagement in our region and with other allies is smart, strategic, and consistent with recent Australian ambassadors to the United States," he said. "Opinionated lecturing of the United States before you've even started your new ambassadorial role in the United States is far less strategic." "I doubt many will see Kevin Rudd's tone as an encouraging start to a role that requires both deft handling and policy smarts." Cindy Zhan is a reporter based in Australia. She covers national news with a focus on China-related issues. Got a tip? Contact her at [email protected]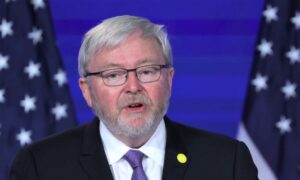 Australia's incoming ambassador to the United States Kevin Rudd urged the nation to stop throwing its allies "under a bus" if it wants to counter China's economic influence in the Asia-Pacific.
Rudd, a former Labor prime minister of Australia who will take up his diplomatic posting in March, said the United States had "one arm tied behind its back" and was not using the economy as part of its overall security strategy in limiting Beijing's influence in the region.
"For the future, what is the missing elements in the United States's grand strategy? It's called the economy, stupid," he told Bloomberg TV, using a famous quote by American political consultant James Carville.
"You cannot continue to assume that there'll be collective solidarity on security questions, but on the economy, the United States is happy to throw some of its allies under a bus."
Rudd said U.S. State Secretary Antony Blinken and National Security Advisor Jake Sullivan had done well "herding the cats" in Asia and Europe but that the nation's "overriding protectionist sentiment" was preventing its markets from opening up to Europe and Asia.
"For those reasons, the United States Congress needs to embrace instead a different strategy which opens its markets more to its allies in Asia and in Europe despite the overall overriding protectionist sentiment of the U.S. Congress and political class more generally," he said.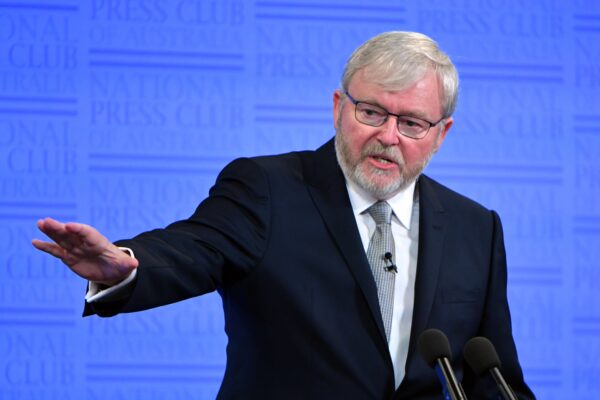 A vocal critic of the previous Morrison government's approach to relations with Beijing, former U.S. President Donald Trump, and Rupert Murdoch's News Corporation, Rudd was appointed as Australia's next ambassador to the United States in December 2022.
He first won office in 2007 against Liberal-National Coalition Prime Minister John Howard, and served until 2010 before being ousted by his successor and fellow party member Julia Gillard.
The Mandarin-speaking former prime minister's remarks echoed Australian Foreign Minister Penny Wong, who made similar comments last month, saying Indo-Pacific nations wanted things like digital trade and energy transition from U.S. leadership.
"We need to demonstrate that we have interests we want to nurture beyond security interests," she said at the time.
Rudd stressed he was speaking in his capacity as president of the Asia Society and had not begun his ambassadorial role, saying it was "three months before I turn into a pumpkin."
Shadow Foreign Minister Simon Birmingham, who noted the significance of Rudd's appointment last month, criticized Rudd for risking the souring of bilateral relations before he had started his job.
"Encouraging the United States to pursue deeper economic engagement in our region and with other allies is smart, strategic, and consistent with recent Australian ambassadors to the United States," he said.
"Opinionated lecturing of the United States before you've even started your new ambassadorial role in the United States is far less strategic."
"I doubt many will see Kevin Rudd's tone as an encouraging start to a role that requires both deft handling and policy smarts."