Trudeau Tries to Play Catch-Up on China's Interference, but Is Chasing His Own Tail
CommentaryCanada is in the global spotlight, again. A reporter at the G20 meeting in Bali captured Chinese leader Xi Jinping threatening Canadian Prime Minister Justin Trudeau over leaks of an earlier meeting between the two, in which Trudeau reportedly confronted Xi with intelligence leaks to the media about China's election interference. Yes, there was a leak about a leak. In the video, Xi scolded Trudeau and called the most recent leak inappropriate and inaccurate. He implied that Trudeau was "insincere," saying, "that is not how diplomacy can work." Experts paid close attention to the exact wording and body language between the two leaders, a rare unscripted moment in Canada-China relations. Xi appeared authoritative and dismissive of Trudeau, who adopted a more respectful and attentive demeanor. Trudeau, looking about 12 years old in a gray suit and pink tie, appeared to nod at some of Xi's comments. In one, the dictator told Trudeau, "We will proceed with mutual respect, otherwise, the result will be hard to say." Dr. Charles Burton, a former Canadian diplomat in Beijing, observed on social media that Xi's phrasing—which went untranslated to the prime minister at the time of the discussion and in most reporting—was "a menacing threat to Trudeau." In the video, Trudeau responds to Xi by saying, "In Canada, we believe in free and open and frank dialogue." He proceeded, "We will continue to look to work constructively together, but there will be things we will disagree on." That was the full extent of Trudeau's tough-guy act. Xi responded while moving to walk off with his team, "Let's create the conditions first," to which Trudeau fell silent. Xi ended the conversation with a frosty handshake. Some on the left lauded Trudeau for standing up to Xi, but the G20 leak was from a "government source" who, if not from Trudeau's own party, was certainly helping Trudeau look tougher on China. Chinese leader Xi Jinping speaks with Canadian Prime Minister Justin Trudeau on the sidelines of the G20 summit in Bali, Indonesia, on Nov. 16, 2022. (Adam Scotti/Prime Minister's Office/Handout via Reuters) Canada arrested an alleged spy for China while the G20 was in progress, and on Nov. 2, limited China's investment in its lithium mining sector. Conservatives view Trudeau's new tough-on-China stance skeptically. Sen. Leo Housakos, a Conservative from Québec, told The Epoch Times that the Chinese Communist Party (CCP), "by proxy through their ambassador, has made threats previously against Canadian parliamentarians, and this Trudeau government has never called them out for it. This is what they do. And Justin Trudeau continues to appease them." Another Conservative in Canada noted on the phone to The Epoch Times that Trudeau has not taken the step of calling the Uyghur repression a "genocide." The source did not go on the record for fear of personal repercussions. Canadian intelligence and police delivered a report in January to the prime minister's office that 11 ridings were targeted by China's election interference in Canada. Investigative journalist Sam Cooper wrote in the Global News on Nov. 7 that "China's Toronto consulate directed a large clandestine transfer of funds to a network of at least eleven federal election candidates and numerous Beijing operatives who worked as their campaign staffers." Trudeau apparently ignored his own services' intelligence report for months, and similar reports from years past, until after Global News published the details above. A week later, at the G20, Trudeau confronted Xi with Cooper's report. In the article, titled "Canadian intelligence warned PM Trudeau that China covertly funded 2019 election candidates," Cooper quotes a former intelligence analyst who raised "concerns about why the government hasn't yet responded by tabling new legislation to counter the threats." Canada's former ambassador to China, David Mulroney, spoke in favor of the squelched intelligence reports to The Guardian. "I have faith in the report that [intelligence officials] are giving," he said. "And I think they're giving those reports with some frustration that more isn't being done." Mulroney said the Trudeau government has, in the past, avoided identifying China as an interference threat by conflating it with other countries or speaking in generalities. On the most recent confrontation at the G20, Mulroney wrote on Twitter, "We'd have a reason to be proud if Xi had rebuked the PM for taking tough action against outrageous Chinese interference in our elections, rather than simply talking about it. What PMJT [Justin Trudeau] got was a display of contempt, not anger." A professor of political science in Toronto, Lynette Ong, said that Xi knew his "dressing down" of the Canadian prime minister would be caught by the media and seen by international audiences. After his impromptu interaction with Xi, Trudeau held a press conference defending his actions in which he said he "won't shy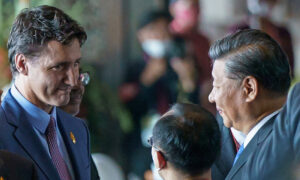 Commentary
Canada is in the global spotlight, again. A reporter at the G20 meeting in Bali captured Chinese leader Xi Jinping threatening Canadian Prime Minister Justin Trudeau over leaks of an earlier meeting between the two, in which Trudeau reportedly confronted Xi with intelligence leaks to the media about China's election interference.
Yes, there was a leak about a leak.
In the video, Xi scolded Trudeau and called the most recent leak inappropriate and inaccurate. He implied that Trudeau was "insincere," saying, "that is not how diplomacy can work."
Experts paid close attention to the exact wording and body language between the two leaders, a rare unscripted moment in Canada-China relations. Xi appeared authoritative and dismissive of Trudeau, who adopted a more respectful and attentive demeanor.
Trudeau, looking about 12 years old in a gray suit and pink tie, appeared to nod at some of Xi's comments. In one, the dictator told Trudeau, "We will proceed with mutual respect, otherwise, the result will be hard to say."
Dr. Charles Burton, a former Canadian diplomat in Beijing, observed on social media that Xi's phrasing—which went untranslated to the prime minister at the time of the discussion and in most reporting—was "a menacing threat to Trudeau."
In the video, Trudeau responds to Xi by saying, "In Canada, we believe in free and open and frank dialogue." He proceeded, "We will continue to look to work constructively together, but there will be things we will disagree on."
That was the full extent of Trudeau's tough-guy act.
Xi responded while moving to walk off with his team, "Let's create the conditions first," to which Trudeau fell silent. Xi ended the conversation with a frosty handshake.
Some on the left lauded Trudeau for standing up to Xi, but the G20 leak was from a "government source" who, if not from Trudeau's own party, was certainly helping Trudeau look tougher on China.
Canada arrested an alleged spy for China while the G20 was in progress, and on Nov. 2, limited China's investment in its lithium mining sector.
Conservatives view Trudeau's new tough-on-China stance skeptically.
Sen. Leo Housakos, a Conservative from Québec, told The Epoch Times that the Chinese Communist Party (CCP), "by proxy through their ambassador, has made threats previously against Canadian parliamentarians, and this Trudeau government has never called them out for it. This is what they do. And Justin Trudeau continues to appease them."
Another Conservative in Canada noted on the phone to The Epoch Times that Trudeau has not taken the step of calling the Uyghur repression a "genocide." The source did not go on the record for fear of personal repercussions.
Canadian intelligence and police delivered a report in January to the prime minister's office that 11 ridings were targeted by China's election interference in Canada. Investigative journalist Sam Cooper wrote in the Global News on Nov. 7 that "China's Toronto consulate directed a large clandestine transfer of funds to a network of at least eleven federal election candidates and numerous Beijing operatives who worked as their campaign staffers."
Trudeau apparently ignored his own services' intelligence report for months, and similar reports from years past, until after Global News published the details above.
A week later, at the G20, Trudeau confronted Xi with Cooper's report.
In the article, titled "Canadian intelligence warned PM Trudeau that China covertly funded 2019 election candidates," Cooper quotes a former intelligence analyst who raised "concerns about why the government hasn't yet responded by tabling new legislation to counter the threats."
Canada's former ambassador to China, David Mulroney, spoke in favor of the squelched intelligence reports to The Guardian. "I have faith in the report that [intelligence officials] are giving," he said. "And I think they're giving those reports with some frustration that more isn't being done."
Mulroney said the Trudeau government has, in the past, avoided identifying China as an interference threat by conflating it with other countries or speaking in generalities.
On the most recent confrontation at the G20, Mulroney wrote on Twitter, "We'd have a reason to be proud if Xi had rebuked the PM for taking tough action against outrageous Chinese interference in our elections, rather than simply talking about it. What PMJT [Justin Trudeau] got was a display of contempt, not anger."
A professor of political science in Toronto, Lynette Ong, said that Xi knew his "dressing down" of the Canadian prime minister would be caught by the media and seen by international audiences.
After his impromptu interaction with Xi, Trudeau held a press conference defending his actions in which he said he "won't shy away from being open with Canadians."
But Trudeau has sat for years on similar intelligence without making it public.
Days after Canadian police reported investigations of a secret network of illegal Chinese police stations in Toronto, and hours after Cooper's Nov. 7 report, Trudeau finally made a public statement that China is "play[ing] aggressive games" that undermine democracy in Canada.
Perhaps Trudeau's reluctance is because he has reportedly been caught up in Chinese influence networks.
It wasn't much of a statement, given the scale of the threat.
The prime minister's apparent reluctance to decisively address the issue of CCP influence in Canada could be explained by his own reported links to those networks.
In Cooper's 2021 book, "Wilful Blindness: How a Network of Narcos, Tycoons and CCP agents Infiltrated the West," he alleged that Trudeau met individuals linked to the Chinese regime at "cash-for-access" events. Cooper wrote that a principal at a gangster's law firm conducted fundraising for Trudeau's Liberal Party, and in 2016, a Chinese official donated $1 million to Trudeau's family foundation. In connection with that donation, an illegal casino tycoon reportedly met Trudeau on two occasions.
Why does the CCP tend to support leftists around the world rather than conservatives? Leftists generally support social services rather than the military defense of Western partners in the Asia-Pacific, like Taiwan, Japan, India, and South Korea.
Arguably, as a result of CCP support, leftist politicians, academics, and journalists tend to ignore its influence operations even when they undermine democratic processes. Only when forced by the media to confront the issue, as Trudeau was, will leftists make half-hearted public statements, while not advancing the necessary corrective legislation.
Conservatives can be subject to the same undemocratic dynamic. Russia tends to support far-right politicians around the world, even though conservatives have arguably done more than liberals, all else equal, to defend countries like Ukraine.
Nevertheless, conservatives should admit that Russian President Vladimir Putin's support for the far-right may be an attempt at divide-and-conquer tactics meant to sow chaos in democracies.
To rid democracy of all stripes of authoritarian influence, division tactics, and election interference, including from both Russia and China, we need tougher bipartisan legislation to close existing loopholes across democracies globally. No country, and no side of the aisle, is immune.
Views expressed in this article are the opinions of the author and do not necessarily reflect the views of The Epoch Times.