This Threat From China Could Kill Tens of Thousands of Americans
CommentaryElectromagnetic pulses (EMPs) are short, powerful bursts of electromagnetic energy. They have the potential to destroy a country's power grid. This fact is not lost on the Japanese government. By the decade's end, the Japanese intend to have effective countermeasures against EMPs in place. The United States, however, has no such plan in place. This decision could prove to be catastrophic. As Christian D. Orr, a former U.S. Air Force (USAF) Security Forces officer and private military contractor, recently noted, the Biden administration, either consciously or otherwise, is neglecting the threat posed by EMPs. "A successful EMP strike against the United States," he warned, "would be a catastrophe beyond measure or comprehension, essentially ushering in "The End of the World as We Know It" (TEOTWAWKI)." But for some reason, "the Biden Administration is failing to do anything about it." Before understanding the dangers posed by EMPs, it's important to understand what they are. Essentially, after a thermonuclear weapon is detonated above the Earth's surface, a pulse of violent electromagnetic radiation is generated, disrupting and/or destroying all electronic and electrical systems within a certain radius. After such an explosive detonation, the United States would grind to a screeching halt. People would suffer. Lives would be lost. During his time as president, Donald Trump, to his credit, acknowledged the threat of EMPs. However, with the current administration in charge, the United States appears to be woefully unprepared when it comes to attacks, be they cyber or EMP-related. Those in the know have been sounding the alarm for years, warning key decision-makers that the country's electric grid and other key infrastructure areas are highly vulnerable to attack from Russia and China (more on China in a minute). As I write this, the U.S. power grid is being targeted by unknown actors. Last year, attacks on U.S. power stations were at a 10-year high. Although the attacks have been extremely harmful, their effects pale in comparison to the effect an EMP attack would have. The Committee on Homeland Security warns that an EMP attack would completely obliterate "electronics and digital circuitry in the area of impact, thereby denying electric power to our homes, businesses, and military." Without "electricity to power our health, financial, transportation, and business systems," the United States would find itself largely incapacitated, with millions of individuals unable to drive, access online services, or seek certain life-saving medical treatments. It gets worse. A successful attack on the East Coast, for example, according to experts at Air University, a leader in U.S. Air Force education, would likely kill 90 percent of the population over the course of a year. Moreover, due to the sheer devastation of the attack, it could take as long as 18 months to restore the electricity grid. If you are picturing scenes from a post-apocalyptic Cormac McCarthy novel, then you are picturing correctly. Not surprisingly, the Chinese regime poses the biggest EMP threat to the United States. In 2020, Dr. Peter Pry, an EMP expert who sadly passed away last year, published a report aptly titled "China: EMP Threat." The Chinese Communist Party (CCP), he noted, has invested a great deal of time and money into the research and development of nuclear high-altitude electromagnetic pulse (HEMP) weapons. China, he warned, "has HEMP simulators and defensive and offensive programs that are almost certainly more robust than any in the United States." The CCP views HEMP attack as a natural "extension of information or cyber warfare, and deserving highest priority as the most likely kind of future warfare," he added. The CCP has been using cyberattacks to weaken the United States for years. Is a HEMP attack in the pipeline? Maybe. As Perry stressed, Chinese military documents are loaded with suggestions on how to make successful HEMP attacks against the United States. War is constantly evolving. The Chinese communists certainly know this, but can the same be said for the United States? Although the United States spends more on defense than France, Germany, India, Japan, Russia, Saudi Arabia, South Korea, and the UK combined, a vast majority of the money goes to the procurement of new vehicles and traditional weapons, as well as the maintenance of those already in stock; not enough is actually spent on the type of defense systems needed to detect and fend off something like an EMP attack. Such ignorance could prove to be unimaginably costly. Views expressed in this article are the opinions of the author and do not necessarily reflect the views of The Epoch Times. John Mac Ghlionn is a researcher and essayist. He covers psychology and social relations, and has a keen interest in social dysfunction and media manipulation. His work has been published by the New York Post, The Sydney Morning Herald, N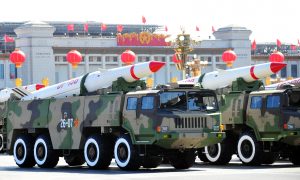 Commentary
Electromagnetic pulses (EMPs) are short, powerful bursts of electromagnetic energy. They have the potential to destroy a country's power grid. This fact is not lost on the Japanese government. By the decade's end, the Japanese intend to have effective countermeasures against EMPs in place. The United States, however, has no such plan in place. This decision could prove to be catastrophic.
As Christian D. Orr, a former U.S. Air Force (USAF) Security Forces officer and private military contractor, recently noted, the Biden administration, either consciously or otherwise, is neglecting the threat posed by EMPs. "A successful EMP strike against the United States," he warned, "would be a catastrophe beyond measure or comprehension, essentially ushering in "The End of the World as We Know It" (TEOTWAWKI)." But for some reason, "the Biden Administration is failing to do anything about it."
Before understanding the dangers posed by EMPs, it's important to understand what they are. Essentially, after a thermonuclear weapon is detonated above the Earth's surface, a pulse of violent electromagnetic radiation is generated, disrupting and/or destroying all electronic and electrical systems within a certain radius. After such an explosive detonation, the United States would grind to a screeching halt. People would suffer. Lives would be lost.
During his time as president, Donald Trump, to his credit, acknowledged the threat of EMPs. However, with the current administration in charge, the United States appears to be woefully unprepared when it comes to attacks, be they cyber or EMP-related.
Those in the know have been sounding the alarm for years, warning key decision-makers that the country's electric grid and other key infrastructure areas are highly vulnerable to attack from Russia and China (more on China in a minute). As I write this, the U.S. power grid is being targeted by unknown actors. Last year, attacks on U.S. power stations were at a 10-year high.
Although the attacks have been extremely harmful, their effects pale in comparison to the effect an EMP attack would have.
The Committee on Homeland Security warns that an EMP attack would completely obliterate "electronics and digital circuitry in the area of impact, thereby denying electric power to our homes, businesses, and military." Without "electricity to power our health, financial, transportation, and business systems," the United States would find itself largely incapacitated, with millions of individuals unable to drive, access online services, or seek certain life-saving medical treatments.
It gets worse. A successful attack on the East Coast, for example, according to experts at Air University, a leader in U.S. Air Force education, would likely kill 90 percent of the population over the course of a year. Moreover, due to the sheer devastation of the attack, it could take as long as 18 months to restore the electricity grid. If you are picturing scenes from a post-apocalyptic Cormac McCarthy novel, then you are picturing correctly.
Not surprisingly, the Chinese regime poses the biggest EMP threat to the United States. In 2020, Dr. Peter Pry, an EMP expert who sadly passed away last year, published a report aptly titled "China: EMP Threat." The Chinese Communist Party (CCP), he noted, has invested a great deal of time and money into the research and development of nuclear high-altitude electromagnetic pulse (HEMP) weapons. China, he warned, "has HEMP simulators and defensive and offensive programs that are almost certainly more robust than any in the United States." The CCP views HEMP attack as a natural "extension of information or cyber warfare, and deserving highest priority as the most likely kind of future warfare," he added.
The CCP has been using cyberattacks to weaken the United States for years. Is a HEMP attack in the pipeline? Maybe. As Perry stressed, Chinese military documents are loaded with suggestions on how to make successful HEMP attacks against the United States.
War is constantly evolving. The Chinese communists certainly know this, but can the same be said for the United States? Although the United States spends more on defense than France, Germany, India, Japan, Russia, Saudi Arabia, South Korea, and the UK combined, a vast majority of the money goes to the procurement of new vehicles and traditional weapons, as well as the maintenance of those already in stock; not enough is actually spent on the type of defense systems needed to detect and fend off something like an EMP attack. Such ignorance could prove to be unimaginably costly.
Views expressed in this article are the opinions of the author and do not necessarily reflect the views of The Epoch Times.