Putin and Xi Hold Talks Against Mounting Crisis in the Backdrop
Russian President Vladimir Putin said he expects his Chinese counterpart Xi Jinping to pay a state visit early next year in a show of solidarity as the two grapple with mounting tensions that leave them increasingly isolated on the world stage.Speaking at a video conference with Xi, Putin described the two countries' ties as the "best in history" and their partnership as a "stabilizing factor" amid "rising geopolitical tensions." which he said has "overcome all the hardships" with dignity. Russia, he added, will seek to boost military cooperation with China and maintain "intensive bilateral exchanges." "I have no doubt that we will find an opportunity to meet with you in person. We are waiting for you, dear Mr. Chairman, dear friend, next spring with a state visit to Moscow," Putin told Xi. "This will demonstrate to the whole world the strength of Russian-Chinese ties on key issues." With Russia struggling in the war on Ukraine and the COVID outbreak raging in China, the virtual meeting on Dec. 30 between the two leaders highlights their deepening alliance, although each appears to have his own take on the relationship. Despite Xi calling Putin his dear friend, Xi's statement sounded far more pragmatic in tone, lasting for about a quarter of the duration of the effusive eight-minute opening remark from Moscow. Xi made no mention of a visit and emphasized that Beijing, which has neither endorsed nor condemned Kremlin, will "continue to hold an objective and impartial position" on the Ukraine issue. The two countries have grown closer in recent years. During the Beijing Olympics in February, the two men signed a "no limits" strategic partnership days before Putin sent military troops to Ukraine. The barrage of sanctions that followed has forced Russia to turn to markets such as China, pushing the bilateral trade to a new level. Bilateral trade has soared by about 25 percent, said Putin on Friday, adding that if the trend continues, they would be able to achieve the $200 billion mark ahead of the 2024 schedule. Russian President Vladimir Putin holds a meeting with Chinese President Xi Jinping via a video link at the Kremlin in Moscow on Dec. 30, 2022. (Mikhail Klimentyev/SPUTNIK/AFP via Getty Images) Russia also became a top supplier for China on oil and gas, and trade in agricultural produce jumped by a third during the first 11 months of the year. On Friday, Russia's finance ministry also doubled the maximum possible share of Chinese yuan in its National Wealth Fund to 60 percent to reduce dependency on "unfriendly" nations, among which are the United States, the European Union, the UK, and Japan. Russia also "firmly supports" China's stance on Taiwan, a self-governing island Beijing claims as its own, according to the Chinese summary of the meeting. "We share the same views on the causes, course, and logic of the ongoing transformation of the global geopolitical landscape," Putin told Xi. He also thanked Xi for the "warm welcome" and "meaningful conversation" Xi offered to Russia's deputy chairman of the Security Council Dmitry Medvedev during his Beijing visit on Dec. 21. But Xi, while signaling readiness for more "practical cooperation," exercised more refrain. "We are strengthening the public foundations of our friendship," he said, naming areas such as investment, energy, culture, and humanitarian exchanges. "I am satisfied with these results." The virtual meeting at year-end has become a "good tradition" between them, Xi added. China plans to resume normal cross-border travel with Russia and other countries "in an orderly manner," according to Chinese state media. The meeting took place three days after Russia and China concluded a week of joint military drills in the East China Sea, including practicing how to capture an enemy submarine and firing artillery at warships. Kremlin spokesman Dmitry Peskov said the talk was "constructive and substantial," although no date was set for Xi's visit. Reuters contributed to this report. Eva Fu is a New York-based writer for The Epoch Times focusing on U.S. politics, U.S.-China relations, religious freedom, and human rights. Contact Eva at [email protected]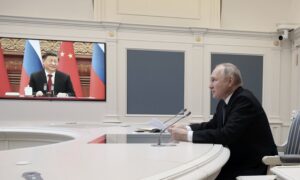 Russian President Vladimir Putin said he expects his Chinese counterpart Xi Jinping to pay a state visit early next year in a show of solidarity as the two grapple with mounting tensions that leave them increasingly isolated on the world stage.
Speaking at a video conference with Xi, Putin described the two countries' ties as the "best in history" and their partnership as a "stabilizing factor" amid "rising geopolitical tensions." which he said has "overcome all the hardships" with dignity. Russia, he added, will seek to boost military cooperation with China and maintain "intensive bilateral exchanges."
"I have no doubt that we will find an opportunity to meet with you in person. We are waiting for you, dear Mr. Chairman, dear friend, next spring with a state visit to Moscow," Putin told Xi. "This will demonstrate to the whole world the strength of Russian-Chinese ties on key issues."
With Russia struggling in the war on Ukraine and the COVID outbreak raging in China, the virtual meeting on Dec. 30 between the two leaders highlights their deepening alliance, although each appears to have his own take on the relationship.
Despite Xi calling Putin his dear friend, Xi's statement sounded far more pragmatic in tone, lasting for about a quarter of the duration of the effusive eight-minute opening remark from Moscow.
Xi made no mention of a visit and emphasized that Beijing, which has neither endorsed nor condemned Kremlin, will "continue to hold an objective and impartial position" on the Ukraine issue.
The two countries have grown closer in recent years. During the Beijing Olympics in February, the two men signed a "no limits" strategic partnership days before Putin sent military troops to Ukraine.
The barrage of sanctions that followed has forced Russia to turn to markets such as China, pushing the bilateral trade to a new level.
Bilateral trade has soared by about 25 percent, said Putin on Friday, adding that if the trend continues, they would be able to achieve the $200 billion mark ahead of the 2024 schedule.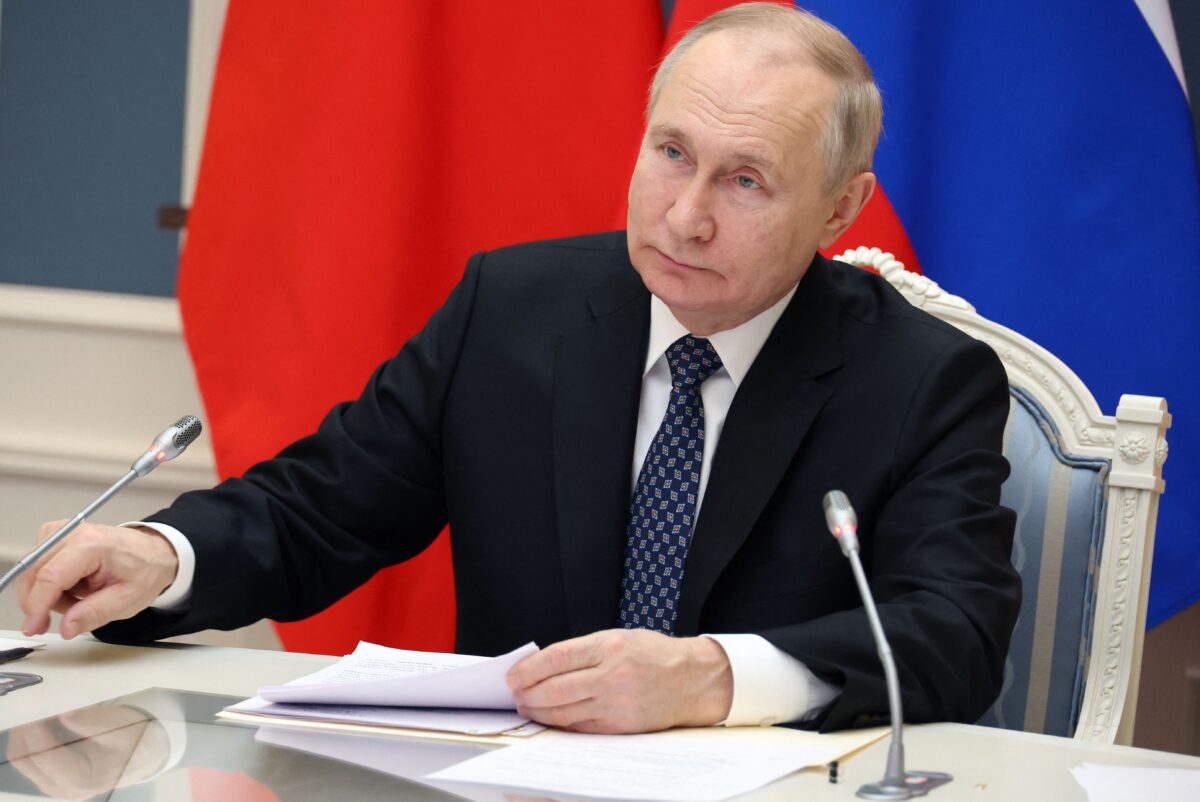 Russia also became a top supplier for China on oil and gas, and trade in agricultural produce jumped by a third during the first 11 months of the year.
On Friday, Russia's finance ministry also doubled the maximum possible share of Chinese yuan in its National Wealth Fund to 60 percent to reduce dependency on "unfriendly" nations, among which are the United States, the European Union, the UK, and Japan.
Russia also "firmly supports" China's stance on Taiwan, a self-governing island Beijing claims as its own, according to the Chinese summary of the meeting.
"We share the same views on the causes, course, and logic of the ongoing transformation of the global geopolitical landscape," Putin told Xi. He also thanked Xi for the "warm welcome" and "meaningful conversation" Xi offered to Russia's deputy chairman of the Security Council Dmitry Medvedev during his Beijing visit on Dec. 21.
But Xi, while signaling readiness for more "practical cooperation," exercised more refrain.
"We are strengthening the public foundations of our friendship," he said, naming areas such as investment, energy, culture, and humanitarian exchanges. "I am satisfied with these results."
The virtual meeting at year-end has become a "good tradition" between them, Xi added.
China plans to resume normal cross-border travel with Russia and other countries "in an orderly manner," according to Chinese state media.
The meeting took place three days after Russia and China concluded a week of joint military drills in the East China Sea, including practicing how to capture an enemy submarine and firing artillery at warships.
Kremlin spokesman Dmitry Peskov said the talk was "constructive and substantial," although no date was set for Xi's visit.
Reuters contributed to this report.