New York Man Arrested for Assaulting Falun Gong Adherent
NEW YORK—A man has been arrested after allegedly assaulting an adherent of the spiritual group Falun Gong who volunteers at an information booth in New York's Flushing neighborhood. Qi Zhongping, 77, insulted and physically attacked Falun Gong practitioner David Fang, leaving Fang with multiple scrapes on his neck, hand, and knee. His hand was also bleeding. Adherents say that Qi has for years harassed adherents at the stand, although this is the first time he is criminally charged. Qi was arrested on Feb. 18, two days after his assault on Fang. He faces charges of assault in the third degree with intent to cause physical injury, a class A misdemeanor, and harassment in the second degree, according to a Queens Criminal Court case report. According to Fang, Qi has been around the area for at least a decade, distributing marketing materials to people on the street. He made false accusations against female Falun Gong practitioners, and often harassed adherents with verbal abuse as they talked with passersby about their faith and the persecution they face in communist China. Falun Gong practitioner David Fang displays injuries from the assault, on Feb. 16, 2023. (Linda Lin/The Epoch Times) Falun Gong, a spiritual discipline originating in China that features meditative exercises and teachings set around three core tenets: truthfulness, compassion, and tolerance, has been brutally suppressed in China under the atheist Chinese Communist Party, which also deployed vilifying propaganda to antagonize the adherents. Those who refuse to give up their belief are often subjected to harassment, extralegal detention, slave labor, sexual torture, and other forms of abuse. In Flushing, the adherents, some of whom are survivors of the regime's persecution, established five small tented kiosks to bring awareness to the abuses that have been taking place for the past 23 years and counting. Qi also confronted Fang at the Falun Gong booth near the metro station on the afternoon of  Feb. 16 and made offensive comments about the faith. "They were so crude that I can't bear uttering them," Fang told The Epoch Times. Qi snatched away another female practitioner's phone when he saw the woman filming him. He scratched and attempted to bite Fang, who tried to get the phone back, bringing both to the ground in the melee. Qi Zhongping on Feb. 16, 2023. (Screenshot via The Epoch Times) Qi then grabbed a walking stick from Falun Gong practitioner Gao Jinying and chased Fang around the booth for up to five rounds trying to hit him. A former middle school music teacher in China, Fang was barred from the classroom and demoted to do logistical work Chinese police found out he was telling others about the ongoing persecution. Knowing millions of fellow adherents are still suffering in China, the hostility from Qi, to Fang, appeared "cruel" and almost "inhumane." "As Falun Gong practitioners, we are a peaceful group. We never attack others or provoke them. How could he show such hatred toward us and our faith?" said Fang, who suspects the man was acting at the behest of the Chinese regime. Many female adherents have encountered Qi in the past, said Fang, but being advanced in age, they didn't raise the issue or confront Qi. "When they were bullied, they became quiet and won't say anything," said Fang, who has also seen Qi hurling insults multiple times in recent weeks. Police officers talk with Falun Gong practitioners after a man assaulted them at an information stand, in Flushing, New York, on Feb. 16, 2023. (Linda Lin/The Epoch Times) Adherent Li Xuejin, who twice experienced Qi's threats in 2021, confirmed Fang's accounts. "One time I told him: 'you can't act like this,' he began to say very off-putting words, and held up his fist," the 63-year-old told The Epoch Times. Qi shook his fist in Li's face and almost hit her, only to be stopped by a woman from a nearby vendor stand. Qi also made similar gestures when she talked with another man about the regime's misdeeds, she said. Joe Zhang, a bystander who recorded part of the scene, also expressed shock at Qi's aggression. "In America, people enjoy the freedom of belief," he told The Epoch Times, describing the man as "fierce." Zhang added that he wants to see such behavior "strictly punished by law" to discourage similar acts from repeating. "He definitely has been poisoned by the communist party," he said. Police arrest Qi Zhongping, who faces charges for assaulting Falun Gong practitioners in Flushing, New York, on Feb. 18, 2023. (Screenshot via The Epoch Times) Zhang said Qi had also assaulted another Christian kiosk that his friend manages. Qi's dialect appears to be from Fuzhou, the capital of southeastern China's Fujian Province. As Qi dropped the walking stick, another man donning a black suit patted Qi on the shoulder and said some words that appear to be "all good, all good," the video that Zhang shot shows. A hearing on the case is set on May 1. The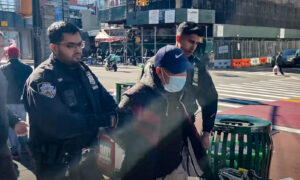 NEW YORK—A man has been arrested after allegedly assaulting an adherent of the spiritual group Falun Gong who volunteers at an information booth in New York's Flushing neighborhood.
Qi Zhongping, 77, insulted and physically attacked Falun Gong practitioner David Fang, leaving Fang with multiple scrapes on his neck, hand, and knee. His hand was also bleeding.
Adherents say that Qi has for years harassed adherents at the stand, although this is the first time he is criminally charged.
Qi was arrested on Feb. 18, two days after his assault on Fang. He faces charges of assault in the third degree with intent to cause physical injury, a class A misdemeanor, and harassment in the second degree, according to a Queens Criminal Court case report.
According to Fang, Qi has been around the area for at least a decade, distributing marketing materials to people on the street. He made false accusations against female Falun Gong practitioners, and often harassed adherents with verbal abuse as they talked with passersby about their faith and the persecution they face in communist China.
Falun Gong, a spiritual discipline originating in China that features meditative exercises and teachings set around three core tenets: truthfulness, compassion, and tolerance, has been brutally suppressed in China under the atheist Chinese Communist Party, which also deployed vilifying propaganda to antagonize the adherents. Those who refuse to give up their belief are often subjected to harassment, extralegal detention, slave labor, sexual torture, and other forms of abuse.
In Flushing, the adherents, some of whom are survivors of the regime's persecution, established five small tented kiosks to bring awareness to the abuses that have been taking place for the past 23 years and counting.
Qi also confronted Fang at the Falun Gong booth near the metro station on the afternoon of Feb. 16 and made offensive comments about the faith.
"They were so crude that I can't bear uttering them," Fang told The Epoch Times.
Qi snatched away another female practitioner's phone when he saw the woman filming him. He scratched and attempted to bite Fang, who tried to get the phone back, bringing both to the ground in the melee.
Qi then grabbed a walking stick from Falun Gong practitioner Gao Jinying and chased Fang around the booth for up to five rounds trying to hit him.
A former middle school music teacher in China, Fang was barred from the classroom and demoted to do logistical work Chinese police found out he was telling others about the ongoing persecution. Knowing millions of fellow adherents are still suffering in China, the hostility from Qi, to Fang, appeared "cruel" and almost "inhumane."
"As Falun Gong practitioners, we are a peaceful group. We never attack others or provoke them. How could he show such hatred toward us and our faith?" said Fang, who suspects the man was acting at the behest of the Chinese regime.
Many female adherents have encountered Qi in the past, said Fang, but being advanced in age, they didn't raise the issue or confront Qi.
"When they were bullied, they became quiet and won't say anything," said Fang, who has also seen Qi hurling insults multiple times in recent weeks.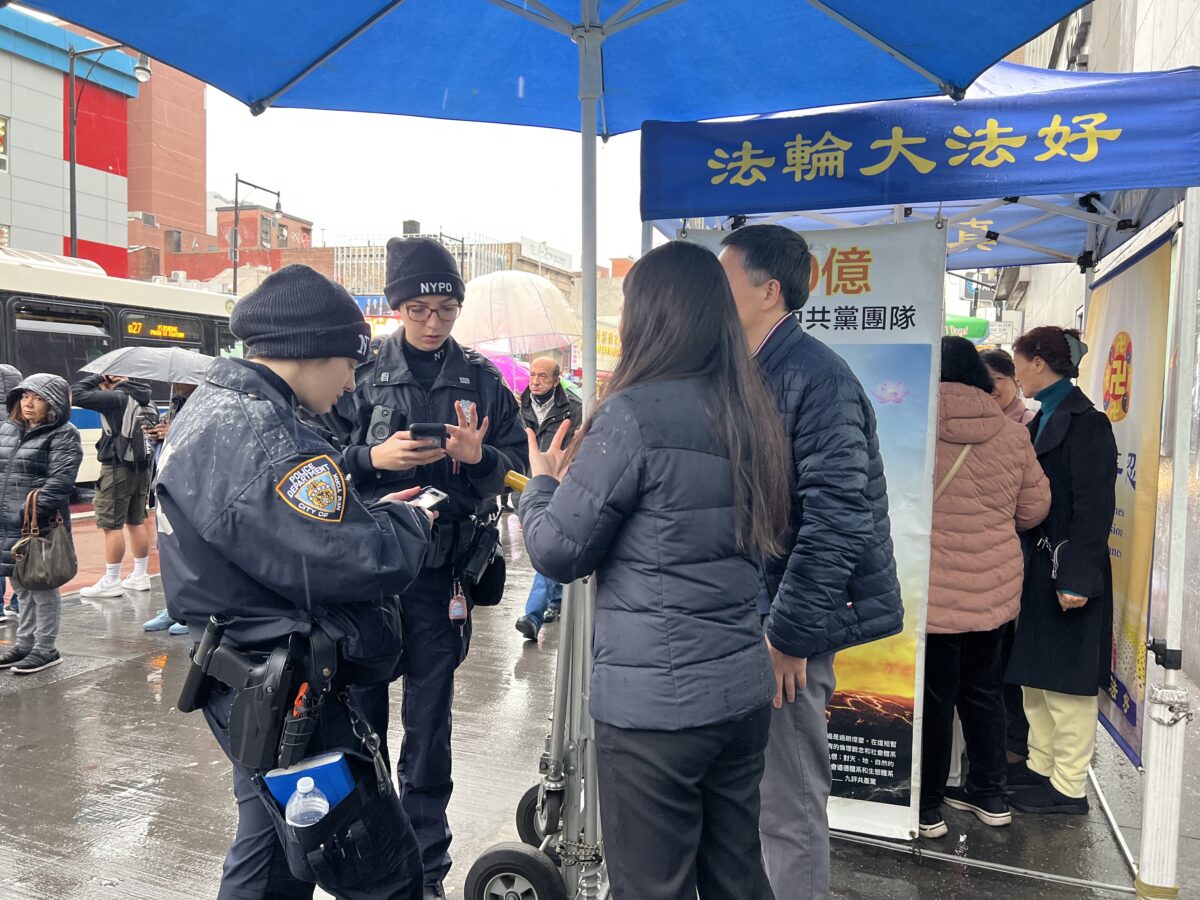 Adherent Li Xuejin, who twice experienced Qi's threats in 2021, confirmed Fang's accounts.
"One time I told him: 'you can't act like this,' he began to say very off-putting words, and held up his fist," the 63-year-old told The Epoch Times.
Qi shook his fist in Li's face and almost hit her, only to be stopped by a woman from a nearby vendor stand. Qi also made similar gestures when she talked with another man about the regime's misdeeds, she said.
Joe Zhang, a bystander who recorded part of the scene, also expressed shock at Qi's aggression.
"In America, people enjoy the freedom of belief," he told The Epoch Times, describing the man as "fierce."
Zhang added that he wants to see such behavior "strictly punished by law" to discourage similar acts from repeating.
"He definitely has been poisoned by the communist party," he said.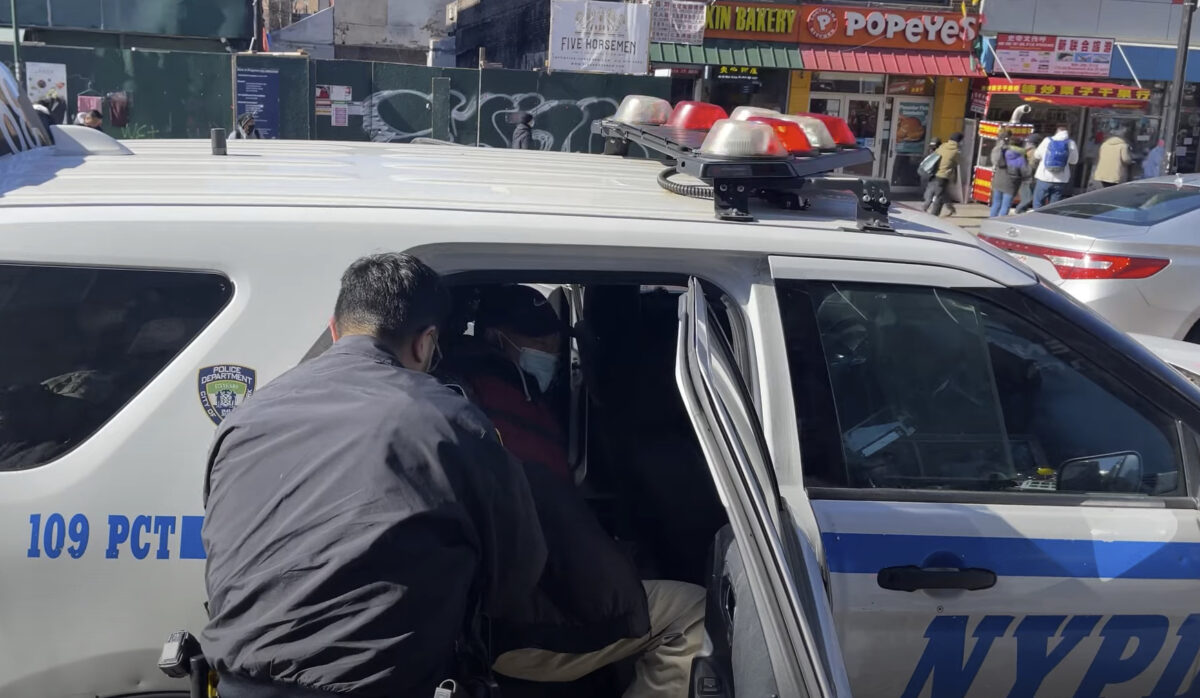 Zhang said Qi had also assaulted another Christian kiosk that his friend manages.
Qi's dialect appears to be from Fuzhou, the capital of southeastern China's Fujian Province. As Qi dropped the walking stick, another man donning a black suit patted Qi on the shoulder and said some words that appear to be "all good, all good," the video that Zhang shot shows.
A hearing on the case is set on May 1.
The incident isn't an isolated case for the adherents at the Falun Gong booths.
Zheng Buqiu, a 32-year-old man living in the Flushing area, vandalized four information stands in four separate days last February, toppling display boards and hurling materials to the ground. He ripped at least one board by punching and kicking it.
"It left a lingering fear in me," Xu Weiguo, a booth volunteer, told The Epoch Times at the time. She said that as a woman, witnessing Zheng's "brazenness even on American soil" was unsettling and caused her to lose sleep.
Zheng had pled guilty to hate crime and two counts of criminal mischief for acting with intent to damage property, according to court records dated Nov. 28.
The Epoch Times has reached out to Qi's lawyer for comment.
Linda Lin contributed to this report.