Nathan Law's Exile Is Proof of Hong Kong's Democratic Decline
Law warns the world to unite against the CCP's delusion of being "the largest free country"Born in the 90s, Nathan Law Kwun-chung never considered that he would be forced to leave his beloved Hong Kong; but that happened after he chose the path of fighting for freedom. Growing up in a poor family that emigrated from the mainland, Law's mom moved to Hong Kong from China before she and her husband divorced. While Law might describe his family as working class, his mom raised her three sons working as a janitor. The family might not have been privileged, but his mom ensured that her children grew up as freely as possible, and with everything they needed. Law's mom encouraged him to make decisions for himself, that is, until the day he decided to join a student group, the former Hong Kong Federation of Students, during his time at the Lingnan University of Hong Kong. Mrs. Law vehemently opposed his choice. Leaders of Hong Kong's "Umbrella Revolution" Alex Chow (L), newly elected lawmaker Nathan Law (C), and Joshua Wong (R) shout slogans as they arrive at the Eastern Court in Hong Kong on Sept. 21, 2016. The three went to court after prosecutors appealed the sentences handed out over events leading to mass protests in 2014. (Anthony Wallace/AFP) As a Gen Y, Law was a gaming enthusiast. Like most of his friends, Law enjoyed comics, animé, video games, and football. His passion for gaming and sports fueld his dream of becoming an esports commentator. However, for almost a decade, he detached himself from everything he loved to stand up for Hong Kong's democratic freedoms. What he didn't know was he would have had to grow up overnight when he became the youngest legislative councilor in Hong Kong. Unfortunately, Nathan Law was cast out by the National Security Law. He became an exile, and tyranny has been muddling his life ever since. Mother's Nature In an interview a few years ago, Mrs. Law told the New York Times that she experienced first-hand the Chinese Communist Party's (CCP) political violence. It was during the cultural revolution when she was growing up that she witnessed the regime's power and inhumanity. She worried that the Hong Kong authorities would punish her dear son for "poking the bear." Mrs. Law knew Hong Kong would change after the handover, but she didn't expect it to happen at the speed of light. The abrupt developments gave Mrs. Law chills. Mrs. Law stated in an interview with the American newspaper: "In the past, Chairman Mao said tyranny comes from the barrel of a gun. The Hong Kong government is killing people with a pen. The bloodless and soundless [events] are even more horrifying than [what happens in] the mainland. China is ruled by man, not by law. Hence, no one would criticize the authorities." Eventually, her worst nightmare came true, she said. Beginning of the End In 2014 Hong Kong's democracy started to be eroded. Younger generations wanted change in Hong Kong politics. Hong Kong residents did not want the Chinese regime to control future Hong Kong Chief Executive elections or rip away the universal suffrage they had at the time. Law had been actively participating in several protests with the now disbanded Hong Kong Federation of Students (HKFS) as a standing committee member, including the Occupy Central and a college student strike for universal suffrage in September. From left: Joshua Wong, Nathan Law, and Eddie Chu How-dick, on April 20, 2020, showing that the Hong Kong Demosisto found that as of Feb. 28, 2019, the Liaison Office of the CCP held at least 757 property units in Hong Kong. (Sung Pi-lung/The Epoch Times) Then, in October 2014, Law and four other key members from the former federation held futile dialogues with Carrie Lam Cheng Yuet-ngor, Chief Secretary at the time, and other government senior officials. The students, hoped the government would listen to Hong Kong youth and reverse the CCP's decision-making power over the 2017 election. Jumping Over Political Hurdles Law was elected as HKFS Secretary-General the following year. As political activities became more frequent and high-profile, Law bore more responsibilities and liabilities that came with being a political activist at such a young age. Despite various successes and setbacks, Law remained active in political events. In 2015, Nathan Law, Joshua Wong, and Agnes Chow Ting founded the now-disbanded organization Demosisto. Nathan Law (C) hugs a supporter before his sentencing at the High Court in Hong Kong on Aug. 17, 2017. Umbrella Movement leaders Wong, Law, and Alex Chow were found guilty of unlawful assembly for storming a government forecourt as part of an anti-Beijing protest in 2014. (Anthony Wallace/AFP) The founding of Demosisto accelerated Law's political career, and lead to his win in the 2016 Legislative Council (Legco) election. Nathan Law became the youngest member in the history of the Council. He was just 23. Unfortunately, CY Leung Chun-ying, an ex-chief execut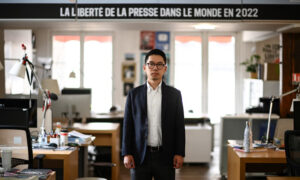 Law warns the world to unite against the CCP's delusion of being "the largest free country"
Born in the 90s, Nathan Law Kwun-chung never considered that he would be forced to leave his beloved Hong Kong; but that happened after he chose the path of fighting for freedom.
Growing up in a poor family that emigrated from the mainland, Law's mom moved to Hong Kong from China before she and her husband divorced.
While Law might describe his family as working class, his mom raised her three sons working as a janitor. The family might not have been privileged, but his mom ensured that her children grew up as freely as possible, and with everything they needed.
Law's mom encouraged him to make decisions for himself, that is, until the day he decided to join a student group, the former Hong Kong Federation of Students, during his time at the Lingnan University of Hong Kong. Mrs. Law vehemently opposed his choice.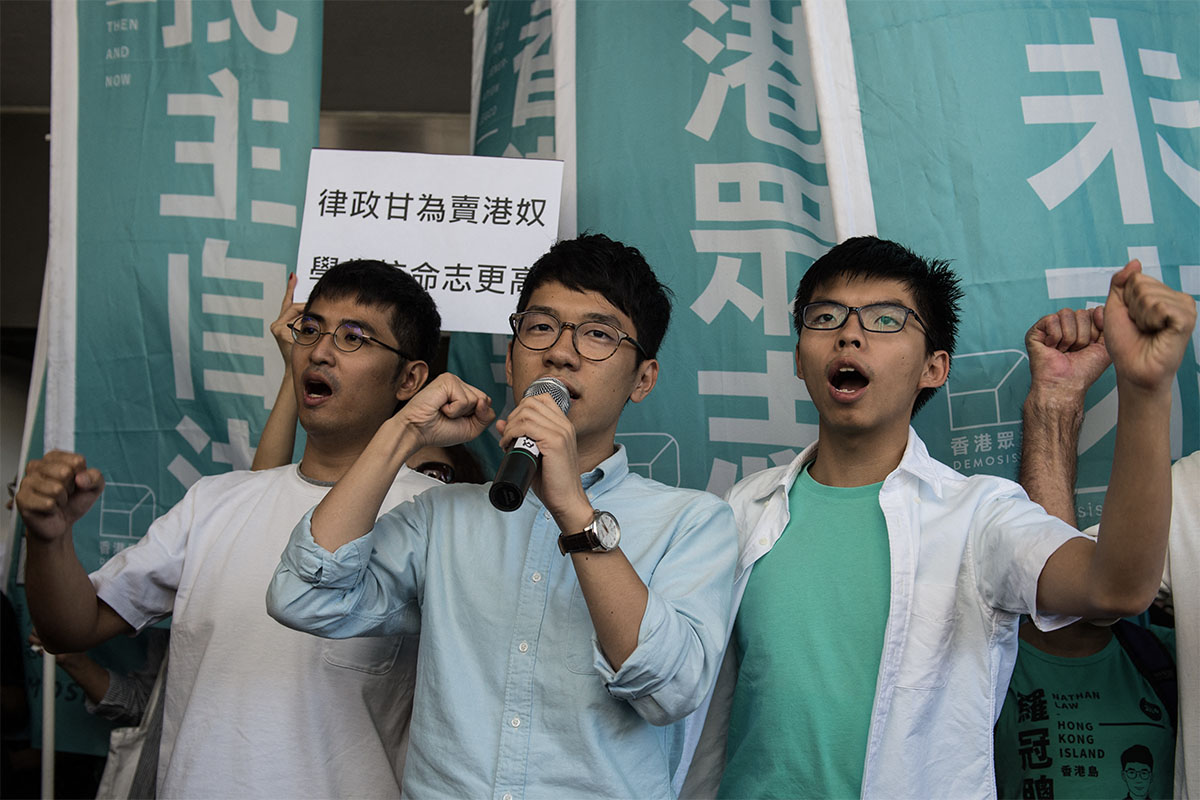 As a Gen Y, Law was a gaming enthusiast. Like most of his friends, Law enjoyed comics, animé, video games, and football. His passion for gaming and sports fueld his dream of becoming an esports commentator.
However, for almost a decade, he detached himself from everything he loved to stand up for Hong Kong's democratic freedoms.
What he didn't know was he would have had to grow up overnight when he became the youngest legislative councilor in Hong Kong. Unfortunately, Nathan Law was cast out by the National Security Law. He became an exile, and tyranny has been muddling his life ever since.
Mother's Nature
In an interview a few years ago, Mrs. Law told the New York Times that she experienced first-hand the Chinese Communist Party's (CCP) political violence. It was during the cultural revolution when she was growing up that she witnessed the regime's power and inhumanity.
She worried that the Hong Kong authorities would punish her dear son for "poking the bear."
Mrs. Law knew Hong Kong would change after the handover, but she didn't expect it to happen at the speed of light. The abrupt developments gave Mrs. Law chills.
Mrs. Law stated in an interview with the American newspaper: "In the past, Chairman Mao said tyranny comes from the barrel of a gun. The Hong Kong government is killing people with a pen. The bloodless and soundless [events] are even more horrifying than [what happens in] the mainland. China is ruled by man, not by law. Hence, no one would criticize the authorities."
Eventually, her worst nightmare came true, she said.
Beginning of the End
In 2014 Hong Kong's democracy started to be eroded.
Younger generations wanted change in Hong Kong politics. Hong Kong residents did not want the Chinese regime to control future Hong Kong Chief Executive elections or rip away the universal suffrage they had at the time.
Law had been actively participating in several protests with the now disbanded Hong Kong Federation of Students (HKFS) as a standing committee member, including the Occupy Central and a college student strike for universal suffrage in September.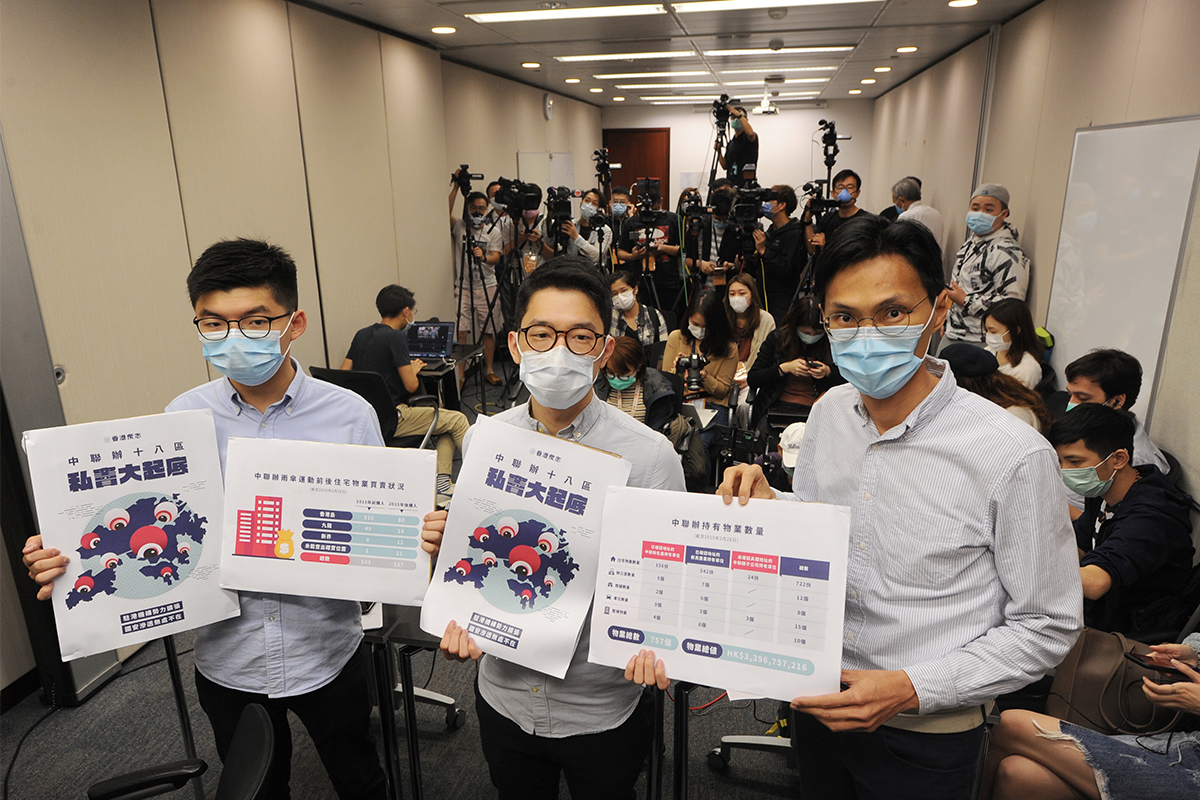 Then, in October 2014, Law and four other key members from the former federation held futile dialogues with Carrie Lam Cheng Yuet-ngor, Chief Secretary at the time, and other government senior officials. The students, hoped the government would listen to Hong Kong youth and reverse the CCP's decision-making power over the 2017 election.
Jumping Over Political Hurdles
Law was elected as HKFS Secretary-General the following year.
As political activities became more frequent and high-profile, Law bore more responsibilities and liabilities that came with being a political activist at such a young age. Despite various successes and setbacks, Law remained active in political events.
In 2015, Nathan Law, Joshua Wong, and Agnes Chow Ting founded the now-disbanded organization Demosisto.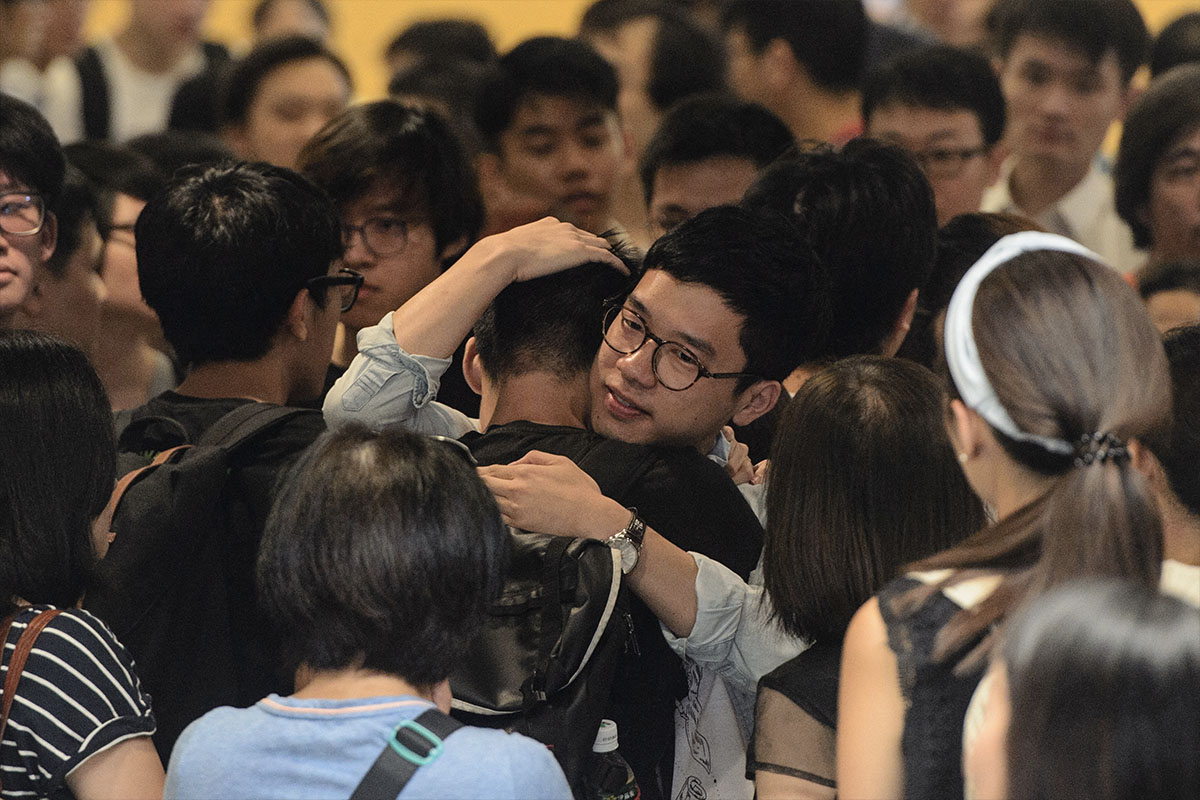 The founding of Demosisto accelerated Law's political career, and lead to his win in the 2016 Legislative Council (Legco) election. Nathan Law became the youngest member in the history of the Council. He was just 23.
Unfortunately, CY Leung Chun-ying, an ex-chief executive of Hong Kong and the Department of Justice, appealed his oath. Later, Law's win was ruled invalid, and he was disqualified from the position.
Hong Kong Political Sniping Continued
The government did not stop its sniping of Nathan Law despite disqualifying his election win.
The authorities charged and convicted him of participating in an unlawful assembly in 2014.
The Department of Justice won the appeal after applying for a review of Law's suspended sentence. The Hong Kong regime sent the student leaders Nathan Law, Joshua Wong, and Alex Chow to jail for six to eight months.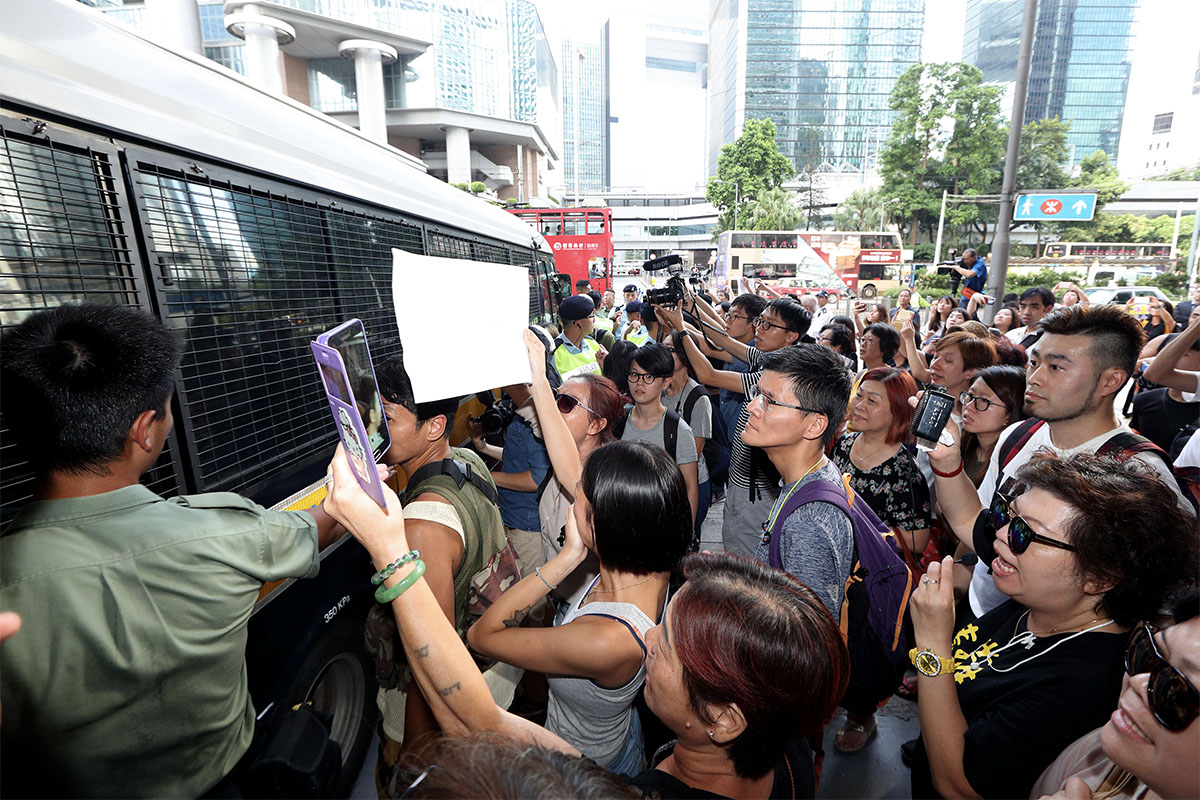 Although Law later won his appeal of the verdict, he had already been imprisoned for some time.
In 2017, Law was charged with inciting others to participate in an illegal assembly or gathering.
Last Supper at Home
In August 2017, Nathan Law was home having a "last meal" with his family on the eve of his sentencing. He went to jail the following day.
Mrs. Law said in a press interview that she moved to Hong Kong with Nathan and his brothers so that her children could live in an environment with the intact rule of law and democracy.
She tearfully said: "Young people are suppressed by the regime whenever they speak out. The high-ranked officials want to eliminate the young. Whose mom on earth wouldn't feel heartbroken?"
World Realizes Freedom is not Free
By the end of 2018, Law, Alex Chow, and Joshua Wong were awarded the democracy medal by the International Association of Political Consultants for their outstanding leadership of Occupy Central, the Umbrella Revolution, and their commitment to universal suffrage in a peaceful manner.
The Association's president called the Umbrella Movement the most prominent political demonstration in China since the 1989 Tiananmen Square Democracy movement, which later turned into the infamous Tiananmen Square Massacre.
Darkness Fell
Law once said that he grew up in the worst era of Hong Kong. He witnessed the CCP's National People's Congress destroying Hong Kong's democratic process, as well as the secret and illegal abduction of Hong Kong dissidents by mainland police.
He became an expatriate.
On June 30, 2020, the day of the implementation of the National Security Law, the political activist announced over social media that he quit Demosisto and he would depart Hong Kong.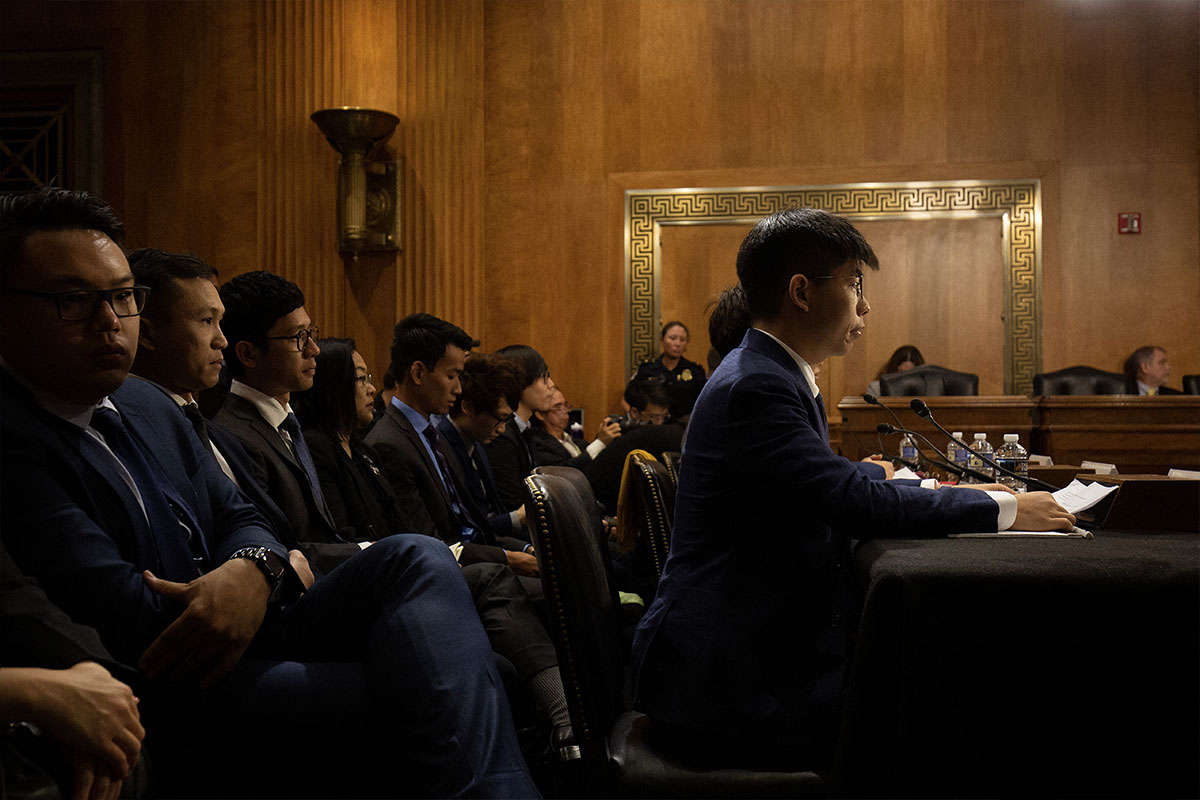 Later, Law would fly to the United Kingdom and begin a new life in exile.
A day later, Law appeared on a video hearing of the U.S. Congress before he announced he was cutting ties with his family forever.
During the hearing, Law criticized the Beijing government for directly implementing the national security law, with a loose definition of "crime," for the authorities to abuse their power.
The Hong Kong police issued a warrant for Nathan Law on July 31, 2020, on suspicion of violating the National Security Law.
Life in Exile
To fight for democracy in Hong Kong, Law not only risked his life and became a person wanted by the Hong Kong government, he also had to cut off every relationship via public announcement, including with his family, to keep them from harm.
Standing in the way of a regime has dangerous consequences. The possibility of Law seeing his family or Hong Kong again looked grim.
Nevertheless, Law continujed his overseas lobbying for Hong Kong, hoping to force the CCP to loosen its grip on the city by allying politically with other countries.
In 2020, Law was granted refugee status in the UK. He completed his master's degree at Yale University in the United States in early 2021.
Speaking of Sunflowers
Nathan Law attended The World Movement for Democracy (WMD) with other global democratic leaders in Taiwan on Oct. 25, 2022.
Similar to his personal life, the world had changed entirely since the pandemic began. Law spoke in Taiwan about the need for freedom from tyranny. This need had triggered the Sunflower Student Movement in 2014, in which Taiwan students opposed a pending free trade agreement with China.
Law denounced the CCP for crippling many international organizations so it could climb higher in global status. He condemned the regime's attempts and ridiculousness of painting itself as "China is the biggest democratic country in the world."
Law urged other international and free countries to stand united against China's bid for world hegemony.
Law also warned the global community that Xi Jinping's tyranny is a massive threat to democracy, as he is almost on par with Russian dictator Vladimir Putin.
Unite the World
Law recalled the last time he attended the WMD was back in 2015 when he had just experienced the Hong Kong Umbrella Movement.
Law said the world was not very sympathetic toward Hong Kong at that time, as North America and parts of Europe sided with China purely for economic and financial gains.
Thankfully, he said the prevailing attitude has changed as everyone now realizes how autocratic the Beijing government is.
In his reunion with the WMD, Law stated that all free countries should stand together and aim their arrows at the CCP instead of each other. "We together represent half of the world's economy. We should never ignore our strength."
Law reminded the world of its leverage against tyranny: The only way to win is if every country stands firmly as one.
Perhaps Nathan Law grew up too fast and was burdened while just in his 20s. He could no longer return to his younger self, who used to love playing video games and dreamed of being an electronic sports commentator.
His younger self was replaced by the spirit of an adamant freedom warrior who does not mind being homeless as he fights for Hong Kong.
Nie Law and Kaworu Tsang contributed to this article.