How Rick Caruso Can Become the Next Mayor of Los Angeles
CommentaryIf I could have a thousand lives, I could live them all in Los Angeles, and never tire of this beautiful city. There aren't enough words in the English language to describe greater Los Angeles—the way the sunlight reflects off the ocean, bounces off high mountains to the east, and dances in the haze; the endless urban plain broken up by rolling hills in unlikely places; boulevards that are fifty miles long, traversing countless neighborhoods, each with its own style and tradition; the people, millions of people, coming from every corner of the world, all of them with dreams that are nurtured in the mellow Southern California sun. That poor attempt to describe the magic of Los Angeles doesn't begin to do it justice. I could go on, but others have offered homage to this wonderful and unique city with far more eloquence than I'll ever manage. Others have also done a better job than I ever could of describing the crisis facing Los Angeles today. Joel Kotkin, a writer of extraordinary depth, earned through a lifetime of research into urbanization and demographics, recently published in Spike Magazine an essay entitled "The Fall of Los Angeles." Kotkin paints a grim and comprehensive portrait of just how bad things are getting in what still remains the most interesting city on Earth. What Kotkin describes so well needs only a brief summary. An epidemic of crime and homelessness. Failing public schools. Unaffordable housing. Business flight. Precarious access to overpriced energy and water. And a city council—and county board of supervisors—controlled by public employee unions. Los Angeles Democratic Mayoral candidate Rick Caruso hosts a primary night event in Los Angeles on June 7, 2022. (Apu Gomes/Getty Images) Now two candidates are vying to become the next mayor of this magnificent but troubled city. At first glance, they couldn't be more different. Republican Rick Caruso, a wealthy real estate developer, versus Democrat Karen Bass, a career politician. But first impressions can be deceiving. Karen Bass's campaign website is predictable enough. To address homelessness, Bass intends to enlarge programs that have cost billions and only made the problem worse. She does not repudiate the folly of the "housing first" doctrine, which calls for "permanent supportive housing" to be granted with no behavioral conditions and before investing in drug treatment or job training. A Mayor Bass would be a disaster. For every policy highlighted on her campaign website, Bass adheres to failed progressive mantras. She questions "zero dollar bail" but doesn't commit to stopping it. She deplores property crime but proposes to set up a fund to reimburse victims, instead of changing the laws that have effectively decriminalized theft. She calls for more investigation of "hate crimes" and "racial profiling," but nowhere acknowledges that crime rates fall when criminals know that if they're caught they'll go to jail. Bass devotes a lot of verbiage to helping businesses and creating jobs, but almost everything she comes up with involves more government agencies, commissions, grants, and subsidies. At one point she does claim she will reduce excessive regulations, but even if she means it, whatever good some deregulation might accomplish is completely overshadowed by her plans to "protect the climate." Who does Bass think are going to pay for electric vehicle (EV) charging stations, subsidize EV purchases, electrify all bus fleets owned either by the city, Metro, or LAUSD? Who is going to pay to retrofit every home and apartment to reach "zero emissions," or "achieve 100 percent zero emissions for all Port operations by 2030"? How is it going to help commuters and delivery vehicles by expanding "protected bike lanes" and "open streets" in order to "encourage shifts in modes of mobility beyond the use of cars"? Karen Bass is determined to outdo the competition to become the greenest politician of them all. In California, she has a lot of competition. On that note, under "Landscape and Land Use Transformation," she wants to "make water-sucking grass a thing of the past." Never mind the cooling, humidifying, recreational benefits of lawns, or that when lawns die, trees die. Reality check: almost nobody still waters trees growing on lawn they stopped watering. So never mind the inevitable dead tree uglification of an entire city, or the heat island effect of dead lawns and dead trees. Rep. Karen Bass (D-CA) speaks at her primary night event in Hollywood, Calif., on June 7, 2022. (Kaelin Mendez/Getty Images) It is useful to reiterate that the whole "green" movement is often brown, and that abundant water ought to be the goal of every Los Angeles mayor, instead of calling anyone who wants to keep the city green a "water waster." But to stay on topic, where is Rick Caruso on all these issues? The problem with Rick Caruso is so obvious that when he loses decisively, he may in hindsight grasp the breathtaking negligence o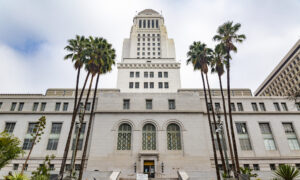 Commentary
If I could have a thousand lives, I could live them all in Los Angeles, and never tire of this beautiful city. There aren't enough words in the English language to describe greater Los Angeles—the way the sunlight reflects off the ocean, bounces off high mountains to the east, and dances in the haze; the endless urban plain broken up by rolling hills in unlikely places; boulevards that are fifty miles long, traversing countless neighborhoods, each with its own style and tradition; the people, millions of people, coming from every corner of the world, all of them with dreams that are nurtured in the mellow Southern California sun.
That poor attempt to describe the magic of Los Angeles doesn't begin to do it justice. I could go on, but others have offered homage to this wonderful and unique city with far more eloquence than I'll ever manage. Others have also done a better job than I ever could of describing the crisis facing Los Angeles today. Joel Kotkin, a writer of extraordinary depth, earned through a lifetime of research into urbanization and demographics, recently published in Spike Magazine an essay entitled "The Fall of Los Angeles." Kotkin paints a grim and comprehensive portrait of just how bad things are getting in what still remains the most interesting city on Earth.
What Kotkin describes so well needs only a brief summary. An epidemic of crime and homelessness. Failing public schools. Unaffordable housing. Business flight. Precarious access to overpriced energy and water. And a city council—and county board of supervisors—controlled by public employee unions.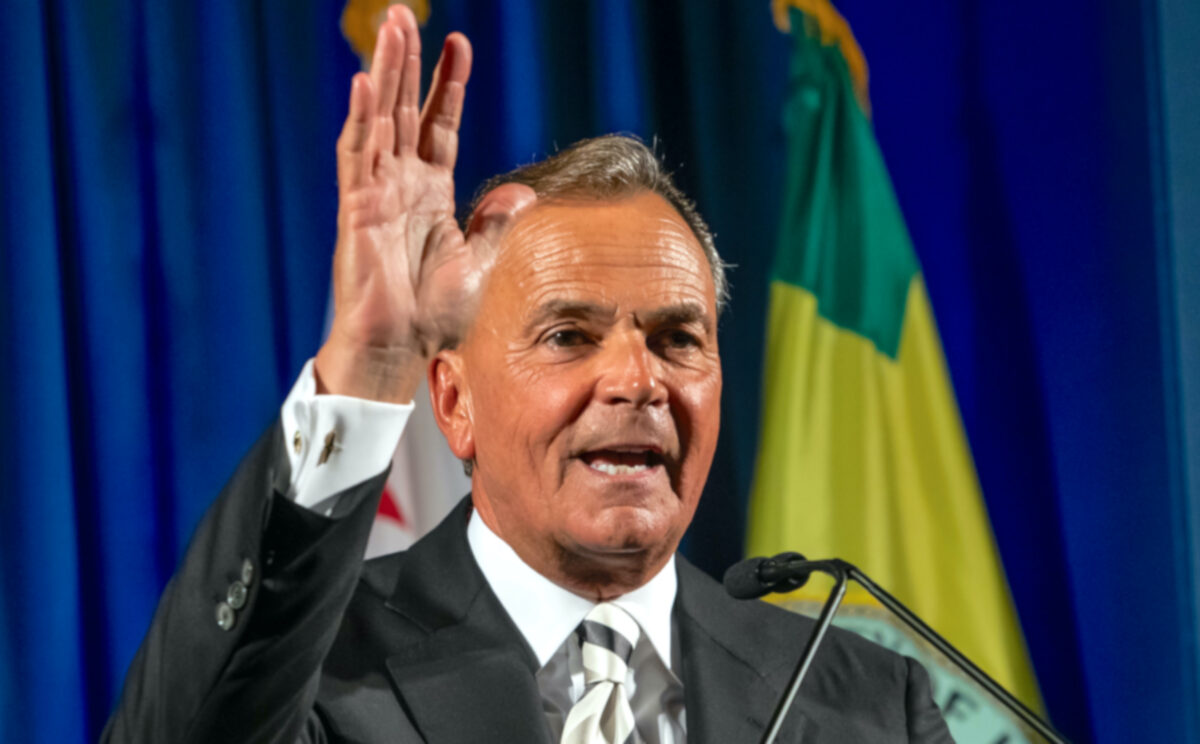 Now two candidates are vying to become the next mayor of this magnificent but troubled city. At first glance, they couldn't be more different. Republican Rick Caruso, a wealthy real estate developer, versus Democrat Karen Bass, a career politician. But first impressions can be deceiving.
Karen Bass's campaign website is predictable enough. To address homelessness, Bass intends to enlarge programs that have cost billions and only made the problem worse. She does not repudiate the folly of the "housing first" doctrine, which calls for "permanent supportive housing" to be granted with no behavioral conditions and before investing in drug treatment or job training.
A Mayor Bass would be a disaster. For every policy highlighted on her campaign website, Bass adheres to failed progressive mantras. She questions "zero dollar bail" but doesn't commit to stopping it. She deplores property crime but proposes to set up a fund to reimburse victims, instead of changing the laws that have effectively decriminalized theft. She calls for more investigation of "hate crimes" and "racial profiling," but nowhere acknowledges that crime rates fall when criminals know that if they're caught they'll go to jail.
Bass devotes a lot of verbiage to helping businesses and creating jobs, but almost everything she comes up with involves more government agencies, commissions, grants, and subsidies. At one point she does claim she will reduce excessive regulations, but even if she means it, whatever good some deregulation might accomplish is completely overshadowed by her plans to "protect the climate."
Who does Bass think are going to pay for electric vehicle (EV) charging stations, subsidize EV purchases, electrify all bus fleets owned either by the city, Metro, or LAUSD? Who is going to pay to retrofit every home and apartment to reach "zero emissions," or "achieve 100 percent zero emissions for all Port operations by 2030"? How is it going to help commuters and delivery vehicles by expanding "protected bike lanes" and "open streets" in order to "encourage shifts in modes of mobility beyond the use of cars"?
Karen Bass is determined to outdo the competition to become the greenest politician of them all. In California, she has a lot of competition. On that note, under "Landscape and Land Use Transformation," she wants to "make water-sucking grass a thing of the past." Never mind the cooling, humidifying, recreational benefits of lawns, or that when lawns die, trees die. Reality check: almost nobody still waters trees growing on lawn they stopped watering. So never mind the inevitable dead tree uglification of an entire city, or the heat island effect of dead lawns and dead trees.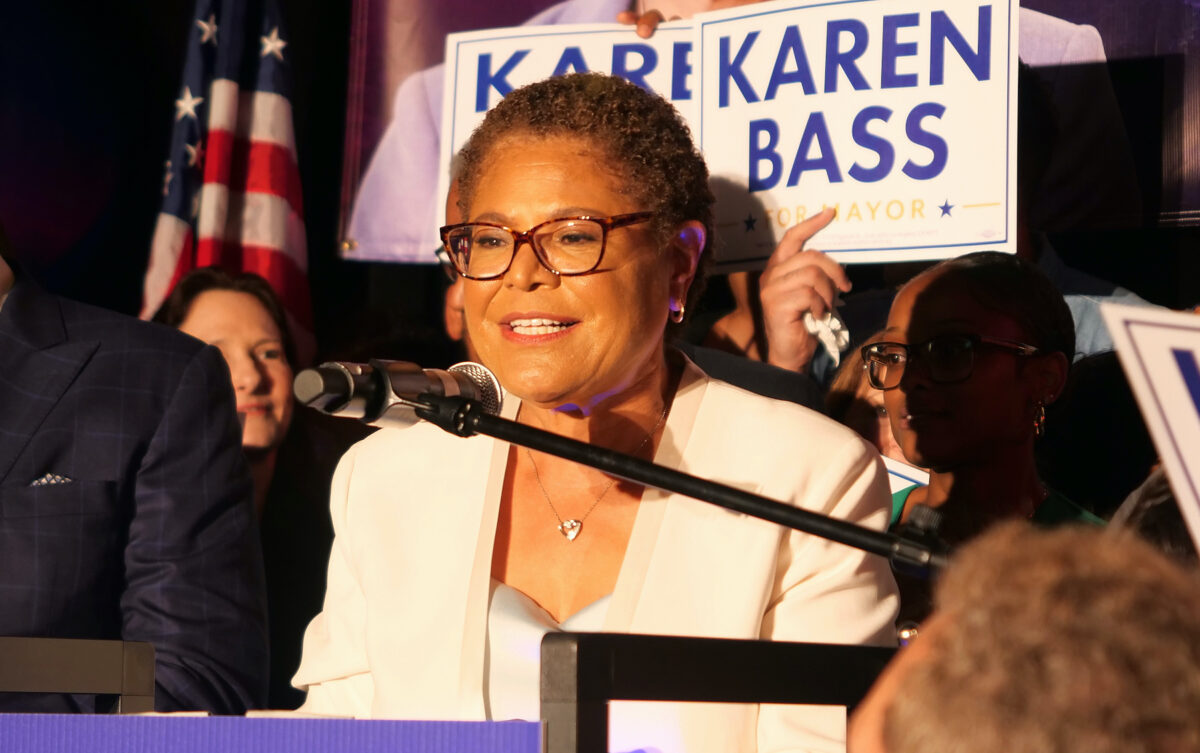 It is useful to reiterate that the whole "green" movement is often brown, and that abundant water ought to be the goal of every Los Angeles mayor, instead of calling anyone who wants to keep the city green a "water waster." But to stay on topic, where is Rick Caruso on all these issues?
The problem with Rick Caruso is so obvious that when he loses decisively, he may in hindsight grasp the breathtaking negligence of his expensive political consultants. Rick Caruso has been portrayed as a gracious, moderate, not quite so progressive alternative to Karen Bass. And guess what? Nobody cares. Bass will outspend you. Bass has armies of public sector "volunteers." You're badly outgunned, despite your wealth. So swing for the fences, or go home.
For example, Los Angeles doesn't need a mayoral alternative who promises to "impose a per unit cost limit of $350,000" on new housing for the unhoused. According to the Los Angeles Homeless Services Authority, in 2022 there are at least 69,000 homeless people in the county. At $350,000 per unit, that's $21 billion dollars. Stop it. That's not a plan. It's a bad joke.
Rick Caruso needs to stop trying to appease progressives, because progressive "ideology" is so riven with contradictory imperatives they don't know what they actually believe or really want. He needs to start talking to the gritty Angelenos who still have to work and live among the lawlessness and filth that has been created by the current policies. Here's what Rick Caruso should be saying:
"We will get every homeless person off the street immediately and move them to inexpensive sites within the city limits or in the region. They will be screened so criminals, substance abusers, and the mentally ill are assigned to three separate locations. Those who do not have these afflictions will be given access to our already substantial shelter network.
"I expect that once this policy is implemented, most of the criminals and substance abusers will either find shelter on their own with friends or family, or they will leave the county. I will divert existing funds to accomplish this and expect there will be plenty of money left over to provide counseling, drug treatment, and job training.
"I will work with the Bureau of Prisons to process those convicted of minor crimes and recovering addicts into minimum security work camps where they can contribute to conservation programs, wildfire prevention, and other activities that will allow them to recover their dignity and also benefit society."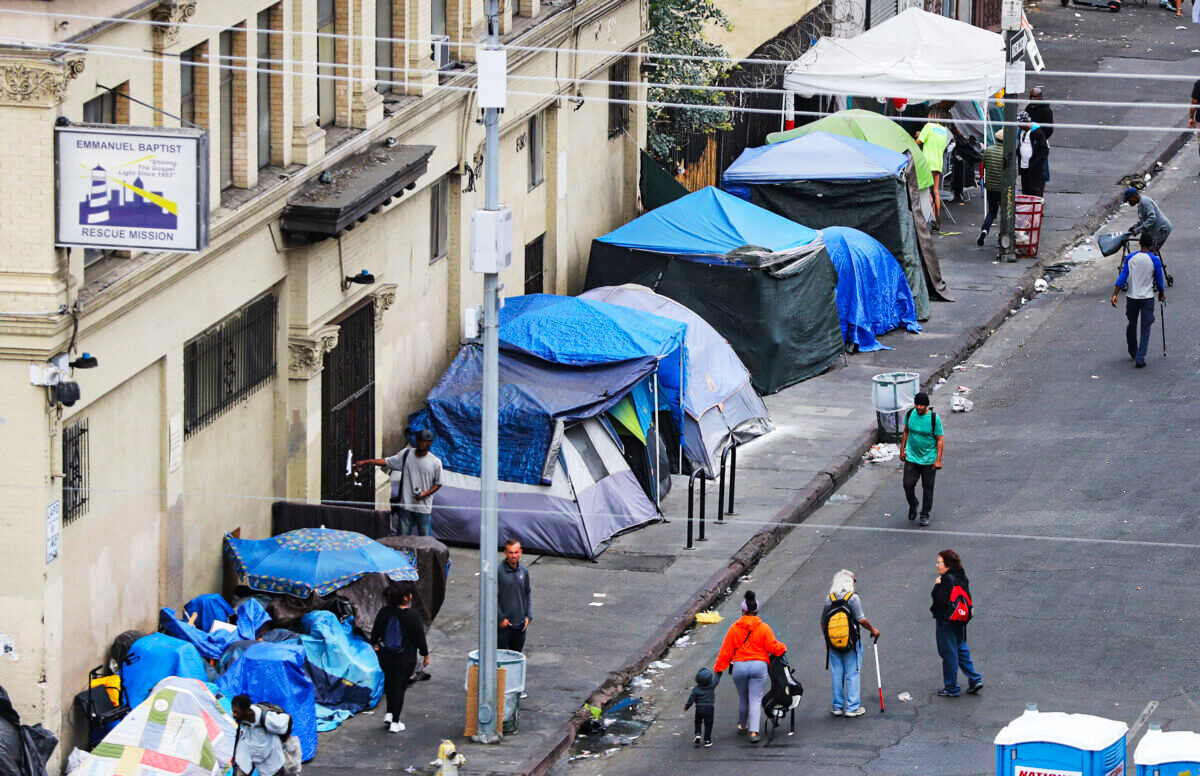 Similar pronouncements from Rick Caruso would galvanize voters to support him, because they would know that finally, after so many years, the person about to become mayor is not a feckless, self-serving coward. Here are some soundbites that could get Rick Caruso elected:
"I will use the full resources of the city attorney's office to challenge in court every law that prevents us from prosecuting criminals and eliminate vagrancy."
"I am going to do everything in my power to support responsible prosecutors and marginalize the ability of others, such as Los Angeles County District Attorney George Gascón, to do further damage to our great city."
"We aren't going to kill good jobs by shutting down our oil wells or our oil refineries because we're not hypocrites who turn around and pay Venezuelan murderers to supply us the fuel we need to live."
"I am not going to jump on the climate emergency bandwagon, because it is not an emergency, and will not support any climate oriented policy that doesn't also make life in Los Angeles easier and more affordable."
"The City of Los Angeles, along with the County of Los Angeles, are run by public employee unions that are completely out of control. Only when they put the interests of all residents in front of their own, as public servants should, will I work with them."
Instead of making these bold assertions that voters are starving to hear, Rick Caruso is trying to appeal the political center. But there is no political center. Politics in Los Angeles, and in California, are in flux. The only thing holding the Democratic party together is money, greed, and the rhetoric of resentment and fear. Results matter now, not ideological positioning.
Caruso will not win by positioning himself on some optimal point along a theoretical left/right continuum that is obsolete. He can win by telling self-evident truths about crime, the economy, the environment, and the opposition he faces.
No matter what happens this November or thereafter, Los Angeles will never lose its mystique. It may morph from a city of dreams into a "Blade Runner" sort of dystopia, but either way, living in Los Angeles will always be a fascinating adventure.
Views expressed in this article are the opinions of the author and do not necessarily reflect the views of The Epoch Times.