Drugs and First-Aid Equipment Seriously Undersupplied in Beijing, Shanghai
Long hospital lines and complicated treatment procedures cause suffering, risk of cross-infectionA growing number of COVID infections continue to hit China, and megacities like Beijing and Shanghai are facing a scarcity of medicines and emergency equipment. Wu Fang (a pseudonym) from Shanghai's Pudong New Area told The Epoch Times on Jan. 4 that COVID-19 is rampant in the community and that "there are a lot of people with high fevers of 39 Celsius (102.2 Fahrenheit) in this wave of the epidemic. My son and my relatives are all infected." Wu said neither the community health station nor the hospital can supply them with fever-reducing medicine. Those who are infected have to suffer at home without the help of medication, with some flooding into the hospitals for help. On Jan. 2, a video circulating online showed that the entrance of Xujiahui District Hospital in Shanghai was swarming with patients and their accompanying family members, and on the street outside, dozens of patients lying on mobile beds waiting for treatment, with several health workers seeming to be at their wits' ends. The Chinese communist regime has been looking to downplay the number of people infected and killed by the epidemic, but official media reports quoting Chen Erzhen, a member of the Shanghai COVID-19 rescue team, said on Jan. 3 that the current epidemic in Shanghai has spread 20 to 30 times beyond what happened in the spring of 2022. Chen said that recently his working hospital, Ruijin Hospital, affiliated with Shanghai Jiao Tong University School of Medicine, has doubled the number of emergency services from the usual daily average of about 800 to the current 1,600. A man stands in front of a cordoned-off area, where COVID-19 patients lie on hospital beds in the lobby of the No. 5 People's Hospital in Chongqing, China, on Dec. 23, 2022. (AFP via Getty Images) Insufficient Medical Equipment and Untimely Emergency Aid Likewise, Beijing is grappling with a shortage of medical resources. Beijing resident Lin Shan (a pseudonym) told The Epoch Times on Jan. 3 that on the first day she visited the 301 Hospital, the largest comprehensive military hospital in China, to see her father, who was suffering from white lung: "The doctor said to me, 'Do you have an oximeter at home? If so, bring it.' "Even such a big hospital doesn't have an oximeter; it's [unimaginable] what will be going on in other hospitals," Lin said. Resident Wang Mei of Shanghai's Xujiahui district also told an Epoch Times reporter on Jan. 4 that one of her friends living in Beijing tested positive a few days ago and was sent to the emergency room. Wang was awakened by a call for a ventilator at three o'clock in the morning. "The hospital was out of ventilators and my friend's family was in a hurry. What can I do? One hour later, my friend is dead [at the hospital]," Wang said. She denounced the government by saying, "What is [this] kind of government?! This is more powerful than killing people with guns!" The CCP's sudden move to lift its zero-COVID policy without a plan for the medical repercussions has put great pressure on the country's medical system, with large numbers of infected patients demanding clinical treatment over seriously undersupplied drugs, first-aid equipment, and health care workers. "A few people around me died from delayed treatment because of no emergency [equipment]," said Beijing citizen Ma Xin (a pseudonym), indicating that in the past three years, the government only cared about building cabin mobile hospitals, and did not consider building ICU wards and preparing more ventilators. This lack of preparation has directly resulted in patients not being treated promptly. Patients in wheelchairs and people in the emergency department of a hospital in Beijing, China, on Jan. 3, 2023. (Jade Gao/AFP via Getty Images) Cumbersome Clinical Procedures Wang Mei believes that lengthy waits and bureaucratic procedures in hospitals result in more hassle and life-threatening problems for patients who need urgent care. Wang said that her friend tested positive for COVID and felt vulnerable, "so she called a taxi to go to the hospital for treatment. She waited in line to register for this medication, waited in line to see the doctor, waited in line to pay, waited in line for an intravenous injection, and then [returned] home exhausted." In the past, a doctor would prescribe a three-day supply of medication. However, Wang's friend received only one dose. Because she didn't receive enough medicine on the first visit, she had to return and go through this process again to complete the second treatment. "The patient was so weak; how could she stand the tiring torment? [The medical treatment process] is ridiculous!" Wang said. Zhang Yan (a pseudonym), another resident of Shanghai who lives in Minhang District, shared a similar experience on the phone while she was in the hospital: "I've been sick [with bad] fever, and I'm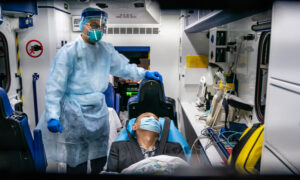 Long hospital lines and complicated treatment procedures cause suffering, risk of cross-infection
A growing number of COVID infections continue to hit China, and megacities like Beijing and Shanghai are facing a scarcity of medicines and emergency equipment.
Wu Fang (a pseudonym) from Shanghai's Pudong New Area told The Epoch Times on Jan. 4 that COVID-19 is rampant in the community and that "there are a lot of people with high fevers of 39 Celsius (102.2 Fahrenheit) in this wave of the epidemic. My son and my relatives are all infected."
Wu said neither the community health station nor the hospital can supply them with fever-reducing medicine.
Those who are infected have to suffer at home without the help of medication, with some flooding into the hospitals for help.
On Jan. 2, a video circulating online showed that the entrance of Xujiahui District Hospital in Shanghai was swarming with patients and their accompanying family members, and on the street outside, dozens of patients lying on mobile beds waiting for treatment, with several health workers seeming to be at their wits' ends.
The Chinese communist regime has been looking to downplay the number of people infected and killed by the epidemic, but official media reports quoting Chen Erzhen, a member of the Shanghai COVID-19 rescue team, said on Jan. 3 that the current epidemic in Shanghai has spread 20 to 30 times beyond what happened in the spring of 2022.
Chen said that recently his working hospital, Ruijin Hospital, affiliated with Shanghai Jiao Tong University School of Medicine, has doubled the number of emergency services from the usual daily average of about 800 to the current 1,600.
A man stands in front of a cordoned-off area, where COVID-19 patients lie on hospital beds in the lobby of the No. 5 People's Hospital in Chongqing, China, on Dec. 23, 2022. (AFP via Getty Images)
Insufficient Medical Equipment and Untimely Emergency Aid
Likewise, Beijing is grappling with a shortage of medical resources.
Beijing resident Lin Shan (a pseudonym) told The Epoch Times on Jan. 3 that on the first day she visited the 301 Hospital, the largest comprehensive military hospital in China, to see her father, who was suffering from white lung: "The doctor said to me, 'Do you have an oximeter at home? If so, bring it.'
"Even such a big hospital doesn't have an oximeter; it's [unimaginable] what will be going on in other hospitals," Lin said.
Resident Wang Mei of Shanghai's Xujiahui district also told an Epoch Times reporter on Jan. 4 that one of her friends living in Beijing tested positive a few days ago and was sent to the emergency room.
Wang was awakened by a call for a ventilator at three o'clock in the morning. "The hospital was out of ventilators and my friend's family was in a hurry. What can I do? One hour later, my friend is dead [at the hospital]," Wang said.
She denounced the government by saying, "What is [this] kind of government?! This is more powerful than killing people with guns!"
The CCP's sudden move to lift its zero-COVID policy without a plan for the medical repercussions has put great pressure on the country's medical system, with large numbers of infected patients demanding clinical treatment over seriously undersupplied drugs, first-aid equipment, and health care workers.
"A few people around me died from delayed treatment because of no emergency [equipment]," said Beijing citizen Ma Xin (a pseudonym), indicating that in the past three years, the government only cared about building cabin mobile hospitals, and did not consider building ICU wards and preparing more ventilators. This lack of preparation has directly resulted in patients not being treated promptly.
Patients in wheelchairs and people in the emergency department of a hospital in Beijing, China, on Jan. 3, 2023. (Jade Gao/AFP via Getty Images)
Cumbersome Clinical Procedures
Wang Mei believes that lengthy waits and bureaucratic procedures in hospitals result in more hassle and life-threatening problems for patients who need urgent care.
Wang said that her friend tested positive for COVID and felt vulnerable, "so she called a taxi to go to the hospital for treatment. She waited in line to register for this medication, waited in line to see the doctor, waited in line to pay, waited in line for an intravenous injection, and then [returned] home exhausted." In the past, a doctor would prescribe a three-day supply of medication. However, Wang's friend received only one dose. Because she didn't receive enough medicine on the first visit, she had to return and go through this process again to complete the second treatment.
"The patient was so weak; how could she stand the tiring torment? [The medical treatment process] is ridiculous!" Wang said.
Zhang Yan (a pseudonym), another resident of Shanghai who lives in Minhang District, shared a similar experience on the phone while she was in the hospital: "I've been sick [with bad] fever, and I'm in the hospital now. I arrived here at 10:00 a.m. and till now (3:00 p.m.), [have been] hooked up to an intravenous drip … I couldn't hold on and passed out.
"But I have to queue up at the hospital for those days … People will be tossed to death … We people are so miserable!" Zhang said.
Zhang fears that so many patients waiting for long times in the hospital may also increase the risk of cross-infection.