Chinese Doctors and Patients Desperate for COVID Medicines Amid Surge of Severe Cases
Since December 2022, COVID has swept across China, and Chinese doctors and patients are desperate for COVID drugs, which are in short supply.The Chinese communist regime lifted its signature zero-COVID measures in early December 2022, a long-awaited move for the Chinese people, but at the wrong timing and without proper preparations for medical supplies. "Your treatment solutions target neither the [COVID-19] virus nor the pneumonia inflammation, and they are futile," Zhang Wenhong, a prominent Shanghai infectious diseases expert, said on Jan. 5 at a training session, adding that antipyretics, antibiotics, cough medicine, and traditional Chinese medicine are all doctors have to cure COVID patients at the moment. "I myself cannot find any antiviral medicines," Zhang said at the training session. Chinese doctors blame the authorities for strict control of antiviral medicines, and patients have to pay steep prices for COVID drugs like Paxlovid. Extreme Scarcity of COVID Medicines Antiviral medicines, especially effective imported medicines such as Paxlovid, are scarce in Chinese hospitals and are prescribed to a small number of COVID patients, according to doctors interviewed by the Chinese-language edition of The Epoch Times. Xin Han (pseudonym), a doctor at a hospital in Anshan in China's northeastern Liaoning Province, told The Epoch Times on Jan. 8 that Paxlovid was recently available in her hospital for medical treatment of senior CCP officials only. "Only the hospital director has the right to approve the use of Paxlovid, which we doctors cannot see at all. The imported COVID medicines are used in our hospital's senior officials department exclusively," Xin said. Amid the country's recent COVID outbreak, China Meheco Group inked an agreement with Pfizer on Dec. 14, 2022, to import and distribute the U.S. drugmaker's Paxlovid in China, China Meheco Group said in a filing to the Shanghai stock exchange. COVID-19 treatment pill Paxlovid in a box at Misericordia hospital in Grosseto, Italy, on Feb. 8, 2022. (Jennifer Lorenzini/Reuters) In Beijing, Paxlovid is not in stock in the emergency pharmacy of Peking University First Hospital. A staffer at the pharmacy told The Epoch Times that the hospital will manage to buy Paxlovid from outside sources after the attending doctor approves the use of the American tablets. The staffer didn't give his name in the phone interview on Jan. 8. In China's eastern Jiangxi Province, Paxlovid isn't in stock in the No. 1 People's Hospital of Jiujiang City. The doctor who answered the phone told The Epoch Times on Jan. 8 that his hospital doesn't have Paxlovid or human immunoglobulin for intravenous injection (IVIG), which are regarded as effective medications for COVID patients. The doctor, who wanted to stay anonymous, didn't understand why there is such a shortage of medicines in China. "Hospitals don't have access to necessary medicines for the treatment of COVID. Where have the drugs gone? There are so many drugmakers in our country, but why can't they manufacture enough medicines?" he asked our reporter on the phone. These hospitals that the publication has reached out to are all tertiary hospitals, which are allocated the most medical resources by the Chinese authorities. Their lack of effective COVID medicines reveals the severity of the shortage of proper medicines to treat COVID patients. Steep Prices for COVID Medicines Ms. Xu (pseudonym), a resident of Zaozhuang in China's eastern Shandong Province, said that she had paid over 20,000 yuan (over $3,000) for eight doses of IVIG injections for her mother. When speaking with the Chinese-language edition of The Epoch Times on Jan. 7, Xu said that she could not get the doses from the hospitals and that she managed to buy them through a friend. "We are told that the medicine can boost immunity. My mother received her first two doses of human immunoglobulin for intravenous injection on Jan. 6, and two more doses today, and her fever was gone," Xu said, adding that the doses were life-saving. However, she said that her mother was still very weak. In China's central Hubei Province, Liao (pseudonym), a resident of Xiangyang, was looking for COVID drugs for his grandmother. "She was infected by COVID at the end of December, and she was transferred to the ICU of Xiangyang Central Hospital on Jan. 6," Liao said. His grandmother's lungs have turned white, and the doctors who treated her told him to find five-day courses of IVIG for her because the hospital didn't have any. White lung syndrome refers to the alveoli in the lungs being filled with exudative or inflammatory cells that block the passage of rays of a CT scan or X-ray and thus show up as white areas. Liao said the price for the injection doses on the black market was 3,000 yuan ($442) per dose. He would have to pay 30,000 yuan ($4,420) for 10 doses, which would be administered to his grandmother over five days. He began searching for available do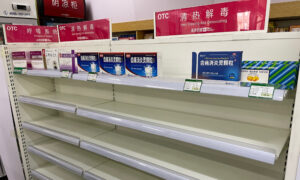 Since December 2022, COVID has swept across China, and Chinese doctors and patients are desperate for COVID drugs, which are in short supply.
The Chinese communist regime lifted its signature zero-COVID measures in early December 2022, a long-awaited move for the Chinese people, but at the wrong timing and without proper preparations for medical supplies.
"Your treatment solutions target neither the [COVID-19] virus nor the pneumonia inflammation, and they are futile," Zhang Wenhong, a prominent Shanghai infectious diseases expert, said on Jan. 5 at a training session, adding that antipyretics, antibiotics, cough medicine, and traditional Chinese medicine are all doctors have to cure COVID patients at the moment.
"I myself cannot find any antiviral medicines," Zhang said at the training session.
Chinese doctors blame the authorities for strict control of antiviral medicines, and patients have to pay steep prices for COVID drugs like Paxlovid.
Extreme Scarcity of COVID Medicines
Antiviral medicines, especially effective imported medicines such as Paxlovid, are scarce in Chinese hospitals and are prescribed to a small number of COVID patients, according to doctors interviewed by the Chinese-language edition of The Epoch Times.
Xin Han (pseudonym), a doctor at a hospital in Anshan in China's northeastern Liaoning Province, told The Epoch Times on Jan. 8 that Paxlovid was recently available in her hospital for medical treatment of senior CCP officials only.
"Only the hospital director has the right to approve the use of Paxlovid, which we doctors cannot see at all. The imported COVID medicines are used in our hospital's senior officials department exclusively," Xin said.
Amid the country's recent COVID outbreak, China Meheco Group inked an agreement with Pfizer on Dec. 14, 2022, to import and distribute the U.S. drugmaker's Paxlovid in China, China Meheco Group said in a filing to the Shanghai stock exchange.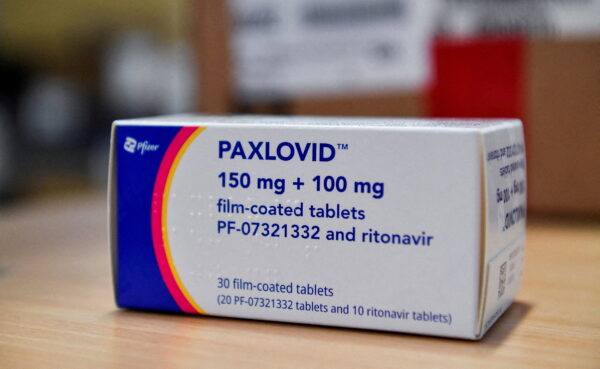 In Beijing, Paxlovid is not in stock in the emergency pharmacy of Peking University First Hospital. A staffer at the pharmacy told The Epoch Times that the hospital will manage to buy Paxlovid from outside sources after the attending doctor approves the use of the American tablets.
The staffer didn't give his name in the phone interview on Jan. 8.
In China's eastern Jiangxi Province, Paxlovid isn't in stock in the No. 1 People's Hospital of Jiujiang City.
The doctor who answered the phone told The Epoch Times on Jan. 8 that his hospital doesn't have Paxlovid or human immunoglobulin for intravenous injection (IVIG), which are regarded as effective medications for COVID patients.
The doctor, who wanted to stay anonymous, didn't understand why there is such a shortage of medicines in China.
"Hospitals don't have access to necessary medicines for the treatment of COVID. Where have the drugs gone? There are so many drugmakers in our country, but why can't they manufacture enough medicines?" he asked our reporter on the phone.
These hospitals that the publication has reached out to are all tertiary hospitals, which are allocated the most medical resources by the Chinese authorities. Their lack of effective COVID medicines reveals the severity of the shortage of proper medicines to treat COVID patients.
Steep Prices for COVID Medicines
Ms. Xu (pseudonym), a resident of Zaozhuang in China's eastern Shandong Province, said that she had paid over 20,000 yuan (over $3,000) for eight doses of IVIG injections for her mother.
When speaking with the Chinese-language edition of The Epoch Times on Jan. 7, Xu said that she could not get the doses from the hospitals and that she managed to buy them through a friend.
"We are told that the medicine can boost immunity. My mother received her first two doses of human immunoglobulin for intravenous injection on Jan. 6, and two more doses today, and her fever was gone," Xu said, adding that the doses were life-saving. However, she said that her mother was still very weak.
In China's central Hubei Province, Liao (pseudonym), a resident of Xiangyang, was looking for COVID drugs for his grandmother.
"She was infected by COVID at the end of December, and she was transferred to the ICU of Xiangyang Central Hospital on Jan. 6," Liao said.
His grandmother's lungs have turned white, and the doctors who treated her told him to find five-day courses of IVIG for her because the hospital didn't have any.
White lung syndrome refers to the alveoli in the lungs being filled with exudative or inflammatory cells that block the passage of rays of a CT scan or X-ray and thus show up as white areas.
Liao said the price for the injection doses on the black market was 3,000 yuan ($442) per dose. He would have to pay 30,000 yuan ($4,420) for 10 doses, which would be administered to his grandmother over five days. He began searching for available doses on the black market in Wuhan, the capital city of the province, since there weren't any available in his hometown, Liao said.
Panic Purchase of COVID and Fever Drugs Overseas
Chinese people have been rushing to their local pharmacies to buy painkillers, fever reducers, antipyretics, and vitamins to send back to their loved ones in China.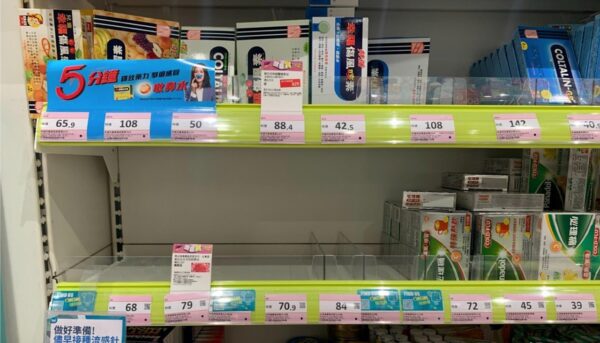 Pharmacies in Macao, Hong Kong, Australia, Japan, and the United States are reportedly running short of these medicines and some have started to limit purchases.
The Chinese communist regime has rejected international help while the Chinese populace suffers from the sweeping COVID wave and a severe shortage of medications.
Zhao Fenghua and Hong Ning contributed to this report.