China Trade Restrictions Are Necessary for National Defense
CommentaryTorpedoing China's economy will cripple its military development, decreasing the threat to the United States and Taiwan. Gutting a country's economy will hamper its ability to develop new technologies or purchase advanced weapons. This is why U.S. trade and investment restrictions on China are not just a matter of economics, but also one of national defense. Winning a modern war means developing the most advanced military technologies, such as artificial intelligence, quantum science, autonomous weapons, biotechnology, space technologies, and hypersonic weapons. While the United States is the leader in military technology development, China and Russia are making steady headway as the two biggest competitors. Today, a country's military capabilities correlate directly with its defense spending. For the fiscal year 2022, the United States had the highest defense budget in the world at $750 billion. China came in second with $237 billion, while Russia spent only $48 billion. The Trump administration placed over $300 billion of tariffs on Chinese products. Although the incoming Biden administration criticized Trump, most of these tariffs have remained in effect. Import bans have been placed on goods produced in Xinjiang. Sanctions have been placed on companies and Chinese Communist Party (CCP) officials in Xinjiang and those associated with restricting freedoms in Hong Kong. And numerous Chinese companies have been blacklisted. In November, the U.S. government added dozens of Chinese companies to its Entity List based on their threat to U.S. national security. The Department of Commerce Bureau of Industry and Security (BIS) uses the Entity List to restrict the export, reexport, and in-country transfer of goods and services that violate the Export Administration Regulations (EAR). There are already more than 600 Chinese companies on the list. Firms are added to the list because of malicious cyber activities, developing spyware for foreign governments, developing and distributing hacking tools, as well as violating Export Controls for Conventional Arms and Dual-Use Goods and Technologies. Furthermore, Foreign Direct Product (FDP) rules restrict exports to companies based on their location or use of a product. These rules have now been expanded to cover advanced computing items and items used to maintain and develop supercomputers sold to China. An employee makes chips at a factory of Jiejie Semiconductor Company in Nantong, in eastern China's Jiangsu Province, on March 17, 2021. (STR/AFP via Getty Images) To prevent Chinese companies from buying advanced chips and chipmaking equipment, the Biden administration announced the first round of new restrictions on the export and reexport or transfer of certain semiconductor manufacturing equipment. The ban also applied to associated software and technology. All U.S. persons were also banned from working in Chinese facilities that participated in the "development or production" of chips. U.S. persons are required to obtain a license from the Commerce Department to export items or provide support to manufacturers in China if they are uncertain whether their activities violate the restriction. In addition to cutting off the Chinese regime's access to new technology, U.S. legislation is slowly choking Beijing's cash. Since the imposition of 25 percent tariffs, U.S. imports of semiconductors from China are down 26 percent. This is revenue that will no longer be available to the Chinese military. The U.S. Federal Reserve increasing interest rates has also negatively impacted Beijing's bottom line. Not only have the higher rates diverted new investment from China to the United States, but they have also caused an exodus of capital from China to the United States. Another place where Beijing's wallet is taking a hit is on securities exchanges. Historically, listing on U.S. exchanges has been a tremendous source of funding for Chinese companies, including those conducting research and development for the CCP. A recent tightening of audit regulations by the Securities and Exchange Commission could result in delisting of as many as 250 Chinese companies. Restricting U.S. transfers of cash and technology to China will impede the CCP's plan to surpass the United States by 2035. At the same time, import tariffs and restrictions will help develop U.S. domestic industries and advance U.S. technology development. This will also create jobs in the United States while cutting jobs in China. In the first three quarters of 2022, over $60 billion worth of foreign direct investment had already been pledged to the U.S. chip sector. So far, the plan is working, and restrictions on China trade and investment are expected to increase moving forward. Views expressed in this article are the opinions of the author and do not necessarily reflect the views of The Epoch Times. Follow Antonio Graceffo, Ph.D., China economic analyst, has spent more th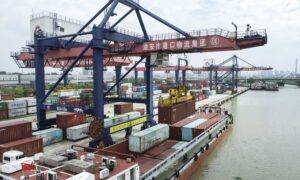 Commentary
Torpedoing China's economy will cripple its military development, decreasing the threat to the United States and Taiwan.
Gutting a country's economy will hamper its ability to develop new technologies or purchase advanced weapons. This is why U.S. trade and investment restrictions on China are not just a matter of economics, but also one of national defense.
Winning a modern war means developing the most advanced military technologies, such as artificial intelligence, quantum science, autonomous weapons, biotechnology, space technologies, and hypersonic weapons. While the United States is the leader in military technology development, China and Russia are making steady headway as the two biggest competitors. Today, a country's military capabilities correlate directly with its defense spending. For the fiscal year 2022, the United States had the highest defense budget in the world at $750 billion. China came in second with $237 billion, while Russia spent only $48 billion.
The Trump administration placed over $300 billion of tariffs on Chinese products. Although the incoming Biden administration criticized Trump, most of these tariffs have remained in effect. Import bans have been placed on goods produced in Xinjiang. Sanctions have been placed on companies and Chinese Communist Party (CCP) officials in Xinjiang and those associated with restricting freedoms in Hong Kong. And numerous Chinese companies have been blacklisted.
In November, the U.S. government added dozens of Chinese companies to its Entity List based on their threat to U.S. national security. The Department of Commerce Bureau of Industry and Security (BIS) uses the Entity List to restrict the export, reexport, and in-country transfer of goods and services that violate the Export Administration Regulations (EAR).
There are already more than 600 Chinese companies on the list. Firms are added to the list because of malicious cyber activities, developing spyware for foreign governments, developing and distributing hacking tools, as well as violating Export Controls for Conventional Arms and Dual-Use Goods and Technologies. Furthermore, Foreign Direct Product (FDP) rules restrict exports to companies based on their location or use of a product. These rules have now been expanded to cover advanced computing items and items used to maintain and develop supercomputers sold to China.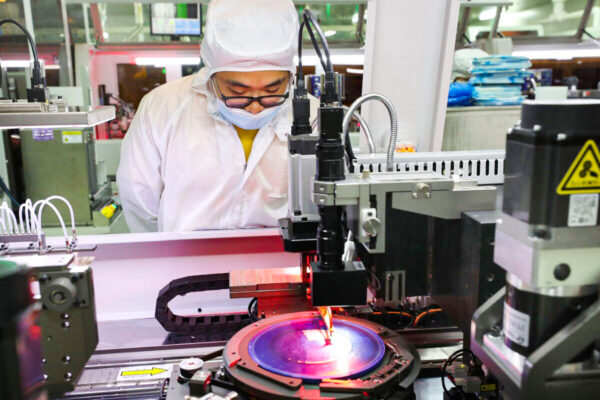 To prevent Chinese companies from buying advanced chips and chipmaking equipment, the Biden administration announced the first round of new restrictions on the export and reexport or transfer of certain semiconductor manufacturing equipment. The ban also applied to associated software and technology. All U.S. persons were also banned from working in Chinese facilities that participated in the "development or production" of chips. U.S. persons are required to obtain a license from the Commerce Department to export items or provide support to manufacturers in China if they are uncertain whether their activities violate the restriction.
In addition to cutting off the Chinese regime's access to new technology, U.S. legislation is slowly choking Beijing's cash. Since the imposition of 25 percent tariffs, U.S. imports of semiconductors from China are down 26 percent. This is revenue that will no longer be available to the Chinese military. The U.S. Federal Reserve increasing interest rates has also negatively impacted Beijing's bottom line. Not only have the higher rates diverted new investment from China to the United States, but they have also caused an exodus of capital from China to the United States.
Another place where Beijing's wallet is taking a hit is on securities exchanges. Historically, listing on U.S. exchanges has been a tremendous source of funding for Chinese companies, including those conducting research and development for the CCP. A recent tightening of audit regulations by the Securities and Exchange Commission could result in delisting of as many as 250 Chinese companies.
Restricting U.S. transfers of cash and technology to China will impede the CCP's plan to surpass the United States by 2035. At the same time, import tariffs and restrictions will help develop U.S. domestic industries and advance U.S. technology development. This will also create jobs in the United States while cutting jobs in China. In the first three quarters of 2022, over $60 billion worth of foreign direct investment had already been pledged to the U.S. chip sector. So far, the plan is working, and restrictions on China trade and investment are expected to increase moving forward.
Views expressed in this article are the opinions of the author and do not necessarily reflect the views of The Epoch Times.