China Trade: A Global Bellwether
Commentary China these days can serve as a global economic bellwether, and the direction it points is far from encouraging. As the world's great exporter, its growth depends less on its domestic conditions than on what is happening in the United States and Europe. And because China sources heavily elsewhere in Asia, its export issues have an immediate reflection in places like South Korea and Taiwan. The global picture coming out of this interaction says slowdown, if not outright recession. Certainly, weakness is the latest message coming out of S&P Global's world purchasing managers' index (PMI). Its combined measure of activity in both manufacturing and services fell to a value of 49.3 in August, the most recent period for which data are available. That is down from 50.8 recorded in July and below the 50 level that makes the distinction between expansion and contraction. Aside from a brief period during the worst of the pandemic in 2020, the August figure was the worst since the global recession of 2009. To be sure, it is only one month's reading, but it should not be ignored. Chinese exports reflect the global decline. According to Beijing's General Administration of Customs, overall goods exports in August equaled the equivalent of $314.9 billion, a mere 7.1 percent above year-ago levels—well below the consensus expectation of a 12.5 percent gain and a striking decline from July when the gain on year-ago levels equaled 18 percent. The August figure was the worst since the lockdown-oppressed performance of last spring. Part of the shortfall stems from production interruptions inside China. The country faces drought, a heatwave, and sporadic power shortages, all of which have put a hitch in that economy's great export machine. COVID-19 lockdowns, though less extreme than earlier in the year, have also interrupted flows of goods and services. According to reporting from the Nomura Institute, some 49 cities in China face lockdowns or various degrees of special controls. An aerial view shows the Yangtze River approaching record-low water levels during a regional drought in Chongqing, China, on Aug. 20, 2022. (Thomas Peter/Reuters) But mostly, China's export shortfall reflects forces of more distant origin—from the United States and especially from Europe. In the United States and Canada, the once-powerful post-COVID resurgence has run its course. Chinese exports to the United States fell 3.8 percent in August, a radical change from July's 11 percent gain. Europe, China's biggest export market, is suffering a severe economic slowdown, made especially precarious by the soaring price of energy as Russia slows the flow of all-important natural gas to the European Union. Europeans, especially Germans, expecting further fuel cost increases as winter raises demands for home heating, have exacerbated the negative economic influences by cutting back on consumption now in order to build a fund to meet this anticipated burden. Unlike the outright decline in exports to the United States, Chinese sales in Europe rose in August, but the 11.1 percent gain over year-ago levels was sharply down from July's 23.1 percent gain. Because Chinese exports depend heavily on a flow of components from elsewhere in Asia, China's slowdown has spread. South Korean exports to China in August continued the decline that began last June and is only 5.4 percent above year-ago levels. South Korea's semiconductor exports to China fell in August for the first time since April 2020 in the worst of the pandemic. Taiwan has also suffered. Its exports to China fell in August to 9 percent below year-ago levels, a major reason why the island's overall exports that month was a mere 2 percent above year-ago levels—the slowest rate in two years and a sharp break from July's 14.2 percent gain. There is reason to expect relief from China's drought, its heatwave, and the power shortages, but not in the shortfalls emanating out of North America and Europe. Indeed, with central banks in Canada, the United States, and Europe raising interest rates and otherwise tightening monetary policy in an effort to regain control over inflation, there is every reason to look for still more constrained economic conditions in these critical markets for China and so also more negative fallout elsewhere in Asia. Views expressed in this article are the opinions of the author and do not necessarily reflect the views of The Epoch Times. Follow Milton Ezrati is a contributing editor at The National Interest, an affiliate of the Center for the Study of Human Capital at the University at Buffalo (SUNY), and chief economist for Vested, a New York-based communications firm. Before joining Vested, he served as chief market strategist and economist for Lord, Abbett & Co. He also writes frequently for City Journal and blogs regularly for Forbes. His latest book is "Thirty Tomorrows: The Next Three Decades of Globalization, Demographics, and How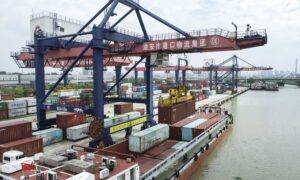 Commentary
China these days can serve as a global economic bellwether, and the direction it points is far from encouraging. As the world's great exporter, its growth depends less on its domestic conditions than on what is happening in the United States and Europe. And because China sources heavily elsewhere in Asia, its export issues have an immediate reflection in places like South Korea and Taiwan. The global picture coming out of this interaction says slowdown, if not outright recession.
Certainly, weakness is the latest message coming out of S&P Global's world purchasing managers' index (PMI). Its combined measure of activity in both manufacturing and services fell to a value of 49.3 in August, the most recent period for which data are available. That is down from 50.8 recorded in July and below the 50 level that makes the distinction between expansion and contraction. Aside from a brief period during the worst of the pandemic in 2020, the August figure was the worst since the global recession of 2009. To be sure, it is only one month's reading, but it should not be ignored.
Chinese exports reflect the global decline. According to Beijing's General Administration of Customs, overall goods exports in August equaled the equivalent of $314.9 billion, a mere 7.1 percent above year-ago levels—well below the consensus expectation of a 12.5 percent gain and a striking decline from July when the gain on year-ago levels equaled 18 percent. The August figure was the worst since the lockdown-oppressed performance of last spring.
Part of the shortfall stems from production interruptions inside China. The country faces drought, a heatwave, and sporadic power shortages, all of which have put a hitch in that economy's great export machine. COVID-19 lockdowns, though less extreme than earlier in the year, have also interrupted flows of goods and services. According to reporting from the Nomura Institute, some 49 cities in China face lockdowns or various degrees of special controls.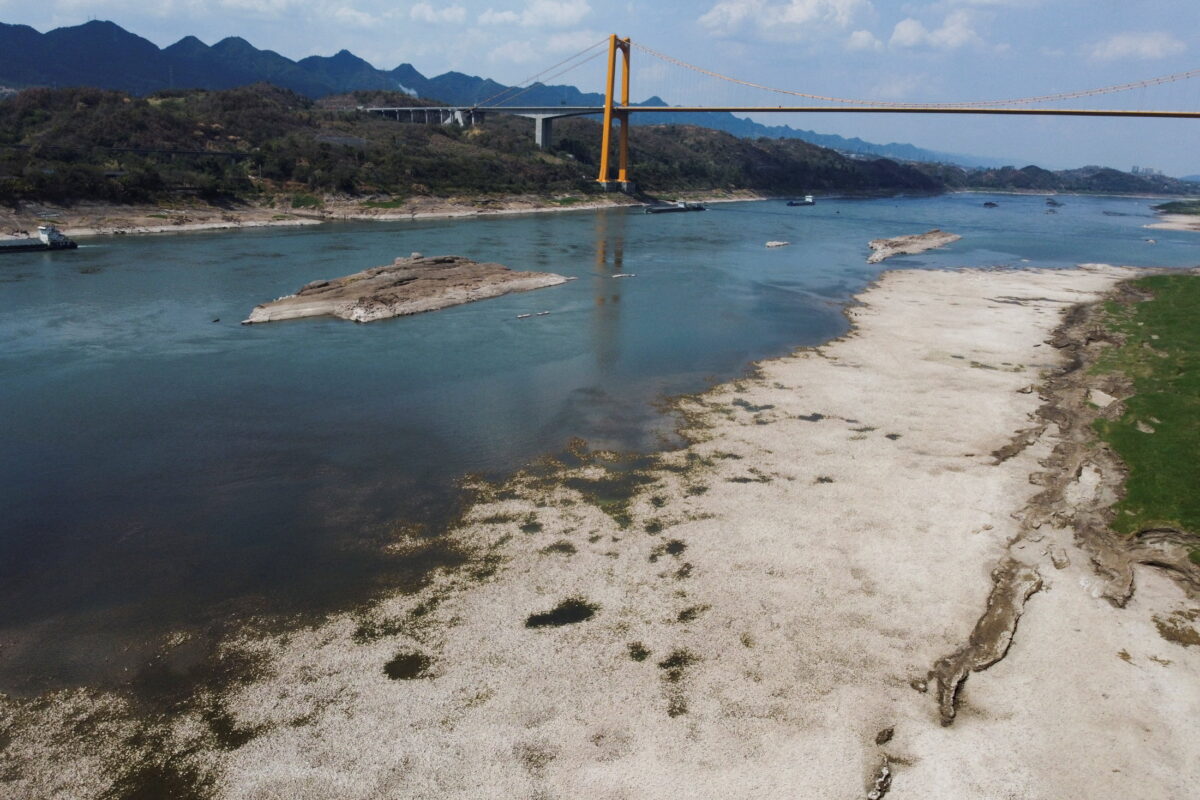 But mostly, China's export shortfall reflects forces of more distant origin—from the United States and especially from Europe. In the United States and Canada, the once-powerful post-COVID resurgence has run its course. Chinese exports to the United States fell 3.8 percent in August, a radical change from July's 11 percent gain. Europe, China's biggest export market, is suffering a severe economic slowdown, made especially precarious by the soaring price of energy as Russia slows the flow of all-important natural gas to the European Union.
Europeans, especially Germans, expecting further fuel cost increases as winter raises demands for home heating, have exacerbated the negative economic influences by cutting back on consumption now in order to build a fund to meet this anticipated burden. Unlike the outright decline in exports to the United States, Chinese sales in Europe rose in August, but the 11.1 percent gain over year-ago levels was sharply down from July's 23.1 percent gain.
Because Chinese exports depend heavily on a flow of components from elsewhere in Asia, China's slowdown has spread. South Korean exports to China in August continued the decline that began last June and is only 5.4 percent above year-ago levels. South Korea's semiconductor exports to China fell in August for the first time since April 2020 in the worst of the pandemic. Taiwan has also suffered. Its exports to China fell in August to 9 percent below year-ago levels, a major reason why the island's overall exports that month was a mere 2 percent above year-ago levels—the slowest rate in two years and a sharp break from July's 14.2 percent gain.
There is reason to expect relief from China's drought, its heatwave, and the power shortages, but not in the shortfalls emanating out of North America and Europe. Indeed, with central banks in Canada, the United States, and Europe raising interest rates and otherwise tightening monetary policy in an effort to regain control over inflation, there is every reason to look for still more constrained economic conditions in these critical markets for China and so also more negative fallout elsewhere in Asia.
Views expressed in this article are the opinions of the author and do not necessarily reflect the views of The Epoch Times.