Biden Admin to Brief 'Gang of Eight' on Chinese Spy Balloon Following McCarthy's Request
House Speaker Kevin McCarthy (R-Calif.) requested a "Gang of Eight" classified briefing on Feb. 2, after the Pentagon announced that it had been tracking a suspected Chinese spy balloon floating over the United States. A spokesperson for Sen. Chuck Schumer (D-N.Y.) told news outlets late Friday that the Biden administration is set to hold the requested intelligence briefing next week on the matter. The "Gang of Eight" refers to the four congressional leaders from the House and Senate and the chairs and ranking members of the House and Senate Select Committees on Intelligence. On Thursday, Pentagon Press Secretary Brig. Gen. Pat Ryder announced that it was tracking "a high altitude surveillance balloon" flying over the United States, at a height "well above commercial air traffic and does not present a military or physical threat to people on the ground." A senior defense official said the Pentagon has a "very high confidence" that the balloon belongs to the People's Republic of China (PRC), the Chinese regime's official name. The official added the Pentagon has "engaged PRC officials with urgency" through several channels, including the Chinese Embassy in the United States and the U.S. Embassy in China. "We have communicated to them the seriousness with which we take this issue," the official said, but declined to offer details about the content of its message to China. U.S. Defense Secretary Lloyd Austin (R) walks past military guards during arrival honors at the Department of National Defense in Camp Aguinaldo military camp in Quezon City, Manila, Philippines, on Feb. 2, 2023. (Rolex Delapena-Pool/Getty Images) The official added that President Joe Biden was briefed on the situation and asked for military options. Defense Secretary Lloyd Austin, while traveling in the Philippines, convened a meeting to determine whether or not the balloon should be shot down. Gen. Mark Milley, chairman of the Joint Chiefs of Staff, and Gen. Glen VanHerck, head of the U.S. Northern Command, strongly recommended against shooting it down, saying that falling debris could pose a risk to people on the ground. "We had been looking at whether there was an option yesterday over some sparsely populated areas in Montana. But we just couldn't buy down the risk enough to feel comfortable recommending shooting it down yesterday," the official added. Montana is home to the Malmstrom Air Force Base, one of the country's nuclear missile silo fields. The official said the Pentagon had determined the balloon has "limited additive value" over what China is able to collect via its satellites in Low Earth Orbit. Nonetheless, the Pentagon has taken "mitigation steps" to prevent potential foreign intelligence gathering, according to the official. China A group of bipartisan lawmakers has condemned Beijing over the discovery of the suspected Chinese spy balloon. Reps. Mike Gallagher (R-Wis.) and Raja Krishnamoorthi (D-Ill.)—the chair and ranking member on the House's Select Committee on China, respectively—issued a joint statement saying that the Chinese Communist Party (CCP) should not have "on-demand access to American Airspace." "Not only is this a violation of American sovereignty, coming only days before Secretary Blinken's trip to the PRC, but it also makes clear that the CCP's recent diplomatic overtures do not represent a substantive change in policy," they wrote. "Indeed, this incident demonstrates that the CCP threat is not confined to distant shores—it is here at home and we must act to counter this threat." Rep. Chris Deluzio (D-Pa.) wrote that Gallagher and Krishnamoorthi "are spot on" in their assessment. "The Chinese Communist Party cannot be allowed to violate American airspace. America must meet the threat they pose to our livelihoods and our security," Deluzio wrote. Secretary of State Antony Blinken addresses the United Nations General Assembly during the Nuclear Non-Proliferation Treaty review conference in New York on Aug. 1, 2022. (David 'Dee' Delgado/Reuters) Secretary of State Antony Blinken is scheduled to arrive in China on Feb. 5 for a two-day visit. Currently, it is unclear if the revelation of the spy balloon will have an impact on the trip. The Epoch Times has reached out to the State Department for comment. Several GOP lawmakers also commented on Blinken's upcoming trip to China. Sen. Tom Cotton (R-Ark.) took to Twitter to say that Blinken should cancel his trip. Rep. Mike Lawler (R-N.Y.) asked that Blinken "must hold President Xi [Jinping] accountable during his visit." "This is unacceptable. @SecBlinken, you must raise this during your visit to China this weekend," wrote Rep. Young Kim (R-Calif.) on Twitter, adding that she looks forward to a full briefing on the House Committee on Foreign Affairs. China's Foreign Ministry said Friday that a balloon was a civilian "airship" used for research, mainly meteorological purposes. The statement said the airship has limited steering capabilit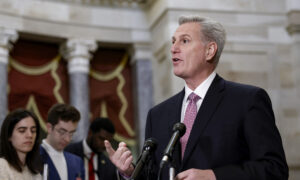 House Speaker Kevin McCarthy (R-Calif.) requested a "Gang of Eight" classified briefing on Feb. 2, after the Pentagon announced that it had been tracking a suspected Chinese spy balloon floating over the United States.
A spokesperson for Sen. Chuck Schumer (D-N.Y.) told news outlets late Friday that the Biden administration is set to hold the requested intelligence briefing next week on the matter.
The "Gang of Eight" refers to the four congressional leaders from the House and Senate and the chairs and ranking members of the House and Senate Select Committees on Intelligence.
On Thursday, Pentagon Press Secretary Brig. Gen. Pat Ryder announced that it was tracking "a high altitude surveillance balloon" flying over the United States, at a height "well above commercial air traffic and does not present a military or physical threat to people on the ground."
A senior defense official said the Pentagon has a "very high confidence" that the balloon belongs to the People's Republic of China (PRC), the Chinese regime's official name.
The official added the Pentagon has "engaged PRC officials with urgency" through several channels, including the Chinese Embassy in the United States and the U.S. Embassy in China.
"We have communicated to them the seriousness with which we take this issue," the official said, but declined to offer details about the content of its message to China.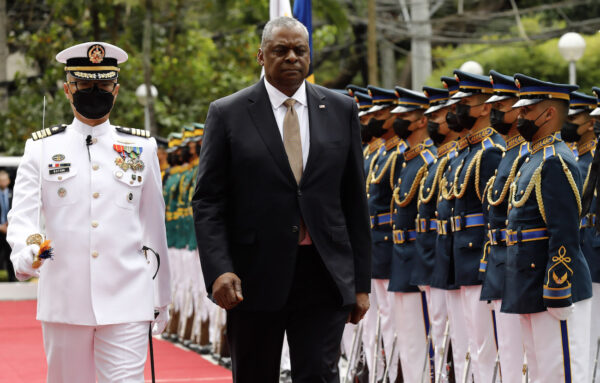 The official added that President Joe Biden was briefed on the situation and asked for military options. Defense Secretary Lloyd Austin, while traveling in the Philippines, convened a meeting to determine whether or not the balloon should be shot down.
Gen. Mark Milley, chairman of the Joint Chiefs of Staff, and Gen. Glen VanHerck, head of the U.S. Northern Command, strongly recommended against shooting it down, saying that falling debris could pose a risk to people on the ground.
"We had been looking at whether there was an option yesterday over some sparsely populated areas in Montana. But we just couldn't buy down the risk enough to feel comfortable recommending shooting it down yesterday," the official added.
Montana is home to the Malmstrom Air Force Base, one of the country's nuclear missile silo fields.
The official said the Pentagon had determined the balloon has "limited additive value" over what China is able to collect via its satellites in Low Earth Orbit. Nonetheless, the Pentagon has taken "mitigation steps" to prevent potential foreign intelligence gathering, according to the official.
China
A group of bipartisan lawmakers has condemned Beijing over the discovery of the suspected Chinese spy balloon.
Reps. Mike Gallagher (R-Wis.) and Raja Krishnamoorthi (D-Ill.)—the chair and ranking member on the House's Select Committee on China, respectively—issued a joint statement saying that the Chinese Communist Party (CCP) should not have "on-demand access to American Airspace."
"Not only is this a violation of American sovereignty, coming only days before Secretary Blinken's trip to the PRC, but it also makes clear that the CCP's recent diplomatic overtures do not represent a substantive change in policy," they wrote.
"Indeed, this incident demonstrates that the CCP threat is not confined to distant shores—it is here at home and we must act to counter this threat."
Rep. Chris Deluzio (D-Pa.) wrote that Gallagher and Krishnamoorthi "are spot on" in their assessment.
"The Chinese Communist Party cannot be allowed to violate American airspace. America must meet the threat they pose to our livelihoods and our security," Deluzio wrote.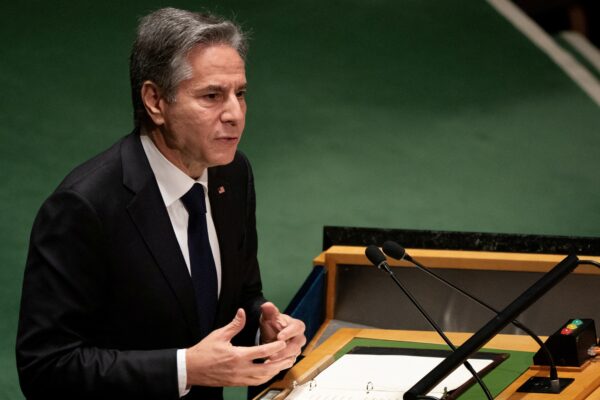 Secretary of State Antony Blinken is scheduled to arrive in China on Feb. 5 for a two-day visit. Currently, it is unclear if the revelation of the spy balloon will have an impact on the trip. The Epoch Times has reached out to the State Department for comment.
Several GOP lawmakers also commented on Blinken's upcoming trip to China.
Sen. Tom Cotton (R-Ark.) took to Twitter to say that Blinken should cancel his trip.
Rep. Mike Lawler (R-N.Y.) asked that Blinken "must hold President Xi [Jinping] accountable during his visit."
"This is unacceptable. @SecBlinken, you must raise this during your visit to China this weekend," wrote Rep. Young Kim (R-Calif.) on Twitter, adding that she looks forward to a full briefing on the House Committee on Foreign Affairs.
China's Foreign Ministry said Friday that a balloon was a civilian "airship" used for research, mainly meteorological purposes.
The statement said the airship has limited steering capability and "deviated far from its planned course" because of winds. It said China regrets the unintended entry of the airship into U.S. airspace.
Montana
Sen. Steve Daines (R-Mont.) sent a letter to Austin demanding a "full security briefing" from the Biden administration.
"The fact that this balloon was occupying Montana airspace creates significant concern that Malmstrom Air Force Base (AFB) and the United States' intercontinental ballistic missile (ICBM) fields are the target of this intelligence gathering mission," Daines wrote.
"It is vital to establish the flight path of this balloon, any compromised U.S. national security assets, and all telecom or IT infrastructure on the ground within the U.S. that this spy balloon was utilizing," he continued. "There is no higher priority for your administration than the safety and security of the American people and it is imperative that your administration reassure them of that fact at this time."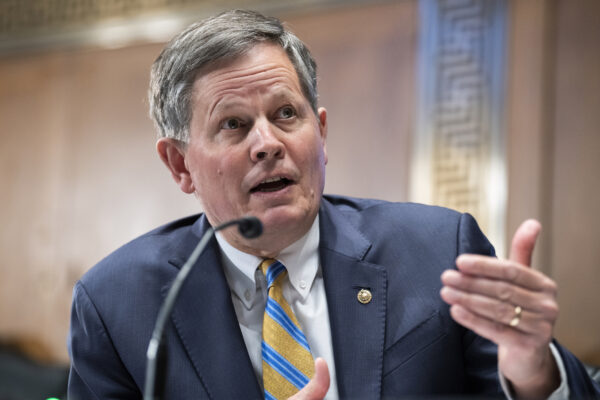 Another Montana lawmaker, Rep. Matt Rosendale (R-Mont.), took to Twitter to ask Biden to recognize threats posed by China.
"It's unacceptable to allow communist China to invade our airspace—this is another clear example of Chinese aggression," Rosendale wrote. "President Biden must start putting the American people first and recognize that China is a threat to our freedom, values, and way of life."
Montana Gov. Greg Gianforte, a Republican, issued a statement saying he has "received an informational briefing" on the suspected Chinese spy balloon.
"From the spy balloon to the Chinese Communist Party spying on Americans through TikTok to CCP-linked companies buying American farmland, I'm deeply troubled by the constant stream of alarming developments for our national security," Gianforte wrote.