Alleged Attacker of Anti-CCP Protester Arrested in Australia
Australian police have arrested a man connected with an assault on protestors against the Chinese Communist Party (CCP).The 30-year-old man, who was arrested by authorities on Dec. 5 at Sydney Airport, has been extradited from New South Wales and will face the ACT Magistrates Court today on Dec. 7, according to a statement by Australian Federal Police. He was charged over an incident in Acton in October, which occurred at the same time a group of Falun Gong advocates were handing out flyers to raise awareness of the persecution faced by the group in China at the Floriade flower festival in Canberra, Australia's capital. Falun Gong, also known as Falun Dafa, is a spiritual group consisting of meditative exercises and moral teachings centred on truthfulness, compassion, and tolerance. Nancy Dong, a female Canberran resident and Falun Gong practitioner, had returned to her car and found two Chinese men graffitiing the Chinese signage on her car that read, "End the evil CCP." Dong began to record the two men with her phone before one of them snatched it and proceeded to assault her. ⁦@OzraeliAvi⁩CCP followers damaged and attacked Australia "End CCP" display car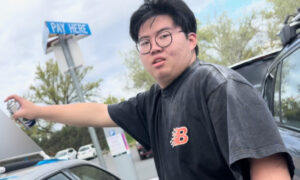 Australian police have arrested a man connected with an assault on protestors against the Chinese Communist Party (CCP).
The 30-year-old man, who was arrested by authorities on Dec. 5 at Sydney Airport, has been extradited from New South Wales and will face the ACT Magistrates Court today on Dec. 7, according to a statement by Australian Federal Police.
He was charged over an incident in Acton in October, which occurred at the same time a group of Falun Gong advocates were handing out flyers to raise awareness of the persecution faced by the group in China at the Floriade flower festival in Canberra, Australia's capital.
Falun Gong, also known as Falun Dafa, is a spiritual group consisting of meditative exercises and moral teachings centred on truthfulness, compassion, and tolerance.
Nancy Dong, a female Canberran resident and Falun Gong practitioner, had returned to her car and found two Chinese men graffitiing the Chinese signage on her car that read, "End the evil CCP."
Dong began to record the two men with her phone before one of them snatched it and proceeded to assault her.
⁦@OzraeliAvi⁩
CCP followers damaged and attacked Australia "End CCP" display car