Adidas CEO to Leave Post Ahead of Schedule as the Company Faces Challenges in Chinese Market
German sports brand Adidas recently announced that its CEO, Kasper Rorsted, will leave his post in 2023—three years before his contract ends—and that the company is now searching for its next chief executive.The unexpected move came as the company saw declining sales in China for five consecutive quarters. The company said on Aug. 22 that its supervisory board had reached a mutual agreement with Rorsted to initiate the handover process of his chief executive role. And during this period, Rorsted will remain CEO to ensure a smooth transition. "After three challenging years that were marked by the economic consequences of the COVID-19-pandemic and geo-political tensions, it is now the right time to initiate a CEO transition and pave the way for a restart," according to a company statement. Danish-born Rorsted, 60, was the CEO of German chemical giant Henkel before joining Adidas. Under his leadership, Henkel's market capitalization quadrupled to about $36.7 billion at its peak. Rorsted has been a member of Adidas' executive board since August 2016 and became CEO in October of the same year. At the time, Rorsted's arrival was highly anticipated by the company, and he was widely regarded as the best person to help boost profitability. Under Rorsted's leadership, Adidas' global sales in 2016 increased by 18 percent compared with the previous year, reaching over $19.7 billion. And the company's net income rose 41 percent to about $1.041 billion, the first time it exceeded $1 billion in net income. For years, Adidas saw the Greater China region as a "cash cow." Greater China is an informal geographical area that generally encompasses mainland China, Hong Kong, Macau, and Taiwan, where most populations are culturally and ethnically Han Chinese. From 2015 to 2021, Adidas' sales in Greater China increased from about $2.523 billion to $4.698 billion, close to doubling its revenue in the region. This hefty regional growth also significantly boosted Adidas' overall global performance. In August 2020, Adidas and Rorsted renewed their contract for five additional years until July 31, 2026. During Rorsted's tenure, Adidas also has undergone a successful digital transformation, increasing its online sales more than fivefold. In mid-2021, Adidas' market capitalization rose above $70 billion, reaching an all-time high. However, the company's share price has since plummeted, falling over 44 percent in the past six months. On Aug. 22, Adidas' market cap was $28.37 billion. Adidas was once the second largest sportswear brand globally, just after Nike, but it was recently surpassed by the Canadian brand Lululemon in terms of market cap. Declining Revenue in China In early August, Adidas announced a less-than-ideal second-quarter earnings report. The company's second-quarter net sales were about $5.719 billion, compared with $5.188 billion in the same period last year. Although the 2022 number rose just over 10 percent over last year's period, net profit for the quarter was down 24.2 percent, at about $315 million. Despite a 14 percent increase in overall performance in the Asia-Pacific region, Adidas continued its downward trend in the last four quarters in Greater China, falling again by 35 percent this quarter. The company cited "continued widespread COVID-19-related restrictions" for its worsening sales and the lower overall gross margins in China. As a result, the company lowered its full-year performance forecast for 2022 from a range of 11 to 13 percent to 7 to 9 percent. In addition, its projected full-year profit was also adjusted from about $1.9 billion to $1.32 billion. For reference, Adidas' 2021 annual revenue was about $25.1 billion, an increase of 10.8 percent from 2020. "Our mall has a total of five floors. There were three Adidas stores. Now there is only one left, which is being renovated behind closed doors," a shopping mall executive in Nanning, a city in China's Guangxi Province, told Chinese financial media outlet Jiemian. The report said that Adidas stores have been closing down across China and that empty storefronts are being filled with domestic sportswear brands. The article added that in terms of international brands, Chinese consumers nowadays prefer Nike as their go-to professional sportswear brand. Meanwhile, Adidas had positioned itself as a trendy fashion brand in the eyes of consumers. Therefore, it becomes more replaceable by other domestic sportswear brands with similar quality and certain cost advantages. 'Mistakes Were Made in China' On Aug. 9, in an interview with the German business newspaper Handelsblatt, Rorsted was asked about the company's performance in Greater China, in which he admitted that Adidas had "made mistakes." Rorsted said the company made a mistake in failing to sufficiently understand Chinese consumers, which left room for Chinese competitors to grow. However, Rorsted believes that the primary reasons for Adidas' revenue drop in China are its widespr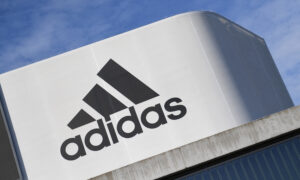 German sports brand Adidas recently announced that its CEO, Kasper Rorsted, will leave his post in 2023—three years before his contract ends—and that the company is now searching for its next chief executive.
The unexpected move came as the company saw declining sales in China for five consecutive quarters.
The company said on Aug. 22 that its supervisory board had reached a mutual agreement with Rorsted to initiate the handover process of his chief executive role. And during this period, Rorsted will remain CEO to ensure a smooth transition.
"After three challenging years that were marked by the economic consequences of the COVID-19-pandemic and geo-political tensions, it is now the right time to initiate a CEO transition and pave the way for a restart," according to a company statement.
Danish-born Rorsted, 60, was the CEO of German chemical giant Henkel before joining Adidas. Under his leadership, Henkel's market capitalization quadrupled to about $36.7 billion at its peak.
Rorsted has been a member of Adidas' executive board since August 2016 and became CEO in October of the same year. At the time, Rorsted's arrival was highly anticipated by the company, and he was widely regarded as the best person to help boost profitability.
Under Rorsted's leadership, Adidas' global sales in 2016 increased by 18 percent compared with the previous year, reaching over $19.7 billion. And the company's net income rose 41 percent to about $1.041 billion, the first time it exceeded $1 billion in net income.
For years, Adidas saw the Greater China region as a "cash cow." Greater China is an informal geographical area that generally encompasses mainland China, Hong Kong, Macau, and Taiwan, where most populations are culturally and ethnically Han Chinese.
From 2015 to 2021, Adidas' sales in Greater China increased from about $2.523 billion to $4.698 billion, close to doubling its revenue in the region. This hefty regional growth also significantly boosted Adidas' overall global performance.
In August 2020, Adidas and Rorsted renewed their contract for five additional years until July 31, 2026.
During Rorsted's tenure, Adidas also has undergone a successful digital transformation, increasing its online sales more than fivefold. In mid-2021, Adidas' market capitalization rose above $70 billion, reaching an all-time high.
However, the company's share price has since plummeted, falling over 44 percent in the past six months. On Aug. 22, Adidas' market cap was $28.37 billion.
Adidas was once the second largest sportswear brand globally, just after Nike, but it was recently surpassed by the Canadian brand Lululemon in terms of market cap.
Declining Revenue in China
In early August, Adidas announced a less-than-ideal second-quarter earnings report. The company's second-quarter net sales were about $5.719 billion, compared with $5.188 billion in the same period last year. Although the 2022 number rose just over 10 percent over last year's period, net profit for the quarter was down 24.2 percent, at about $315 million.
Despite a 14 percent increase in overall performance in the Asia-Pacific region, Adidas continued its downward trend in the last four quarters in Greater China, falling again by 35 percent this quarter.
The company cited "continued widespread COVID-19-related restrictions" for its worsening sales and the lower overall gross margins in China.
As a result, the company lowered its full-year performance forecast for 2022 from a range of 11 to 13 percent to 7 to 9 percent. In addition, its projected full-year profit was also adjusted from about $1.9 billion to $1.32 billion.
For reference, Adidas' 2021 annual revenue was about $25.1 billion, an increase of 10.8 percent from 2020.
"Our mall has a total of five floors. There were three Adidas stores. Now there is only one left, which is being renovated behind closed doors," a shopping mall executive in Nanning, a city in China's Guangxi Province, told Chinese financial media outlet Jiemian.
The report said that Adidas stores have been closing down across China and that empty storefronts are being filled with domestic sportswear brands.
The article added that in terms of international brands, Chinese consumers nowadays prefer Nike as their go-to professional sportswear brand. Meanwhile, Adidas had positioned itself as a trendy fashion brand in the eyes of consumers. Therefore, it becomes more replaceable by other domestic sportswear brands with similar quality and certain cost advantages.
'Mistakes Were Made in China'
On Aug. 9, in an interview with the German business newspaper Handelsblatt, Rorsted was asked about the company's performance in Greater China, in which he admitted that Adidas had "made mistakes."
Rorsted said the company made a mistake in failing to sufficiently understand Chinese consumers, which left room for Chinese competitors to grow.
However, Rorsted believes that the primary reasons for Adidas' revenue drop in China are its widespread pandemic restrictions and the impact of the Xinjiang cotton incident.
In 2021, the company joined other Western brands in asking suppliers not to buy cotton from Xinjiang due to human rights concerns. Afterward, Chinese consumers started boycotting Adidas, hitting the company's sales.
Meanwhile, many Chinese domestic sportswear brands such as Li-Ning, Anta, Xtep, and Hongxing Erke emerged one after another, with their market shares continuing to expand.
However, Rorsted said he still believes in the future growth of the Chinese market, but he also raised the possibility that sales in the Chinese market will be challenging to recover in the short term.
Rorsted added that the longer-term collapse of China as a growth market could undermine Adidas sales and profit targets up to 2025, according to Reuters, citing Rorsted's interview with Handelsblatt.
"If the original assumptions change permanently, we would also have to adjust our targets," Rorsted added, according to the report.
At the time of this reporting, Adidas has not yet announced a candidate to take over as the company's CEO.