A Stroke-by-Stroke Outline of the Feelings of Hong Kong
Painter: Computer graphics can never reproduce the warmth delivered via hand-paintingPicking up the paintbrush, stroke by stroke, he tried to sketch the scenes that Hong Kong people are most familiar with. It might be the wave of emigration he witnessed every day, and it might be something else that gave him the impetus to paint the Hong Kong landscape again during the past two years. Whatever the reason, for Cheung Kwan Ho, a Hong Kong painter, there appears to be a vastly different, even sombre feeling this time. He said, "I want to use the many things that I paint today to express and retain a memory of the old Hong Kong, something that will gradually disappear from our view." Even though computer graphics becomes increasingly popular today, Cheung thinks that it is never as good and vivid as hand-painting. On this assumption, he refers to his experience in the past when he was part of the "gang" within the locally made comics world, where everything was hand-painted. Long being part of the "Scene Hand" (comics background drawing), he persists in traditional hand-painting and regards it as simply irreplaceable as contemporary art. Cheung Kwan-ho's latest picture collection, "Searching For Views in Hong Kong" draws, in its literal sense, the fond memories of Hong Kong people. (TM Chan/ The Epoch Times) Draw the Fond Memories At the beginning of 2022, at the Fu Lee Loy Shopping Centre in Fortress Hill hung hand-painted works showing scenes familiar to Hong Kong people: old-style tenement buildings, Regal ice cream trucks, Chinese sailboats, The Peak Tram, Lai Chi Kok Amusement Park and the like. Some are still around, and some have disappeared for good. For good reasons, they did stop many passers-by and draw a lot of attention from them. These paintings seemed to evoke some fond memories in their mind. It was at that same time Cheung Kwan-ho signed the latest (3rd) edition of his "Searching For Views in Hong Kong," which is part of his "View Search" series. The first edition was made four years ago, but the feeling this time must be hugely different compared with what it was then. Cheung opened the picture book published this year and shared it with the reporter of The Epoch Times, and said, "Many of my friends emigrated. By painting this "Searching For Views in Hong Kong," I hope when they pick it up, there is a feeling in them like taking a photo with their family members, so as to recall their fond memories of the Hong Kong they loved in the past." He hopes to help everyone bring back the memories of Hong Kong, so that no matter where they are, they can still be proud of Hong Kong as their "home." Cheung Kwan Ho's hand-painted works represent the then-typical cityscape prevalent in various parts of Hong Kong. (Courtesy of Cheung Kwan-ho) Reflection of Mutual Support In one of Cheung Kwan Ho's paintings, the old "Fu Lee Loy Shopping Centre" was seen with its outlook before its major renovation. Of particular attention was the rough handwritten signboard, which showed the distinct style of an era. Signs that would be produced in the future may not have the same taste as they used to. It might be true that no one can stop the pace of the changing world, but a painter can do it to record all the scenery at that moment. In one of Cheung Kwan Ho's paintings, the appearance of "Fu Lee Loy Shopping Centre" before the major renovation is recorded. (Courtesy of Cheung Kwan-ho) Cheung Kwan Ho and Uncle Nam, who has been revitalizing Fu Lee Loy shopping mall for many years, became good friends and did conservation in their own way. This time, Cheung's paintings were sold on consignment and held at his "Uncle's Store," which stems from mutual trust and a complex local culture. Cheung said with emotion, "Our philosophy is very similar. For those of us who are still in Hong Kong, can we find ways to do more conservation and revitalization for our home here?" He believes that support for each other is vital. Fu Lee Loy Shopping Centre was once a "dead mall" for a prolonged period. Uncle Nam took the initiative to revitalize it. He led the negotiation with the owner, tried to persuade them to offer lower rents to young people, and encourage them to start their own businesses. "From time to time, we co-operated with various artists to hold exhibitions in the centre to bring visitors and shoppers to the venue and create the livelihood needed for business there. To be honest, publishing books and doing exhibitions during times of the pandemic when the market was very unstable required much courage and perseverance to continue," Cheung said. With the support of Uncle Nam (right), Cheung Kwan-ho (left) sells his paintings on consignment at "Uncle's Store" and holds his own exhibition there too. (TM Chan/The Epoch Times) Cheung was fortunate to have the support of Uncle Nam and other friends. He was in time to publish his latest picture book before the "fifth wave pandemic" induced strict "anti-pandemic" m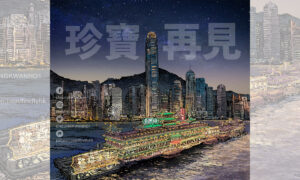 Painter: Computer graphics can never reproduce the warmth delivered via hand-painting
Picking up the paintbrush, stroke by stroke, he tried to sketch the scenes that Hong Kong people are most familiar with. It might be the wave of emigration he witnessed every day, and it might be something else that gave him the impetus to paint the Hong Kong landscape again during the past two years. Whatever the reason, for Cheung Kwan Ho, a Hong Kong painter, there appears to be a vastly different, even sombre feeling this time. He said, "I want to use the many things that I paint today to express and retain a memory of the old Hong Kong, something that will gradually disappear from our view."
Even though computer graphics becomes increasingly popular today, Cheung thinks that it is never as good and vivid as hand-painting. On this assumption, he refers to his experience in the past when he was part of the "gang" within the locally made comics world, where everything was hand-painted. Long being part of the "Scene Hand" (comics background drawing), he persists in traditional hand-painting and regards it as simply irreplaceable as contemporary art.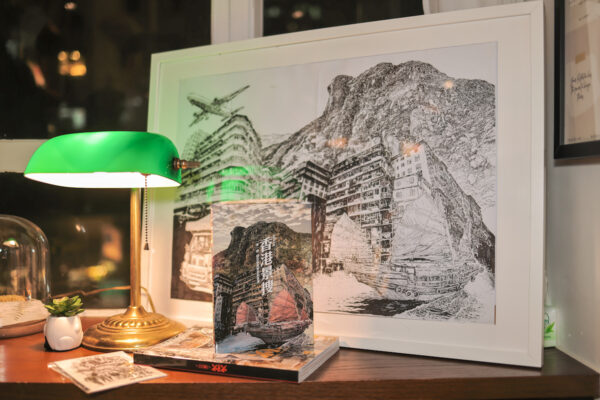 Draw the Fond Memories
At the beginning of 2022, at the Fu Lee Loy Shopping Centre in Fortress Hill hung hand-painted works showing scenes familiar to Hong Kong people: old-style tenement buildings, Regal ice cream trucks, Chinese sailboats, The Peak Tram, Lai Chi Kok Amusement Park and the like. Some are still around, and some have disappeared for good.
For good reasons, they did stop many passers-by and draw a lot of attention from them. These paintings seemed to evoke some fond memories in their mind. It was at that same time Cheung Kwan-ho signed the latest (3rd) edition of his "Searching For Views in Hong Kong," which is part of his "View Search" series. The first edition was made four years ago, but the feeling this time must be hugely different compared with what it was then.
Cheung opened the picture book published this year and shared it with the reporter of The Epoch Times, and said, "Many of my friends emigrated. By painting this "Searching For Views in Hong Kong," I hope when they pick it up, there is a feeling in them like taking a photo with their family members, so as to recall their fond memories of the Hong Kong they loved in the past." He hopes to help everyone bring back the memories of Hong Kong, so that no matter where they are, they can still be proud of Hong Kong as their "home."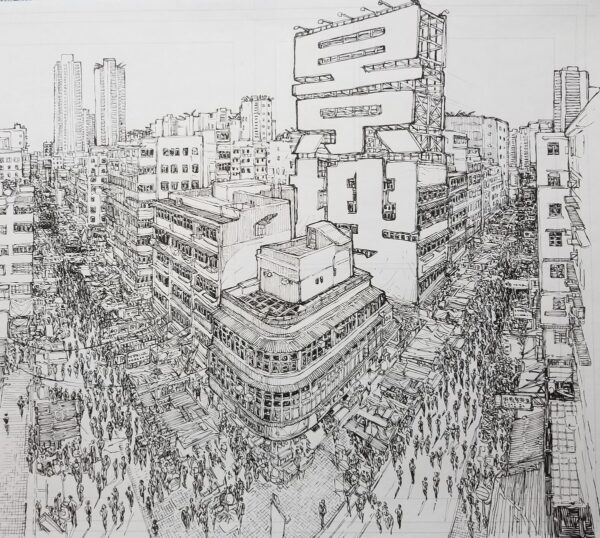 Reflection of Mutual Support
In one of Cheung Kwan Ho's paintings, the old "Fu Lee Loy Shopping Centre" was seen with its outlook before its major renovation. Of particular attention was the rough handwritten signboard, which showed the distinct style of an era. Signs that would be produced in the future may not have the same taste as they used to. It might be true that no one can stop the pace of the changing world, but a painter can do it to record all the scenery at that moment.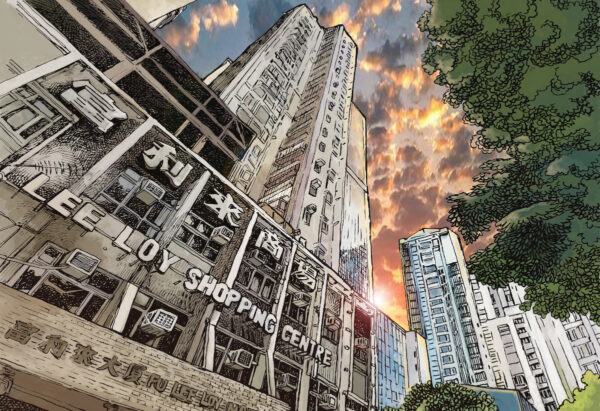 Cheung Kwan Ho and Uncle Nam, who has been revitalizing Fu Lee Loy shopping mall for many years, became good friends and did conservation in their own way. This time, Cheung's paintings were sold on consignment and held at his "Uncle's Store," which stems from mutual trust and a complex local culture. Cheung said with emotion, "Our philosophy is very similar. For those of us who are still in Hong Kong, can we find ways to do more conservation and revitalization for our home here?"
He believes that support for each other is vital. Fu Lee Loy Shopping Centre was once a "dead mall" for a prolonged period. Uncle Nam took the initiative to revitalize it. He led the negotiation with the owner, tried to persuade them to offer lower rents to young people, and encourage them to start their own businesses.
"From time to time, we co-operated with various artists to hold exhibitions in the centre to bring visitors and shoppers to the venue and create the livelihood needed for business there. To be honest, publishing books and doing exhibitions during times of the pandemic when the market was very unstable required much courage and perseverance to continue," Cheung said.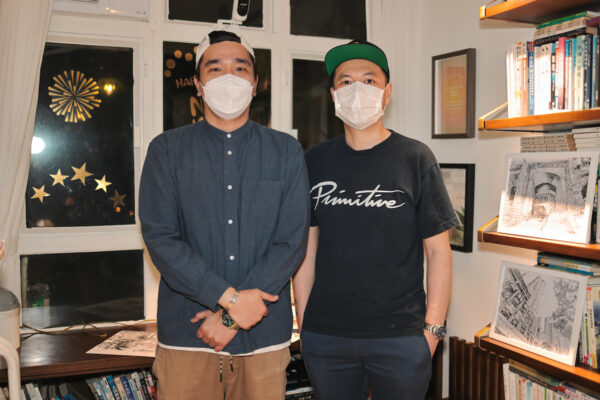 Cheung was fortunate to have the support of Uncle Nam and other friends. He was in time to publish his latest picture book before the "fifth wave pandemic" induced strict "anti-pandemic" measures started. He was even able to successfully hold an exhibition to achieve a fairly satisfactory sales volume. There were even a fair number of orders from friends who emigrated to the UK and the US.
Their orders and distributed readership over there definitely helped increase the sales overseas. Many of his friends who plan to emigrate or have already done so were eager to purchase his works for their own collection, hoping to keep the softest memory deep in their hearts on that page of their past. He is grateful for the support from Hong Kong people no matter where they are. He can use his works to connect everyone's hearts together. That is exactly what he likes to show: the spirit of mutual support inherent inside his works, among neighbours and friends alike.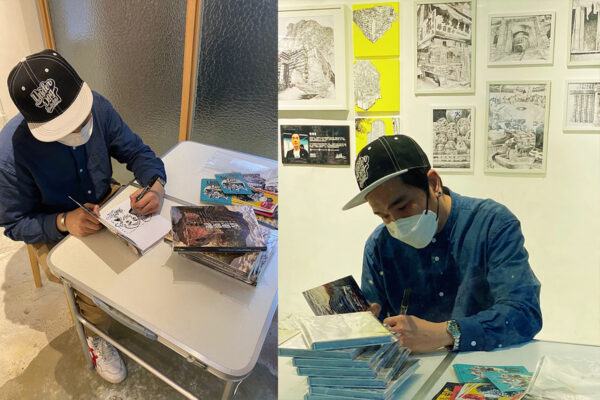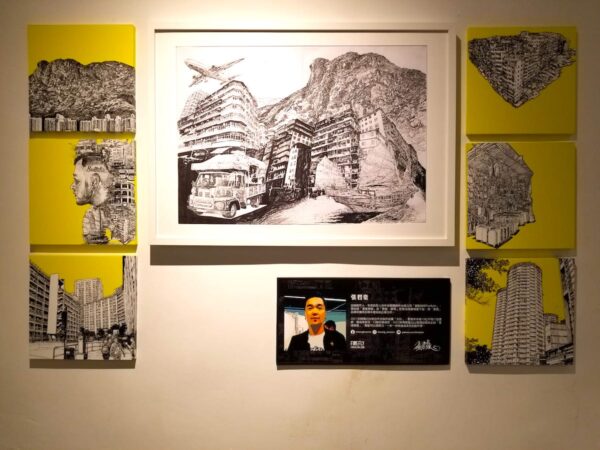 Traditional Hand-Painting Skills
Looking at Cheung's paintings, you would be impressed immediately by the delicate lines and their layered perspective. He explained that his creation is quite different from general urban sketches. It requires perspective and composition, especially in scene painting, and the ingenious use of lines is of paramount importance. There is always the need to arrange lines and play around nets very delicately. After that, you have to deal with the effects of light and darkness, and every stroke demands care for every intricate detail.
These drawing experiences came from his entry into the comics industry more than 20 years ago. At that time, locally made comics were still popular, and the division of labour there was extremely meticulous. He was mainly involved in painting the scenes in the stories (comics background drawing) in the Hong Kong comics industry.
Since then, he has paid much attention to every landscape around him and incorporated what he saw in the community into his paintings as much as possible. Always aspired to become a "cartoon artist," he found that by joining a comic company where he was just one part of the industry supply chain, was never able to fulfill his bigger ambition. Even though his basic skills in painting became increasingly proficient, he could not take the lead in creation by himself. It was later in 2015 that he decided to leave comic production and started working in the social welfare sector instead.
Out of all expectations, it was that decision to leave the comics industry that made Cheung regain his interest in painting. In the past, he was helping others to publish books, but he had never published a book himself. When comics were no longer his full-time job, he really cherished the available spare time and published his works on social platforms from time to time. In 2018, he and his friends established "Firefly."
In addition to the general comic creation, he also took time to organise the Hong Kong Street scenes hand-painted over the years into one collection called "Searching For Views in Hong Kong" I). It was here the very first volume of his works was born.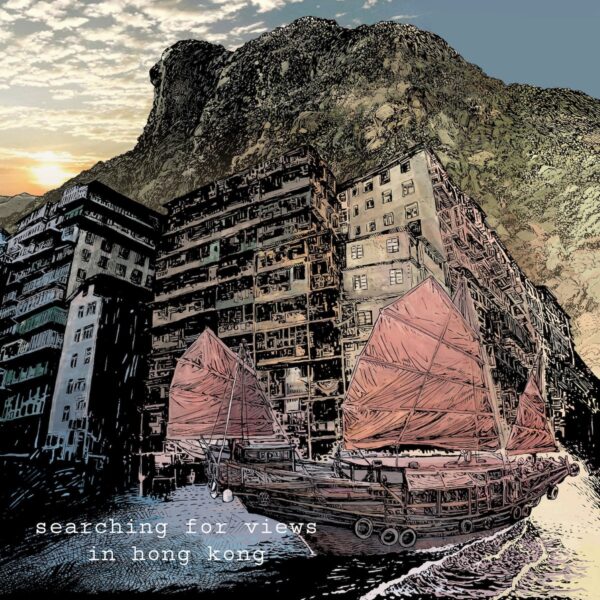 During every night, weekend, and holiday, Cheung will pick up the paintbrush to try on his creative talent. He is a strong believer that traditional hand-painting can never be replaced by computers. Nowadays, more and more people rely on the computer to do the artwork and do not seriously study the basic skills. To a certain extent, it is a step backward.
He recalled that in the past, they would always start with the most basic things, which included learning to sketch, express the effects of layers, and produce the light and dark effects through scribbling lines. From there came the study on how to create the three-dimensional effect. Traditional painting skills can only be achieved through continuous practice, where "warmth, colours" and the like, are not exactly reproducible by mechanized computer graphics.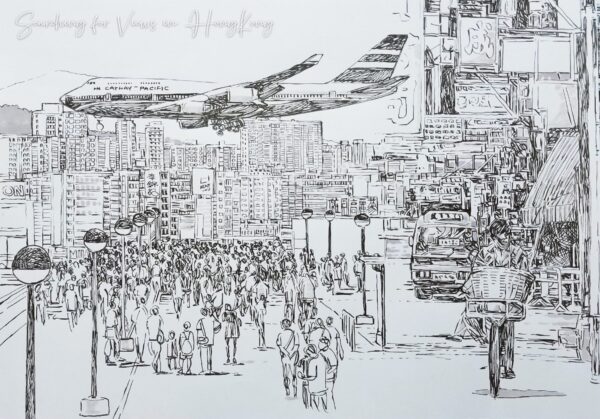 When painting the Hong Kong landscape, Cheung's philosophy lies very much in the desire to express a rich picture, which can be appreciated from every angle, and allows the audience to savour the meaning inside. Regarding the use of colour blocks that are prevalent in creating abstract paintings by some painters, he said that this is not his own style. "My way of painting is to make sure I have my foundation, my composition, and I have what I want to express. Then I have everything I need, and paint some works with specific images." He hopes that his works can give readers the most intuitive experience, rather than abstract expressions.
Now that the first two volumes of "Searching For Views in Hong Kong" have been sold out, Cheung and his partners now consider creating a collection of the contents from the three albums, making the English translation, and producing an "international edition." He is looking forward to allowing friends from all over the world to learn about Hong Kong through his paintings. Whether or not those landscapes can be preserved, they are an indelible mark of the times, which should be treasured forever.