3 Simple Ways to Treat Stiff Shoulders, Chronic Neck Pain
Have you ever felt you could not move your neck or stiff shoulders after a long work day?Strained neck and shoulders are some common discomforts people experience in a high-stress environment, such as in the workplace, on a crowded street, or even from working from home during the pandemic. Muscle soreness may seem insignificant, but it causes fatigue, tiredness, or even nausea. When you suffer from neck and shoulder strains, it is pivotal to seek proper treatment. So what causes neck and shoulder pain? How can it be treated? Pure External Muscle Strain From a physical balance perspective, the human muscle-fascia system does not function independently. It joins with the rest of the human body. Therefore, proximal muscles tense up over time which causes aches and pains. For example, when a right ankle sprain is still healing, if you walk using its muscle ligament, it causes imbalance. The strains then lead up to the muscles of the hips. Clinically, these proximal pains are usually caused by other less noticeable problems. So only an experienced therapist can treat the pain from the root cause rather than its symptoms. Regardless of the location, patients should seek an evaluation of skeletal muscle balance before any treatment. Partial Strains People who work with their heads looking downward for an extended period are prone to partial strains. These include factory workers and desk workers. The constant posture of having their heads down induces stiffness or vertebral convex in the muscle ligament at the 7th vertebra of the cervical spine (C7) and the 1st vertebrae of the thoracic spine (T1) in the lower neck. Another group of people prone to upper body muscular pain is the elderly. According to Cleveland Clinic, as the human body ages, our bones become weaker. Low bone density or bone loss develops osteoporosis. As the bones become brittle and fragile, pressure on the vertebrae of C7/T1 prompts deformation and dislocation, resulting in long-term neck pain, shoulder, and backache. Johns Hopkins Medicine stated that spinal disc herniation, or lumbar disk disease, is caused by a change in the structure of the standard disk. Most of the time, disk disease happens due to aging, and the usual breakdown occurs within the disk. The medicine school writes that severe injury can also cause a standard disk to herniate. Damages may worsen an already herniated disk. According to a review journal published in the National Library of Medicine, stability and balance are essential in helping avoid sustaining injuries from falls. The overview says that falls can cause bone fractures. The review states that leg length discrepancy, also known as anisomelia, is a condition when both legs are unequal in the lower extremities. The unevenness will then develop into scoliosis. It is when the spine curves sideways, causing shoulder and neck pain, and migraines. Besides, it is common for modern people with poor sitting posture from working from home or having long Zoom meetings. As the upper body remains in a hunched setting for an extended period, tightness in the myofascial (sensitive areas of tight muscle fibers) of the upper back occurs. Over time, neck and shoulder pain becomes part of the routine complaints. Many patients experience numbness in fingers and arms, primarily due to cervical neuro compression (pinched nerves) from tight muscle ligaments or vertebral deformity on C6/C7 vertebrae. It is similar to those who suffer from spinal disc herniation or lumbar disk disease. Most diagnosed spinal disc herniation patients think surgery is the only effective way to relieve nerve compression and numbness. However, not everyone requires surgery. Patients can undergo treatment by reducing misalignment of the vertebral body and releasing problematic ligaments on either side of the body. Patients with muscles constantly pulled and tightened are also prone to injuries from leg length discrepancy. How Effective Is Exercising or TCM Treatment For Neck and Shoulder Pain? In western medicine, pain killers, anti-inflammatory drugs, or muscle relaxants are prescribed to relieve pain. But the relief is usually short-lived. Many patients soon begin to feel weak and frustrated. Some are even tired of taking medication. Clinically, the pain these patients experience usually has something in common. Their pain comes and goes every few days, even after acupuncture. It seems never-ending. In traditional Chinese medicine (TCM), insufficiency or stagnation of the blood and oxygen flow makes the body weak and tired. Treating the root cause of the pain is the only way to heal for good. Incorporating Chinese herbal medicine with acupuncture conditions and recovering the body simultaneously. A 55-year-old woman had suffered from long-term shoulder and neck pain and numbness in both hands. Her back was as stiff as a wooden plank. The woman was taking anti-inflammatory drugs, analgesics, muscle relaxants, and other medication. S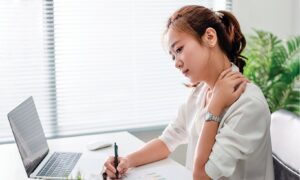 Have you ever felt you could not move your neck or stiff shoulders after a long work day?
Strained neck and shoulders are some common discomforts people experience in a high-stress environment, such as in the workplace, on a crowded street, or even from working from home during the pandemic.
Muscle soreness may seem insignificant, but it causes fatigue, tiredness, or even nausea.
When you suffer from neck and shoulder strains, it is pivotal to seek proper treatment.
So what causes neck and shoulder pain? How can it be treated?
Pure External Muscle Strain
From a physical balance perspective, the human muscle-fascia system does not function independently. It joins with the rest of the human body. Therefore, proximal muscles tense up over time which causes aches and pains.
For example, when a right ankle sprain is still healing, if you walk using its muscle ligament, it causes imbalance. The strains then lead up to the muscles of the hips.
Clinically, these proximal pains are usually caused by other less noticeable problems. So only an experienced therapist can treat the pain from the root cause rather than its symptoms.
Regardless of the location, patients should seek an evaluation of skeletal muscle balance before any treatment.
Partial Strains
People who work with their heads looking downward for an extended period are prone to partial strains. These include factory workers and desk workers. The constant posture of having their heads down induces stiffness or vertebral convex in the muscle ligament at the 7th vertebra of the cervical spine (C7) and the 1st vertebrae of the thoracic spine (T1) in the lower neck.
Another group of people prone to upper body muscular pain is the elderly.
According to Cleveland Clinic, as the human body ages, our bones become weaker. Low bone density or bone loss develops osteoporosis. As the bones become brittle and fragile, pressure on the vertebrae of C7/T1 prompts deformation and dislocation, resulting in long-term neck pain, shoulder, and backache.
Johns Hopkins Medicine stated that spinal disc herniation, or lumbar disk disease, is caused by a change in the structure of the standard disk. Most of the time, disk disease happens due to aging, and the usual breakdown occurs within the disk. The medicine school writes that severe injury can also cause a standard disk to herniate. Damages may worsen an already herniated disk.
According to a review journal published in the National Library of Medicine, stability and balance are essential in helping avoid sustaining injuries from falls. The overview says that falls can cause bone fractures.
The review states that leg length discrepancy, also known as anisomelia, is a condition when both legs are unequal in the lower extremities.
The unevenness will then develop into scoliosis. It is when the spine curves sideways, causing shoulder and neck pain, and migraines.
Besides, it is common for modern people with poor sitting posture from working from home or having long Zoom meetings. As the upper body remains in a hunched setting for an extended period, tightness in the myofascial (sensitive areas of tight muscle fibers) of the upper back occurs. Over time, neck and shoulder pain becomes part of the routine complaints.
Many patients experience numbness in fingers and arms, primarily due to cervical neuro compression (pinched nerves) from tight muscle ligaments or vertebral deformity on C6/C7 vertebrae. It is similar to those who suffer from spinal disc herniation or lumbar disk disease.
Most diagnosed spinal disc herniation patients think surgery is the only effective way to relieve nerve compression and numbness.
However, not everyone requires surgery. Patients can undergo treatment by reducing misalignment of the vertebral body and releasing problematic ligaments on either side of the body.
Patients with muscles constantly pulled and tightened are also prone to injuries from leg length discrepancy.
How Effective Is Exercising or TCM Treatment For Neck and Shoulder Pain?
In western medicine, pain killers, anti-inflammatory drugs, or muscle relaxants are prescribed to relieve pain. But the relief is usually short-lived. Many patients soon begin to feel weak and frustrated. Some are even tired of taking medication.
Clinically, the pain these patients experience usually has something in common. Their pain comes and goes every few days, even after acupuncture. It seems never-ending. In traditional Chinese medicine (TCM), insufficiency or stagnation of the blood and oxygen flow makes the body weak and tired.
Treating the root cause of the pain is the only way to heal for good. Incorporating Chinese herbal medicine with acupuncture conditions and recovering the body simultaneously.
A 55-year-old woman had suffered from long-term shoulder and neck pain and numbness in both hands. Her back was as stiff as a wooden plank. The woman was taking anti-inflammatory drugs, analgesics, muscle relaxants, and other medication. She was also undergoing traditional Chinese medicine treatment, acupuncture, and therapy. But the patient was only pain-free for two or three days. The doctors find it challenging to treat.
After a thorough clinical examination, it was discovered that her triglycerides (a type of fat— lipid—found in the blood, developed from unused calories) were as high as 1000 mg/dL (with the standard value being 30~150 mg/dL).
So the doctor prescribed her hypolipidemic medication to reduce her lipid level, while she continued her TCM treatment.
Her chronic shoulder pain, soreness, and numbness responded to the Chinese medicine treatment. Her pain has since been alleviated and rarely recurs.
The following are three easy home treatments to ease shoulder and neck pain.
Method 1
Treating C7/T1 osteoporosis conditions requires rectifying misalignment and loosening stiff shoulders. Try bending your neck backward or tossing and catching a ball above your head.
Method 2
Step 1: In a standing position, with your back against a wall, place your feet hip distance apart.
Step 2: With your eyes gazing forward, push your head and body against the wall.
Step 3: Relax your upper body, then tilt it to the left, to the centre, and to the right successively.
The further the tilt, the better. It loosens tension from the cervical spine and thoracic vertebrae.
Method 3
Dr. Chu Tsang-cheung, a renowned traditional Chinese medicine (TCM) practitioner in Hong Kong, created the Chair Stretch for lower back pain and hunchback. The exercise lengthens the tendons along the back, hips, buttocks, and legs. The thoracic spine will naturally realign to its correct position by extending these areas.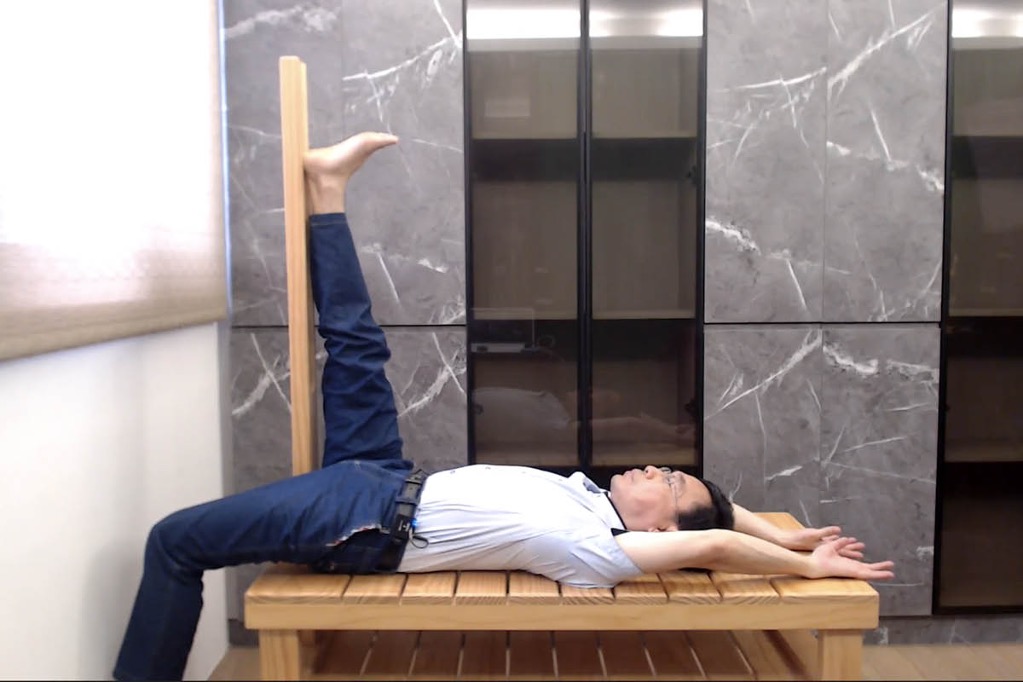 Step 1: Lie flat on the floor, with your hips to the wall and one leg lifted. You can also use a chair, a stool against the wall, or a door. Make sure the chair and stool are stable.
Step 2: With both palms facing up, stretch and raise both arms above your head.
Step 3: Slowly lift your right foot, and tuck your hips toward the wall as closely as possible.
Step 4: Rest your left leg on the ground. Stay in the position for ten minutes.
Step 5: Switch sides.
These simple stretching exercises help you and your loved ones reach pain-free days. But patience is key.