Young Man Suspected of Falling to Death While Doing Extreme Sports on Rooftop in Hong Kong
A 17-year-old man was suspected to have fallen while doing extreme sports on the rooftop of a building in Tsim Sha Tsui, Hong Kong on Aug. 15.The police received a report from a woman that a man had fallen from a height and was lying on a platform on the second floor of Tsim Sha Tsui Mansion, 36-50 Lock Road, Tsim Sha Tsui, Hong Kong at about 3 p.m. After the paramedics examined the man, he was declared dead at the scene and there was no need for him to be taken to the hospital. It is reported that the deceased was about 17 years old. He was doing extreme sports on the rooftop with some friends at the time. It is believed that he fell to his death accidentally from the roof leaving a sneaker on the platform. The police sealed off the scene for investigation. The deceased did not leave a suicide note. Two friends of the deceased have been found and were interviewed by the police officers. The family and friends of the deceased were emotional when they arrived at the scene. The doors on the ground floor and the rooftop of the building remained unlocked and people could enter and leave the building freely. Many pipes were seen lying on the rooftop. Many people are injured when they are doing extreme sports. One of the more common extreme sports in Hong Kong is called parkour. The sport involves running and jumping rapidly between buildings, typically in an urban environment. In 2018, a 15-year-old South Asian secondary school student in Hong Kong allegedly fell and was seriously injured while doing parkour on the rooftop of the 19-story Man Wah Building, Yau Ma Tei, Hong Kong. Follow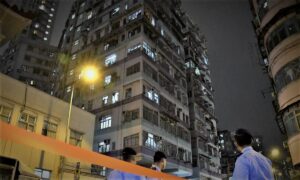 A 17-year-old man was suspected to have fallen while doing extreme sports on the rooftop of a building in Tsim Sha Tsui, Hong Kong on Aug. 15.
The police received a report from a woman that a man had fallen from a height and was lying on a platform on the second floor of Tsim Sha Tsui Mansion, 36-50 Lock Road, Tsim Sha Tsui, Hong Kong at about 3 p.m. After the paramedics examined the man, he was declared dead at the scene and there was no need for him to be taken to the hospital.
It is reported that the deceased was about 17 years old. He was doing extreme sports on the rooftop with some friends at the time. It is believed that he fell to his death accidentally from the roof leaving a sneaker on the platform.
The police sealed off the scene for investigation.
The deceased did not leave a suicide note.
Two friends of the deceased have been found and were interviewed by the police officers. The family and friends of the deceased were emotional when they arrived at the scene.
The doors on the ground floor and the rooftop of the building remained unlocked and people could enter and leave the building freely. Many pipes were seen lying on the rooftop.
Many people are injured when they are doing extreme sports. One of the more common extreme sports in Hong Kong is called parkour. The sport involves running and jumping rapidly between buildings, typically in an urban environment.
In 2018, a 15-year-old South Asian secondary school student in Hong Kong allegedly fell and was seriously injured while doing parkour on the rooftop of the 19-story Man Wah Building, Yau Ma Tei, Hong Kong.