Young Chinese Reserve Burial Plots in Advance as Graves Cost More Than High-End Property
China's cemetery real estate industry has become more lucrative than its residential property market. The phenomenon has led many young people to preorder burial plots to cope with the soaring prices. Due to the high demand for burial plots, the price per square meter of some plots in Shanghai is already much higher than residential property in its city center. According to a report by Chinese media outlet Time Finance on April 5, a Shanghai resident surnamed Liu visited two cemeteries during the Qingming Festival—a traditional festival when Chinese people honor their deceased loved ones by sweeping their tombs. He was surprised that the price of burial plots went up, already higher than the price of housing in Shanghai. One plot in the suburbs was priced at 180,000 yuan (about $26,000) per square meter, while another in the more remote Nanhui District was priced at 130,000 yuan (about $18,000) per square meter, the report said. The staff told Liu that the burial plots were only available for sale to local residents, while there were no such restrictions in the past. Another Shanghai resident surnamed Chen saw even higher prices for a burial plot, the report said. Recently, he looked for a double burial plot for his parents in advance, only to find the cheapest one was priced at 370,000 yuan (about $53,000), followed by 490,000 yuan (about $71,000). He decided to buy the more expensive plot at a 5 percent discount because the other one was too small. The 21st Century Business Herald, a Chinese finance newspaper, reported on April 6 that in Shanghai Songheyuan Cemetery, burial plots were priced as high as 763,000 yuan (about $111,000) per square meter last month, much higher than the cost of homes located in central areas of Shanghai. A woman pours beer on her husband's grave during the Qingming Festival, also known as Tomb Sweeping Day, at a cemetery in Beijing on April 5, 2018. (Greg Baker/AFP/Getty Images) Young People Reserve Grave Spaces Young people are taking notice as the high demand for cemetery plots continues to drive up prices. According to Time Finance, many are buying plots in advance, anticipating future price surges. A Beijing resident surnamed Chen, 34, bought a 2.5-square-meter grave space for himself at the city's Jiugong Mountain last year. He told Time Finance that four years ago, his friend in another city purchased a burial plot for his father that cost 47,000 yuan (about $6,800) per square meter, and the price had risen to over 70,000 yuan (about $10,000) per square meter by 2022. An employee at a cemetery in Guangzhou city, Guangdong Province, confirmed that the price of burial plots has been increasing, and he has seen clients as young as 29 years old purchasing graves in advance. Factors Linked to Soaring Cemetery Prices Lu Tianming, a Chinese-American political and economic analyst, told The Epoch Times on April 7 that two factors fuel cemetery prices in China. "The first is the impact of supply and demand, which is the main reason," he said. "The pandemic in recent years has caused a lot of deaths in China. The Chinese Communist Party [CCP] has been covering up the death toll. But from various sources of information, it can be seen that there were a large number of deaths. Cemetery plots are in short supply [due to high demand]. So most of the revenue and profits of the funeral industry are skyrocketing." Since November 2022, China has been hit by a nationwide resurgence of COVID-19. The Chinese Center for Disease Control and Prevention (CDC) claimed that only 37 people had died from the disease between Dec. 7 and Jan. 8. However, crematoriums throughout the country have been overwhelmed. On Chinese social media, numerous stories of tragedy and the loss of loved ones have been shared by netizens, indicating the deaths far surpassed the official count. China's official COVID-19 figures have been met with widespread skepticism. International media outlets have also questioned the accuracy of China's reported data. Obtaining accurate information is difficult as the Chinese regime has abandoned collecting relevant data and banned any mention of COVID-19 in patient records. "The other factor is policy-related, which is the CCP's land sale problem," Lu said. "In China, local governments conduct auctions to sell land, which is not limited to real estate developers but also includes cemetery plots. As land sale is an important source of revenue for local governments, land prices in China have always been high. Now that there is a shortage of cemetery plots, I think land prices will continue to increase."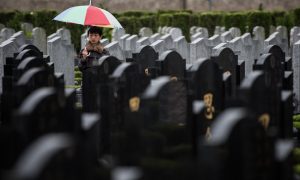 China's cemetery real estate industry has become more lucrative than its residential property market. The phenomenon has led many young people to preorder burial plots to cope with the soaring prices.
Due to the high demand for burial plots, the price per square meter of some plots in Shanghai is already much higher than residential property in its city center.
According to a report by Chinese media outlet Time Finance on April 5, a Shanghai resident surnamed Liu visited two cemeteries during the Qingming Festival—a traditional festival when Chinese people honor their deceased loved ones by sweeping their tombs. He was surprised that the price of burial plots went up, already higher than the price of housing in Shanghai. One plot in the suburbs was priced at 180,000 yuan (about $26,000) per square meter, while another in the more remote Nanhui District was priced at 130,000 yuan (about $18,000) per square meter, the report said.
The staff told Liu that the burial plots were only available for sale to local residents, while there were no such restrictions in the past.
Another Shanghai resident surnamed Chen saw even higher prices for a burial plot, the report said. Recently, he looked for a double burial plot for his parents in advance, only to find the cheapest one was priced at 370,000 yuan (about $53,000), followed by 490,000 yuan (about $71,000). He decided to buy the more expensive plot at a 5 percent discount because the other one was too small.
The 21st Century Business Herald, a Chinese finance newspaper, reported on April 6 that in Shanghai Songheyuan Cemetery, burial plots were priced as high as 763,000 yuan (about $111,000) per square meter last month, much higher than the cost of homes located in central areas of Shanghai.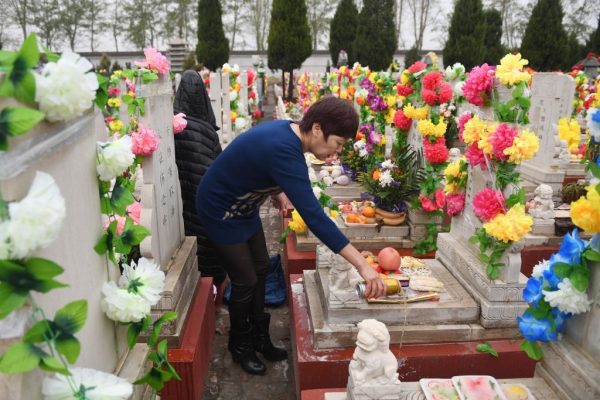 Young People Reserve Grave Spaces
Young people are taking notice as the high demand for cemetery plots continues to drive up prices. According to Time Finance, many are buying plots in advance, anticipating future price surges.
A Beijing resident surnamed Chen, 34, bought a 2.5-square-meter grave space for himself at the city's Jiugong Mountain last year. He told Time Finance that four years ago, his friend in another city purchased a burial plot for his father that cost 47,000 yuan (about $6,800) per square meter, and the price had risen to over 70,000 yuan (about $10,000) per square meter by 2022.
An employee at a cemetery in Guangzhou city, Guangdong Province, confirmed that the price of burial plots has been increasing, and he has seen clients as young as 29 years old purchasing graves in advance.
Factors Linked to Soaring Cemetery Prices
Lu Tianming, a Chinese-American political and economic analyst, told The Epoch Times on April 7 that two factors fuel cemetery prices in China.
"The first is the impact of supply and demand, which is the main reason," he said.
"The pandemic in recent years has caused a lot of deaths in China. The Chinese Communist Party [CCP] has been covering up the death toll. But from various sources of information, it can be seen that there were a large number of deaths. Cemetery plots are in short supply [due to high demand]. So most of the revenue and profits of the funeral industry are skyrocketing."
Since November 2022, China has been hit by a nationwide resurgence of COVID-19. The Chinese Center for Disease Control and Prevention (CDC) claimed that only 37 people had died from the disease between Dec. 7 and Jan. 8. However, crematoriums throughout the country have been overwhelmed. On Chinese social media, numerous stories of tragedy and the loss of loved ones have been shared by netizens, indicating the deaths far surpassed the official count.
China's official COVID-19 figures have been met with widespread skepticism. International media outlets have also questioned the accuracy of China's reported data. Obtaining accurate information is difficult as the Chinese regime has abandoned collecting relevant data and banned any mention of COVID-19 in patient records.
"The other factor is policy-related, which is the CCP's land sale problem," Lu said.
"In China, local governments conduct auctions to sell land, which is not limited to real estate developers but also includes cemetery plots. As land sale is an important source of revenue for local governments, land prices in China have always been high. Now that there is a shortage of cemetery plots, I think land prices will continue to increase."