World Faces 'Millions More' Infections as China Reopens Borders Amid COVID Surge: Pompeo
China 'knowingly infecting' people around the globe, says former secretary of stateFormer U.S. Secretary of State Mike Pompeo has accused the Chinese regime of "knowingly infecting people all across the globe" as the country prepares to reopen its border amid a record surge of COVID infections. China is grappling with an explosive COVID-19 outbreak that has yet to peak. About 248 million people, or 18 percent of the country's population, were estimated to have been infected by the virus between Dec. 1 to 20, according to a memo from an internal meeting of the country's top health regulator leaked online. As the virus swept through the nation of 1.4 billion, the regime announced last week it will reopen its borders on Jan. 8, scrapping one of the last remaining curbs from the strict zero-COVID policy that upended daily life for hundreds of millions and battered China's economy. During a Jan. 1 interview with entrepreneur and talk show host John Catsimatidis on The Cats Roundtable, Pompeo warned about the reemergence of chaotic scenes such as those that occurred in Italy at the onset of the pandemic. "The data is no good. But it sounds like we might have as many as a million—a million, John, a million—Chinese people infected," he continued. "Fifty percent of their population traveling, there is no reason that we should allow the Chinese to do this, again, to send Chinese-infected persons around the world, knowingly infecting people all across the globe." International Concern Since the onset of the pandemic, the communist regime has drawn mounting criticism for covering up COVID-related information. Amid the current explosive outbreak, the lack of transparent data has prompted international concern, particularly regarding the possibility of a new, stronger variant emerging out of China. Travelers on a flight from China enter the COVID-19 testing center of the Paris-Charles-de-Gaulle airport in Roissy, outside Paris, as France reinforces health measures at the borders for passengers arriving from China, on Jan. 1, 2023. (Julien De Rosa/AFP via Getty Images) Italy, the first European nation to be hit hard by COVID-19 after the virus surfaced in China in late 2019, has moved quickly to mandate COVID-19 tests for all travelers coming from China, including those traveling through Italy to other destinations. "The measure is essential to ensure surveillance and detection of possible variants of the virus in order to protect the Italian population," Italian health minister Orazio Schillaci told parliament on Dec. 28. The main airport in Milan had already begun to screen arrivals from Beijing and Shanghai on Dec. 26. On the first flight from China to be tested, 35 out of 62 passengers tested positive for COVID-19, an Italian health official said. The United States last week announced it will require passengers to present a negative COVID-19 result or proof of recovery before boarding a U.S.-bound flight from China. The Centers for Disease Control and Prevention said the step is intended to slow the spread of COVID-19 in America amid the massive outbreak in China, given what it calls the "lack of adequate and transparent epidemiological and viral genomic sequence data being reported" from China. The agency is considering measures like sampling wastewater from international flights to track potential new variants. In Sunday's interview, Pompeo lambasted Chinese Communist Party leader Xi Jinping, warning the virus unleashed by the regime's abrupt reopening could infect "millions more." "Xi got away with this once. I regret that he wasn't held accountable," the former lawmaker said. "He hasn't been held accountable. But we should still do that for the 6 million people who died between spring of 20[20] and today, but he's doing it again." "Just as in the spring of 20[20] he sent people around the world who he knew were infected. He's doing the same darn thing again. He's going to infect millions more, we shouldn't let that happen." Doubts Over Official Data Scenes of overwhelmed hospitals, people on intravenous drips by the roadside, and lines of hearses outside crematoria have stoked widespread distrust of the regime's official COVID-19 information. Regional data from Chinese provinces and cities recently estimated the infection rate may have exceeded 50 percent in some areas, painting a picture much grimmer than what the nation's central authorities have disclosed. The infection rate in the southwestern province of Sichuan, which has a population of more than 84 million, is over 63 percent, according to a Dec. 26 statement by the Sichuan Center for Disease Control and Prevention. A patient with COVID-19 rests in a wheelchair in a hallway at Tangshan Gongren Hospital in China's northeastern city of Tangshan on Dec. 30, 2022. (Noel Celis/AFP via Getty Images) Despite the spiraling surge in infections, China only recognized one new COVID-19 death on Jan. 2, according to Reuters, pushing the total fatal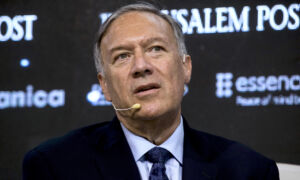 China 'knowingly infecting' people around the globe, says former secretary of state
Former U.S. Secretary of State Mike Pompeo has accused the Chinese regime of "knowingly infecting people all across the globe" as the country prepares to reopen its border amid a record surge of COVID infections.
China is grappling with an explosive COVID-19 outbreak that has yet to peak. About 248 million people, or 18 percent of the country's population, were estimated to have been infected by the virus between Dec. 1 to 20, according to a memo from an internal meeting of the country's top health regulator leaked online.
As the virus swept through the nation of 1.4 billion, the regime announced last week it will reopen its borders on Jan. 8, scrapping one of the last remaining curbs from the strict zero-COVID policy that upended daily life for hundreds of millions and battered China's economy.
During a Jan. 1 interview with entrepreneur and talk show host John Catsimatidis on The Cats Roundtable, Pompeo warned about the reemergence of chaotic scenes such as those that occurred in Italy at the onset of the pandemic.
"The data is no good. But it sounds like we might have as many as a million—a million, John, a million—Chinese people infected," he continued.
"Fifty percent of their population traveling, there is no reason that we should allow the Chinese to do this, again, to send Chinese-infected persons around the world, knowingly infecting people all across the globe."
International Concern
Since the onset of the pandemic, the communist regime has drawn mounting criticism for covering up COVID-related information. Amid the current explosive outbreak, the lack of transparent data has prompted international concern, particularly regarding the possibility of a new, stronger variant emerging out of China.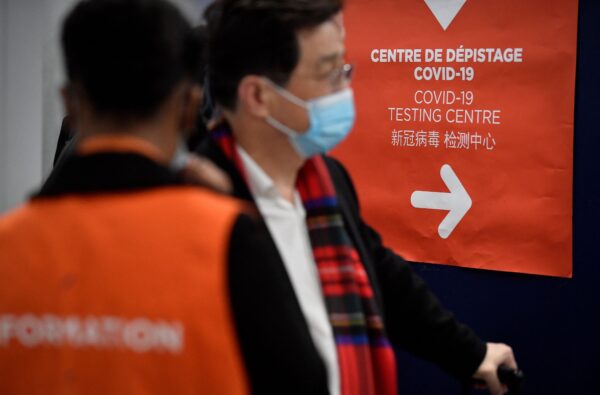 Italy, the first European nation to be hit hard by COVID-19 after the virus surfaced in China in late 2019, has moved quickly to mandate COVID-19 tests for all travelers coming from China, including those traveling through Italy to other destinations. "The measure is essential to ensure surveillance and detection of possible variants of the virus in order to protect the Italian population," Italian health minister Orazio Schillaci told parliament on Dec. 28.
The main airport in Milan had already begun to screen arrivals from Beijing and Shanghai on Dec. 26. On the first flight from China to be tested, 35 out of 62 passengers tested positive for COVID-19, an Italian health official said.
The United States last week announced it will require passengers to present a negative COVID-19 result or proof of recovery before boarding a U.S.-bound flight from China. The Centers for Disease Control and Prevention said the step is intended to slow the spread of COVID-19 in America amid the massive outbreak in China, given what it calls the "lack of adequate and transparent epidemiological and viral genomic sequence data being reported" from China. The agency is considering measures like sampling wastewater from international flights to track potential new variants.
In Sunday's interview, Pompeo lambasted Chinese Communist Party leader Xi Jinping, warning the virus unleashed by the regime's abrupt reopening could infect "millions more."
"Xi got away with this once. I regret that he wasn't held accountable," the former lawmaker said. "He hasn't been held accountable. But we should still do that for the 6 million people who died between spring of 20[20] and today, but he's doing it again."
"Just as in the spring of 20[20] he sent people around the world who he knew were infected. He's doing the same darn thing again. He's going to infect millions more, we shouldn't let that happen."
Doubts Over Official Data
Scenes of overwhelmed hospitals, people on intravenous drips by the roadside, and lines of hearses outside crematoria have stoked widespread distrust of the regime's official COVID-19 information.
Regional data from Chinese provinces and cities recently estimated the infection rate may have exceeded 50 percent in some areas, painting a picture much grimmer than what the nation's central authorities have disclosed. The infection rate in the southwestern province of Sichuan, which has a population of more than 84 million, is over 63 percent, according to a Dec. 26 statement by the Sichuan Center for Disease Control and Prevention.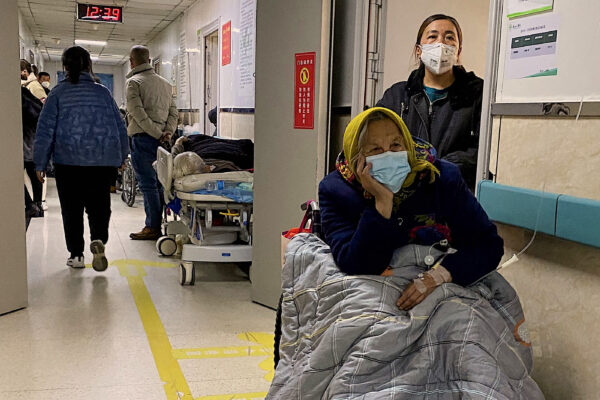 Despite the spiraling surge in infections, China only recognized one new COVID-19 death on Jan. 2, according to Reuters, pushing the total fatalities to 12 since the regime abruptly reversed course on Dec. 7.
Chinese health officials recently explained that they define a COVID-death to be an individual who dies from pneumonia or respiratory failure caused by COVID-19. That excludes deaths from other COVID-related causes, as well as the deaths of individuals with underlying diseases.
Michael Ryan, head of health emergencies at the World Health Organization, has said the narrow criteria would "very much underestimate the true death toll," reported the New York Times on Dec. 23.
The World Health Organization on Dec. 30 once again urged China's health officials to regularly share specific and real-time information on the COVID-19 situation in the country, as it continues to assess the latest surge in infections.
Lunar New Year Risk
Expectations for holiday travel have grown as China lifts travel and other harsh requirements for the first time in nearly three years.
China's biggest holiday, Lunar New Year, begins on Jan. 22 this year. During the holiday, the country's railway network is expected to carry 5.5 million passengers, state broadcaster CCTV has said.
Authorities at Tibet's spectacular Potala Palace said it would open for visitors on Jan. 3, after shutting down last August due to a COVID-19 outbreak. Some hotels in the southern tourist resort of Sanya are fully booked for Lunar New Year, media have said.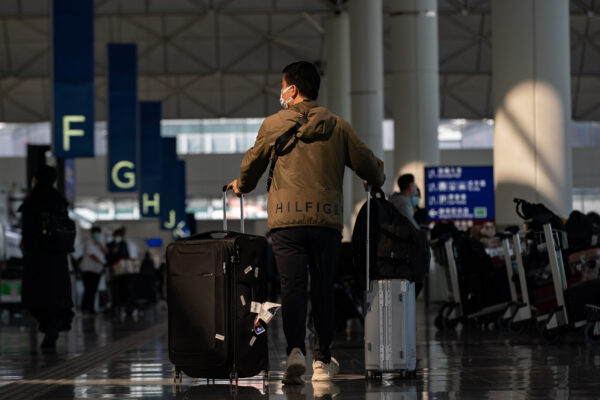 In recent days, state media have sought to reassure the public that the COVID-19 outbreak is under control and nearing its peak.
However, outside researchers predicted an alarming scenario for the first Lunar New Year festival after China's reopening. By Jan. 23, the second day of the Lunar New Year, the country may see as many as 25,000 people dying from COVID-19 each day, according to the latest estimate by Airfinity, a London-based health analytics firm. Infections are predicted to reach their first peak on Jan. 13, with 3.7 million cases a day.
Currently, the virus is infecting 1.8 million people in China each day, with cumulative cases totaling 20.4 million since Dec. 1, Airfinity said in a statement released Dec. 29 and updated with even bleaker numbers Dec. 30. That indicates that China is likely seeing 11,000 virus-related deaths a day, Airfinity said, more than doubling its estimate from a week ago.
Reuters contributed to this report.