Why Americans Should Pay Attention to the Plight of Falun Gong
CommentaryOn July 20, 1999, the Chinese Communist Party banned Falun Gong and started subjecting its adherents "to widespread surveillance, arbitrary detention, horrific torture, and extrajudicial killing—abuses which continue today," according to Freedom House, a nonprofit organization. Twenty-three years later … and the persecution continues. Why? According to Levi Browde, executive director of Falun Dafa Information Center, "Falun Gong is the single largest whistleblower of the CCP's crimes on the world's stage, with tens of millions engaged in grassroots civil disobedience inside China combined with media companies, human rights groups, and cultural organizations founded by Falun Gong practitioners around the world—all of which expose the tyrannical nature and nefarious history of the CCP." "This is key to understanding why, after 23 years, the CCP still considers the suppression of Falun Gong a top priority," he concluded. On July 21, Falun Gong practitioners will parade in Washington to end what, according to China's state media, is an "eradication" campaign against the spiritual practice. As such, the persecution is a genocide as defined by the United Nations. According to Falun Dafa Information Center, "under the law of most Western countries, Falun Gong is considered a religion or a protected creed. However, Falun Gong is not institutionalized; it does not have any formal means of initiation, a formal creed, nor devotional practices of worship, etc." Falun Gong also goes by the name Falun Dafa. Its practitioners parade annually in late July to commemorate their losses, celebrate their continued faith under fire, and demonstrate devotion to their three most sacred principles: truth, compassion, and forbearance. Marches to bring public attention to the persecution against Falun Gong are occurring far beyond Washington, including London, New York, San Francisco, Melbourne, and Toronto. Many more local parades occur as well. Falun Gong practitioners march to highlight the 23rd year of persecution in China against the spiritual discipline, in London, UK, on July 16, 2022. (Yanning Qi/The Epoch Times) To counter the CCP's propaganda, Falun Gong practitioners often hold banners saying, "Falun Dafa is Good" or "Stop the Persecution." They carry out peaceful protests and meditate in front of China's embassies and consulates around the world. A band consisting of Falun Gong adherents takes part in a 1,200-strong parade through downtown Toronto, Canada, on July 17, 2022. The event marks the 23rd year of the Chinese Communist Party's persecution of the spiritual practice. (Evan Ning/The Epoch Times) Falun Gong's principles are the polar opposite of what the CCP does on a daily basis. This explains Beijing's antipathy toward the group and Falun Gong's broader significance at this critical juncture in history between the international rules-based system developed after 1945, which preferences democracy and human rights, and the attempt by China, Russia, Iran, and North Korea to overturn that system in favor of a "new type of international relations" based on "might makes right." While the United States and its closest allies are finally waking up to the China threat, it has been slow going. We are also slow to acknowledge the human rights abuse against Uyghurs and Falun Gong within China. Only in 2021 did the U.S. government, and some other governmental bodies globally, start recognizing the persecution of Uyghurs as genocide. They still have not done so for Falun Gong—yet the evidence for genocide exists in droves. Former U.S. State Department official Miles Yu argued in 2021 that there is more evidence of genocide against the Falun Gong than against the Uyghurs. The reality of China's forced organ harvesting—and its use as a weapon of genocide—is becoming increasingly recognized, including by international tribunals, peer-reviewed journals, mainstream media, and in U.S. Congressional hearings. Canadian human rights lawyer David Matas testifies at a U.S. Congressional hearing on organ harvesting in this undated file photo. (Lisa Fan/The Epoch Times) According to an article in USA Today last month, "New evidence suggests that execution by organ donation is a continuing part of the systematic campaign against Uyghurs, Falun Gong, Tibetans, Christians and other people Beijing classifies as politically problematic." Communist China Threat Americans should be concerned about communist China not just because of its human rights abuse, but because Beijing's ambitions do not end at its borders. The CCP has a goal of global hegemony, as is now well-recognized in the academic literature. China's economy and military power are growing so quickly that in 2017 it exceeded the U.S. GDP by purchasing power parity (PPP). Beijing is now building its already larger navy more rapidly than the U.S. Navy. CCP diplomats are now so assured of their superior military and economic power that they presented lists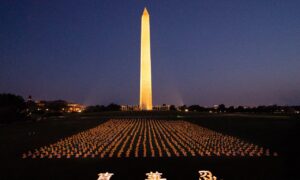 Commentary
On July 20, 1999, the Chinese Communist Party banned Falun Gong and started subjecting its adherents "to widespread surveillance, arbitrary detention, horrific torture, and extrajudicial killing—abuses which continue today," according to Freedom House, a nonprofit organization.
Twenty-three years later … and the persecution continues.
Why?
According to Levi Browde, executive director of Falun Dafa Information Center, "Falun Gong is the single largest whistleblower of the CCP's crimes on the world's stage, with tens of millions engaged in grassroots civil disobedience inside China combined with media companies, human rights groups, and cultural organizations founded by Falun Gong practitioners around the world—all of which expose the tyrannical nature and nefarious history of the CCP."
"This is key to understanding why, after 23 years, the CCP still considers the suppression of Falun Gong a top priority," he concluded.
On July 21, Falun Gong practitioners will parade in Washington to end what, according to China's state media, is an "eradication" campaign against the spiritual practice. As such, the persecution is a genocide as defined by the United Nations.
According to Falun Dafa Information Center, "under the law of most Western countries, Falun Gong is considered a religion or a protected creed. However, Falun Gong is not institutionalized; it does not have any formal means of initiation, a formal creed, nor devotional practices of worship, etc."
Falun Gong also goes by the name Falun Dafa. Its practitioners parade annually in late July to commemorate their losses, celebrate their continued faith under fire, and demonstrate devotion to their three most sacred principles: truth, compassion, and forbearance.
Marches to bring public attention to the persecution against Falun Gong are occurring far beyond Washington, including London, New York, San Francisco, Melbourne, and Toronto. Many more local parades occur as well.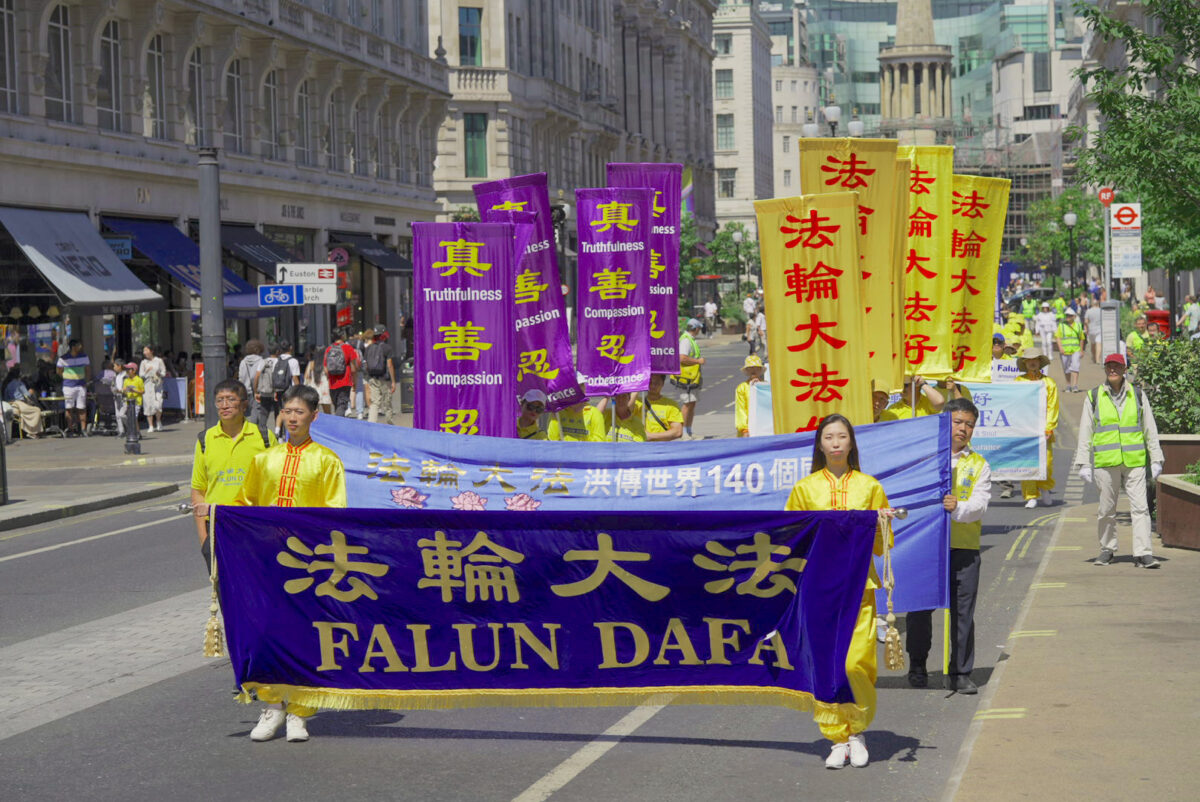 To counter the CCP's propaganda, Falun Gong practitioners often hold banners saying, "Falun Dafa is Good" or "Stop the Persecution." They carry out peaceful protests and meditate in front of China's embassies and consulates around the world.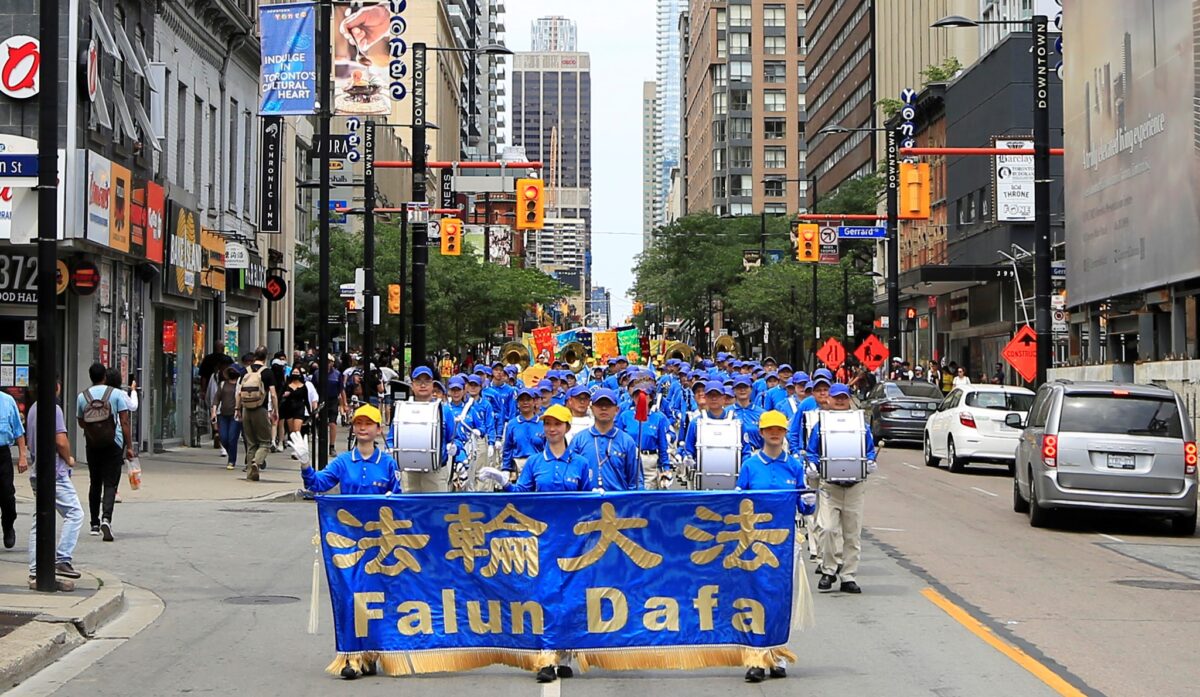 Falun Gong's principles are the polar opposite of what the CCP does on a daily basis. This explains Beijing's antipathy toward the group and Falun Gong's broader significance at this critical juncture in history between the international rules-based system developed after 1945, which preferences democracy and human rights, and the attempt by China, Russia, Iran, and North Korea to overturn that system in favor of a "new type of international relations" based on "might makes right."
While the United States and its closest allies are finally waking up to the China threat, it has been slow going. We are also slow to acknowledge the human rights abuse against Uyghurs and Falun Gong within China.
Only in 2021 did the U.S. government, and some other governmental bodies globally, start recognizing the persecution of Uyghurs as genocide. They still have not done so for Falun Gong—yet the evidence for genocide exists in droves.
Former U.S. State Department official Miles Yu argued in 2021 that there is more evidence of genocide against the Falun Gong than against the Uyghurs.
The reality of China's forced organ harvesting—and its use as a weapon of genocide—is becoming increasingly recognized, including by international tribunals, peer-reviewed journals, mainstream media, and in U.S. Congressional hearings.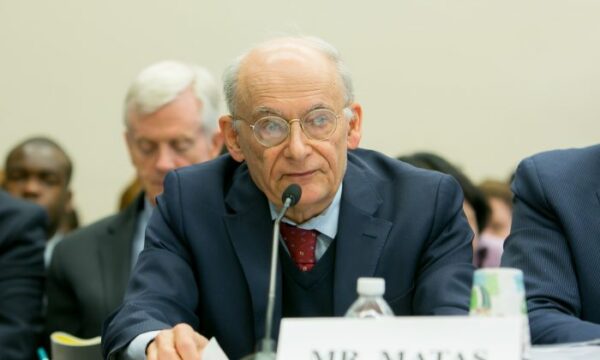 According to an article in USA Today last month, "New evidence suggests that execution by organ donation is a continuing part of the systematic campaign against Uyghurs, Falun Gong, Tibetans, Christians and other people Beijing classifies as politically problematic."
Communist China Threat
Americans should be concerned about communist China not just because of its human rights abuse, but because Beijing's ambitions do not end at its borders. The CCP has a goal of global hegemony, as is now well-recognized in the academic literature. China's economy and military power are growing so quickly that in 2017 it exceeded the U.S. GDP by purchasing power parity (PPP). Beijing is now building its already larger navy more rapidly than the U.S. Navy.
CCP diplomats are now so assured of their superior military and economic power that they presented lists of demands to both the United States and Australia. If they have done it to us, they have likely done it to other allies.
A Beacon of Hope
It is in American national interests to support and ally with Falun Gong for reasons beyond our historical support for human rights. The CCP is America's most dangerous adversary, and Falun Gong has tens of millions of adherents within the country and potentially within the regime itself.
Prior to the persecution, according to Chinese state sources at the time, Falun Gong numbered as many as 70 to 100 million or more.
After 18 years of persecution, Freedom House estimated 7 to 20 million practitioners left in China.
But according to Browde, Falun Gong sources from a few years ago estimated 20 to 40 million people in China who actively participated in distributing Falun Gong material.
If true, Browde said, this would imply a larger number who only practice but do not engage in what amounts to a highly risky form of nonviolent civil disobedience.
Therefore, it is possible that Falun Gong numbers have not decreased, but increased since the start of the persecution. And those who remain practitioners despite the persecution are likely stronger in their convictions and more courageous in their actions.
Before the persecution, many Falun Gong reached high up in the CCP hierarchy. That may still be true, in which case these individuals could be trying to reform China's regime from the inside.
The need for such reform is great—and Falun Gong may be our best hope.
Views expressed in this article are the opinions of the author and do not necessarily reflect the views of The Epoch Times.