Wheels Within Wheels in the Case of Biden's Docudrama
CommentaryThe problem with stories like Joe Biden's docudrama is that the punditocracy acts like a school of piranha gobbling up a Bond villain. There's a lot of commotion. It's hard to see clearly. I have written myself about the classified documents uncovered in Biden's office at the Penn Biden Center for Diplomacy and Global Engagement, then in the garage at his Delaware home, then, in at least two places, in his Delaware house proper. That's as of Sunday. Who knows how many more documents will be found? But here's the oddity. The entire episode, though under the klieg lights of publicity, is wrapped in a shroud of several mysteries. For example, who leaked the news to CBS that classified documents had been found in Biden's office in the Washington office of a University of Pennsylvania think tank named for Biden? We don't—anyway, I don't—know the answer to that question. The CBS report that broke the story last week was carefully, and almost comically, orchestrated to be pro-Biden. Every other line, it seemed, stressed the differences between the case of Joe Biden harboring classified documents and that of Donald Trump. Biden's case was unfortunate, yes, but not to worry. There were only a few documents. In their original report, CBS stressed that there were only about 10 documents found in Biden's office. The FBI hoovered up more than 300 documents in their raid of Mar-a-Lago last August. Biden was "surprised" by the news that there were classified documents in his office: He said he didn't even know they were there. The case of Donald Trump, on the other hand (note the grimaces passing over the faces of the newscasters), was completely different. Team Biden instantly turned over the docs they found to the National Archives or the Department of Justice. Trump stonewalled the National Archives for many months. And (bottom line) it was Trump! At first, it was unclear—at least CBS said they didn't know—what level of classification the documents had been assigned. According to some reports, at least some of the documents were marked "sensitive compartmented information," i.e., beyond top secret. The flurry of news reports and commentary that followed might make it seem as if the story was out and that, in a news cycle or two, we should just move on. But then the unexpected happened. First, the garage docs. Then the two separate caches of classified docs in his home. Interviewed about the documents found at Mar-a-Lago by a sycophantic reporter back in September, Biden said with (for him) great solemnity, he didn't know "how that could possibly happen. How anyone could be that irresponsible." There's a nice splice of that exchange with one from the current imbroglio on YouTube. In September it was "How could anyone be that irresponsible." Now it's visibly impatient reporters wondering what's going on. And here's another mystery. What was the motivation of the person or persons (in its original report, CBS mentioned "three sources") who leaked information about the documents to CBS? Was it a hostile act, designed to get the ball rolling on Biden's ejection from office? Several people, myself included, have suggested that. But perhaps the leak was defensive in nature. Perhaps, that is to say, leaking to a sympathetic outlet was calculated to limit the political fallout that was sure to follow on the revelation. But then the initial story grew wings as additional caches of classified documents were found about the Biden homestead. Merrick Garland, the attorney general, had appointed a special counsel to investigate Trump a couple of weeks after the DOJ had been informed about the Biden documents but nearly two months before the public knew about it. After it was revealed that Biden was housesitting not one, not two, but three (and later four) separate caches of classified documents, he felt constrained to appoint a special counsel to look into the case against Biden as well. But the person he appointed was Robert Hur, a U.S. attorney for Maryland who had reportedly "helped stifle" the GOP probe into the mishandling of the Trump-Russia investigation. Devin Nunes, who headed the House Intel Committee under Trump, noted that Hur had shown himself to be "a fixer for the Democrats." What does it all mean? I don't know. Part of me thinks that Powerline's commentator Scott Johnson is right and that "Biden is toast." I certainly agree with Johnson that "Every day [that Biden] remains in office he does incalculable damage to the country." He has, Johnson writes, "dissolved our southern border, prioritized the climate madness, furthered the woke insanity, weakened our military, promoted a gusher of federal spending, and so on." Granted. What we don't quite know is how the case of the classified documents will play out. The Democrats have shown themselves to be far more adept than Republicans at exploiting crises for their own political benefit. I'm confident that the recent revel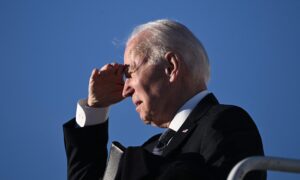 Commentary
The problem with stories like Joe Biden's docudrama is that the punditocracy acts like a school of piranha gobbling up a Bond villain.
There's a lot of commotion. It's hard to see clearly.
I have written myself about the classified documents uncovered in Biden's office at the Penn Biden Center for Diplomacy and Global Engagement, then in the garage at his Delaware home, then, in at least two places, in his Delaware house proper.
That's as of Sunday. Who knows how many more documents will be found?
But here's the oddity. The entire episode, though under the klieg lights of publicity, is wrapped in a shroud of several mysteries.
For example, who leaked the news to CBS that classified documents had been found in Biden's office in the Washington office of a University of Pennsylvania think tank named for Biden?
We don't—anyway, I don't—know the answer to that question.
The CBS report that broke the story last week was carefully, and almost comically, orchestrated to be pro-Biden.
Every other line, it seemed, stressed the differences between the case of Joe Biden harboring classified documents and that of Donald Trump.
Biden's case was unfortunate, yes, but not to worry. There were only a few documents.
In their original report, CBS stressed that there were only about 10 documents found in Biden's office.
The FBI hoovered up more than 300 documents in their raid of Mar-a-Lago last August.
Biden was "surprised" by the news that there were classified documents in his office: He said he didn't even know they were there.
The case of Donald Trump, on the other hand (note the grimaces passing over the faces of the newscasters), was completely different.
Team Biden instantly turned over the docs they found to the National Archives or the Department of Justice.
Trump stonewalled the National Archives for many months. And (bottom line) it was Trump!
At first, it was unclear—at least CBS said they didn't know—what level of classification the documents had been assigned.
According to some reports, at least some of the documents were marked "sensitive compartmented information," i.e., beyond top secret.
The flurry of news reports and commentary that followed might make it seem as if the story was out and that, in a news cycle or two, we should just move on.
But then the unexpected happened.
First, the garage docs. Then the two separate caches of classified docs in his home.
Interviewed about the documents found at Mar-a-Lago by a sycophantic reporter back in September, Biden said with (for him) great solemnity, he didn't know "how that could possibly happen. How anyone could be that irresponsible."
There's a nice splice of that exchange with one from the current imbroglio on YouTube.
In September it was "How could anyone be that irresponsible." Now it's visibly impatient reporters wondering what's going on.
And here's another mystery.
What was the motivation of the person or persons (in its original report, CBS mentioned "three sources") who leaked information about the documents to CBS?
Was it a hostile act, designed to get the ball rolling on Biden's ejection from office?
Several people, myself included, have suggested that.
But perhaps the leak was defensive in nature.
Perhaps, that is to say, leaking to a sympathetic outlet was calculated to limit the political fallout that was sure to follow on the revelation.
But then the initial story grew wings as additional caches of classified documents were found about the Biden homestead.
Merrick Garland, the attorney general, had appointed a special counsel to investigate Trump a couple of weeks after the DOJ had been informed about the Biden documents but nearly two months before the public knew about it.
After it was revealed that Biden was housesitting not one, not two, but three (and later four) separate caches of classified documents, he felt constrained to appoint a special counsel to look into the case against Biden as well.
But the person he appointed was Robert Hur, a U.S. attorney for Maryland who had reportedly "helped stifle" the GOP probe into the mishandling of the Trump-Russia investigation.
Devin Nunes, who headed the House Intel Committee under Trump, noted that Hur had shown himself to be "a fixer for the Democrats."
What does it all mean?
I don't know.
Part of me thinks that Powerline's commentator Scott Johnson is right and that "Biden is toast."
I certainly agree with Johnson that "Every day [that Biden] remains in office he does incalculable damage to the country."
He has, Johnson writes, "dissolved our southern border, prioritized the climate madness, furthered the woke insanity, weakened our military, promoted a gusher of federal spending, and so on."
Granted. What we don't quite know is how the case of the classified documents will play out.
The Democrats have shown themselves to be far more adept than Republicans at exploiting crises for their own political benefit.
I'm confident that the recent revelations about Biden's mishandling of classified documents will impede his chances of nabbing the 2024 Democratic nomination, let alone winning the election.
But who knows? I also sense that there are wheels within wheels here.
Maybe it's team Biden pulling the strings and seeding the ponds with unpleasant, sharp-toothed fish.
But maybe we're dealing with a drama boasting a far larger if mostly anonymous cast.
Anyway, the situation is far more complex than we might have assumed when lawyers or whoever it was discovered those classified documents in Biden's Washington office.
Views expressed in this article are the opinions of the author and do not necessarily reflect the views of The Epoch Times.