What We Know About the Flying Objects Shot Down Over North America
The U.S. military has shot down four flying objects over North American airspace over the past eight days. Three of the objects remain unidentified as of late Sunday, and were separately shot down within three days. The latest unidentified object was shot down on Sunday over Michigan's Lake Huron. Here's what we know so far about these four objects: The first object was initially reported as unidentified until U.S. officials said it was a Chinese surveillance balloon. The White House and Pentagon said the balloon had violated U.S. sovereignty by entering American airspace without permission. The 200 feet-tall balloon was first reported after being seen by civilians near Billings, Montana, after which it was allowed to traverse across the United States by officials citing safety concerns, despite the maneuverable balloon passing over the site of sensitive airbases and strategic nuclear missile silos. Map shows path of suspected spy balloon. (AP Photo) The China-claimed balloon drifted east toward the Atlantic Ocean before a F-22 fighter jet shot it down off the South Carolina coast, around 2:39 p.m. ET. The balloon was flying at an altitude of about 50,000 to 60,000 feet in the stratosphere where there is no commercial air traffic. The North American Aerospace Defense Command (NORAD), which is operated by the United States and Canada, was tracking the balloon the entire time. Officials said the balloon, with a place of origin in China, had entered U.S. airspace over Alaska on Jan. 28. It flew over Canada before re-entering the United States on Jan. 31. President Joe Biden ordered the balloon taken down where debris posed no risk to people on the ground and it was shot from the sky on Feb. 4. A State Department official told The Epoch Times that the balloon could monitor communications signals. Pentagon spokesperson Brig. Gen. Pat Ryder said on Feb. 3 the balloon also had a "large payload underneath the surveillance component." An FBI official later said they haven't found any indications that the balloon carried a payload capable of causing harm. "We have not identified any sort of any energetic or offensive material," the official said, reported Reuters. The Chinese spy balloon drifts to the ocean after being shot down off the coast in Surfside Beach, S.C., on Feb. 4, 2023.; and a U.S. Coast Guard helicopter flies over a debris field during recovery efforts on Feb. 4, 2023. (Randall Hill/Reuters); U.S. Navy photo by Lt. j.g. Jerry Ireland) China claimed it was just a civilian weather-monitoring device that became accidentally blown off course to enter U.S. airspace. But a White House official said that an assessment of the balloon's remnants showed it is equipped with propellers and a rudder, allowing it to change directions, and that the balloon had the ability to speed up and down, turn, and loiter. It mainly relied on air movement in the jet streams to travel, although it had some limited ability to maneuver within that. John Kirby, coordinator of the National Security Council, said that retrospective analysis had revealed that other similar balloons have transited U.S. airspace three times during the Trump administration, and once since Biden took office. "We have reached out to key officials from the previous administration and offered them briefings on the forensics that we did and expressed our willingness to walk them through what we learned," Kirby said. In a later press conference, Air Force Gen. Glen VanHerck, commander of North American Aerospace Defense Command, built on Sullivan's statements, stating that the Pentagon had an "awareness gap" that allowed previous Chinese balloon incursions to go undetected at the time. Feb. 10: Small Car-Sized Object Shot Down Off Alaska Coast Two F-22s took down an unknown flying object over U.S. waters off the northern coast of Alaska on Feb. 10, at around 1:45 p.m. ET. The object was first spotted on Feb. 9. It was hovering at around 40,000 feet where commercial airliners do cruise. Biden had ordered it to be taken down after it was determined to be a "reasonable threat" to civilian flight safety, according to officials. The Federal Aviation Administration (FAA) earlier in the day had issued a no-fly warning over Alaska where the object was located. It was then taken down with a single AIM-9X Sidewinder missile, the same type of missile used to take down the Chinese spy balloon on Feb. 4. Kirby said the object was shot down "out of an abundance of caution." He added: "This was an object. Let me just clarify: I'm not classifying it as a balloon right now. It's an object. We're still trying to learn more from it." Pentagon spokesperson Brig. Gen. Pat Ryder said the object was the size of a small car, and didn't resemble in any way the Chinese spy balloon. He added that there was "no indication that it was manned" and "no indication at this time that it was maneuverable." "We have no further details about the object at this time, inclu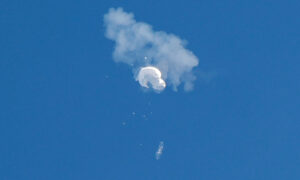 The U.S. military has shot down four flying objects over North American airspace over the past eight days. Three of the objects remain unidentified as of late Sunday, and were separately shot down within three days. The latest unidentified object was shot down on Sunday over Michigan's Lake Huron.
Here's what we know so far about these four objects:
The first object was initially reported as unidentified until U.S. officials said it was a Chinese surveillance balloon. The White House and Pentagon said the balloon had violated U.S. sovereignty by entering American airspace without permission.
The 200 feet-tall balloon was first reported after being seen by civilians near Billings, Montana, after which it was allowed to traverse across the United States by officials citing safety concerns, despite the maneuverable balloon passing over the site of sensitive airbases and strategic nuclear missile silos.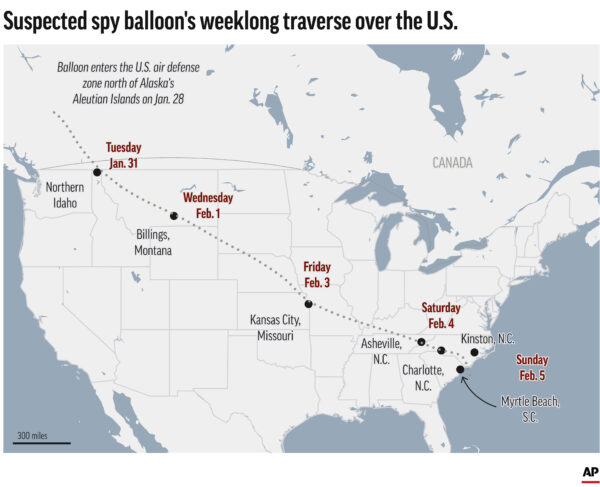 The China-claimed balloon drifted east toward the Atlantic Ocean before a F-22 fighter jet shot it down off the South Carolina coast, around 2:39 p.m. ET. The balloon was flying at an altitude of about 50,000 to 60,000 feet in the stratosphere where there is no commercial air traffic.
The North American Aerospace Defense Command (NORAD), which is operated by the United States and Canada, was tracking the balloon the entire time. Officials said the balloon, with a place of origin in China, had entered U.S. airspace over Alaska on Jan. 28. It flew over Canada before re-entering the United States on Jan. 31. President Joe Biden ordered the balloon taken down where debris posed no risk to people on the ground and it was shot from the sky on Feb. 4.
A State Department official told The Epoch Times that the balloon could monitor communications signals.
Pentagon spokesperson Brig. Gen. Pat Ryder said on Feb. 3 the balloon also had a "large payload underneath the surveillance component."
An FBI official later said they haven't found any indications that the balloon carried a payload capable of causing harm. "We have not identified any sort of any energetic or offensive material," the official said, reported Reuters.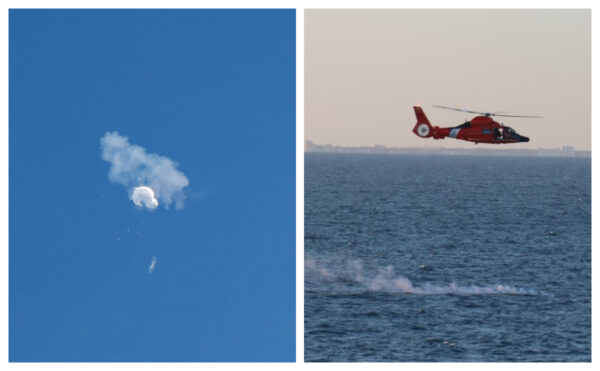 China claimed it was just a civilian weather-monitoring device that became accidentally blown off course to enter U.S. airspace.
But a White House official said that an assessment of the balloon's remnants showed it is equipped with propellers and a rudder, allowing it to change directions, and that the balloon had the ability to speed up and down, turn, and loiter. It mainly relied on air movement in the jet streams to travel, although it had some limited ability to maneuver within that.
John Kirby, coordinator of the National Security Council, said that retrospective analysis had revealed that other similar balloons have transited U.S. airspace three times during the Trump administration, and once since Biden took office.
"We have reached out to key officials from the previous administration and offered them briefings on the forensics that we did and expressed our willingness to walk them through what we learned," Kirby said.
In a later press conference, Air Force Gen. Glen VanHerck, commander of North American Aerospace Defense Command, built on Sullivan's statements, stating that the Pentagon had an "awareness gap" that allowed previous Chinese balloon incursions to go undetected at the time.
Feb. 10: Small Car-Sized Object Shot Down Off Alaska Coast
Two F-22s took down an unknown flying object over U.S. waters off the northern coast of Alaska on Feb. 10, at around 1:45 p.m. ET.
The object was first spotted on Feb. 9. It was hovering at around 40,000 feet where commercial airliners do cruise. Biden had ordered it to be taken down after it was determined to be a "reasonable threat" to civilian flight safety, according to officials.
The Federal Aviation Administration (FAA) earlier in the day had issued a no-fly warning over Alaska where the object was located. It was then taken down with a single AIM-9X Sidewinder missile, the same type of missile used to take down the Chinese spy balloon on Feb. 4.
Kirby said the object was shot down "out of an abundance of caution." He added: "This was an object. Let me just clarify: I'm not classifying it as a balloon right now. It's an object. We're still trying to learn more from it."
Pentagon spokesperson Brig. Gen. Pat Ryder said the object was the size of a small car, and didn't resemble in any way the Chinese spy balloon. He added that there was "no indication that it was manned" and "no indication at this time that it was maneuverable."
"We have no further details about the object at this time, including any description of its capabilities, purpose, or origin," he told reporters on Feb. 10. He added that recovery teams were working to collect debris that fell on top of ice in U.S. territorial waters.
Feb. 11: 'Cylindrical' Object Shot Down Over Canada
An unidentified cylindrical object was shot down by a U.S. F-22 over Yukon Territory as part of a joint NORAD operation with the Canadians on Feb. 11. It marks the first unidentified object downed over Canadian airspace.
Canadian Prime Minister Justin Trudeau, who ordered the take down, said on Feb. 12 that the object unlawfully entered Canada's airspace and posed a "reasonable threat to civilian aircraft." He added that recovery teams were looking to find and analyze the object.
Ryder said that a U.S. F-22 "shot down the object in Canadian territory using an AIM 9X missile following close coordination between U.S. and Canadian authorities."
Canadian Defence Minister Anita Anand said on Feb. 11 the object was detected flying at around 40,000 feet. It was shot down "approximately 100 miles from the Canada-United States border over Canadian territory in central Yukon," at 3:41 ET, she said.
She added that "this was the first time that a NORAD operation has downed an aerial object."
"We have no further details about the object at this time, other than it appears to be a small cylindrical object, and smaller than the one that was downed off the coast of [South] Carolina," she said.
Feb. 12: 'Octagonal' Object Shot Down Over Lake Huron
The Pentagon confirmed on Feb. 12 that a U.S. F-16 shot down an object at 2:42 p.m. ET with an AIM-9x short-range air-to-air missile. The object was flying at about 20,000 feet altitude in U.S. airspace over Lake Huron, Michigan, when it was taken down.
"Its path and altitude raised concerns, including that it could be a hazard to civil aviation. The location chosen for this shoot down afforded us the opportunity to avoid impact to people on the ground while improving chances for debris recovery," read a Pentagon statement.
NORAD had detected the object on the morning of Feb. 12. "Based on its flight path and data, we can reasonably connect this object to the radar signal picked up over Montana, which flew in proximity to sensitive [Department of Defense] sites."
"We did not assess it to be a kinetic military threat to anything on the ground, but assess it was a safety flight hazard and a threat due to its potential surveillance capabilities. Our team will now work to recover the object in an effort to learn more," the statement reads.
Rep. Jack Bergman (R-Mich.) described the latest object as having an "octagonal structure" in a Feb. 12 interview with Fox News.
NORAD confirmed that it "implemented a temporary flight restriction airspace over Lake Michigan at approximately 12 p.m. EST on Feb. 12, 2023." The Federal Aviation Administration (FAA) confirmed to The Epoch Times that it temporarily restricted the airspace over Lake Michigan before that airspace was reopened a short while later.
Zachary Stieber, Jack Phillips, and Eva Fu contributed to this report.