'We're a Free State': DeSantis Defends Florida's New Guidance on COVID-19 Vaccines for Children
Florida is leading the way on rational guidance regarding the risks and benefits for children and COVID-19 vaccines, Gov. Ron DeSantis said on March 16 as he defended the state's new guidance. Florida Surgeon General Joseph Ladapo, a DeSantis appointee, on March 8 issued the guidance for parents, asserting that the risks to their child from getting a jab may outweigh the benefits. "Based on currently available data, healthy children aged 5 to 17 may not benefit from receiving the currently available COVID-19 vaccine. The department recommends that children with underlying conditions are the best candidates for the COVID-19 vaccine," the guidance states. Ladapo "is leading on this," DeSantis told reporters at an unrelated press conference in Hialeah on Wednesday. "And I think his view—and I agree with it—is the burden of proof is on the people that say you should get a 5-year-old kid vaccinated for COVID, okay? And they have to carry that burden. It's not the burden for a parent to … prove why you shouldn't do it. And if you look at the clinical trial, for example, with the Pfizer [shot] for the 5- to 11-[year-olds], there was no severe COVID in the vaccine arm, but there was also a no severe COVID in the placebo arm," DeSantis added. The low risk that COVID-19 poses to healthy children and the elevated risk of heart inflammation, particularly for young men, from the vaccine led to the guidance, the Republican said, noting that parents are still free to get healthy kids vaccinated. "What he wanted to do was just say, 'Hey, here's the recommendation, you're free to do what you want as a parent.' But I think a lot of parents were feeling pressured to do it, even though they didn't necessarily think that was the right thing to do. And so in Florida, we're a free state, you can make those decisions," the governor said, drawing applause from attendees. DeSantis was holding an event announcing funding for Florida's educational programs. Ladapo, a former professor at the University of California, Los Angeles, announced during an event in early March that he would soon "recommend against the COVID-19 vaccines for healthy children." The state's guidance doesn't go that far, but has drawn outcry because it goes against advice from the Centers for Disease Control and Prevention (CDC), which continues to say that all children, save for those with a small number of contraindications, should get one of the vaccines. The Florida guidance cites, among other sources, trial data from Pfizer that Ladapo says shows healthy children with no underlying conditions have a "limited risk of severe illness due to COVID-19"; data collected by the CDC indicating a majority of children in the country have recovered from COVID-19; an "absence of data informing benefit of COVID-19 vaccination among children with existing immunity"; and a recent study from New York researchers that indicates Pfizer's vaccine protection has "declined rapidly," particularly against infection. Underlying conditions include chronic lung disease, obesity, and neurologic disorders. Asked about the guidance, Kathryn Edwards, a professor in pediatrics at Vanderbilt University Medical Center, told The Epoch Times in an email that she disagrees with the state guidance and believes "all children between 5-11 years old should be vaccinated." "The risk of disease is greater than the risk of myocarditis," she said, referring to a form of heart inflammation that has been reported in higher-than-expected rates in youth, especially young men. That's not a universal view. A healthcare worker prepares to administer a Pfizer COVID-19 vaccine in Miami, Fla., in a file image. (Joe Raedle/Getty Images) "It's important for parents to understand that the risk of hospitalization, particularly in a healthy child or adolescent, is very low. And also, the risk of myocarditis following administration of the messenger RNA vaccines is also very low, and effectively, probably pretty similar. So the benefit roughly equals the risk of harm," Dr. Cody Meissner, one of the Food and Drug Administration advisers who voted in 2021 to recommend authorization of Pfizer's shot for the 5 to 11 age group, told The Epoch Times after reviewing some of the more recent papers. Pfizer's vaccine, the only one available to those under 18 in the United States, is built on messenger RNA technology. Under DeSantis, Florida's approach to the pandemic, besides a short period of harsh restrictions mirroring much of the rest of the country, has been one that focuses on protecting the vulnerable while keeping government rules to a minimum. Florida, for instance, banned vaccine passports in 2021. Many jurisdictions that kept vaccine passports and mask mandates have rolled them back in recent weeks. "I think what you'll see increasingly, over the next year, is you will see more and more people come out and say, probably if you have a healthy 5- or 6-year-old kid, you probably don't need to be doing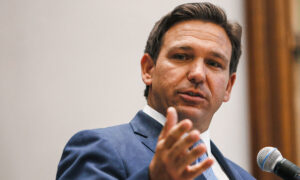 Florida is leading the way on rational guidance regarding the risks and benefits for children and COVID-19 vaccines, Gov. Ron DeSantis said on March 16 as he defended the state's new guidance.
Florida Surgeon General Joseph Ladapo, a DeSantis appointee, on March 8 issued the guidance for parents, asserting that the risks to their child from getting a jab may outweigh the benefits.
"Based on currently available data, healthy children aged 5 to 17 may not benefit from receiving the currently available COVID-19 vaccine. The department recommends that children with underlying conditions are the best candidates for the COVID-19 vaccine," the guidance states.
Ladapo "is leading on this," DeSantis told reporters at an unrelated press conference in Hialeah on Wednesday.
"And I think his view—and I agree with it—is the burden of proof is on the people that say you should get a 5-year-old kid vaccinated for COVID, okay? And they have to carry that burden. It's not the burden for a parent to … prove why you shouldn't do it. And if you look at the clinical trial, for example, with the Pfizer [shot] for the 5- to 11-[year-olds], there was no severe COVID in the vaccine arm, but there was also a no severe COVID in the placebo arm," DeSantis added.
The low risk that COVID-19 poses to healthy children and the elevated risk of heart inflammation, particularly for young men, from the vaccine led to the guidance, the Republican said, noting that parents are still free to get healthy kids vaccinated.
"What he wanted to do was just say, 'Hey, here's the recommendation, you're free to do what you want as a parent.' But I think a lot of parents were feeling pressured to do it, even though they didn't necessarily think that was the right thing to do. And so in Florida, we're a free state, you can make those decisions," the governor said, drawing applause from attendees.
DeSantis was holding an event announcing funding for Florida's educational programs.
Ladapo, a former professor at the University of California, Los Angeles, announced during an event in early March that he would soon "recommend against the COVID-19 vaccines for healthy children." The state's guidance doesn't go that far, but has drawn outcry because it goes against advice from the Centers for Disease Control and Prevention (CDC), which continues to say that all children, save for those with a small number of contraindications, should get one of the vaccines.
The Florida guidance cites, among other sources, trial data from Pfizer that Ladapo says shows healthy children with no underlying conditions have a "limited risk of severe illness due to COVID-19"; data collected by the CDC indicating a majority of children in the country have recovered from COVID-19; an "absence of data informing benefit of COVID-19 vaccination among children with existing immunity"; and a recent study from New York researchers that indicates Pfizer's vaccine protection has "declined rapidly," particularly against infection.
Underlying conditions include chronic lung disease, obesity, and neurologic disorders.
Asked about the guidance, Kathryn Edwards, a professor in pediatrics at Vanderbilt University Medical Center, told The Epoch Times in an email that she disagrees with the state guidance and believes "all children between 5-11 years old should be vaccinated."
"The risk of disease is greater than the risk of myocarditis," she said, referring to a form of heart inflammation that has been reported in higher-than-expected rates in youth, especially young men.
That's not a universal view.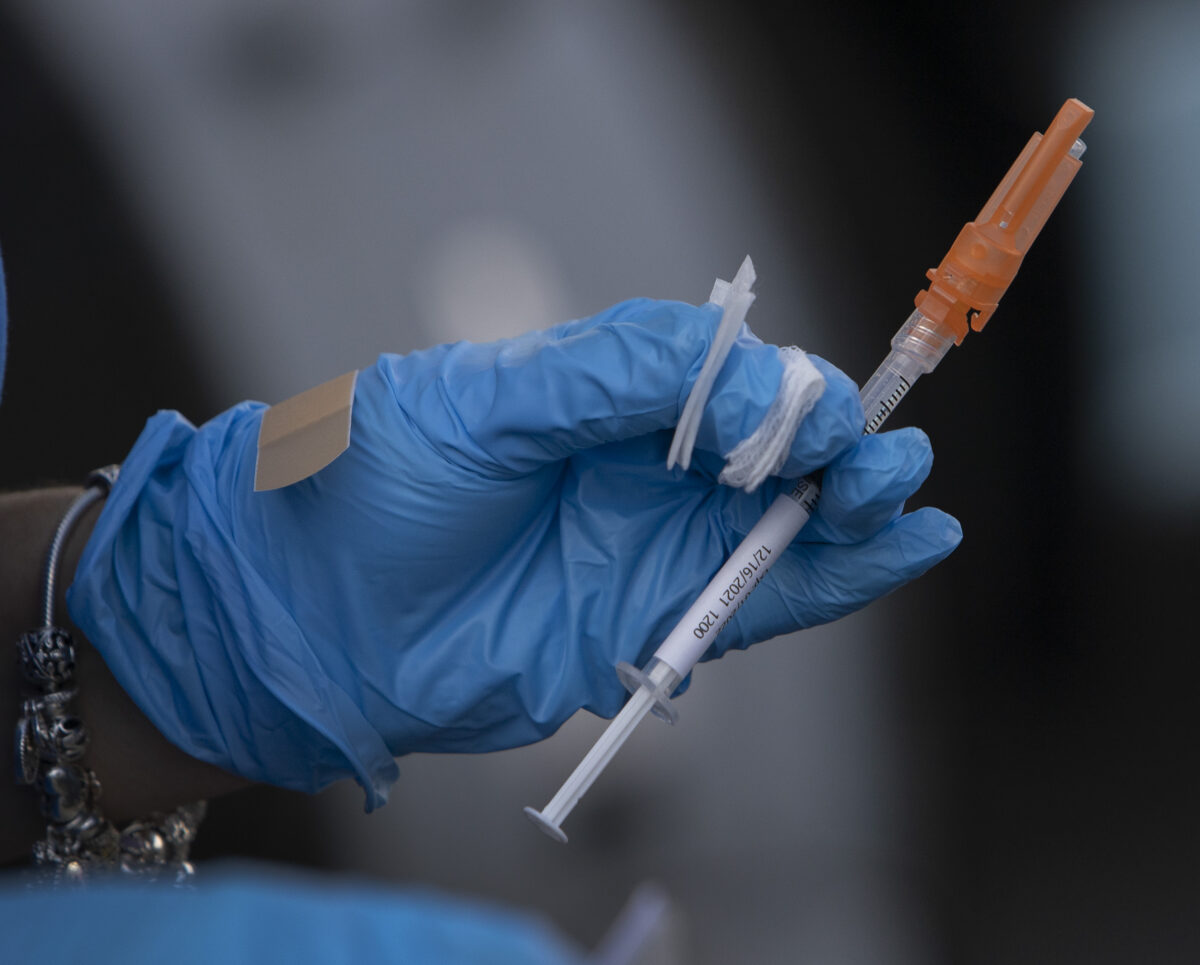 "It's important for parents to understand that the risk of hospitalization, particularly in a healthy child or adolescent, is very low. And also, the risk of myocarditis following administration of the messenger RNA vaccines is also very low, and effectively, probably pretty similar. So the benefit roughly equals the risk of harm," Dr. Cody Meissner, one of the Food and Drug Administration advisers who voted in 2021 to recommend authorization of Pfizer's shot for the 5 to 11 age group, told The Epoch Times after reviewing some of the more recent papers.
Pfizer's vaccine, the only one available to those under 18 in the United States, is built on messenger RNA technology.
Under DeSantis, Florida's approach to the pandemic, besides a short period of harsh restrictions mirroring much of the rest of the country, has been one that focuses on protecting the vulnerable while keeping government rules to a minimum.
Florida, for instance, banned vaccine passports in 2021. Many jurisdictions that kept vaccine passports and mask mandates have rolled them back in recent weeks.
"I think what you'll see increasingly, over the next year, is you will see more and more people come out and say, probably if you have a healthy 5- or 6-year-old kid, you probably don't need to be doing [the vaccine]," DeSantis said.
Meissner and other members of the Vaccines and Related Biological Products Advisory Committee, except for one, were supportive of authorizing the jab for 5- to 11-year-olds but before they voted to advise the Food and Drug Administration, multiple members expressed concern about vaccine mandates, noting the lack of data supporting vaccinating kids without comorbidities.
"Actually, if you look at [that], most of those people that were contributing to that were saying, 'I'm torn on this, because I feel if we approve it for 5- to 11-year-olds, it may be mandated in schools. And we think that's a bad idea. We think for high-risk kids, we want to make it available,'" De Santis said.
"So I think just in the next six to 12 months, you'll see more people move in his direction, and I think that's just the reality. And so, because you have this thing where people are saying you're not a good parent unless you do the COVID [shot] for very young kids, that's just not true. It really is your choice.
"Just understand what the data shows," he said. "I don't think you can say that the data has shown certainly a huge benefit. At best, you're looking at maybe marginal risks that may outweigh that. That's just the reality. And people can make those decisions."