Wealth Flaunting Incident Reveals Family Nature of CCP State Enterprises
A recent wealth flaunting incident by a state-owned enterprise (SOE) employee, which has been a hot topic on the Chinese internet, has unexpectedly brought to light the underlying institutional corruption in the CCP.The young man in the spotlight was Zhou Jie. On July 25, someone broke the story that Zhou had posted messages on Wechat Moments between 2019 and 2021 showing off his wealth and extensive contacts in local political and business circles, even though he was an ordinary employee of State-owned Capital Operation Holding Group in eastern China's Jiangxi Province. On July 27, the Group issued a notice about the investigation. In addition to finding Zhou's identity and his family's six houses and two shops, the notice also revealed the professional backgrounds of his parents and three uncles: they all worked in state-owned enterprises in Jiangxi's public transport system and were mostly middle- and upper-class officials. That's why, according to Zhou, a "study slacker" like him could get a job in a state-owned financial company where ordinary people need a master's degree in finance from one of China's top universities to enter. Although this is a common phenomenon in China, few people have spoken about it before. The incident has exposed a huge network of family political and business relations in many state-owned enterprises, and also revealed the family-oriented nature of state-owned enterprises in China. The first famous incident that revealed this network dates back to a young girl named Guo Meimei in 2011. Guo flaunted her wealth as a senior executive of the China Red Cross, inciting concerns over the organization's corruption and half-commercial operations. According to Li Yanming, a China expert based in the United States, the problem of family-oriented state-owned enterprises has always existed in the CCP's so called state-owned system. China's SOE reforms, which began in the 1980s, gave the CCP elite unregulated power to turn state resources for their own and their families' personal gain. The deeper nationalization of state-owned enterprises lies in that the CCP's top powerful families turn state assets into their private property, Li said. "China's key industries, such as power, transportation, oil, telecommunications, and finance, are basically divided by the CCP's powerful families, which is the inevitable result of the party's institutional corruption," he told The Epoch Times. However, due to the Party's overall control of Chinese society, information is so tightly blocked that "only when different interest groups in the Party fight against each other in political struggle will relevant information be revealed," he said. Rich and Powerful Long Divided up Assets of SOEs In 2006, Luneng Group, the largest state-owned company in Shandong Province, was secretly sold to two private companies in Beijing for one-twentieth of its valuation. At that time, Luneng had three listed companies with a market value of about 73.8 billion yuan (about $10.92 billion), spanning various industries including coal power, mining, real estate, engineering construction, finance, and sports. The private companies that paid 3.73 billion yuan (about $550 million) for a 91.6 percent stake in the supersized state-owned enterprise were Beijing Shouda Energy Company and Beijing Guoyuan United Company. However, even that 3.73 billion yuan came from Luneng, according to aboluowang.com, an overseas Chinese media. The specific operation was to buy a coal mine in Shanxi Province for 70 million yuan (about $10.36 million), then control the valuation of the appraisal company to 750 million yuan (about $110 million) and sell it to Luneng at that price. This operation occurred repeatedly. In January 2007, Caijing reported the ins and outs of the acquisition. The article was banned by the authorities after it was published, but it still caused a reaction among the people. The Caijing report revealed that the acquisition was done entirely behind closed doors. Until it was completed, no one inside Luneng knew who the real owner was. According to Caijing's investigation, the two companies are linked to Xiao Jianhua, a capital tycoon widely seen as a bagman of Zeng Wei, the son of Zeng Qinghong, the CCP's second-most powerful man. Zeng Wei is known for buying a luxury home in Australia in 2008 for AU $32.4 million (about $22.4 million). Due to the alleged loss of state-owned assets and pressure from public opinion, the State-owned Assets Supervision and Administration Commission of the State Council (SASAC) at the end of 2007 ordered Luneng to become a domestically funded enterprise again in accordance with the "principle of recovering the same assets at the same price." The group eventually bought back its 95 percent stake for 8.3 billion yuan (about $1.2 billion). The takeover netted the buyer 900 million yuan (about $130 million) despite the failure to keep Luneng, Caijing follow-up reports said. However, consider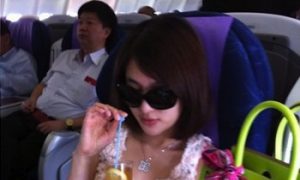 A recent wealth flaunting incident by a state-owned enterprise (SOE) employee, which has been a hot topic on the Chinese internet, has unexpectedly brought to light the underlying institutional corruption in the CCP.
The young man in the spotlight was Zhou Jie. On July 25, someone broke the story that Zhou had posted messages on Wechat Moments between 2019 and 2021 showing off his wealth and extensive contacts in local political and business circles, even though he was an ordinary employee of State-owned Capital Operation Holding Group in eastern China's Jiangxi Province.
On July 27, the Group issued a notice about the investigation. In addition to finding Zhou's identity and his family's six houses and two shops, the notice also revealed the professional backgrounds of his parents and three uncles: they all worked in state-owned enterprises in Jiangxi's public transport system and were mostly middle- and upper-class officials.
That's why, according to Zhou, a "study slacker" like him could get a job in a state-owned financial company where ordinary people need a master's degree in finance from one of China's top universities to enter.
Although this is a common phenomenon in China, few people have spoken about it before. The incident has exposed a huge network of family political and business relations in many state-owned enterprises, and also revealed the family-oriented nature of state-owned enterprises in China.
The first famous incident that revealed this network dates back to a young girl named Guo Meimei in 2011. Guo flaunted her wealth as a senior executive of the China Red Cross, inciting concerns over the organization's corruption and half-commercial operations.
According to Li Yanming, a China expert based in the United States, the problem of family-oriented state-owned enterprises has always existed in the CCP's so called state-owned system. China's SOE reforms, which began in the 1980s, gave the CCP elite unregulated power to turn state resources for their own and their families' personal gain.
The deeper nationalization of state-owned enterprises lies in that the CCP's top powerful families turn state assets into their private property, Li said. "China's key industries, such as power, transportation, oil, telecommunications, and finance, are basically divided by the CCP's powerful families, which is the inevitable result of the party's institutional corruption," he told The Epoch Times.
However, due to the Party's overall control of Chinese society, information is so tightly blocked that "only when different interest groups in the Party fight against each other in political struggle will relevant information be revealed," he said.
Rich and Powerful Long Divided up Assets of SOEs
In 2006, Luneng Group, the largest state-owned company in Shandong Province, was secretly sold to two private companies in Beijing for one-twentieth of its valuation. At that time, Luneng had three listed companies with a market value of about 73.8 billion yuan (about $10.92 billion), spanning various industries including coal power, mining, real estate, engineering construction, finance, and sports.
The private companies that paid 3.73 billion yuan (about $550 million) for a 91.6 percent stake in the supersized state-owned enterprise were Beijing Shouda Energy Company and Beijing Guoyuan United Company.
However, even that 3.73 billion yuan came from Luneng, according to aboluowang.com, an overseas Chinese media. The specific operation was to buy a coal mine in Shanxi Province for 70 million yuan (about $10.36 million), then control the valuation of the appraisal company to 750 million yuan (about $110 million) and sell it to Luneng at that price. This operation occurred repeatedly.
In January 2007, Caijing reported the ins and outs of the acquisition. The article was banned by the authorities after it was published, but it still caused a reaction among the people.
The Caijing report revealed that the acquisition was done entirely behind closed doors. Until it was completed, no one inside Luneng knew who the real owner was. According to Caijing's investigation, the two companies are linked to Xiao Jianhua, a capital tycoon widely seen as a bagman of Zeng Wei, the son of Zeng Qinghong, the CCP's second-most powerful man. Zeng Wei is known for buying a luxury home in Australia in 2008 for AU $32.4 million (about $22.4 million).
Due to the alleged loss of state-owned assets and pressure from public opinion, the State-owned Assets Supervision and Administration Commission of the State Council (SASAC) at the end of 2007 ordered Luneng to become a domestically funded enterprise again in accordance with the "principle of recovering the same assets at the same price." The group eventually bought back its 95 percent stake for 8.3 billion yuan (about $1.2 billion).
The takeover netted the buyer 900 million yuan (about $130 million) despite the failure to keep Luneng, Caijing follow-up reports said. However, considering that in addition to the initial 70 million yuan, the 3.73 billion yuan capital used also came from Luneng, then the two private companies netted 4.55 billion yuan (about $670 million) during Luneng's privatization and renationalization.
Zhang Gaoli, then secretary of Shandong Provincial Party Committee, and Liu Zhenya, chairman of Shandong Energy Group, the parent company of Luneng, were both promoted by Zeng Qinghong in connection with the incident, with Zhang joining the top echelon of the CCP as a member of the Politburo Standing Committee in 2017 and Liu taking the position of chairman of the board and party secretary of China's State Grid Corporation.
The family of Jiang Zemin, the former CCP leader who lead the party from 1989 to the 2000s, became China's biggest vested interest group in using its supreme power to enrich itself.
Reuters reported in 2014 that Boyu Capital, which belongs to Jiang's grandson Jiang Zhicheng, had bought a controlling stake in Sunrise Duty Free in 2011 for an eighth of its valuation, and tripled its investment in three years. The duty-free shop industry is a tightly controlled state monopoly in China.
According to the report, Sunrise Duty Free was able to obtain a 10-year license and renewal to open duty-free shops in China's two largest airports thanks to Jiang Zemin's direct approval, which allowed its founder, Chinese-American Fred Kiang, to enjoy the privileges of duty-free shops in China that foreigners could not own.
Fred Kiang was reportedly born in Shanghai and is of the same family as Jiang Zemin. According to the Jiang family tree, Fred Kiang is of the "Shi" generation, the same generation as Jiang Zemin's father, Jiang Shijun. Both Jiang Zhicheng and his father, Jiang Mianheng, used one of Fred Kiang's property in Tucson, Arizona, for smaller private business transactions while they were in the United States.