We Need More Campaign Spending, Not Less
CommentaryThe fine reporter Gustavo Arellano attacks the more than $100 million Rick Caruso spent on his losing campaign for mayor of Los Angeles. He said the money could have been better spent on more worthy causes, such as "a year of tuition, housing, dining and books for 1,124 undergrads at his alma mater, USC." I think the opposite is true. More needs to be spent on elections to inform the voters. Let's take a closer look. Arellano: $104,848,887.43 — Rick Caruso spent at least that much on his unsuccessful campaign to become mayor of Los Angeles, according to the latest campaign finance records. That's 11 times more than the $9 million spent by the victor, Karen Bass. It's the largest amount a mayoral candidate has spent in U.S. history, just ahead of the $102 million Michael Bloomberg threw at his 2009 reelection in New York. Except that doesn't include the vast "in kind" sums from the unions in organizing workers for Bass. For example, on Aug. 24 a local union announced in a headline: "Labor for Bass: LA's Largest Latino Labor Unions UNITE HERE Local 11 and SEIU-USWW Announce Endorsement of Karen Bass for Mayor." The announcement, worth reading in full: Los Angeles:  Today, dozens of hospitality and service workers from UNITE HERE Local 11 and SEIU-USWW, two of Los Angeles's largest private sector unions representing tens of thousands of Latino workers, announced they are endorsing Karen Bass for Mayor of Los Angeles. Holding the tools of the jobs they do every day to keep Los Angeles running, hotel housekeepers, airport food service workers, cooks, dishwashers and janitorial staff came together at Placita Olvera, a historic gathering place for working class Latinos proudly dawning their union colors and chanting "Si se puede!" as they announced their endorsement. Housekeepers and Janitors have been a political force for decades in California promising hundreds of volunteers to contact voters and "Get out the Vote."  In 2020, Unite Here Local 11 and SEIU-USWW led the effort to turn out the Latino vote in Arizona which was critical in flipping the state for Biden. They then went on to Georgia to play a key role in the runoff election that put Senator Warnock in office and won the Democrats a majority in the Senate. That's clout. And that's just a private-sector union. The public-sector unions also heavily organized for Bass, paid for from dues ultimately coming from the taxpayers. Take the United Teachers of Los Angeles, which endorsed Bass, proclaiming: When Karen Bass is elected Mayor of Los Angeles, she will bring us all together to build a city where no one goes without healthcare, without housing, where we are all paid a living wage and public education is invested in. We are proud to fight to send her to City Hall. Arellano continues: Caruso hoped to replicate the success of Richard Riordan, another L.A. rich-man-turned-mayor. Instead, the billionaire developer joined Al Checchi, Michael Huffington and Meg Whitman in California's political bonfire of self-funded, fabulously wealthy losers. Wealthy losers indeed. But I wrote about those races and none stood a chance. In 1994, Huffington was a joke all along, pushed into the race by his peripatetically ideological wife, Arianna, at the time a conservative, later a liberal. Checchi lost in the primary in 1998 to the heavily organized, and union-backed, Gray Davis. And in 2010 Whitman just ran a billionaire's vanity campaign against Jerry Brown. She hired three squabbling "chief" consultants, at a time when Gov. Arnold Schwarzenegger's administration was dissolving in recession, a $40 billion deficit, a record $13 billion in tax increases, and embracing the policies of his Democrat wife Maria Shriver (soon to divorce him)—taking down what was left of the already severely wounded GOP. Along with Republican Dan Lungren's 1998 losing race against Davis in the general election, the Huffington and Whitman campaigns were two of the worst I've ever seen. Caruso, by contrast, had a chance, and was closing in on Bass at the end, attacking the city's crime and homelessness problems. Politico reported Oct. 21, "Caruso has erased a double-digit deficit with Bass in the final weeks of the most expensive mayor's contest in city history." However, it didn't happen. Union power, plus an endorsement by the L.A. Times, pushed Bass over the top. Caruso, a Republican most of his life, also had a hard time convincing people he now was a true-Blue Democrat. But if Caruso had not wasted his centi-million running, who would have been the candidate against Bass? Third in the June 7 primary was none other than Councilman Kevin de León! What a fun general election that would have been. It came out later, of course, that de León made racist comments, as revealed on tape, and still refused to resign. Despite eloquent pleas by Arellano that he do so. Finally, back to the money. Caruso spent $104.8 million. Given the City of Los Angeles has 1,993,663 registered v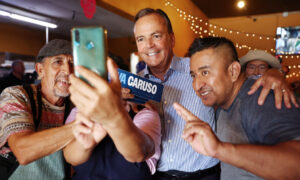 Commentary
The fine reporter Gustavo Arellano attacks the more than $100 million Rick Caruso spent on his losing campaign for mayor of Los Angeles. He said the money could have been better spent on more worthy causes, such as "a year of tuition, housing, dining and books for 1,124 undergrads at his alma mater, USC." I think the opposite is true. More needs to be spent on elections to inform the voters. Let's take a closer look. Arellano:
$104,848,887.43 — Rick Caruso spent at least that much on his unsuccessful campaign to become mayor of Los Angeles, according to the latest campaign finance records.

That's 11 times more than the $9 million spent by the victor, Karen Bass. It's the largest amount a mayoral candidate has spent in U.S. history, just ahead of the $102 million Michael Bloomberg threw at his 2009 reelection in New York.
Except that doesn't include the vast "in kind" sums from the unions in organizing workers for Bass. For example, on Aug. 24 a local union announced in a headline: "Labor for Bass: LA's Largest Latino Labor Unions UNITE HERE Local 11 and SEIU-USWW Announce Endorsement of Karen Bass for Mayor."
The announcement, worth reading in full:
Los Angeles:  Today, dozens of hospitality and service workers from UNITE HERE Local 11 and SEIU-USWW, two of Los Angeles's largest private sector unions representing tens of thousands of Latino workers, announced they are endorsing Karen Bass for Mayor of Los Angeles.

Holding the tools of the jobs they do every day to keep Los Angeles running, hotel housekeepers, airport food service workers, cooks, dishwashers and janitorial staff came together at Placita Olvera, a historic gathering place for working class Latinos proudly dawning their union colors and chanting "Si se puede!" as they announced their endorsement.

Housekeepers and Janitors have been a political force for decades in California promising hundreds of volunteers to contact voters and "Get out the Vote."  In 2020, Unite Here Local 11 and SEIU-USWW led the effort to turn out the Latino vote in Arizona which was critical in flipping the state for Biden. They then went on to Georgia to play a key role in the runoff election that put Senator Warnock in office and won the Democrats a majority in the Senate.
That's clout. And that's just a private-sector union. The public-sector unions also heavily organized for Bass, paid for from dues ultimately coming from the taxpayers. Take the United Teachers of Los Angeles, which endorsed Bass, proclaiming:
When Karen Bass is elected Mayor of Los Angeles, she will bring us all together to build a city where no one goes without healthcare, without housing, where we are all paid a living wage and public education is invested in. We are proud to fight to send her to City Hall.
Arellano continues:
Caruso hoped to replicate the success of Richard Riordan, another L.A. rich-man-turned-mayor.

Instead, the billionaire developer joined Al Checchi, Michael Huffington and Meg Whitman in California's political bonfire of self-funded, fabulously wealthy losers.
Wealthy losers indeed. But I wrote about those races and none stood a chance. In 1994, Huffington was a joke all along, pushed into the race by his peripatetically ideological wife, Arianna, at the time a conservative, later a liberal. Checchi lost in the primary in 1998 to the heavily organized, and union-backed, Gray Davis.
And in 2010 Whitman just ran a billionaire's vanity campaign against Jerry Brown. She hired three squabbling "chief" consultants, at a time when Gov. Arnold Schwarzenegger's administration was dissolving in recession, a $40 billion deficit, a record $13 billion in tax increases, and embracing the policies of his Democrat wife Maria Shriver (soon to divorce him)—taking down what was left of the already severely wounded GOP.
Along with Republican Dan Lungren's 1998 losing race against Davis in the general election, the Huffington and Whitman campaigns were two of the worst I've ever seen.
Caruso, by contrast, had a chance, and was closing in on Bass at the end, attacking the city's crime and homelessness problems. Politico reported Oct. 21, "Caruso has erased a double-digit deficit with Bass in the final weeks of the most expensive mayor's contest in city history." However, it didn't happen. Union power, plus an endorsement by the L.A. Times, pushed Bass over the top. Caruso, a Republican most of his life, also had a hard time convincing people he now was a true-Blue Democrat.
But if Caruso had not wasted his centi-million running, who would have been the candidate against Bass? Third in the June 7 primary was none other than Councilman Kevin de León! What a fun general election that would have been. It came out later, of course, that de León made racist comments, as revealed on tape, and still refused to resign. Despite eloquent pleas by Arellano that he do so.
Finally, back to the money. Caruso spent $104.8 million. Given the City of Los Angeles has 1,993,663 registered voters, that comes to $52.60 per registered voter.
Of course, not everyone voted. Caruso got 419,765 to Bass's 509,621. Total: 929,386. Or 46.6 percent. But when people don't vote, that's still a "vote" because they didn't like either candidate, or just didn't think it important enough.
I don't think $52.60 per registered voter is too high, but too low given the gravity of the city's problems.
Another factor is this was by far the most important ballot choice for those who did vote. The statewide races for governor, treasure, controller, etc., easily were won by the Democrat candidates. And there was enough difference between Bass and Caruso to make a vote in that race meaningful. Caruso might have been a combination of Riordan and 1990s-era New York City Mayor Rudy Giuliani. Or at least tried to.
That $52.60 per registered voter really isn't all that much to get Caruso's message out through the fog of liberal media endorsement of Bass, union power, and general apathy.
Under Bass, as I wrote earlier in The Epoch Times, the city's immense problems likely only will fester. The city may be destined to become Detroit with great weather.
Views expressed in this article are the opinions of the author and do not necessarily reflect the views of The Epoch Times.