Vin Scully: The Last Uniter
CommentaryOne of the joys of coming to Southern California in 1987 was listening to Vin Scully broadcast the games of the Los Angeles Dodgers. Especially memorable was Kirk Gibson's walk-off home run in the 1988 World Series, which I've watched numerous times, beginning where Scully says, "Look who's comin' up." I'm from Detroit, so I was a big fan of Gibson, himself a Michigan native, especially when he powered the Detroit Tigers' 1984 World Series championship. Like seemingly everybody, I've been remembering Scully since his death Aug. 2 at age 94. It's touching how beloved he was. Some headlines: "Vin Scully Was Los Angeles." "His voice lives on in LA." "A true treasure." "He transcended baseball: He was life." He broadcast 67 years for the Dodgers, starting from when they still were the "Dem Bums" in Brooklyn, then in Los Angeles when the team shifted there in 1958, retiring in 2016. He started just after Jackie Robinson in 1947 broke the "color barrier," becoming the Major League Baseball's first black player, then leading the Dodgers to their first World Series win in 1956. Scully can be considered "The Last Uniter." Everybody knew him, and liked him. This is true because his great personality was a perfect fit for his times, and his medium. He broadcast during the peak of "free" TV. You just turned on the tube, flipped to the right channel, and watched the games, paid for by ads. I used to watch Dodgers and Anaheim Angels games in the background when I was writing or cleaning my apartment. Today, you have to buy a service to watch the Dodgers' games. According to TV Guide, "How you'll watch games depends on where you live. If you live in-market for the Los Angeles Dodgers, games will typically air on Spectrum SportsNet LA, the regional sports network for the Dodgers." It costs money and it's complicated. Baseball, instead of being the universal sport it was when Scully broadcast, now is a niche sport. College football and the NFL have become the national sport, usually broadcast on free TV, although some games are on the pay channels. According to Grounded Reason, "If you live in the Rams TV market, games will air weekly on the local flagship channel, KABC-TV (ABC 7)." But the TV medium itself has changed. Media guru Marshall McLuhan's 1964 book "Understanding Media" is useful here. If you want to check it out, David Kadavy provided a good summary. McLuhan's is best known for his saying, "the medium is the message." And for distinguishing between "hot" and "cool" media. A "hot" medium is one with a lot of energy, such as AM radio. Think the late Rush Limbaugh. It involves controversy, opinions, yelling. A "cool" medium is calmer, smoother, such as TV before about 2010. A typical TV of the 1960s was blurry black-and-white device. Think Johnny Carson or his predecessor on late-night TV, Jack Paar. In politics, it was Jack Kennedy, definitely not Donald Trump. Vin Scully was perfect for this medium. But TV has changed in the last decade or so and no longer is a "cool" medium. The screens have become so large and clear it's now a "hot" medium. That's why we have screaming announcers with loud opinions even on sports channels. It's what made Donald Trump president in 2016, instead of 2000 during his first run. The transition also is seen in the shift in late night TV hosts. The current "hot" hosts such as Jimmy Kimmel and Stephen Colbert replaced the "cool" Jay Leno in 2014 and David Letterman in 2015. The new hosts are all about pushing incendiary left-wing political nonsense I don't find funny. By contrast, I used to flip on Leno or Letterman—or Carson before them—to get a few laughs before bed. Their political jokes were aimed at both Republicans and Democrats, more ironic than insulting. They also united the country in a way the new guys cannot with jokes people would talk about the next day. Scully was part of that—a perfect fit for his medium and his audience. A "cool" broadcaster who brought the games to life, with the right amount of play calling mixed with anecdotes and humor. He united Southern California, from generation to generation. His passing, and the changes in the TV medium he graced for so long, will make keeping this community together that much harder. He was The Last Uniter. Views expressed in this article are the opinions of the author and do not necessarily reflect the views of The Epoch Times. Follow John Seiler is a veteran California opinion writer. He has written editorials for The Orange County Register for almost 30 years. He is a U.S. Army veteran and former press secretary for California state Sen. John Moorlach. He blogs at JohnSeiler.Substack.com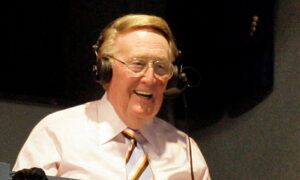 Commentary
One of the joys of coming to Southern California in 1987 was listening to Vin Scully broadcast the games of the Los Angeles Dodgers. Especially memorable was Kirk Gibson's walk-off home run in the 1988 World Series, which I've watched numerous times, beginning where Scully says, "Look who's comin' up."
I'm from Detroit, so I was a big fan of Gibson, himself a Michigan native, especially when he powered the Detroit Tigers' 1984 World Series championship.
Like seemingly everybody, I've been remembering Scully since his death Aug. 2 at age 94. It's touching how beloved he was. Some headlines:
"Vin Scully Was Los Angeles."
"His voice lives on in LA."
"A true treasure."
"He transcended baseball: He was life."
He broadcast 67 years for the Dodgers, starting from when they still were the "Dem Bums" in Brooklyn, then in Los Angeles when the team shifted there in 1958, retiring in 2016.
He started just after Jackie Robinson in 1947 broke the "color barrier," becoming the Major League Baseball's first black player, then leading the Dodgers to their first World Series win in 1956.
Scully can be considered "The Last Uniter." Everybody knew him, and liked him. This is true because his great personality was a perfect fit for his times, and his medium.
He broadcast during the peak of "free" TV. You just turned on the tube, flipped to the right channel, and watched the games, paid for by ads. I used to watch Dodgers and Anaheim Angels games in the background when I was writing or cleaning my apartment.
Today, you have to buy a service to watch the Dodgers' games. According to TV Guide, "How you'll watch games depends on where you live. If you live in-market for the Los Angeles Dodgers, games will typically air on Spectrum SportsNet LA, the regional sports network for the Dodgers."
It costs money and it's complicated. Baseball, instead of being the universal sport it was when Scully broadcast, now is a niche sport.
College football and the NFL have become the national sport, usually broadcast on free TV, although some games are on the pay channels. According to Grounded Reason, "If you live in the Rams TV market, games will air weekly on the local flagship channel, KABC-TV (ABC 7)."
But the TV medium itself has changed. Media guru Marshall McLuhan's 1964 book "Understanding Media" is useful here. If you want to check it out, David Kadavy provided a good summary.
McLuhan's is best known for his saying, "the medium is the message." And for distinguishing between "hot" and "cool" media.
A "hot" medium is one with a lot of energy, such as AM radio. Think the late Rush Limbaugh. It involves controversy, opinions, yelling.
A "cool" medium is calmer, smoother, such as TV before about 2010. A typical TV of the 1960s was blurry black-and-white device. Think Johnny Carson or his predecessor on late-night TV, Jack Paar. In politics, it was Jack Kennedy, definitely not Donald Trump. Vin Scully was perfect for this medium.
But TV has changed in the last decade or so and no longer is a "cool" medium. The screens have become so large and clear it's now a "hot" medium. That's why we have screaming announcers with loud opinions even on sports channels. It's what made Donald Trump president in 2016, instead of 2000 during his first run.
The transition also is seen in the shift in late night TV hosts. The current "hot" hosts such as Jimmy Kimmel and Stephen Colbert replaced the "cool" Jay Leno in 2014 and David Letterman in 2015. The new hosts are all about pushing incendiary left-wing political nonsense I don't find funny.
By contrast, I used to flip on Leno or Letterman—or Carson before them—to get a few laughs before bed. Their political jokes were aimed at both Republicans and Democrats, more ironic than insulting. They also united the country in a way the new guys cannot with jokes people would talk about the next day.
Scully was part of that—a perfect fit for his medium and his audience. A "cool" broadcaster who brought the games to life, with the right amount of play calling mixed with anecdotes and humor. He united Southern California, from generation to generation.
His passing, and the changes in the TV medium he graced for so long, will make keeping this community together that much harder. He was The Last Uniter.
Views expressed in this article are the opinions of the author and do not necessarily reflect the views of The Epoch Times.