US Worked With China, India to Deter Russia From Using Tactical Nuclear Weapons in Ukraine, Blinken Says
In response to intelligence that Russian President Vladmir Putin was considering nuking Ukraine last spring, the Biden administration worked with China, India, and other nations to coordinate a message of opposition to deter Putin from pushing the button, U.S. Secretary of State Antony Blinken said on Thursday. Speaking to editor-in-chief of Atlantic Magazine Jeffrey Goldberg, Blinken explained that, in the spring of 2022, the State Department was concerned that Putin might act "irrationally" and had obtained intelligence out of Moscow suggesting the Russian president "would look to the use of tactical nuclear weapons" in Ukraine. The secretary said the impetus for Putin's escalatory considerations was a successful Ukrainian counteroffensive. Last year's counteroffensive saw Ukraine expel Russian troops from key northern regions surrounding the capital city of Kyiv, pushing them eastward and forcing them to reconvene.  Many foreign powers issued public statements at the time, worried about what Putin might do. In April, China's Foreign Ministry Spokesperson Wang Wenbin urged Russian Foreign Minister Sergey Lavrov to exercise "restraint" and said the world faces a "real" threat of nuclear war. "No one wants to see the outbreak of a third World War," Wenbin cautioned.  The Defence Minister of India Rajnath Singh spoke with his Russian counterpart Sergei Shoigu and warned him against using atomic weaponry. "The nuclear option should not be resorted to by any side as the prospect of the usage of nuclear or radiological weapons goes against the basic tenets of humanity," read an October statement by India's Ministry of Defence summarizing their conversation.  Blinken attributed these moves to the U.S. influence effort. "We urged, and I think successfully, other countries that might have a little bit more influence with Russia these days, like China, but also other countries, like India, to engage [Putin] directly about their absolute opposition to any use of nuclear weapons," he said, "We know that they conveyed those messages, and I think that had some effect." Fears of Russia crossing the line have renewed as an intelligence report out of Norway revealed that Russia's North Fleet surface vessels may be carrying nuclear arms. "A central part of the nuclear capabilities is located on the North Fleet's submarines and surface vessels," read the report. Russia's only aircraft carrier and flagship of the North Fleet departed from its dock early Wednesday morning. The vessel had not been deployed since 2016. Lithuanian intelligence from last year corroborated the Norwegian claims, saying Russia possessed nuclear capabilities in the Baltic region.  Adding to risks is the likelihood of a second counteroffensive, which adviser to Ukraine's minister of internal affairs Anton Gerashchenko told Newsweek could happen as soon as April. Soon to be armed with M1 Abrams and Leopard 2 battle tanks from various European donors, surface-to-air missiles from the United States, and armored infantry vehicles from both continents, the Ukrainian military will go on the offensive once the munitions arrive, Gerashchenko said. A Polish soldier walks next to the Leopard 2 tanks during a training at a military base and test range in Swietoszow, Poland, on Feb. 13, 2023. (Michal Dyjuk/AP Photo) Despite rising tensions, the Biden administration remains committed to providing arms to Kyiv. "We are supporting the Ukrainians in their war that Russia started, so let's be clear about that," Pentagon Press Secretary Sabrina Singh told the Epoch Times on Wednesday. "The administration has been committed to Ukraine for as long as it takes, and that's what we're going to continue to do." In a speech in Poland on Tuesday, President Joe Biden said, "Putin no longer doubts the strength of our coalition," referring to the North Atlantic Treaty Organization (NATO). The president reaffirmed his administration's willingness to finance a prolonged conflict. "Our support for Ukraine will not waiver. NATO will not be divided, and we will not tire."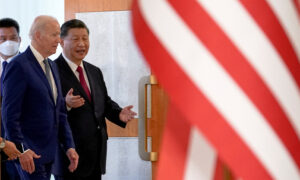 In response to intelligence that Russian President Vladmir Putin was considering nuking Ukraine last spring, the Biden administration worked with China, India, and other nations to coordinate a message of opposition to deter Putin from pushing the button, U.S. Secretary of State Antony Blinken said on Thursday.
Speaking to editor-in-chief of Atlantic Magazine Jeffrey Goldberg, Blinken explained that, in the spring of 2022, the State Department was concerned that Putin might act "irrationally" and had obtained intelligence out of Moscow suggesting the Russian president "would look to the use of tactical nuclear weapons" in Ukraine. The secretary said the impetus for Putin's escalatory considerations was a successful Ukrainian counteroffensive.
Last year's counteroffensive saw Ukraine expel Russian troops from key northern regions surrounding the capital city of Kyiv, pushing them eastward and forcing them to reconvene.
Many foreign powers issued public statements at the time, worried about what Putin might do.
In April, China's Foreign Ministry Spokesperson Wang Wenbin urged Russian Foreign Minister Sergey Lavrov to exercise "restraint" and said the world faces a "real" threat of nuclear war. "No one wants to see the outbreak of a third World War," Wenbin cautioned.
The Defence Minister of India Rajnath Singh spoke with his Russian counterpart Sergei Shoigu and warned him against using atomic weaponry.
"The nuclear option should not be resorted to by any side as the prospect of the usage of nuclear or radiological weapons goes against the basic tenets of humanity," read an October statement by India's Ministry of Defence summarizing their conversation.
Blinken attributed these moves to the U.S. influence effort.
"We urged, and I think successfully, other countries that might have a little bit more influence with Russia these days, like China, but also other countries, like India, to engage [Putin] directly about their absolute opposition to any use of nuclear weapons," he said, "We know that they conveyed those messages, and I think that had some effect."
Fears of Russia crossing the line have renewed as an intelligence report out of Norway revealed that Russia's North Fleet surface vessels may be carrying nuclear arms.
"A central part of the nuclear capabilities is located on the North Fleet's submarines and surface vessels," read the report. Russia's only aircraft carrier and flagship of the North Fleet departed from its dock early Wednesday morning. The vessel had not been deployed since 2016.
Lithuanian intelligence from last year corroborated the Norwegian claims, saying Russia possessed nuclear capabilities in the Baltic region.
Adding to risks is the likelihood of a second counteroffensive, which adviser to Ukraine's minister of internal affairs Anton Gerashchenko told Newsweek could happen as soon as April. Soon to be armed with M1 Abrams and Leopard 2 battle tanks from various European donors, surface-to-air missiles from the United States, and armored infantry vehicles from both continents, the Ukrainian military will go on the offensive once the munitions arrive, Gerashchenko said.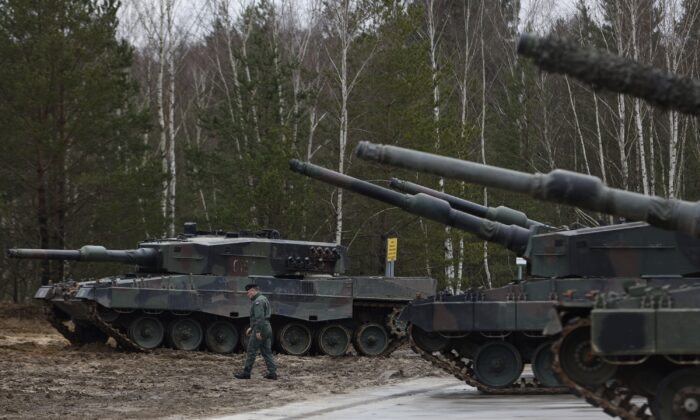 Despite rising tensions, the Biden administration remains committed to providing arms to Kyiv.
"We are supporting the Ukrainians in their war that Russia started, so let's be clear about that," Pentagon Press Secretary Sabrina Singh told the Epoch Times on Wednesday.
"The administration has been committed to Ukraine for as long as it takes, and that's what we're going to continue to do."
In a speech in Poland on Tuesday, President Joe Biden said, "Putin no longer doubts the strength of our coalition," referring to the North Atlantic Treaty Organization (NATO). The president reaffirmed his administration's willingness to finance a prolonged conflict.
"Our support for Ukraine will not waiver. NATO will not be divided, and we will not tire."