US Warns Citizens 'Reconsider Travel' Amid COVID Separation of Mother and Son
The United States urges its citizens "Reconsider Travel" in its latest travel advice to American nationals.Commentator: Even with the incident in which a mother and her child were forcibly separated after entry quarantine, there is still no apparent sign that the Hong Kong government takes any steps to review such mishaps. Commentator Simon Lee says the Hong Kong government is no longer under media supervision. So, it has no constraints and Hong Kong will suffer from its actions. The U.S. travel alert for Hong Kong is now at level 3 "Reconsider Travel." It mentions in particular that if children are diagnosed, they may be separated from their parents. Simon Lee Sai-man, a political and economic commentator, said that the current Hong Kong administration can act recklessly when there is no more media monitoring in place. It comes as no surprise HK is placed under the travel warning category by the U.S., all due to its own lack of restraint. The U.S. State Department had ever updated its travel advisory on July 19, urging all U.S. nationals not to travel to HK. To underline that, it states in bold one possibility: "…… including the risk of parents and children being separated due to current pandemic prevention restrictions." As justification, it cited a few relevant cases, "children in HK and the China who test positive have been separated from their parents and kept in isolation until they meet local hospital discharge requirements." In an interview with an online programme, Lee said that after a mother and son went to a designated quarantine hotel in Hong Kong, the authorities said that the son tested positive when he entered the country and would be sent to Penny's Bay for isolation. The mother tested negative. The mother asked if she could move in with her son but was refused. As a result, the son was forcibly separated from his mother and sent to Penny's Bay. The mother was left totally flabbergasted at that moment. Current rules have it that, people entering Hong Kong from outside China need to undergo a so-called "7+7" quarantine for those who test negative upon entry. That is a 7-day stay in a designated quarantine hotel plus another 7-day in self-monitoring. However, from Aug.13 quarantine will change to 3+4. Those who test positive upon entry will be sent to an isolation centre without delay. In addition to the separation of mother and child, Lee added that he also saw strange cases via the online group chat. When some people were on their final days in a hotel quarantine, but for some reasons due to flight delays and need to stay longer, they were refused any extra days booking in the hotel to meet their new flight departure date. Lack of Media Monitoring is the Most Likely Culprit Under the HK National Security Law (NSL), freedom of speech and freedom of the press in HK have both been severely curtailed. Criticism of the government has been reduced or even "nullified." Based on all these, Lee said bluntly that the biggest problem lies in the media having no more role now in monitoring the government. Without due monitoring from free media, the Hong Kong administration becomes ignorant of all reviews. And on the other hand, we see more and more cases it has continued to enforce the law recklessly. The high (Level 3) travel warning tagged on HK by the U.S. could be said to be "self-inflicted," and they have only themselves to blame. Lee said that in the past, when Apple Daily, Stand News, and the likes were still around, they would put such news as headlines on their front pages to arouse the government's attention or force some sort of concession. Even the pro-establishment media would likely follow suit and talked about it. Most of the time when facing such pressure from all sides of the political spectrum, the government will handle each case in a "more appropriate" way. If that were still the case now, it is likely both the mother and her son will stay in Penny's Bay together, as a gesture of leniency or special treatment under exceptional circumstances, leading to a happy conclusion. Unfortunately, with the current HK media all in a state of virtual self-castration, the Hong Kong government can do whatever it likes. That is why when the U.S. said that you are "too arbitrary and rigid" in enforcing these laws, there is a lot of truth in it. Lee stressed that in the case of the Hong Kong government's reckless law enforcement, it is right the U.S. lists all risks and advises its nationals to avoid coming to Hong Kong to safeguard the well-being of its citizens. It has nothing to do with what the Hong Kong government saying all day long, "foreign governments should not make irresponsible remarks." He sighed: "The problem is not that people want to smear you, but only that you show no restraints." Follow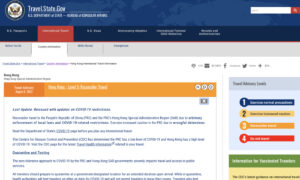 The United States urges its citizens "Reconsider Travel" in its latest travel advice to American nationals.
Commentator: Even with the incident in which a mother and her child were forcibly separated after entry quarantine, there is still no apparent sign that the Hong Kong government takes any steps to review such mishaps.
Commentator Simon Lee says the Hong Kong government is no longer under media supervision. So, it has no constraints and Hong Kong will suffer from its actions.
The U.S. travel alert for Hong Kong is now at level 3 "Reconsider Travel." It mentions in particular that if children are diagnosed, they may be separated from their parents.
Simon Lee Sai-man, a political and economic commentator, said that the current Hong Kong administration can act recklessly when there is no more media monitoring in place. It comes as no surprise HK is placed under the travel warning category by the U.S., all due to its own lack of restraint.
The U.S. State Department had ever updated its travel advisory on July 19, urging all U.S. nationals not to travel to HK. To underline that, it states in bold one possibility: "…… including the risk of parents and children being separated due to current pandemic prevention restrictions." As justification, it cited a few relevant cases, "children in HK and the China who test positive have been separated from their parents and kept in isolation until they meet local hospital discharge requirements."
In an interview with an online programme, Lee said that after a mother and son went to a designated quarantine hotel in Hong Kong, the authorities said that the son tested positive when he entered the country and would be sent to Penny's Bay for isolation. The mother tested negative.
The mother asked if she could move in with her son but was refused. As a result, the son was forcibly separated from his mother and sent to Penny's Bay. The mother was left totally flabbergasted at that moment.
Current rules have it that, people entering Hong Kong from outside China need to undergo a so-called "7+7" quarantine for those who test negative upon entry. That is a 7-day stay in a designated quarantine hotel plus another 7-day in self-monitoring. However, from Aug.13 quarantine will change to 3+4.
Those who test positive upon entry will be sent to an isolation centre without delay.
In addition to the separation of mother and child, Lee added that he also saw strange cases via the online group chat. When some people were on their final days in a hotel quarantine, but for some reasons due to flight delays and need to stay longer, they were refused any extra days booking in the hotel to meet their new flight departure date.
Lack of Media Monitoring is the Most Likely Culprit
Under the HK National Security Law (NSL), freedom of speech and freedom of the press in HK have both been severely curtailed. Criticism of the government has been reduced or even "nullified." Based on all these, Lee said bluntly that the biggest problem lies in the media having no more role now in monitoring the government.
Without due monitoring from free media, the Hong Kong administration becomes ignorant of all reviews. And on the other hand, we see more and more cases it has continued to enforce the law recklessly. The high (Level 3) travel warning tagged on HK by the U.S. could be said to be "self-inflicted," and they have only themselves to blame.
Lee said that in the past, when Apple Daily, Stand News, and the likes were still around, they would put such news as headlines on their front pages to arouse the government's attention or force some sort of concession. Even the pro-establishment media would likely follow suit and talked about it. Most of the time when facing such pressure from all sides of the political spectrum, the government will handle each case in a "more appropriate" way.
If that were still the case now, it is likely both the mother and her son will stay in Penny's Bay together, as a gesture of leniency or special treatment under exceptional circumstances, leading to a happy conclusion. Unfortunately, with the current HK media all in a state of virtual self-castration, the Hong Kong government can do whatever it likes. That is why when the U.S. said that you are "too arbitrary and rigid" in enforcing these laws, there is a lot of truth in it.
Lee stressed that in the case of the Hong Kong government's reckless law enforcement, it is right the U.S. lists all risks and advises its nationals to avoid coming to Hong Kong to safeguard the well-being of its citizens. It has nothing to do with what the Hong Kong government saying all day long, "foreign governments should not make irresponsible remarks." He sighed: "The problem is not that people want to smear you, but only that you show no restraints."