US to Prioritize Regional Partners in Asia Over Communication with China: WH Official
The Biden administration is seeking to defend the rules-based international order in Asia by working closely with regional allies and partners rather than prioritizing communication with China, an administration official said. The United States will work with partners to shape the operating environment of the Indo-Pacific, according to National Security Council Coordinator for Indo-Pacific Affairs Kurt Campbell. "We recognize now that the most important steps that we can take have to do with the operating system, and how we work with allies and partners," Campbell said during a March 30 discussion with the Center for a New American Security think tank. "The idea here is not to in any way challenge China, or surround China, but to protect our interests and to make sure that through common effort we are able to stabilize and strengthen the elements of this system which we think have benefited all." US-China Guardrails Not Working Campbell said that a long predominant theory in foreign policy regarding China held that the United States should communicate directly with the regime in Beijing to create change through Asia. That theory, Campbell said, had been demonstrated to be wrong, and the United States would instead seek to shape the regime's decision-making by shaping the environment around it. "[The new theory] believes that the more effective framework was to work with allies and partners to create a larger context for then engaging China more directly," Campbell said. "That's what President Biden has sought to do. To work on it with our existing bilateral engagements but also with new partners…" Campbell added that U.S. efforts to directly convince China to adopt more amicable or liberal policies and practices had failed. As such, he said, the United States would now seek to work around the regime rather than "overestimate" its own ability to convince China to abandon its authoritarian ways. "What we've tried to underscore is we, in many respects, accept China as it exists," Campbell said. "There's also a recognition that, in many respects, our efforts to build a foundation or floor under the relationship and guardrails, have yet to be successful." To that end, Campbell said that the communist regime in Beijing had largely rebuffed U.S. efforts to maintain open lines of communication, and had opted instead to exacerbate tensions by refusing to communicate during moments of crisis. "The Chinese have been reluctant to engage in discussions around confidence building or crisis communications or hotlines," Campbell said. "It is very much the American intention to keep those lines of communication open. We believe that is the responsible thing to do. We don't do that as a favor. We do that because it is in our strategic interests."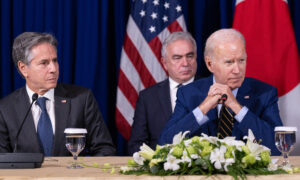 The Biden administration is seeking to defend the rules-based international order in Asia by working closely with regional allies and partners rather than prioritizing communication with China, an administration official said.
The United States will work with partners to shape the operating environment of the Indo-Pacific, according to National Security Council Coordinator for Indo-Pacific Affairs Kurt Campbell.
"We recognize now that the most important steps that we can take have to do with the operating system, and how we work with allies and partners," Campbell said during a March 30 discussion with the Center for a New American Security think tank.
"The idea here is not to in any way challenge China, or surround China, but to protect our interests and to make sure that through common effort we are able to stabilize and strengthen the elements of this system which we think have benefited all."
US-China Guardrails Not Working

Campbell said that a long predominant theory in foreign policy regarding China held that the United States should communicate directly with the regime in Beijing to create change through Asia.
That theory, Campbell said, had been demonstrated to be wrong, and the United States would instead seek to shape the regime's decision-making by shaping the environment around it.
"[The new theory] believes that the more effective framework was to work with allies and partners to create a larger context for then engaging China more directly," Campbell said.
"That's what President Biden has sought to do. To work on it with our existing bilateral engagements but also with new partners…"
Campbell added that U.S. efforts to directly convince China to adopt more amicable or liberal policies and practices had failed. As such, he said, the United States would now seek to work around the regime rather than "overestimate" its own ability to convince China to abandon its authoritarian ways.
"What we've tried to underscore is we, in many respects, accept China as it exists," Campbell said.
"There's also a recognition that, in many respects, our efforts to build a foundation or floor under the relationship and guardrails, have yet to be successful."
To that end, Campbell said that the communist regime in Beijing had largely rebuffed U.S. efforts to maintain open lines of communication, and had opted instead to exacerbate tensions by refusing to communicate during moments of crisis.
"The Chinese have been reluctant to engage in discussions around confidence building or crisis communications or hotlines," Campbell said.
"It is very much the American intention to keep those lines of communication open. We believe that is the responsible thing to do. We don't do that as a favor. We do that because it is in our strategic interests."