US Suspends 26 Chinese Flights as China-US Decoupling Continues
Amid ongoing tensions and disputes between the United States and China, the United States has suspended dozens of flights by Chinese airlines.The Department of Transportation (DOT) announced on Aug. 25 that, in response to Beijing's cancellation of U.S. flights over COVID-19 cases, the United States will suspend 26 U.S.–China flights by Chinese airlines in September. The suspensions include 19 flights from Los Angeles to China and seven from New York. Flights operated by Air China, China Southern Airlines, China Eastern Airlines, and Xiamen Airlines from Sept. 5 to 28 will be affected. The DOT said the number of flights it suspended this time was the same as the total number of U.S. airline flights canceled by Beijing. Since February 2022, China has canceled flights by 26 U.S. carriers, including Delta Air Lines, American Airlines, and United Airlines, alleging that there were cases of COVID-19 among the passengers on those U.S. flights. There remain 18 scheduled flights a week between China and the United States, down from more than 100 a week before the pandemic. On Aug. 7, 2022, Chinese authorities modified their policy: Flights from the United States to China will be suspended for a week if the percentage of passengers testing COVID-19 positive reaches 4 percent; if the percentage reaches 8 percent, flights will be suspended for two weeks. The United States has repeatedly raised objections with China that its rules place undue blame on airlines when a passenger tests negative at the time of boarding a flight from the United States and positive after arriving in China. China and the United States have been at loggerheads over air travel services since the start of the pandemic. In January 2022, the DOT suspended 44 flights by four Chinese airlines from the United States to China in response to Beijing's decision to suspend 44 flights by U.S. carriers. In August 2021, after China imposed restrictions on four United Airlines flights, the DOT limited the capacity of four Chinese airlines to 40 percent for four weeks. Chinese–American commentator Chen Pokong addressed the situation on his YouTube channel on Aug. 28, saying that China and the United States have been decoupling in all aspects of technology and finance, and now it's air travel. "The CCP is reluctant to talk about China–U.S. decoupling and says it would be detrimental to the U.S. and would deal a blow to the U.S., seeming to show consideration for the U.S.," Chen said. "However, when the CCP wants to cancel U.S. flights, they call it a 'circuit breaker' and claim that it's in accordance with the law. But when the U.S. counters, they call the U.S. irresponsible and hegemonic. This is incomprehensible." Large State-Owned Companies Delist From US On Aug. 12, China's five biggest state-owned companies—PetroChina, Sinopec, China Life Insurance, Aluminum Corporation of China, and Shanghai Petrochemical Corporation—concurrently announced that they would delist their American depositary shares from the New York Stock Exchange. Economic Daily, a Chinese state-run newspaper, published an article on Aug. 14 saying that the announcement of the five companies' delisting from the United States will not have a big impact on China Concept Stock or the capital markets in the two countries, nor does it mean that they are actively seeking financial "decoupling," so there is no need to over-interpret this move. Most of the shares of the five companies are listed on China's A-shares and Hong Kong's H-shares exchanges, the article said. Only a small amount of American depositary shares based on H-shares are listed on the New York Stock Exchange, accounting for less than 1 percent of the total, with a combined market value of less than 10 billion yuan ($1.45 billion). A spokesperson for China's Securities Regulatory Commission (CSRC) also said in a press conference on Aug. 12 that the proportion of securities listed in the United States by these enterprises is very small, and the current delisting plan will not affect the enterprises' ability to continue trading on domestic and foreign capital markets. Caijing Magazine reported on Aug. 13 that China Concept Stock began to be put on a "pre-delisted list" by the SEC from March 2022. As of Aug. 5, 162 China Concept stocks had been put on the "pre-delisted list." As of now, 155 of them have already been transferred to the "confirmed delisting list." Facing the delisting crisis, China Concept stocks have begun to actively look for alternative listing sites, the report said. Among them, more and more enterprises choose to list in Hong Kong. Selective Delisting Chinese authorities have a specific plan as to which companies can delist from the U.S. stock markets and which cannot, Hong Kong financial columnist Liao Shiming told The Epoch Times. "Those tech start-ups, for example, if they delist in the U.S., they can't go back to the Chinese stock market or the Hong Kong stock market, so they can't and don't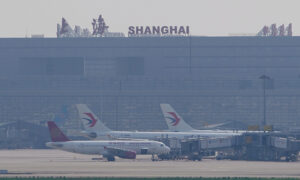 Amid ongoing tensions and disputes between the United States and China, the United States has suspended dozens of flights by Chinese airlines.
The Department of Transportation (DOT) announced on Aug. 25 that, in response to Beijing's cancellation of U.S. flights over COVID-19 cases, the United States will suspend 26 U.S.–China flights by Chinese airlines in September.
The suspensions include 19 flights from Los Angeles to China and seven from New York. Flights operated by Air China, China Southern Airlines, China Eastern Airlines, and Xiamen Airlines from Sept. 5 to 28 will be affected.
The DOT said the number of flights it suspended this time was the same as the total number of U.S. airline flights canceled by Beijing.
Since February 2022, China has canceled flights by 26 U.S. carriers, including Delta Air Lines, American Airlines, and United Airlines, alleging that there were cases of COVID-19 among the passengers on those U.S. flights.
There remain 18 scheduled flights a week between China and the United States, down from more than 100 a week before the pandemic.
On Aug. 7, 2022, Chinese authorities modified their policy: Flights from the United States to China will be suspended for a week if the percentage of passengers testing COVID-19 positive reaches 4 percent; if the percentage reaches 8 percent, flights will be suspended for two weeks.
The United States has repeatedly raised objections with China that its rules place undue blame on airlines when a passenger tests negative at the time of boarding a flight from the United States and positive after arriving in China.
China and the United States have been at loggerheads over air travel services since the start of the pandemic. In January 2022, the DOT suspended 44 flights by four Chinese airlines from the United States to China in response to Beijing's decision to suspend 44 flights by U.S. carriers.
In August 2021, after China imposed restrictions on four United Airlines flights, the DOT limited the capacity of four Chinese airlines to 40 percent for four weeks.
Chinese–American commentator Chen Pokong addressed the situation on his YouTube channel on Aug. 28, saying that China and the United States have been decoupling in all aspects of technology and finance, and now it's air travel.
"The CCP is reluctant to talk about China–U.S. decoupling and says it would be detrimental to the U.S. and would deal a blow to the U.S., seeming to show consideration for the U.S.," Chen said. "However, when the CCP wants to cancel U.S. flights, they call it a 'circuit breaker' and claim that it's in accordance with the law. But when the U.S. counters, they call the U.S. irresponsible and hegemonic. This is incomprehensible."
Large State-Owned Companies Delist From US
On Aug. 12, China's five biggest state-owned companies—PetroChina, Sinopec, China Life Insurance, Aluminum Corporation of China, and Shanghai Petrochemical Corporation—concurrently announced that they would delist their American depositary shares from the New York Stock Exchange.
Economic Daily, a Chinese state-run newspaper, published an article on Aug. 14 saying that the announcement of the five companies' delisting from the United States will not have a big impact on China Concept Stock or the capital markets in the two countries, nor does it mean that they are actively seeking financial "decoupling," so there is no need to over-interpret this move.
Most of the shares of the five companies are listed on China's A-shares and Hong Kong's H-shares exchanges, the article said. Only a small amount of American depositary shares based on H-shares are listed on the New York Stock Exchange, accounting for less than 1 percent of the total, with a combined market value of less than 10 billion yuan ($1.45 billion).
A spokesperson for China's Securities Regulatory Commission (CSRC) also said in a press conference on Aug. 12 that the proportion of securities listed in the United States by these enterprises is very small, and the current delisting plan will not affect the enterprises' ability to continue trading on domestic and foreign capital markets.
Caijing Magazine reported on Aug. 13 that China Concept Stock began to be put on a "pre-delisted list" by the SEC from March 2022. As of Aug. 5, 162 China Concept stocks had been put on the "pre-delisted list." As of now, 155 of them have already been transferred to the "confirmed delisting list."
Facing the delisting crisis, China Concept stocks have begun to actively look for alternative listing sites, the report said. Among them, more and more enterprises choose to list in Hong Kong.
Selective Delisting
Chinese authorities have a specific plan as to which companies can delist from the U.S. stock markets and which cannot, Hong Kong financial columnist Liao Shiming told The Epoch Times.
"Those tech start-ups, for example, if they delist in the U.S., they can't go back to the Chinese stock market or the Hong Kong stock market, so they can't and don't want to decouple from the U.S.," Liao said. "But for the CCP, it's enough to protect its central state enterprises. The CCP must have thought it through. In other words, the CCP is decoupling selectively."
Stocks Audit Agreement
China and the United States announced separately on Aug. 26 that China's Securities Regulatory Commission (CSRC), China's Ministry of Finance, and the U.S. Public Company Accounting Oversight Board (PCAOB) had signed a cooperation agreement on audit regulation. The agreement will allow the PCAOB to conduct inspections and investigations of auditors in mainland China or Hong Kong, including examining the audit papers of listed companies.
Citing "national security" concerns, the CCP has always refused to allow U.S. regulators to routinely inspect the audit papers of listed Chinese companies. The United States has in recent years warned the CCP that it would kick Chinese companies off the New York Stock Exchange if they do not allow U.S. agencies to examine their audit papers, and China Concept stocks will risk being delisted.
In a statement about the agreement, Erica Y. Williams, chairwoman of the PCAOB, emphasized three main points:
1. The PCAOB has sole discretion to select the firms, audit engagements, and potential violations it inspects and investigates—without consultation with, nor input from, Chinese authorities.
2. Procedures are in place for PCAOB inspectors and investigators to view complete audit work papers with all information included and for the PCAOB to retain information as needed.
3. The PCAOB has direct access to interview and take testimony from all personnel associated with the audits the PCAOB inspects or investigates.
Public statements about the cooperation agreement issued by China are quite different.
Chinese state media omitted parts of the first and third core demands, saying, "The U.S. must obtain audit papers and other documents through Chinese regulatory authorities and conduct interviews and inquiries with relevant personnel of accounting firms with Chinese participation and assistance."
It also deleted the part in the agreement about the United States having "sole discretion," and instead said that "the United States would be under its [China's] control to obtain documents such as audit papers and conduct staff interviews and interviews.
Nonetheless, the statements from both sides revealed one thing: the delisting risk of China Concept Stock has not been lifted.
Currently, more than 200 Chinese companies are listed on U.S. capital markets, and more than 30 domestic accounting firms are registered with the PCAOB, which can provide audit services for Chinese companies listed in the U.S., according to an official with the CSRC.
"This agreement will be meaningful only if the PCAOB actually can inspect and investigate completely audit firms in China," Gary Gensler, the Chair of U.S. Securities and Exchange Commission (SEC) said in a statement on Aug. 26.
"If it cannot, roughly 200 China-based issuers will face prohibitions on trading of their securities in the U.S. if they continue to use those audit firms."
The CSRC also said that if the subsequent cooperation can meet the respective regulatory needs of China and the United States, the audit supervision problem of Chinese concept stocks may be solved and thus avoid passive delisting from the United States.