US Overdose Deaths Reach New High as Fentanyl and Meth Use Soars
Overdose deaths in the United States have reached new highs, peaking at nearly 108,000 in 2021, according to data published by the U.S. Centers for Disease Control and Prevention (CDC), amid increased usage of fentanyl and methamphetamine.On Wednesday, the CDC released provisional data that shows some 106,700 Americans died via a drug overdose last year, setting an all-time record. Overdose deaths increased 15 percent from 2020 to 2021, the CDC report noted. Overdose deaths increased by 30 percent between 2019 and 2020. Dr. Nora Volkow, director of the National Institute on Drug Abuse, called the latest numbers "truly staggering." "The net effect is that we have many more people, including those who use drugs occasionally and even adolescents, exposed to these potent substances that can cause someone to overdose even with a relatively small exposure," Volkow said in a statement. Deaths spiked the most in Alaska, where overdose fatalities increased by 75 percent from 2020 to 2021, the data shows. In Hawaii, meanwhile, overdose deaths fell by about 2 percent. According to the CDC report, fentanyl, a powerful opioid, was linked to the most overdose deaths in 2021, with 71,238. Methamphetamine was implicated in 32,856 overdose deaths, cocaine was linked to 24,538 deaths, and prescription pain drugs were linked to 13,503 deaths. Illicit fentanyl-laced pills and other narcotics are displayed by law enforcement during a press conference in Scottsdale, Ariz., on Dec. 16, 2021. (Scottsdale PD) "Drug overdose deaths may involve multiple drugs; therefore, a single death might be included in more than one category when describing the number of drug overdose deaths involving specific drugs. For example, a death that involved both heroin and fentanyl would be included in both the number of drug overdose deaths involving heroin and the number of drug overdose deaths involving synthetic opioids other than methadone," the CDC said. Analysts have said that COVID-19 lockdowns and other restrictions are partially to blame as they isolate individuals from their families and friends. People with drug problems also had a more difficult time seeing treatment amid the lockdowns and restrictions. However, some experts have noted that overdoses have been steadily increasing every single year. However, in recent years, fentanyl, which is often reportedly imported via Mexican cartels from China, has triggered the recent spike in deaths. Earlier this year, Drug Enforcement Administration (DEA) issued a warning about a surge of fentanyl overdoses and mass overdose events. Fentanyl, which is sometimes cut into other drugs, is estimated to be upwards of 100 times more potent than morphine, another opioid. "The DEA is seeing a nationwide spike in fentanyl-related mass-overdose events involving three or more overdoses occurring close in time at the same location," the agency said in March. "In just the past two months, there have been at least 7 confirmed mass overdose events across the United States resulting in 58 overdoses and 29 overdose deaths. Many of the victims of these mass overdose events thought they were ingesting cocaine and had no idea that they were in fact ingesting fentanyl."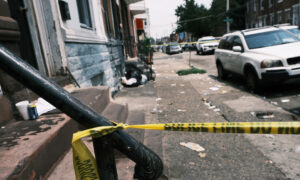 Overdose deaths in the United States have reached new highs, peaking at nearly 108,000 in 2021, according to data published by the U.S. Centers for Disease Control and Prevention (CDC), amid increased usage of fentanyl and methamphetamine.
On Wednesday, the CDC released provisional data that shows some 106,700 Americans died via a drug overdose last year, setting an all-time record. Overdose deaths increased 15 percent from 2020 to 2021, the CDC report noted. Overdose deaths increased by 30 percent between 2019 and 2020.
Dr. Nora Volkow, director of the National Institute on Drug Abuse, called the latest numbers "truly staggering."
"The net effect is that we have many more people, including those who use drugs occasionally and even adolescents, exposed to these potent substances that can cause someone to overdose even with a relatively small exposure," Volkow said in a statement.
Deaths spiked the most in Alaska, where overdose fatalities increased by 75 percent from 2020 to 2021, the data shows. In Hawaii, meanwhile, overdose deaths fell by about 2 percent.
According to the CDC report, fentanyl, a powerful opioid, was linked to the most overdose deaths in 2021, with 71,238. Methamphetamine was implicated in 32,856 overdose deaths, cocaine was linked to 24,538 deaths, and prescription pain drugs were linked to 13,503 deaths.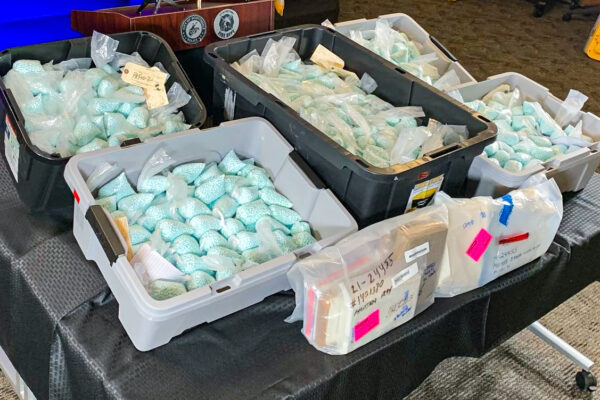 "Drug overdose deaths may involve multiple drugs; therefore, a single death might be included in more than one category when describing the number of drug overdose deaths involving specific drugs. For example, a death that involved both heroin and fentanyl would be included in both the number of drug overdose deaths involving heroin and the number of drug overdose deaths involving synthetic opioids other than methadone," the CDC said.
Analysts have said that COVID-19 lockdowns and other restrictions are partially to blame as they isolate individuals from their families and friends. People with drug problems also had a more difficult time seeing treatment amid the lockdowns and restrictions.
However, some experts have noted that overdoses have been steadily increasing every single year. However, in recent years, fentanyl, which is often reportedly imported via Mexican cartels from China, has triggered the recent spike in deaths.
Earlier this year, Drug Enforcement Administration (DEA) issued a warning about a surge of fentanyl overdoses and mass overdose events. Fentanyl, which is sometimes cut into other drugs, is estimated to be upwards of 100 times more potent than morphine, another opioid.
"The DEA is seeing a nationwide spike in fentanyl-related mass-overdose events involving three or more overdoses occurring close in time at the same location," the agency said in March. "In just the past two months, there have been at least 7 confirmed mass overdose events across the United States resulting in 58 overdoses and 29 overdose deaths. Many of the victims of these mass overdose events thought they were ingesting cocaine and had no idea that they were in fact ingesting fentanyl."