US-led Indo-Pacific Bloc Gets Boost From Canada
CommentaryCanada joining the Indo-Pacific Economic Framework (IPEF) suggests that China is losing the battle for the Pacific as alliances gradually form against the Chinese Communist Party (CCP). Ottawa announced on Oct. 27 that Canada would be joining the IPEF, a U.S.-led initiative designed to counter China's influence in the Pacific. In a press conference with U.S. Secretary of State Antony Blinken, Canadian Foreign Minister Melanie Joly affirmed that Canada would increase its engagement with the United States, which means it will play a larger role in the region. So far, IPEF members include Australia, Brunei, Fiji, India, Indonesia, Japan, Malaysia, New Zealand, the Philippines, Singapore, South Korea, Thailand, and Vietnam. Some of these nations have territorial disputes with China. The IPEF was formed as a direct response to the Comprehensive and Progressive Trans-Pacific Partnership (CPTPP). The IPEF has similar goals to those of the CPTPP. These goals include expanding trade, improving supply chain resiliency, clean energy, and economic equity. However, the difference is that the IPEF is not a free trade agreement. Canada joining the IPEF sends an important signal in U.S.-Canada relations. Despite being a primary trading partner of the United States and sharing the world's longest, largely undefended border, Canada has been conspicuously absent from other anti-CCP initiatives led by the United States. Canada has not participated in the Quadrilateral Security Dialogue (the Quad), which includes Australia, India, Japan, and the United States, or the AUKUS alliance between Australia, the United States, and the United Kingdom. Signs of Canada's gravitation toward U.S.-led organizations were evident last year when the Royal Canadian Airforce participated in military drills alongside Quad members near the U.S. territory of Guam. Prime Minister Justin Trudeau, flanked by Foreign Affairs Minister Melanie Joly (L) and International Trade Minister Mary Ng, holds a press conference following the ASEAN Summit in Phnom Penh, Cambodia, on Nov. 13, 2022. (The Canadian Press/Sean Kilpatrick) Canada's participation makes sense from a cultural perspective. Canada is one of the top five Anglosphere nations, along with Australia, New Zealand, the UK, and the United States. These countries are former British colonies and share a common language and history as well as a basic legal, political, and social framework. This alone should make cooperation between them a given. These countries fought side-by-side in both world wars, Korea, and Afghanistan as well. Canada is also a member of the Five Eyes intelligence-sharing agreement, the North Atlantic Treaty Organization (NATO), and the North American Aerospace Defense Command (NORAD) but has been absent from U.S. initiatives in the Indo-Pacific. Both the United States and Canada have a Pacific coast, and thus a vested interest in Chinese violations of trade rules, fishing regulations, and freedom of navigation, as well as spying and increased aggression by the PLA navy and air force. The Chinese maritime militia is one of the largest ocean-borne forces by the number of vessels in the world. While these vessels appear to be civilian fishing boats and commercial boats of various kinds, they are often outfitted with weapons and technology. They can be deployed by the CCP anywhere in the Pacific. While not a security pact, the IPEF will strengthen ties between the United States and group members, improving trade and supply chain resilience. At the same time, there is some discussion among U.S. lawmakers about forming a Pacific version of NATO. However, IPEF will concentrate on trade for now, in which Canada has a vested interest. As Canada is an exporter of grains, ores, coal, oil, and gas, it directly depends on protecting freedom of navigation in the Pacific and maintaining trade with Asia. Blinken welcomed the news that Canada will join the IPEF, stressing that "from critical minerals to microchips, we need to be able to source and to make essential products closer to home." Pandemic-related supply chain disruptions caused a number of countries to review their supply chains and recognize the danger of being dependent on foreign countries for critical products and components. They also realized how much Beijing controlled supply chains. More and more countries are now viewing supply chain security as a matter of national security. Supply chain vulnerability will not be resolved by entering into another free trade agreement with China. Views expressed in this article are the opinions of the author and do not necessarily reflect the views of The Epoch Times. Follow Antonio Graceffo, Ph.D., China economic analyst, has spent more than 20 years in Asia, a graduate of Shanghai University of Sport, holds a China-MBA from Shanghai Jiaotong University, currently studies national defense at American Military University. He is the author of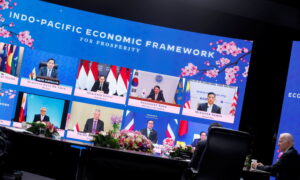 Commentary
Canada joining the Indo-Pacific Economic Framework (IPEF) suggests that China is losing the battle for the Pacific as alliances gradually form against the Chinese Communist Party (CCP).
Ottawa announced on Oct. 27 that Canada would be joining the IPEF, a U.S.-led initiative designed to counter China's influence in the Pacific. In a press conference with U.S. Secretary of State Antony Blinken, Canadian Foreign Minister Melanie Joly affirmed that Canada would increase its engagement with the United States, which means it will play a larger role in the region.
So far, IPEF members include Australia, Brunei, Fiji, India, Indonesia, Japan, Malaysia, New Zealand, the Philippines, Singapore, South Korea, Thailand, and Vietnam. Some of these nations have territorial disputes with China.
The IPEF was formed as a direct response to the Comprehensive and Progressive Trans-Pacific Partnership (CPTPP). The IPEF has similar goals to those of the CPTPP. These goals include expanding trade, improving supply chain resiliency, clean energy, and economic equity. However, the difference is that the IPEF is not a free trade agreement.
Canada joining the IPEF sends an important signal in U.S.-Canada relations. Despite being a primary trading partner of the United States and sharing the world's longest, largely undefended border, Canada has been conspicuously absent from other anti-CCP initiatives led by the United States. Canada has not participated in the Quadrilateral Security Dialogue (the Quad), which includes Australia, India, Japan, and the United States, or the AUKUS alliance between Australia, the United States, and the United Kingdom. Signs of Canada's gravitation toward U.S.-led organizations were evident last year when the Royal Canadian Airforce participated in military drills alongside Quad members near the U.S. territory of Guam.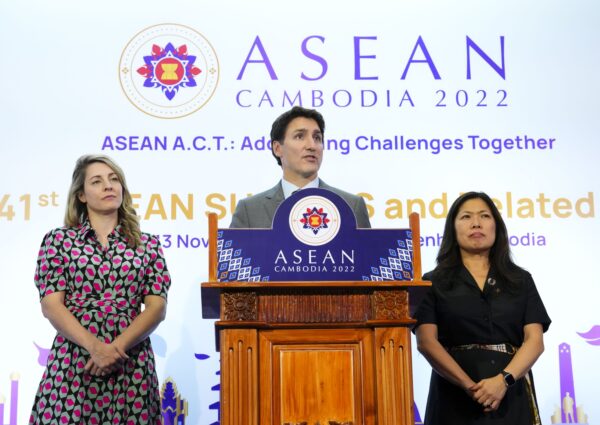 Canada's participation makes sense from a cultural perspective. Canada is one of the top five Anglosphere nations, along with Australia, New Zealand, the UK, and the United States. These countries are former British colonies and share a common language and history as well as a basic legal, political, and social framework. This alone should make cooperation between them a given. These countries fought side-by-side in both world wars, Korea, and Afghanistan as well.
Canada is also a member of the Five Eyes intelligence-sharing agreement, the North Atlantic Treaty Organization (NATO), and the North American Aerospace Defense Command (NORAD) but has been absent from U.S. initiatives in the Indo-Pacific.
Both the United States and Canada have a Pacific coast, and thus a vested interest in Chinese violations of trade rules, fishing regulations, and freedom of navigation, as well as spying and increased aggression by the PLA navy and air force. The Chinese maritime militia is one of the largest ocean-borne forces by the number of vessels in the world. While these vessels appear to be civilian fishing boats and commercial boats of various kinds, they are often outfitted with weapons and technology. They can be deployed by the CCP anywhere in the Pacific.
While not a security pact, the IPEF will strengthen ties between the United States and group members, improving trade and supply chain resilience. At the same time, there is some discussion among U.S. lawmakers about forming a Pacific version of NATO. However, IPEF will concentrate on trade for now, in which Canada has a vested interest. As Canada is an exporter of grains, ores, coal, oil, and gas, it directly depends on protecting freedom of navigation in the Pacific and maintaining trade with Asia.
Blinken welcomed the news that Canada will join the IPEF, stressing that "from critical minerals to microchips, we need to be able to source and to make essential products closer to home."
Pandemic-related supply chain disruptions caused a number of countries to review their supply chains and recognize the danger of being dependent on foreign countries for critical products and components. They also realized how much Beijing controlled supply chains. More and more countries are now viewing supply chain security as a matter of national security.
Supply chain vulnerability will not be resolved by entering into another free trade agreement with China.
Views expressed in this article are the opinions of the author and do not necessarily reflect the views of The Epoch Times.