US Indicts 2 Beijing-Linked Marshallese Citizens for Political Bribery
The U.S. Department of Justice has indicted two naturalised citizens of the Marshall Islands for running a multi-year money laundering and bribery scheme—via a UN-linked non-profit organisation—to support the creation of a special economic zone within the Pacific country.One expert says the incident is an example of Beijing's efforts to destabilise democratic institutions in the South Pacific where Western allies have locked horns with the Chinese Communist Party for influence in the region. On Sept. 2, the Department of Justice issued the indictment revealing that Cary Yan, 50, and Gina Zhou, 34, were both extradited from Thailand to New York to appear before U.S. Magistrate Judge Naomi Reice Buchwold on Sept. 6. Yan and Zhou have been charged with allegedly violating the Foreign Corrupt Practices Act, money laundering, and conspiracy to commit those offences in connection with a plot to bribe elected officials of the Republic of the Marshall Islands (RMI)—six were mentioned in the indictment. Bribery Aimed At Winning Support for New Autonomous Zone Beginning in 2016, both individuals allegedly ran a multi-year money laundering and bribery scheme paying tens of thousands of dollars in bribes to RMI officials, including members of the Pacific country's legislature, in return for supporting a proposed law to create a semi-autonomous region within RMI called the Rongelap Atoll Special Administration Region. The Special Administration Region would significantly change the laws of the Rongelap Atoll—comprised of 61 small islands—to supposedly attract investment and tourism through lower taxes and immigration regulations. In one instance in late October 2018, Zhou is alleged to have provided a $22,000 "loan" to an official free of interest to support the new law. In another instance, one RMI official promised Yan and Zhou "revenge" against then-president of RMI, Hilda Heine, who had opposed the law over fears the Special Administration Region would become a haven for money laundering and potentially fall under Beijing's control. Former Marshall Islands President Hilda Heine delivers a speech at the European Parliament in Strasbourg, France, on June 14, 2017. (Frederick Florin/AFP/Getty Images) "We have to be cautious knowing what the geopolitical situation is in the Pacific region, and I think it's important for the government to do its own due diligence and make sure that the sovereignty of the Pacific is secure," she told Radio NZ in November 2018. Read MoreChina Seeks to Influence Local Politics in Marshall Islands, in Latest Bid to Sway Pacific Region The indictment alleges that Yan and Zhou used a New York-based non-governmental organisation headquartered in Manhattan to facilitate meetings with RMI officials and run the scheme. The group is linked to the United Nations and has involvement in pro-Beijing developing countries such as El Salvador, Vanuatu, and Kiribati. "As alleged, Cary Yan and Gina Zhou's bribery scheme was designed to influence and manipulate the legislative process of the [RMI] in order to benefit themselves and their associates financially," said U.S. Attorney Damian Williams for the Southern District of New York. "Yan and Zhou's bribes blatantly flouted the sovereignty of the [RMI] and its legislature, and the dedicated investigative work carried out by this Office and our partners signals that the Southern District of New York will not tolerate those who openly violate the integrity of democratic processes." The Department of Justice initially charged both citizens on Aug. 10, 2020. They were arrested by Thai authorities at the request of the United States. After proceedings were concluded in Thailand, the government ordered their extradition. If convicted, the defendants face a maximum of 20 years imprisonment for committing or conspiring to carry out money laundering, as well as another five years for each count of violating or conspiring to violate the Foreign Corrupt Practices Act. The Destabilisation of the South Pacific is Underway In response, South Pacific expert Cleo Paskal welcomed the indictment saying that if it goes to trial, it could potentially uncover what other work the non-profit organisation has carried out in other countries. "They operate very much along 'entropic warfare' lines," she told The Epoch Times. "Remember that the Marshall Islands is one of the few countries that still recognises Taiwan, a Chinese Embassy doesn't operate there, but China-linked individuals and corporations can." Under the National Intelligence Law 2017, all Chinese individuals and corporations must provide intelligence to Beijing if requested. "This is kind of a way of targeting a country, even if it doesn't recognise China, by using these kind of organisations that are functionally grey zone," she added. Paskal said the Chinese Communist Party's attempts at elite capture—via bribery—may not have worked as comprehensively in the Marshall Islands compared to its Paci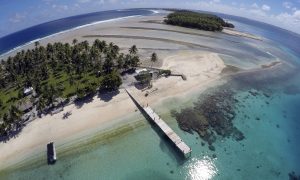 The U.S. Department of Justice has indicted two naturalised citizens of the Marshall Islands for running a multi-year money laundering and bribery scheme—via a UN-linked non-profit organisation—to support the creation of a special economic zone within the Pacific country.
One expert says the incident is an example of Beijing's efforts to destabilise democratic institutions in the South Pacific where Western allies have locked horns with the Chinese Communist Party for influence in the region.
On Sept. 2, the Department of Justice issued the indictment revealing that Cary Yan, 50, and Gina Zhou, 34, were both extradited from Thailand to New York to appear before U.S. Magistrate Judge Naomi Reice Buchwold on Sept. 6.
Yan and Zhou have been charged with allegedly violating the Foreign Corrupt Practices Act, money laundering, and conspiracy to commit those offences in connection with a plot to bribe elected officials of the Republic of the Marshall Islands (RMI)—six were mentioned in the indictment.
Bribery Aimed At Winning Support for New Autonomous Zone
Beginning in 2016, both individuals allegedly ran a multi-year money laundering and bribery scheme paying tens of thousands of dollars in bribes to RMI officials, including members of the Pacific country's legislature, in return for supporting a proposed law to create a semi-autonomous region within RMI called the Rongelap Atoll Special Administration Region.
The Special Administration Region would significantly change the laws of the Rongelap Atoll—comprised of 61 small islands—to supposedly attract investment and tourism through lower taxes and immigration regulations.
In one instance in late October 2018, Zhou is alleged to have provided a $22,000 "loan" to an official free of interest to support the new law.
In another instance, one RMI official promised Yan and Zhou "revenge" against then-president of RMI, Hilda Heine, who had opposed the law over fears the Special Administration Region would become a haven for money laundering and potentially fall under Beijing's control.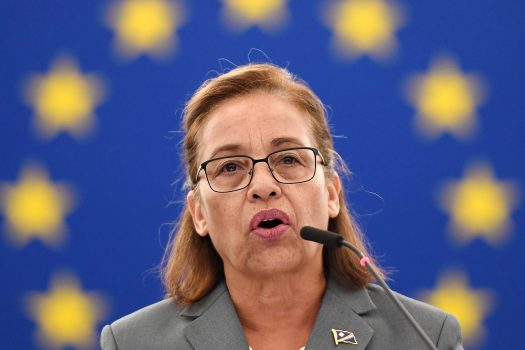 "We have to be cautious knowing what the geopolitical situation is in the Pacific region, and I think it's important for the government to do its own due diligence and make sure that the sovereignty of the Pacific is secure," she told Radio NZ in November 2018.
Read More
China Seeks to Influence Local Politics in Marshall Islands, in Latest Bid to Sway Pacific Region
The indictment alleges that Yan and Zhou used a New York-based non-governmental organisation headquartered in Manhattan to facilitate meetings with RMI officials and run the scheme. The group is linked to the United Nations and has involvement in pro-Beijing developing countries such as El Salvador, Vanuatu, and Kiribati.
"As alleged, Cary Yan and Gina Zhou's bribery scheme was designed to influence and manipulate the legislative process of the [RMI] in order to benefit themselves and their associates financially," said U.S. Attorney Damian Williams for the Southern District of New York.
"Yan and Zhou's bribes blatantly flouted the sovereignty of the [RMI] and its legislature, and the dedicated investigative work carried out by this Office and our partners signals that the Southern District of New York will not tolerate those who openly violate the integrity of democratic processes."
The Department of Justice initially charged both citizens on Aug. 10, 2020. They were arrested by Thai authorities at the request of the United States. After proceedings were concluded in Thailand, the government ordered their extradition.
If convicted, the defendants face a maximum of 20 years imprisonment for committing or conspiring to carry out money laundering, as well as another five years for each count of violating or conspiring to violate the Foreign Corrupt Practices Act.
The Destabilisation of the South Pacific is Underway
In response, South Pacific expert Cleo Paskal welcomed the indictment saying that if it goes to trial, it could potentially uncover what other work the non-profit organisation has carried out in other countries.
"They operate very much along 'entropic warfare' lines," she told The Epoch Times. "Remember that the Marshall Islands is one of the few countries that still recognises Taiwan, a Chinese Embassy doesn't operate there, but China-linked individuals and corporations can."
Under the National Intelligence Law 2017, all Chinese individuals and corporations must provide intelligence to Beijing if requested.
"This is kind of a way of targeting a country, even if it doesn't recognise China, by using these kind of organisations that are functionally grey zone," she added.
Paskal said the Chinese Communist Party's attempts at elite capture—via bribery—may not have worked as comprehensively in the Marshall Islands compared to its Pacific neighbours, so the regime has resorted to entropic warfare—to destabilise a government to the point where it cannot react or deal with political interference from an adversary.
She pointed to comments by a Marshallese official saying he would take "revenge" against the former president.
"You're getting groups within the country pitted against each other and making it difficult to discuss or even govern properly."
Several pro-Beijing Pacific governments have presided over increasingly unstable democratic systems, including the Solomon Islands, Vanuatu, and Kiribati.