US Educational Institutions Surrender to the LGBTQI and CRT Invasion
CommentaryU.S. educational institutions are being hollowed out by their adoption of cultural Marxist ideologies that are alien to traditional American culture. And the communist Chinese couldn't be happier. After all, destroying the institutions of the United States from within is an easier task for the communists than kinetic war, whose outcome is problematic in the nuclear age. Chinese leader Xi Jinping has been trumpeting strategic initiatives for over a decade that are aimed at displacing the United States as the world's only economic and military superpower. His Belt and Road Initiative, the Global Development Initiative, and the Global Security Initiative provide glimpses into Xi's roadmap to achieve his grand designs. And Marxist fellow travelers in the United States are doing their best to weaken American institutions in service of the Chinese Communist Party (CCP). The LGBTQI and critical race theory (CRT) movements are hard at work toward these ends. Let us examine the premise. Background Civil rights organizations such as the American Civil Liberties Union are behind much of the recent push for LGBTQI rights in the United States. Backing the radical LGBTQI agenda is just the latest cause célèbre for the communists at the ACLU (one of the founders was an outright communist), who have also supported abortion on demand, abandonment of due process rights, and the blocking of victims' rights bills in recent years in furtherance of their long-standing goal to undermine American society at every turn. CRT is about dividing people based on race, with the presumption that America is "systemically racist." It intended to "promote estrangement rather than friendship, and hostility rather than goodwill," and its proponents are "committed to tearing down civil society" to get rid of the supposed built-in racism throughout American society, as noted by the Federalist. The foot soldiers for implementing CRT include members of Black Lives Matter. And BLM is Marxist to the bone: the movement was founded by three self-proclaimed Marxist women and has been supported by the Chinese Progressive Association, Freedom Road Socialist Organization, and other pro-Chinese communist organizations. In short, the Chinese communists are directly involved in subterfuge and undermining U.S. institutions! Both movements are about the furtherance of identity politics and division in the United States in direct opposition to the unique American virtue of assimilation—that is, America's tradition of being a "melting pot" into which all races, colors, and creeds are welcomed and converted in time into Americans within a generation or two. And the ideological justification for both movements is the Marxist claptrap of critical theory and intersectionality. People hold up signs during a rally against critical race theory (CRT) taught in schools at the Loudoun County Government center in Leesburg, Virginia, on June 12, 2021. (Andrew Caballero-Reynolds/AFP via Getty Images) Critical theory is the Marxist-inspired philosophy aimed at understanding and "overcoming the social structures through which people are dominated and oppressed." Developed by the Frankfurt School in the 19th century, critical theory has spawned virtually all of the cultural Marxist philosophies pursued by the left for over 100 years, including economic justice, social justice, environmental justice, and intersectionality. The left defines intersectionality as "the ways in which systems of inequality based on gender, race, ethnicity, sexual orientation, gender identity, disability, class and other forms of discrimination 'intersect' to create unique dynamics and effects." Its political goal is to achieve "fair and equal distribution of wealth, opportunities, rights and political power within society." Equity is shorthand for equal distribution, and equity is only possible through government power, as the CCP is teaching anyone who watches what it does in implementing social controls. LGBTQI and CRT in Academia There is no doubt that American communists and their Chinese communist allies are embarked on a "Long March" through our institutions. How successful has the left been in spreading the Marxist LGBTQI and CRT? Very, as the below examples highlight. How many parents are aware of the Marxist penetration of our colleges and universities? The University of Florida As Fox News reported on Nov. 22, "The University of Florida College of Medicine incorporates aspects of critical race theory into its admissions and educational programs." What on Earth can CRT possibly have to do with the science of medicine? According to Do No Harm, a group of medical workers who fight against racially divisive policies in medicine, the college is "indoctrinating its medical school graduates in divisive philosophies and other forms of social justice activism. The conditioning begins from the moment a prospective student begins exploring UFCOM, continues through the adm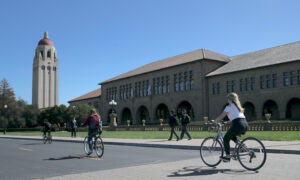 Commentary
U.S. educational institutions are being hollowed out by their adoption of cultural Marxist ideologies that are alien to traditional American culture. And the communist Chinese couldn't be happier. After all, destroying the institutions of the United States from within is an easier task for the communists than kinetic war, whose outcome is problematic in the nuclear age.
Chinese leader Xi Jinping has been trumpeting strategic initiatives for over a decade that are aimed at displacing the United States as the world's only economic and military superpower. His Belt and Road Initiative, the Global Development Initiative, and the Global Security Initiative provide glimpses into Xi's roadmap to achieve his grand designs. And Marxist fellow travelers in the United States are doing their best to weaken American institutions in service of the Chinese Communist Party (CCP). The LGBTQI and critical race theory (CRT) movements are hard at work toward these ends.
Let us examine the premise.
Background
Civil rights organizations such as the American Civil Liberties Union are behind much of the recent push for LGBTQI rights in the United States. Backing the radical LGBTQI agenda is just the latest cause célèbre for the communists at the ACLU (one of the founders was an outright communist), who have also supported abortion on demand, abandonment of due process rights, and the blocking of victims' rights bills in recent years in furtherance of their long-standing goal to undermine American society at every turn.
CRT is about dividing people based on race, with the presumption that America is "systemically racist." It intended to "promote estrangement rather than friendship, and hostility rather than goodwill," and its proponents are "committed to tearing down civil society" to get rid of the supposed built-in racism throughout American society, as noted by the Federalist.
The foot soldiers for implementing CRT include members of Black Lives Matter. And BLM is Marxist to the bone: the movement was founded by three self-proclaimed Marxist women and has been supported by the Chinese Progressive Association, Freedom Road Socialist Organization, and other pro-Chinese communist organizations. In short, the Chinese communists are directly involved in subterfuge and undermining U.S. institutions!
Both movements are about the furtherance of identity politics and division in the United States in direct opposition to the unique American virtue of assimilation—that is, America's tradition of being a "melting pot" into which all races, colors, and creeds are welcomed and converted in time into Americans within a generation or two. And the ideological justification for both movements is the Marxist claptrap of critical theory and intersectionality.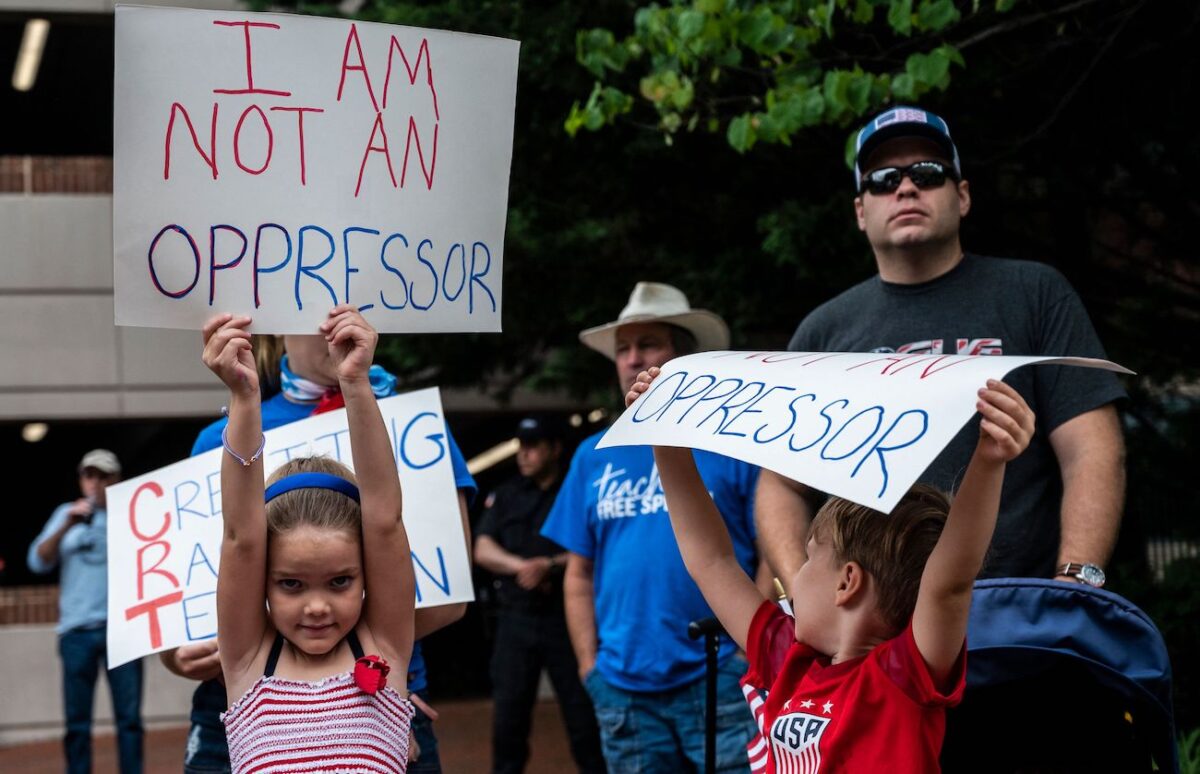 Critical theory is the Marxist-inspired philosophy aimed at understanding and "overcoming the social structures through which people are dominated and oppressed." Developed by the Frankfurt School in the 19th century, critical theory has spawned virtually all of the cultural Marxist philosophies pursued by the left for over 100 years, including economic justice, social justice, environmental justice, and intersectionality.
The left defines intersectionality as "the ways in which systems of inequality based on gender, race, ethnicity, sexual orientation, gender identity, disability, class and other forms of discrimination 'intersect' to create unique dynamics and effects." Its political goal is to achieve "fair and equal distribution of wealth, opportunities, rights and political power within society." Equity is shorthand for equal distribution, and equity is only possible through government power, as the CCP is teaching anyone who watches what it does in implementing social controls.
LGBTQI and CRT in Academia
There is no doubt that American communists and their Chinese communist allies are embarked on a "Long March" through our institutions. How successful has the left been in spreading the Marxist LGBTQI and CRT? Very, as the below examples highlight. How many parents are aware of the Marxist penetration of our colleges and universities?
The University of Florida
As Fox News reported on Nov. 22, "The University of Florida College of Medicine incorporates aspects of critical race theory into its admissions and educational programs."
What on Earth can CRT possibly have to do with the science of medicine?
According to Do No Harm, a group of medical workers who fight against racially divisive policies in medicine, the college is "indoctrinating its medical school graduates in divisive philosophies and other forms of social justice activism. The conditioning begins from the moment a prospective student begins exploring UFCOM, continues through the admissions process, and persists throughout the doctoral program."
The school even has a "General Inclusive Hiring Badge" credential that is achieved through taking 14 diversity courses. CRT is apparently part of the process from admissions through doctorate-level programs.
Stanford University
The Stanford School of Medicine recently filled a job opening for an "LGBTQ+ Operations/Administrative Specialist position." Two bullets under "Knowledge, Skills and Abilities (Required)" for the job stand out: "Knowledge of the lesbian, gay, bisexual, transgender, queer (LGBTQ+) and other sexual and gender minority (SGM) communities," and "Ability to work with sexual, gender, and racial/ethnic minority and other marginalized populations and be empathetic."
Do such people require a dedicated administrative assistant and special treatment (apparently over other demographic groups) to facilitate their navigation of the School of Medicine? No wonder Stanford tuition is at stratospheric levels.
California State University, Long Beach
CSULB has an open joint faculty position at the assistant professor rank. The minimum requirements for the position are a "Ph.D. in Biomedical Engineering, Computer Science or related areas in the application of machine learning in biomedicine." Other requirements include "demonstration of building an equitable and empowering culture; support and empower the educational goals of our diverse body of students including those from historically marginalized backgrounds; and commit to pedagogical practices that are anti-racist and anti-ableist."
And the kicker in the requisition is this statement: "CSULB seeks to recruit faculty who enthusiastically support the University's strong commitment to the academic success of all of our students, including students of color, students with disabilities, students who are first generation to college, veterans, students with diverse socio-economic backgrounds, and students of diverse sexual orientations and gender expressions."
This is the whole CRT gamut of "requirements" aimed at barring "cisgender white males" from any possibility of selection. The CRT bar has been set so high at CSULB to weed out anyone who doesn't adhere to the Marxist religion of Ibram X. Kendi.
Augsburg University
Here is some required freshman reading at an ostensibly Christian university titled "Reimagining Vocation: Queer, Lutheran, with Room for All." The premise is obvious from the title—that the word "vocation" needs to be expanded to include "biological sex, and gender identity, as well as essentialist interpretations of identity, [to enable] queer folks to be authentically who they are as they live out their vocations."
How convenient for the LGBTQI community that seeks "normalization" in American society and avoids the label "sinful behavior" that practicing Christians, Jews, and other religious people believe defines LGBTQI sexual dysphoria. Definitions of "vocation" over the past 500+ years—from Martin Luther to Christian theologians and laymen through the 20th century—include spouse, parent, student, citizen, community member, etc. Nothing contrary to Leviticus and Romans as LGBTQI activists imagine!
The required reading advocates "a fruitful and vibrant queer, Lutheran theology of vocation" that includes the following seven strands:
Queer vocations are rooted in God's ongoing creation.
Queer vocations flow from the baptismal and enlivening presence of the Holy Spirit.
Queer vocations are neighbor-centered and challenge injustice.
Queer vocations involve loving faithfulness to oneself.
Queer vocations involve foolish truth telling.
Queer vocations are softly assembled.
Queer vocations are transgressive.
That the above is required reading at a Christian university shows how Marxist LGBTQI activism has corrupted our colleges and universities.
Concluding Thoughts
The CCP must be happy with what is going on in American colleges and universities. The above is merely a sampling of the ongoing Marxist corruption of our institutions of higher learning. Anything that sows division among Americans, undermines religious morals and values, pushes Marxist claptrap on students, and corrupts American traditions and institutions is money in the bank to the communists, who seek to displace the United States as the world's only superpower.
We ignore this communist "Long March" through our institutions at our collective peril.
Views expressed in this article are the opinions of the author and do not necessarily reflect the views of The Epoch Times.